Ferrari stands by the "risk" it took in the Monaco Grand Prix by initially staying on slicks after a late-race downpour, claiming that its "bet" did not cost any positions.
Carlos Sainz and Charles Leclerc ran fourth and sixth for the first half of the race and looked set to assume those positions again in the final stint after the pitstops finally played out.
But that process was interrupted by a downpour that hit the upper part of the circuit the worst and prompted a gamble from Ferrari that allowed other cars to jump ahead.
Ferrari kept both cars out as their immediate rivals pit for intermediates, leaving Sainz and Leclerc third and fourth behind the two leaders Max Verstappen and Fernando Alonso.
But Sainz immediately lost control into Mirabeau as conditions quickly worsened and though he rejoined just behind Leclerc, they were extremely slow coming back to the pits on their slick tyres.
They rejoined behind not only Esteban Ocon and Lewis Hamilton, who headed Sainz and Leclerc respectively in the opening stint, but had both been jumped by Russell – and Sainz was also passed by Pierre Gasly.
Leclerc and Sainz then held sixth and eighth to the flag, but Ferrari team principal Fred Vasseur said he was not disappointed by the calls that had been made.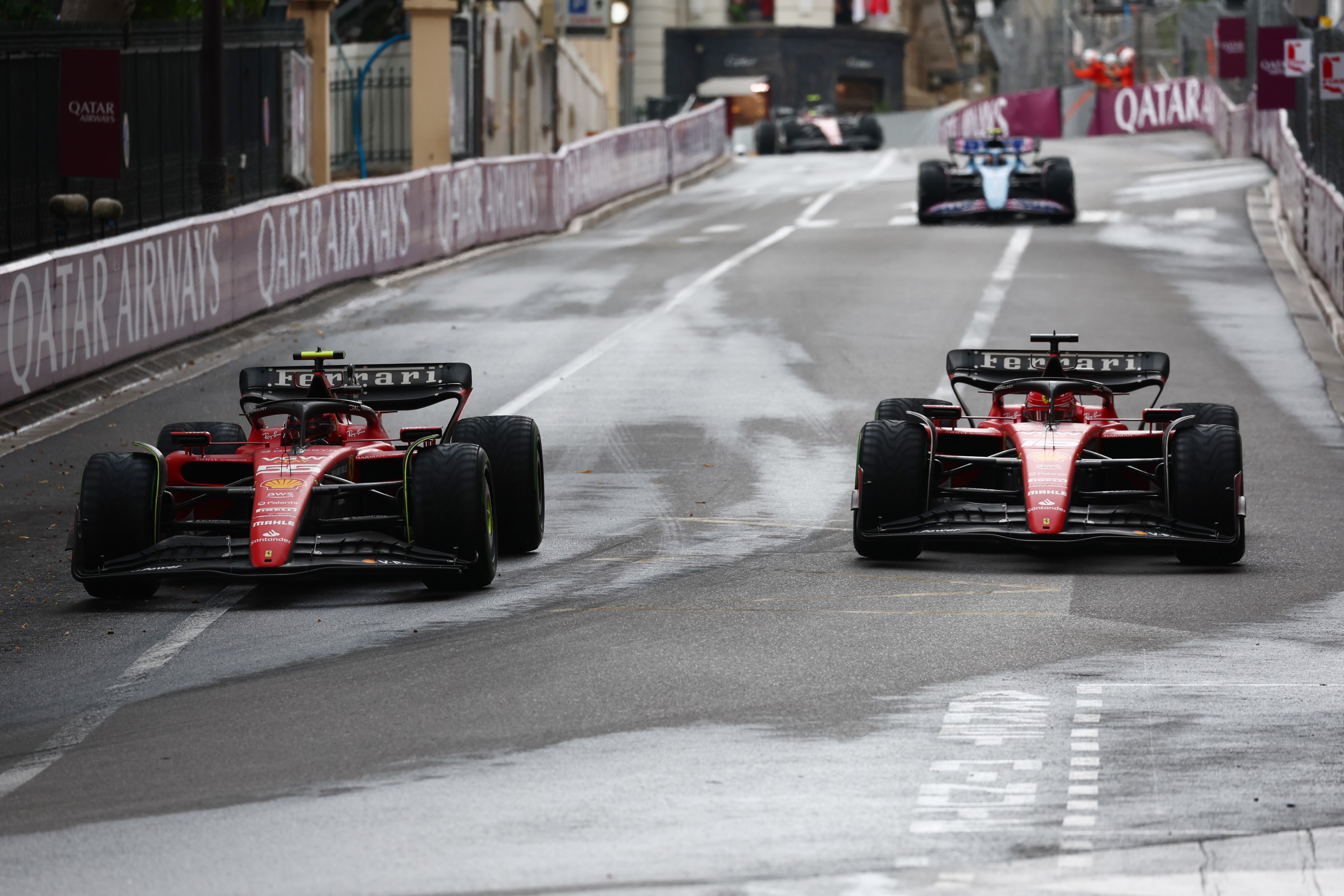 "We were expecting that the track won't be so wet," said Vasseur, echoing a sentiment from Aston Martin, which had an opportunity to change to intermediate tyres before Red Bull but tried to tough it out on a new set of slicks initially with Alonso.
"At one stage, if you don't have to put the wet on, we could have finished on the podium.
"It was the gamble for us. The risk was not too high because we didn't lose position but it is like it is.
"And we knew perfectly on the grid that if we want to achieve something we have to take risk.
"I'm not disappointed at all with the risk that we take."
---
The Race's view
On the Monaco GP episode of The Race F1 Podcast, our team in the Monaco paddock gave their takes on Ferrari's handling of the weekend – and they weren't impressed.
Edd Straw: It just adds to a picture that's similar to last year: OK the Ferrari's not a championship-challenging car as it was last year, but they're still leaving points on the table. You still get to the end of the weekend thinking 'they had a car that could have done better than that'. The execution still isn't there.
Sainz's little outburst over the radio shows there's still some real underlying issues there with the way things work. Leclerc got that penalty for impeding Lando Norris in qualifying that was pretty flat-footed from Ferrari. There's still just something that's not gelling.
Mark Hughes: In that incident with Leclerc the engineer was recounting the deficits and where he needed to find time when he should've been telling him about where the traffic was. By the time Leclerc was informed it was too late.
It's all part of the same old communication problem that's been at Ferrari for a while and the questionable strategy comes under the same umbrella.
I can't really see that it's changed since last year. The only thing that's changed since last year is they have a less competitive car. The operations side of it looks very much as it did.
---
Vasseur's claim that Ferrari "didn't lose position" is debatable and presumably relates specifically to Leclerc finishing in the position (sixth) he held earlier in the grand prix.
But that was only because he passed Sainz, as Leclerc did lose out to Russell because the Mercedes driver was able to extend his first stint long enough to switch straight to intermediates at his first pitstop.
Leclerc did not have that choice as the degradation he suffered on the hard stint towards the end of the stint forced him to yield.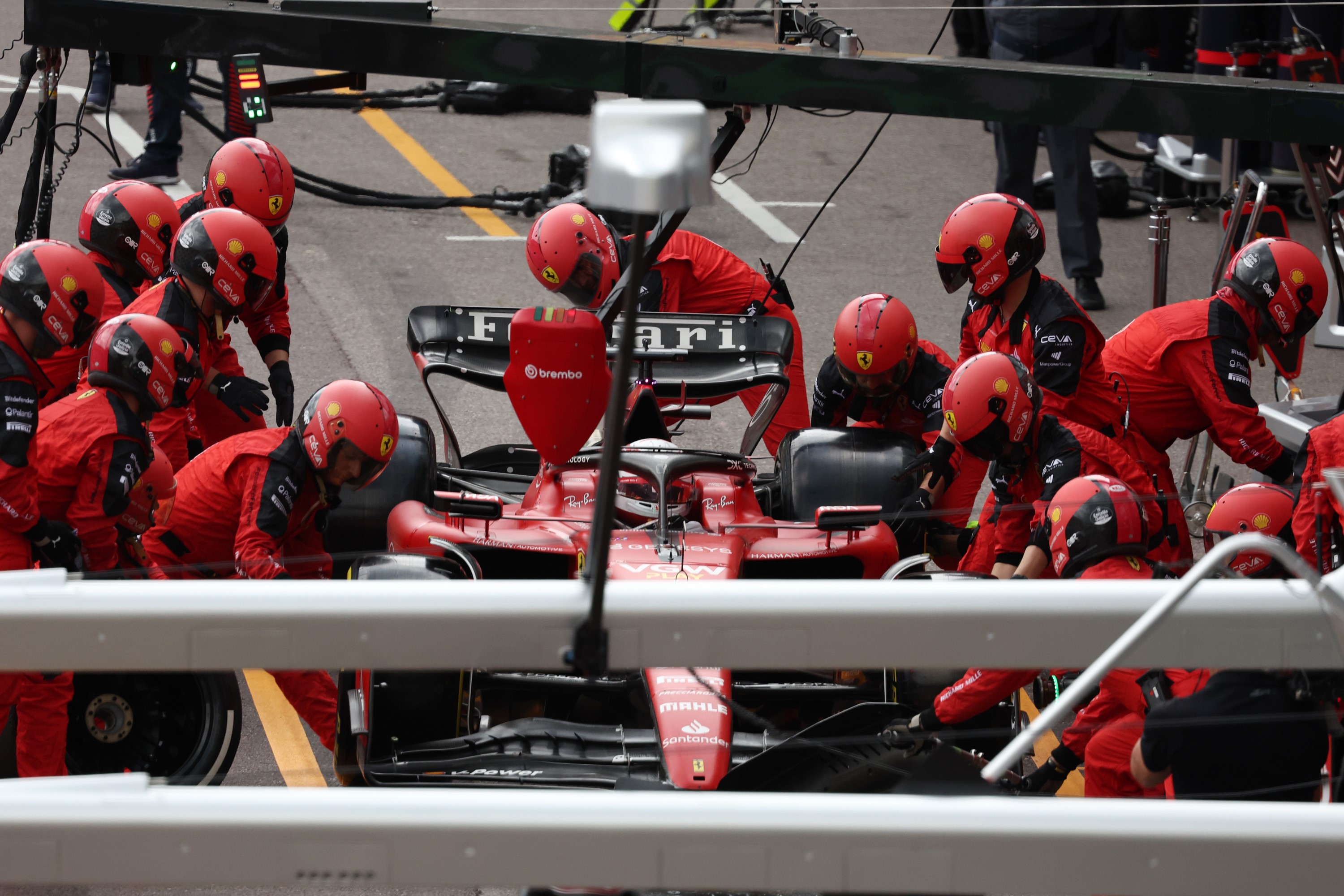 As for Sainz, the decision to stay out on slicks directly impacted his race because he then slid off the road and lost two places to Leclerc and Alpine driver Gasly.
He had earlier been frustrated by Ferrari's decision to bring him in quite early on hard tyres to cover Lewis Hamilton, who had been directly behind him on the road.
Ferrari was prioritising track position against the Mercedes driver but Sainz felt he should have been allowed to keep going in clear air after being stuck behind Ocon for so long and only just been freed by the Alpine driver pitting.
While a quick pitstop in response meant Sainz stayed ahead of Hamilton it also guaranteed he rejoined just behind Ocon, costing him the chance to try to overcut him – or, in hindsight, to extend his stint until the rain fell and he could switch straight to intermediates.
"You know that the position on track is crucial in Monaco and you don't want to lose position because even if you have better tyres at the end, even if you are in a much better shape, if you are behind you're behind," said Vasseur.
"I think that it was a good strategy because when we asked him to pit it was to cover Hamilton and it was to avoid losing the position.
"It would have been better to extend if we are not at risk with Hamilton but in this situation I think it was a good call.
"Then we can discuss about when the rain came, it was a bet from our side, but I have no regrets on this because we didn't lose position at this stage."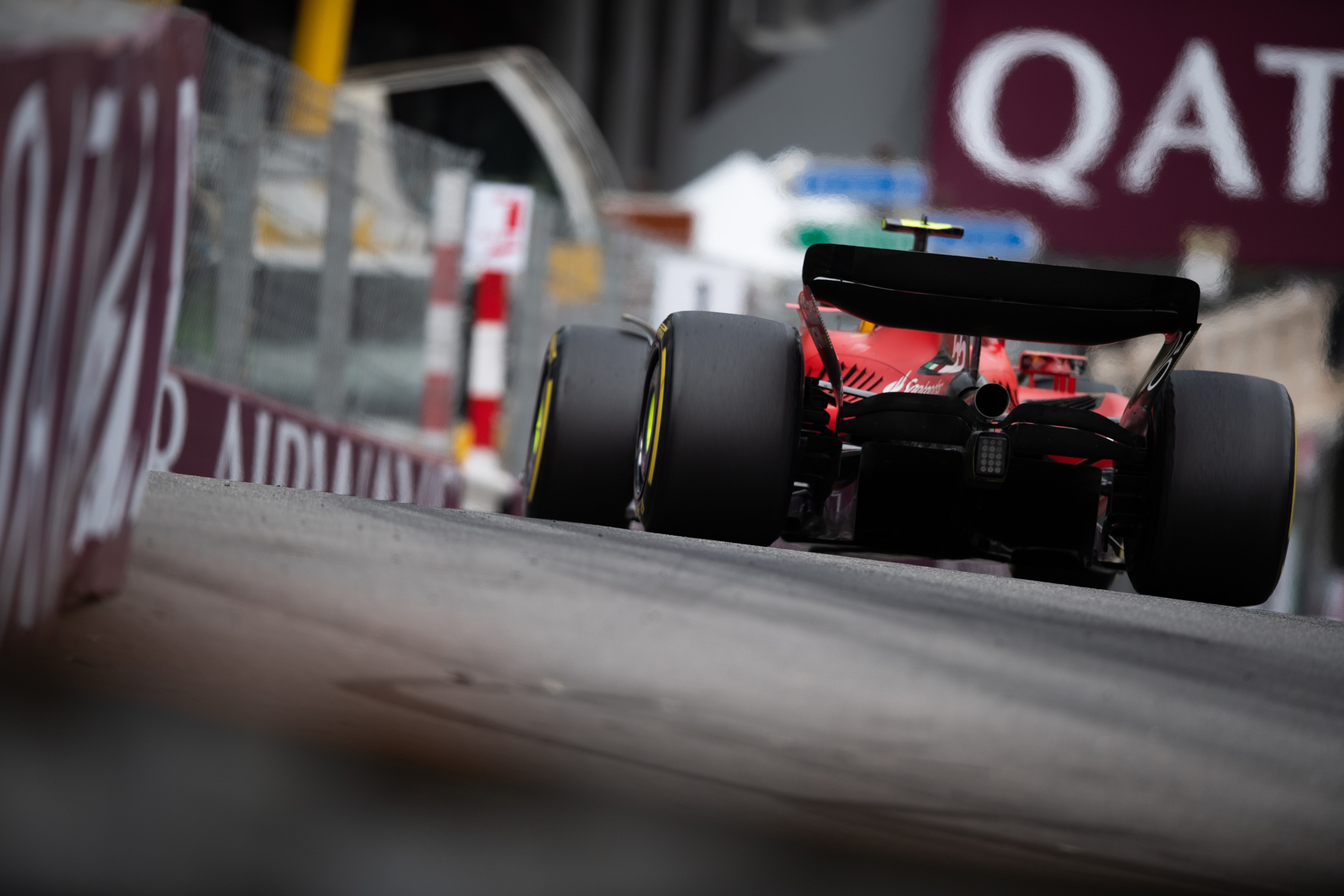 Sainz was particularly irate with Ferrari's strategy calls over the radio, which he put down to "high adrenaline" after the race.
He also took some responsibility for the decision to stay out on slicks one lap too long, claiming it was "also my fault trying to maybe compensate for my frustration on the first stop, trying something different I got it wrong and it hurt us".
"Monaco first of all is a bit of a lottery and it was a bit of a lottery for everyone," said Sainz.
"Probably I just got the worst out of it.
"The first pitstop is debatable. I will go back and review it because obviously I was very quick on that inlap and I felt like I still had laptime to come in clean air.
"I had been doing all that management, to suddenly be pitted left me frustrated. But I shouldn't have shown it on the radio, first of all.
"Then the second pitstop, it's a lottery. It's not getting it right or wrong, it's one lap too early or one lap too late."