While Formula 1 is on hold, The Race is revisiting a series of races from the world championship's history – starting this weekend with the 2014 Bahrain Grand Prix.
On Friday we set the scene for the weekend, now it's onto qualifying.
With the continued dominance of Mercedes into the third race of the new hybrid turbo formula, pole position was never going to be anything other than a straight scrap between Nico Rosberg and Lewis Hamilton.
Hamilton, fresh off his dominant win over Rosberg in Malaysia, began the weekend with a comfortable advantage over his team-mate.
In the Friday practices he'd been able to turn the same times despite using significantly less fuel. He was maintaining more momentum in the slower turns, more comfortable than Rosberg with the initially unstable rear, meaning he'd less accelerating to do on the exits.
But as the track gripped up into Saturday, so the balance of the Mercedes W05s began to shift towards understeer and suddenly Rosberg was finding a sweeter set-up spot.
It was very finely-poised between them as they began their Q3 runs in the dusk beneath the newly-installed floodlights. With the track temperatures already beginning to fall, the grip was increasing. The more it increased, the more the balance shifted Rosberg's way.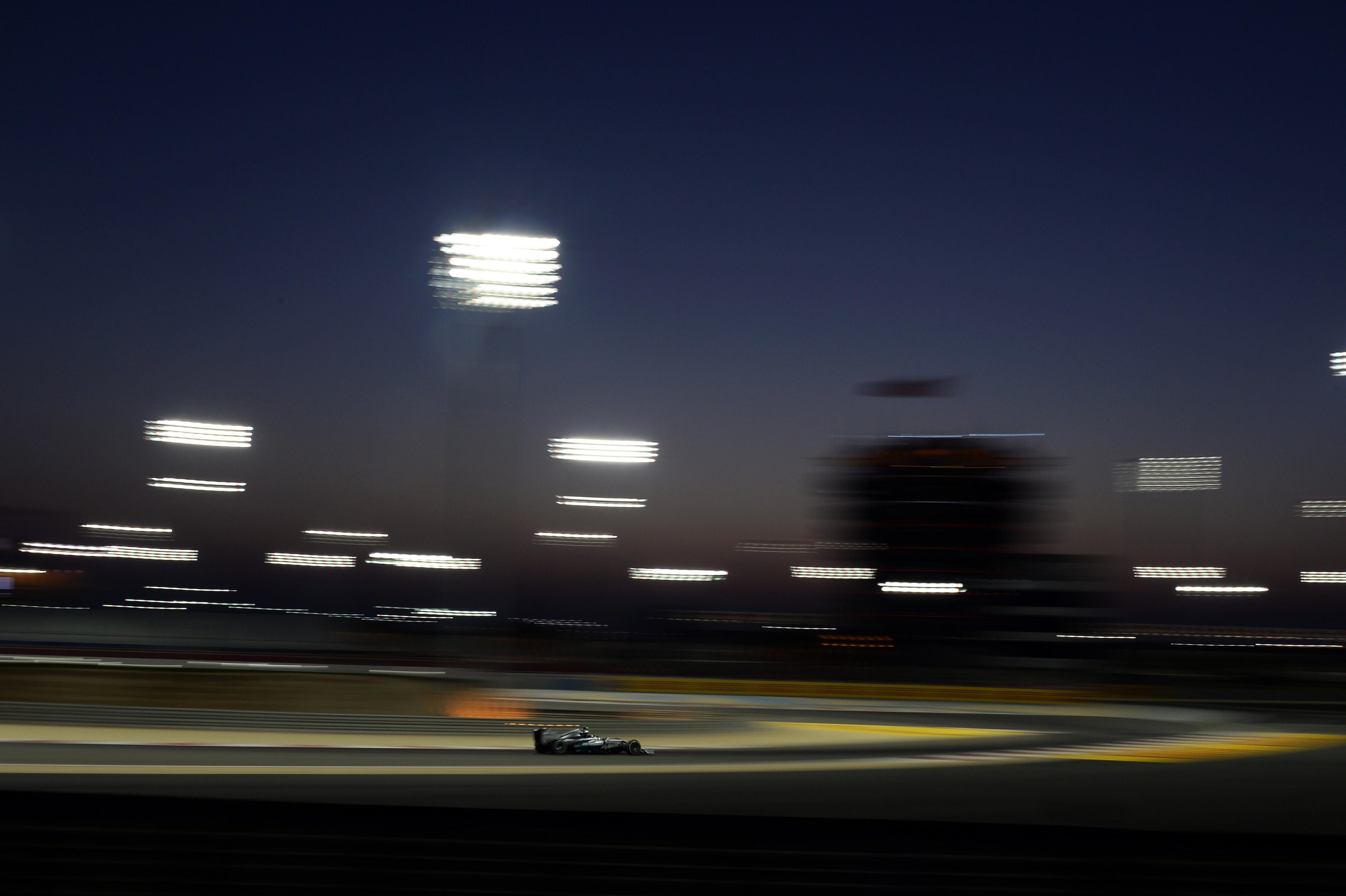 Ultimately, Hamilton was forced to abandon his final Q3 lap after locking up into Turn 1, whereas Rosberg's was clean – giving him pole by a handy 0.3s. This was Rosberg's fifth career pole, his second in Bahrain.
Rosberg has traditionally flown at this track – recall his sparkling F1 debut here in 2006 and his pole last year – and he was well satisfied with his efforts on Saturday as he sought to maintain his points advantage over his likely championship rival Hamilton.
"The challenge this weekend is that the free practice sessions were in such hot conditions, also the one before qualifying, and it's just very difficult because you have to guess sort of what the set-up is and what the car is going to be like in the colder conditions in the evening. It worked out well," he said.
"It was getting slower every lap" :: Fernando Alonso
In the first dry qualifying session of the season, Mercedes' advantage over the rest was only amplified and the circuit's high power-sensitivity (the third-highest of the season) played its part in this too; the Red Bull-Renault of third fastest Daniel Ricciardo was almost 0.9s adrift of Rosberg.
Ricciardo was taking a 10-place grid penalty for his unsafe pit release at Sepang, promoting the Williams-Mercedes of Valtteri Bottas to third, marginally quicker than a closely-bunched Sergio Perez (Force India-Mercedes), Kimi Raikkonen (Ferrari) and Jenson Button (McLaren-Mercedes).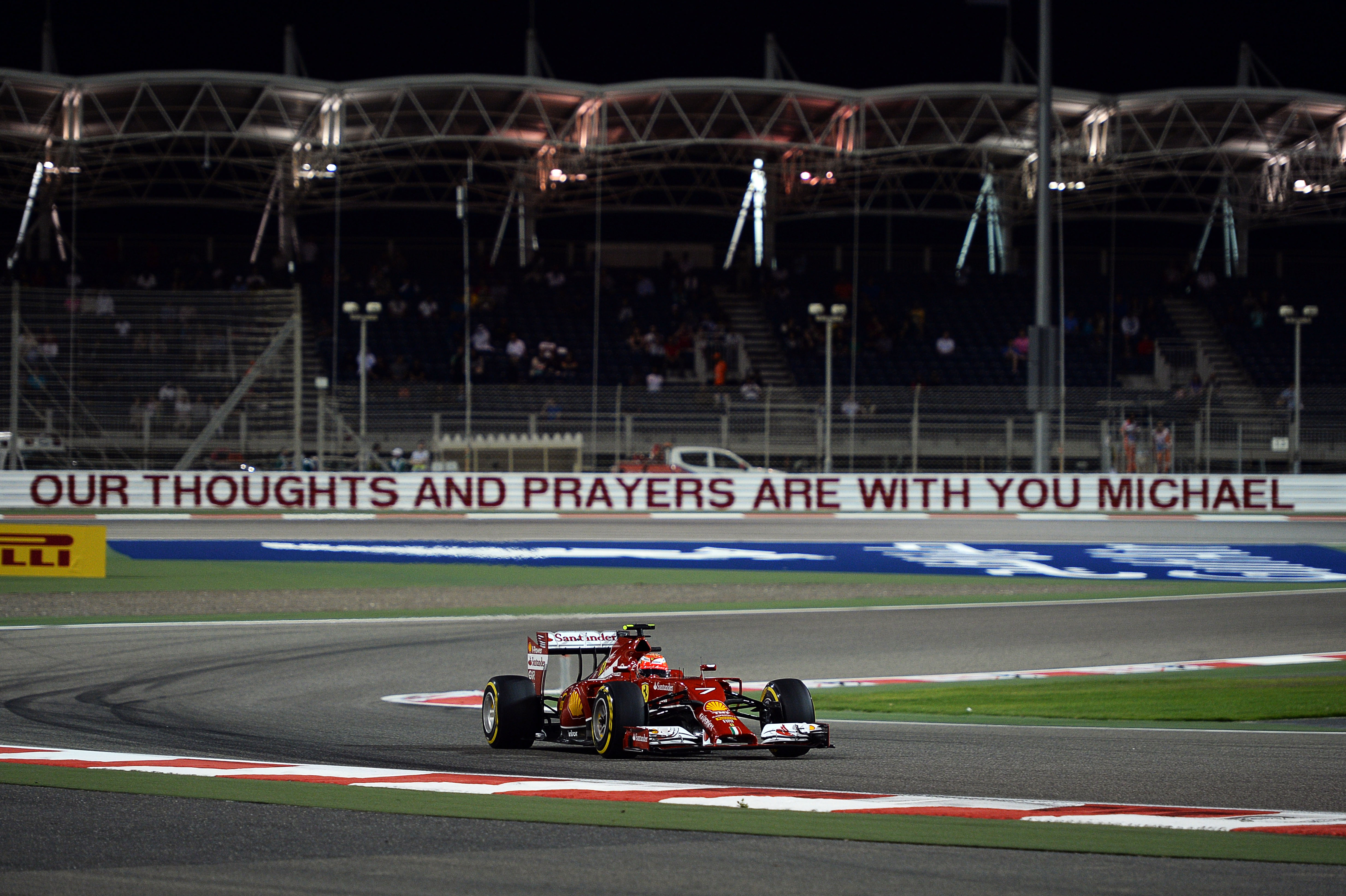 Unlike the Mercedes-engined cars, the Ferraris were unable to deploy full ERS for two consecutive laps and so Raikkonen's sixth-fastest time (1.2s off pole) was actually probably flattering to its likely race pace.
Felipe Massa (Williams-Mercedes) and Kevin Magnussen (McLaren-Mercedes) were a little adrift of their respective team-mates in eighth and ninth – but ahead of Fernando Alonso's Ferrari, which was losing power as the session went on.
"It was getting slower every lap," he reported. "Maybe it's in the electric motor or something but we did a 1m34.5s in Q2 on higher fuel and a slower track compared to 1m34.9s in Q3."
Sebastian Vettel didn't make the Q3 cut in his Red Bull, 11th-fastest after suffering a downshift glitch that was causing his rear wheels to lock.
Twelfth-fastest Nico Hulkenberg was struggling a little in the Force India, 0.4s off team-mate Perez in Q2 and only marginally faster than the Toro Rossos of Daniil Kvyat and Jean-Eric Vergne.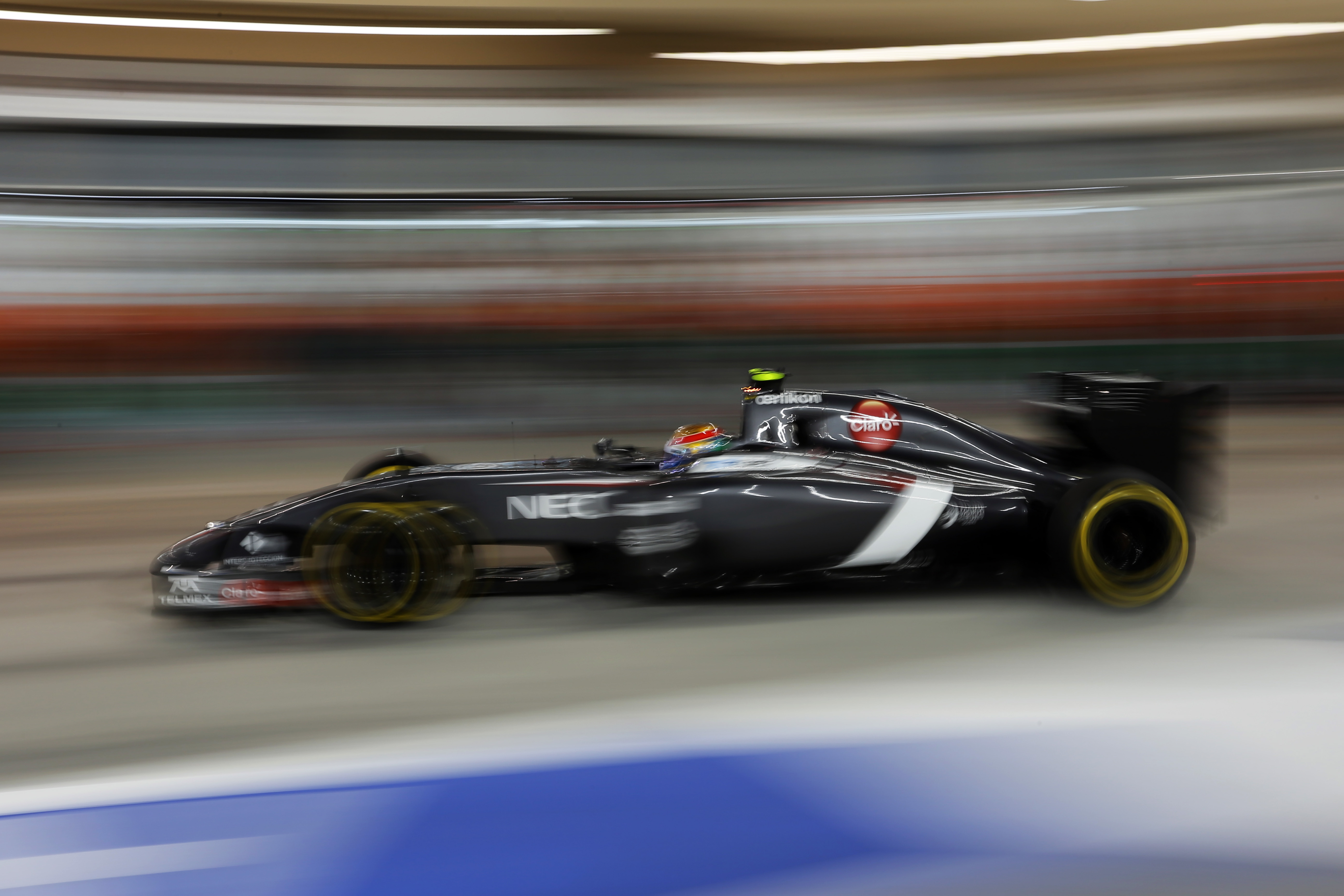 Esteban Gutierrez's Sauber-Ferrari and Romain Grosjean's Lotus-Renault were the last of the Q2 runners.
Going out at the end of Q1 were: Pastor Maldonado's Lotus and Adrian Sutil's Sauber, with Kamui Kobayashi then heading the Caterham/Marussia battle ahead of Jules Bianchi (Marussia), Marcus Ericsson (Caterham) and Max Chilton (Marussia).
Given the Mercedes superiority, the excitement in Sunday's race looks likely to depend upon how racey the team allows Rosberg and Hamilton to be with each other.
Rosberg isn't expecting an easy time of it: "We're here to race, we're here to put on a great show and so I think you could see some tomorrow between us. Hopefully not, for me.
"But it's very possible – and we owe that to the fans, to everybody, to put on a fantastic show and that's what we will do."