After a pretty decent first season of its GT3 era, the DTM concluded last weekend with a multi-layered shower of pure disappointment.
The layers in question ranged from Kelvin van der Linde's first-lap elimination of Liam Lawson and Mercedes' egregious use of team orders (across multiple customer teams) to propel Maximilian Gotz to the title, to the apparent lack of post-race awareness from the parties involved of just how sour a taste the conclusion of the season had left in many – seemingly most – viewers.
Deep breath and here we go: pic.twitter.com/f9F8myaOy1

— Kelvin van der Linde (@KelvinvdLinde) October 13, 2021
Though van der Linde's subsequent apology was a measured and welcome gesture, he will be one of many who do not look back on the Norisring DTM finale fondly, earning it a rightful place in the pantheon of terrible motorsport title deciders.
There are enough examples in motorsport history of these to potentially fill a dozen articles, but we've limited ourselves to a selection of just a few – of a wide variety – in the below list.
What makes for a bad title decider? There's no uniform criteria, but for this feature we've settled on a requirement being a feeling of injustice – either that the rightful champion wasn't crowned, or that the title was decided in a way not befitting of the season that had come prior.
Jones makes sure of his 1980 title
Mark Hughes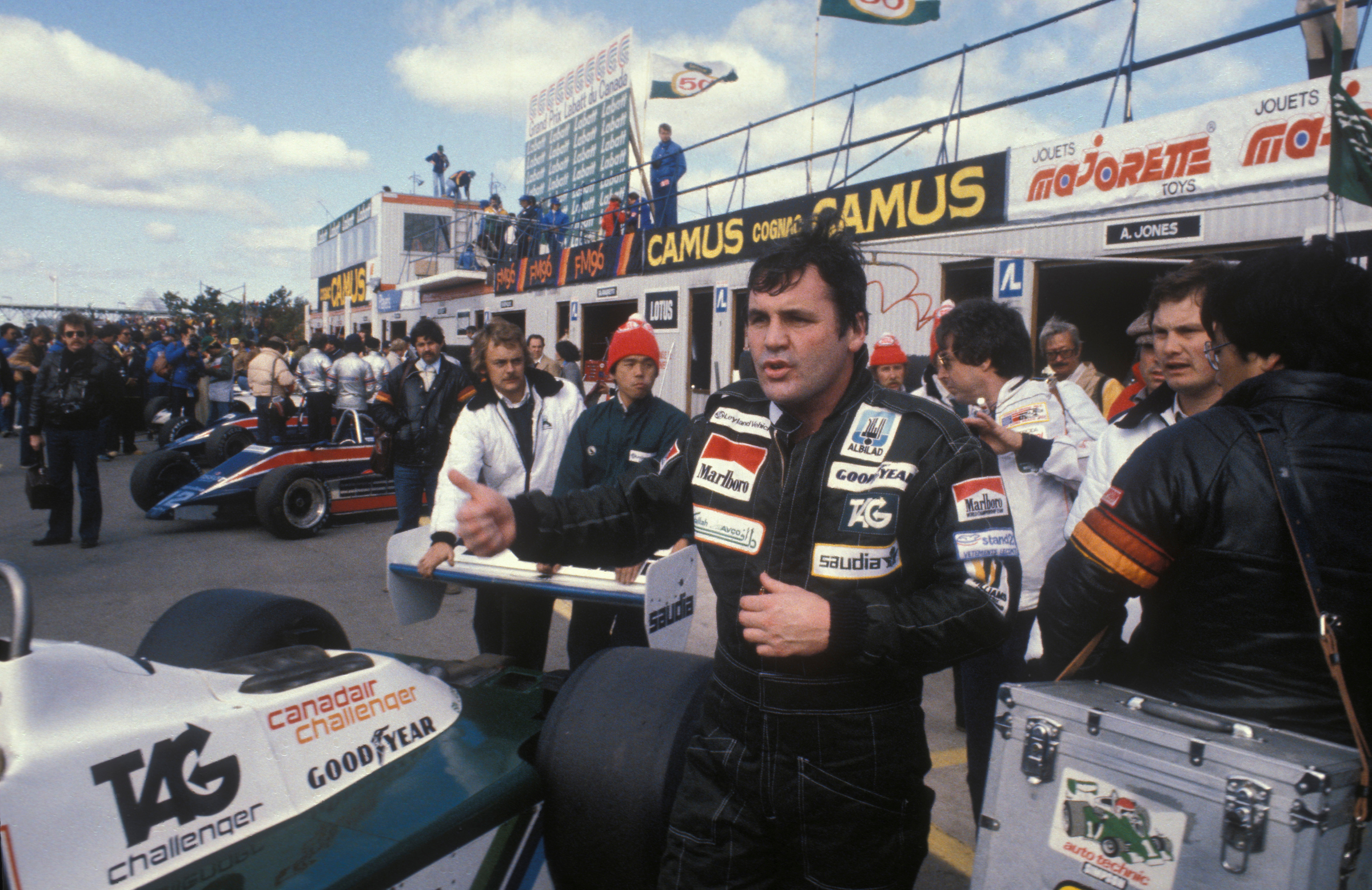 By the penultimate round of the 1980 Formula 1 season it was looking like Nelson Piquet was in place to steal the world championship from under the nose of Alan Jones, who at one stage had looked a shoo-in for the title.
Ever since Gordon Murray had extended the Brabham BT49's wheelbase a couple of inches for Zandvoort a few races earlier, giving Piquet a much more secure feeling, it appeared to have the edge on Jones' Williams FW07.
They came to Canada with Piquet one point ahead. But if either won the race and the other failed to finish, that would clinch the title one race early. Piquet took a resounding pole position, a full 0.8s ahead of Jones. But Jones smelt a rat. "From one practice session to the next he'd suddenly found 1.5s on me," he recalled. Piquet had used the Brabham 'qualifying car' which had a special engine which would not have lasted a race distance. For the race he was back to the standard car and engine.
Back then, the Montreal starting grid was just after the hairpin and was followed by a fast right-left kink where the track now goes straight. Jones, from the outside of the front row, out-dragged Piquet off the line but was not fully ahead as they approached the kink. He chose the 'yield or we crash' tactic on Piquet and turned in.
Piquet couldn't get out of the way by the time he realised Jones wasn't going to leave him room and they collided, the Brabham then turning sharp right into the tyre wall and triggering a multi-car accident behind. Jones lost only his engine cover.
"As far as I was concerned I was in the lead," said the notoriously tough Jones. "Even if you get half-a-wheel in front of someone else, you have the right to take your own line; it's up to the man behind to look out for you."
"He knew I was quicker than him," reflected Piquet years later, "and that if he didn't stop me there I was going to win the race – so he pushed me into the wall."
"What went on in Alan's mind and whether taking Nelson out was deliberate, I don't know," said Williams technical director Patrick Head in 2016. "I think it's quite likely that it was deliberate because the Brabham really looked faster at that point."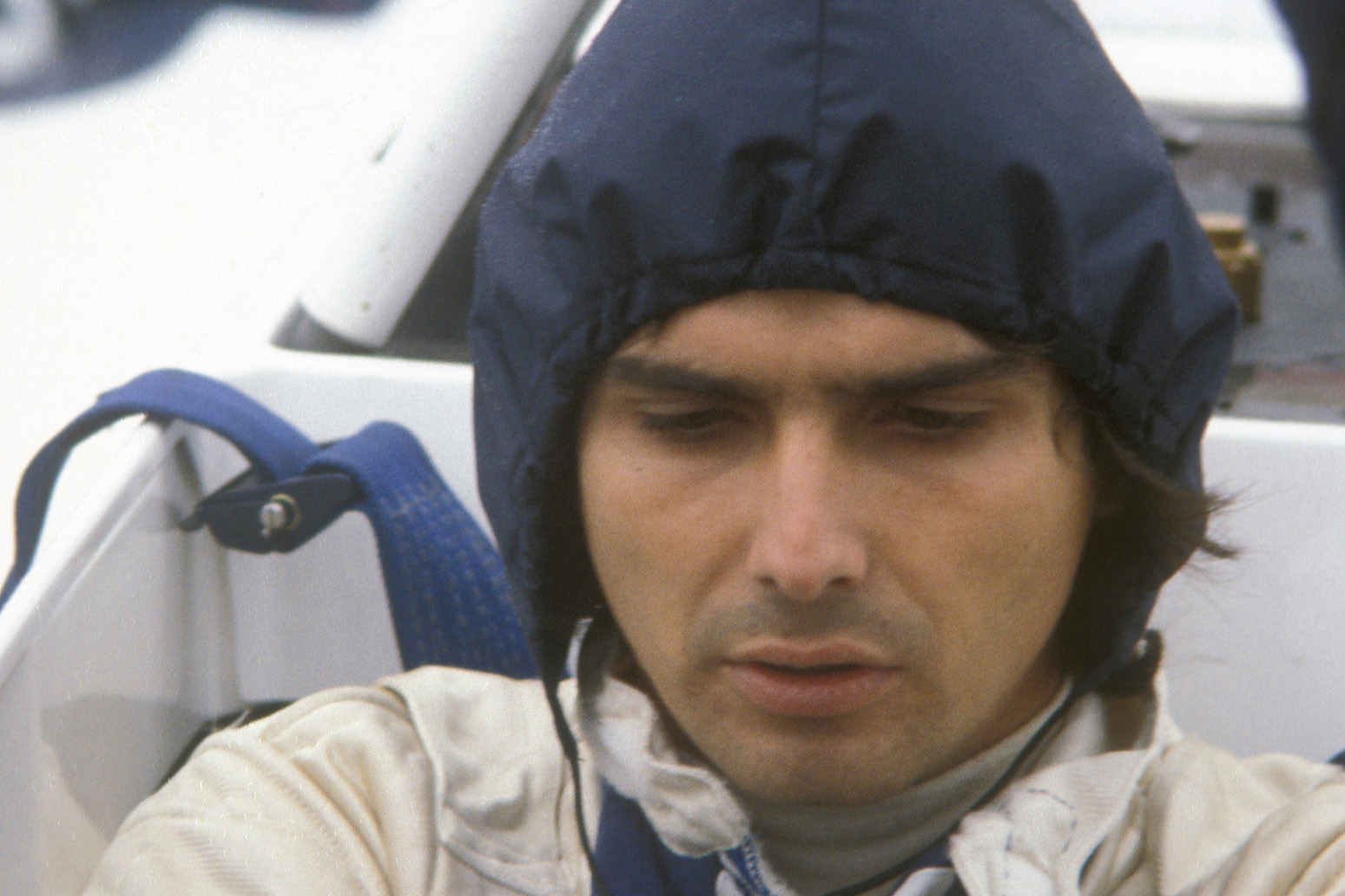 The race was stopped for over an hour as the various wrecked cars were repaired. But not Piquet's. The damage to the Brabham was too extensive and he was obliged to take the restart in the spare car – which still had its special engine.
Jones again won the start but Piquet later "passed me like I was parked", as Jones put it. He proceeded to streak away at an impressive rate before pulling to the side with smoke pouring from the exhausts after just 24 laps. Jones this took the win and the title. "I felt a bit bad," said Head, "because their car was quicker than ours at that point in the season. But then Alan's drive at Watkins Glen [the final round] made us feel a bit more comfortable on the basis that even if Nelson had won Montreal, we would have still won the championship at Watkins Glen."
The biggest flashpoint of Formula Renault's heyday
Valentin Khorounzhiy
The 2012 Barcelona World Series by Renault weekend marked a truly remarkable achievement for Robin Frijns as he wrapped up his third straight junior single-seater title, adding the Formula Renault 3.5 crown to previous successes in Formula BMW and two-litre Formula Renault. The nature of this latest triumph, though, was less than optimal.
Frijns was just four points clear of main rival Jules Bianchi heading into the final race, and when Bianchi darted past Frijns for fourth place with under five laps to go, with cars in play both ahead and behind, the seeds of a spectacular conclusion were planted.
And spectacular it was, albeit in a seriously unsatisfying way. Frijns divebombed Bianchi from quite far back into Turn 4 – maybe in a planned move, maybe just reacting to Kevin Magnussen attempting to do the same behind – and the resulting contact took the Frenchman into the gravel, immediately extinguishing the title battle. Frijns would receive a post-race time penalty after lengthy deliberations, but it did not impact the outcome of the championship.
It was not only a super-controversial event, but in addition remarkable for two more reasons. Firstly, just a year prior the same track hosted another 3.5 title decider that featured a collision between the contenders, with Robert Wickens potentially throwing away the title by breaking his suspension in a start battle with Jean-Eric Vergne – only for a misjudged Fairuz Fauzy lunge on Vergne to effectively make Wickens champion after all just a few corners later.
Secondly, during that same 2012 Barcelona weekend the title in the two-litre Alps category was also decided through a collision between the title rivals, as Norman Nato and Daniil Kvyat came together almost immediately – with this preserving Kvyat's three-point advantage.
A title-winning move to get yourself fired
Simon Patterson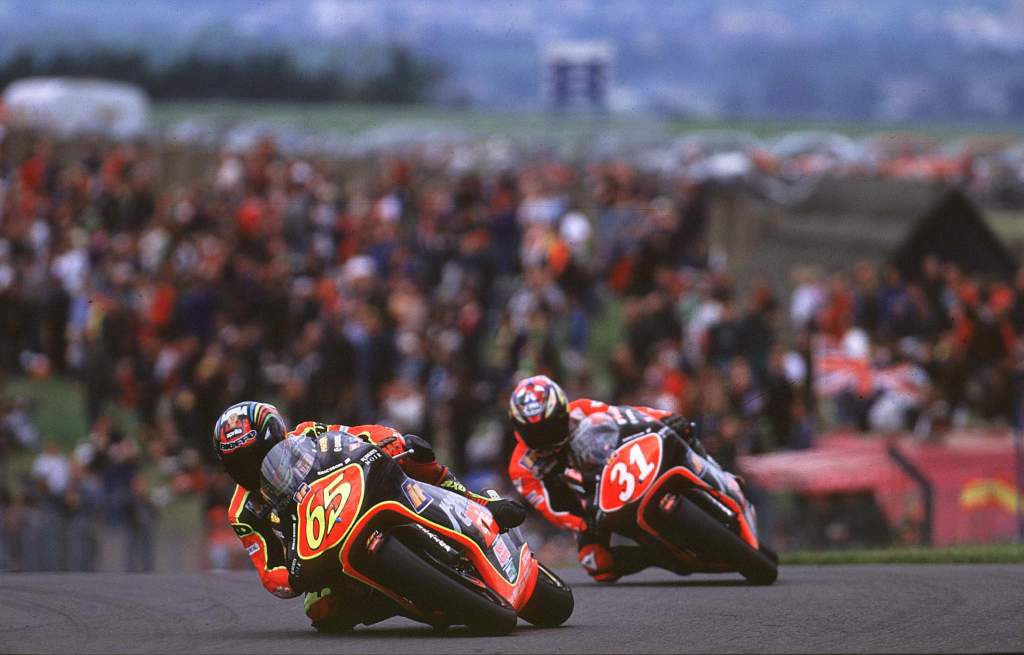 Going into the final round of the 1998 250cc championship, there were three possible contenders who could still win the title at Buenos Aires' Autodromo Oscar y Juan Gálvez circuit.
It was a factory Aprilia 1-2-3, as Loris Capirossi led the way by only four points from Japanese team-mate Tetsuya Harada, with rookie Valentino Rossi still in with a mathematical chance in third.
The race (and the title) looked set to go down to the wire as they got stuck into a three-way dice for the win that eventually came down to the last corner. Harada, then leading, left the door just slightly ajar and Capirossi look his chance, lunging up the inside for the lead.
However, there just wasn't enough room, and contact between the pair led to the Japanese rider going down. Rossi got through to take the race win, Capirossi recovered for second, but Harada was left watching on from the gravel as his team-mate took the title.
It didn't rest there, though. Stripped of his points for the move, Capirossi took the matter for the Court of Arbitration for Sport and was able to demonstrate on his telemetry that he had maintained the same speed as previous laps – and the title was eventually decided in his favour, not in Argentina but in Switzerland weeks later.
Winner or not though, Aprilia bosses were less than thrilled with Capirossi, who is ironically now MotoGP safety officer. Halfway through a three-year deal with the Noale factory, Capirossi was let go for 1999.
He once again went to court, and despite having already signed up to Fausto Gresini's Honda team he was awarded the remainder of his Aprilia salary as compensation – €2million he immediately spent on a white Ferrari with a custom numberplate that read 'APRILIA'.
'He ain't going to win the championship with that attitude'
Valentin Khorounzhiy
The laissez-faire approach to stewarding in American stock-car racing, coupled with the time-honoured tradition of taking matters into one's own hands through on-track retaliation, mean it's a surprise that more titles haven't been decided the same way as this following one.
In 2008, the ARCA Racing Series – effectively a NASCAR feeder although back then it wasn't yet formally affiliated with NASCAR, which would buy it out in 2018 – was supposed to come down to a duel between ex-F1 driver Scott Speed and Ricky Stenhouse Jr coming into the finale at the Toledo short track.
Speed admittedly did have a reasonable points buffer – but his title challenge was left in tatters when Stenhouse made what looked like a pretty concerted effort to 'dump' the Red Bull-liveried car. He'd blame the rumble strips messing with his brakes, but it wasn't particularly convincing – and Speed wasn't about to let his rival get away with it, going a few laps down and deliberately wrecking Stenhouse.
"He started it. He ain't going to win the championship with that attitude. That was ridiculous, that was the most blatant thing I ever saw in my life," Speed said. "It's just ARCA. It's how it is."
With Speed parked and Stenhouse's ride junked, future NASCAR Xfinity frontrunner Justin Allgaier had the last laugh.
It's nothing new for DTM
Jack Benyon
Michael Schumacher? In a controversial title finale?
I jest. This won't be his last appearance on this list.
In 1990 Schumacher joined Mercedes for the Hockenheim Deutsche Tourenwagen Meisterschaft season finale, but immediately found himself in trouble.
He veered off onto the grass at the Turn 1 right-hander, smashing directly into one of Mercedes' closest rivals for the title, Johnny Cecotto of BMW.
Ultimately the move didn't provide any sort of advantage for Mercedes as Audi took the title with Hans-Joachim Stuck, but the Schumacher incident had an impact and Ceccotto missed the title as the runner-up by 12 points, understandably furious – although most believe Schumacher's move wasn't intentional.
Later in the decade, the Super Tourenwagen Cup – which effectively replaced the DTM in its hiatus between 1996-2000 – proved it wasn't immune to the continued late-season controversy in German tin-tops.
In 1999, the last year before the DTM returned and took over for 2000, the season climaxed at the Nurburgring.
On the last lap, long-time leader Uwe Alzen smashed into Kris Nissen at the final chicane while attempting to put Nissen a lap down.
This fracas allowed Alzen's main title rival – Nissen's Audi team-mate Christian Abt – to lead into the final corner, only to be punted in a laughable move by Roland Asch – Alzen's Opel stable-mate.
This gave Alzen the championship as he limped home second despite the Nissen clash, but weeks later the governing body counted the race a lap back and handed Abt the title.
This one has to be watched to be believed, but may never be truly understood…
The F1 'classics'
Matt Beer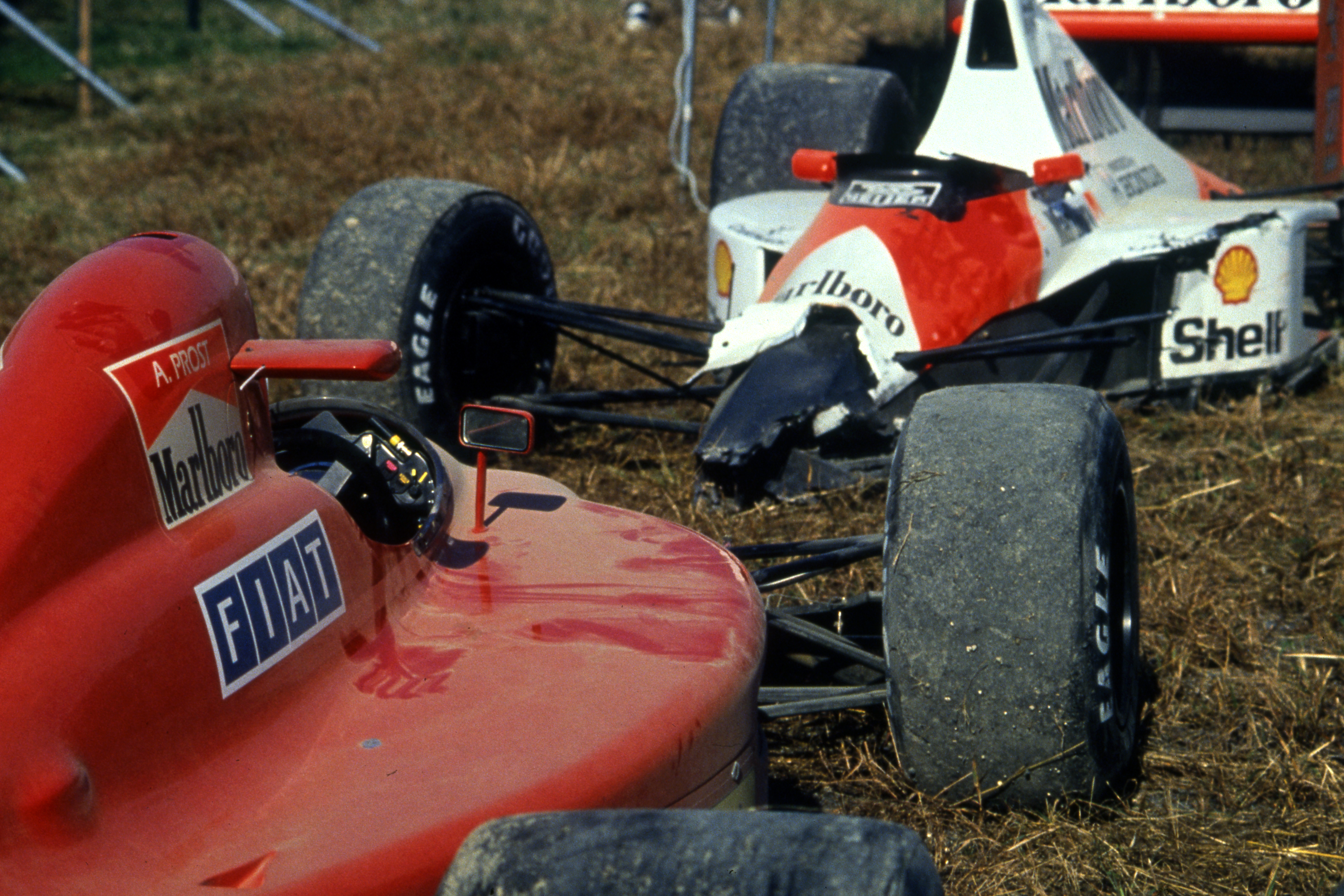 We're not going to go into too much depth on these because the tales are so well-known, but when this topic is mentioned in F1 circles it's Ayrton Senna's 1990 title and Michael Schumacher's first championship win that will always crop up.
On pure performance, Schumacher should've been a runaway 1994 champion, but a string of bans and exclusions followed by rival Damon Hill's epic drive in the wet at Suzuka meant he came to the Adelaide finale under genuine pressure.
That pressure told when Schumacher ran wide and hit the wall with Hill on his tail. When Hill went to dive past Schumacher's damaged and wandering Benetton, Schumacher turned in and was spat into the wall again. Hill got as far as the pits before Williams had to admit he couldn't continue and Schumacher was champion.
There was enough scope to give Schumacher the benefit of the doubt there. That hadn't been the case in the infamous 1990 decider at Suzuka. A year later, Ayrton Senna – at the height of his rows with Alain Prost and the F1 establishment – openly admitted he had taken Prost out at the first corner once beaten off the line, settling the title in Senna's favour.
While Prost was clearly the innocent party there, it wasn't hard to see why Senna was aggrieved by how early his then-McLaren-team-mate had turned in when they had the Suzuka 1989 tangle that ensured (thanks to both the collision and Senna's subsequent disqualification for how he rejoined the track) Prost would be champion.
Outrageous even by BTCC standards
Mark Hughes
I was reporting on the 1992 British Touring Car Championship title decider at Silverstone for Motoring News and watched the race from the support pits, just opposite Brooklands corner.
It had been a great championship with Vauxhall's John Cleland, having dominated the early part of the season, then keeping himself tenaciously in contention as first Toyota, then BMW came good. When BMW finally got the E36's rear axle working it was the fastest car and had dominated the second half, allowing Tim Harvey to close the points gap on Cleland. Toyota's Will Hoy was also still in contention.
Steve Soper made occasional gun-for-hire appearances alongside Harvey for BMW in between his DTM programme and naturally he'd been enlisted for the vital finale. Qualifying had been wet but drying, making for a crazy mixed-up grid, with Cleland in seventh, Hoy ninth and Harvey 12th.
There were always going to be fireworks from there and there were two terrific scraps – one between Andy Rouse, Jeff Allam and David Leslie for the race win, the other between the title contenders.
Running interference in this was Soper, who'd been spun to the back by Leslie on the first lap but then caught up with the battling Cleland and Harvey, with Hoy running just ahead of them. It all came to a premature climax a few laps before the end as Soper and Cleland crashed out.
Soper had just passed Cleland into Vale and a few corners later Harvey went down the Vauxhall's inside into Bridge, allowing Soper to stay out wide to immediately ease Harvey up another place.
Cleland had the inside line on Soper as they approached Brooklands, Soper cut him off late, Cleland kept his foot in and as the Vauxhall was forced over the inside kerb at an acute angle it went onto two wheels, scraping itself alongside Soper and taking off the BMW's wing mirror. Cleland hung Soper out to dry over the exit kerb but then needed to turn right for Luffield – and Soper wasn't about to let him. They hit hard and both ended in the gravel.
Harvey duly took the title. It was a fractious and unsatisfactory way for such a great battle to have been decided.
British F1 had its own title-deciding collision
Sam Smith
As characters the only trait Rupert Keegan and David Kennedy shared was that of their surnames beginning with the same letter of the alphabet.
They were complete opposites. Keegan was a privileged playboy who sailed through the junior formulaes partly thanks to his airline boss father, Mike Keegan's wealth.
Kennedy was a skint dreamer from rural Sligo in Ireland and among other many other things once worked in an iron-ore mine in Australia to finance his burgeoning single-seater career.
In 1979 the pair met in the inaugural Aurora AFX British F1 Championship which featured a range of 'conventional' and 'ground-effect' machinery.
Keegan was entered in a Charles Clowes entered Arrows A1 and Kennedy in an ex-Jody Scheckter run Wolf WR4.
Kennedy started the season off excellently with wins at Zolder and Oulton Park but then dipped allowing Keegan to reel-off victories at Snetterton, Donington and Mallory Park – yes, you read that right, F1 cars at Mallory Park!
The two were closely match on points as they visited Oulton Park for the second time at the end of June. That was when Keegan suffered a fearful accident after a brake failure at Lodge Corner. It destroyed his car, which had to be prised open to allow the miraculously uninjured Keegan free.
He was however forced to miss the next race at Nogaro before the final round was held at a damp Silverstone.
Kennedy held a five-point lead (with nine for a victory) and just had to cruise to the chequered flag. But the racer's instinct in the then fiery character could not be tamed and he unfathomably tried to wrest the lead from his adversary on the wet inside line at Woodcote.
While the Wolf spun into the catch-fencing Keegan recovered to take second place and ensured that Kennedy's needless move would haunt him forever.
Virtual controversies
Nathan Quinn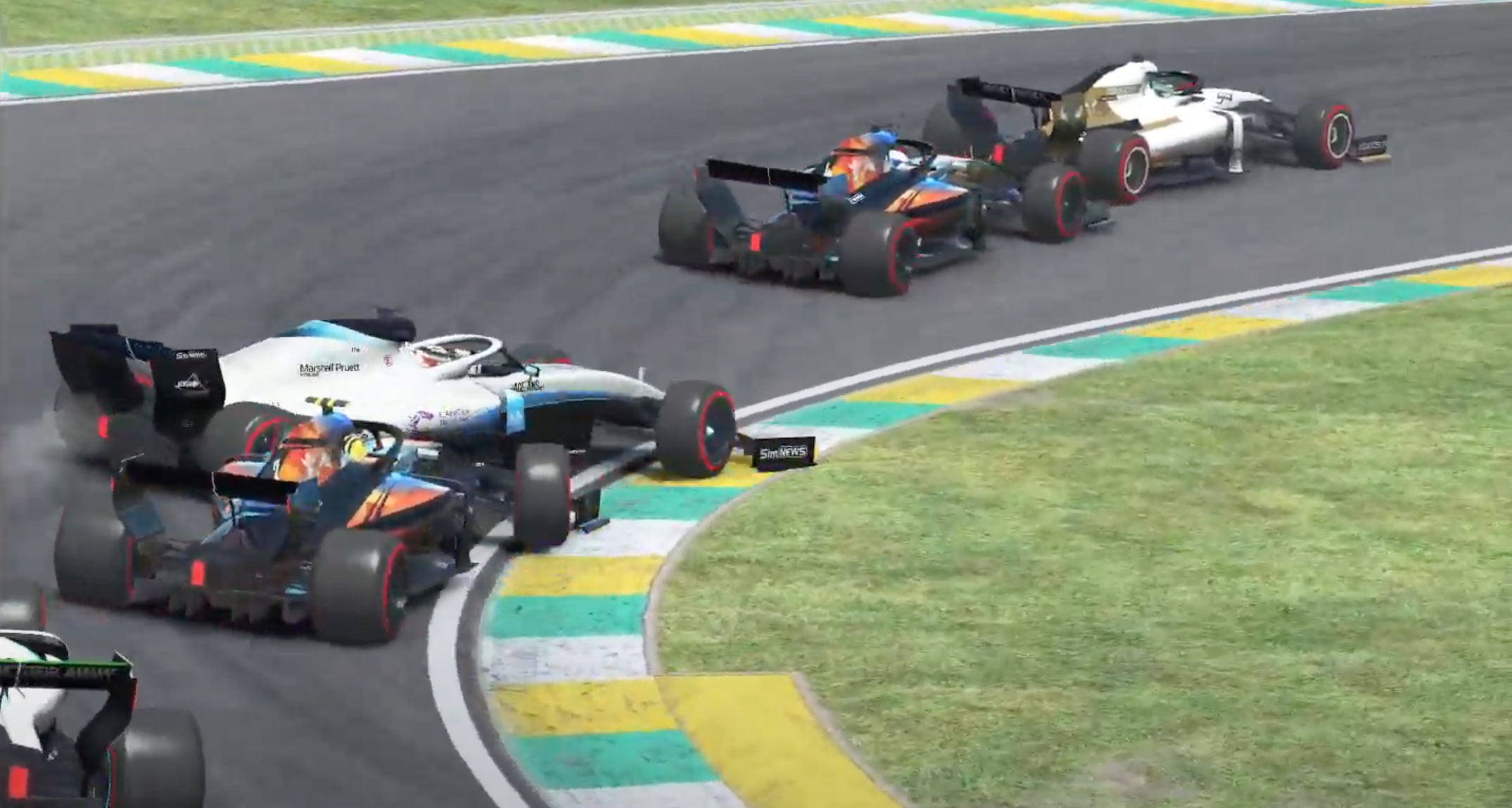 Despite the often smaller stakes when compared to real-world motorsport, there's no shortage of controversial moments in esports. Last year's GPVWC Superleague final round was proof of the lengths some people will go to even in simracing.
Reigning champion Jannick Bock had a two point lead over his closest challenger Adam Maguire heading into the final round.
A mistake by Maguire's team-mate Liam de Waal meant he hit and spun Bock around on lap four, effectively ending the German's chances of defending his title as he had to pit to repair damage.
From then on Dennis Jordan, Bock's team-mate, fitted the softest tyres in order to catch up and pass Maguire. After achieving that Jordan then aggressively held up Maguire while letting other drivers through unchallenged in an attempt to drag Maguire further down the order.
In the end de Waal sacrificed his own race and dropped back to help his team-mate Maguire get past Jordan unscathed. Ultimately Jordan gave up, and Maguire won the title by a single point.
At the time Jordan insisted that he drove within GPVWC's own rules and he criticised organisers for allowing him to drive the way in which he did.
Disconnections are another sore topic in esports – the inaugural season of rFactor 2's official GT Challenge Series was the unfortunate victim of technical issues that handed the championship win to Michi Hoyer in a rather anti-climactic way.
The final round was run at Le Mans and Hoyer had a four-point lead over Michal Sedlacek, which was then reduced to one point after the sprint race.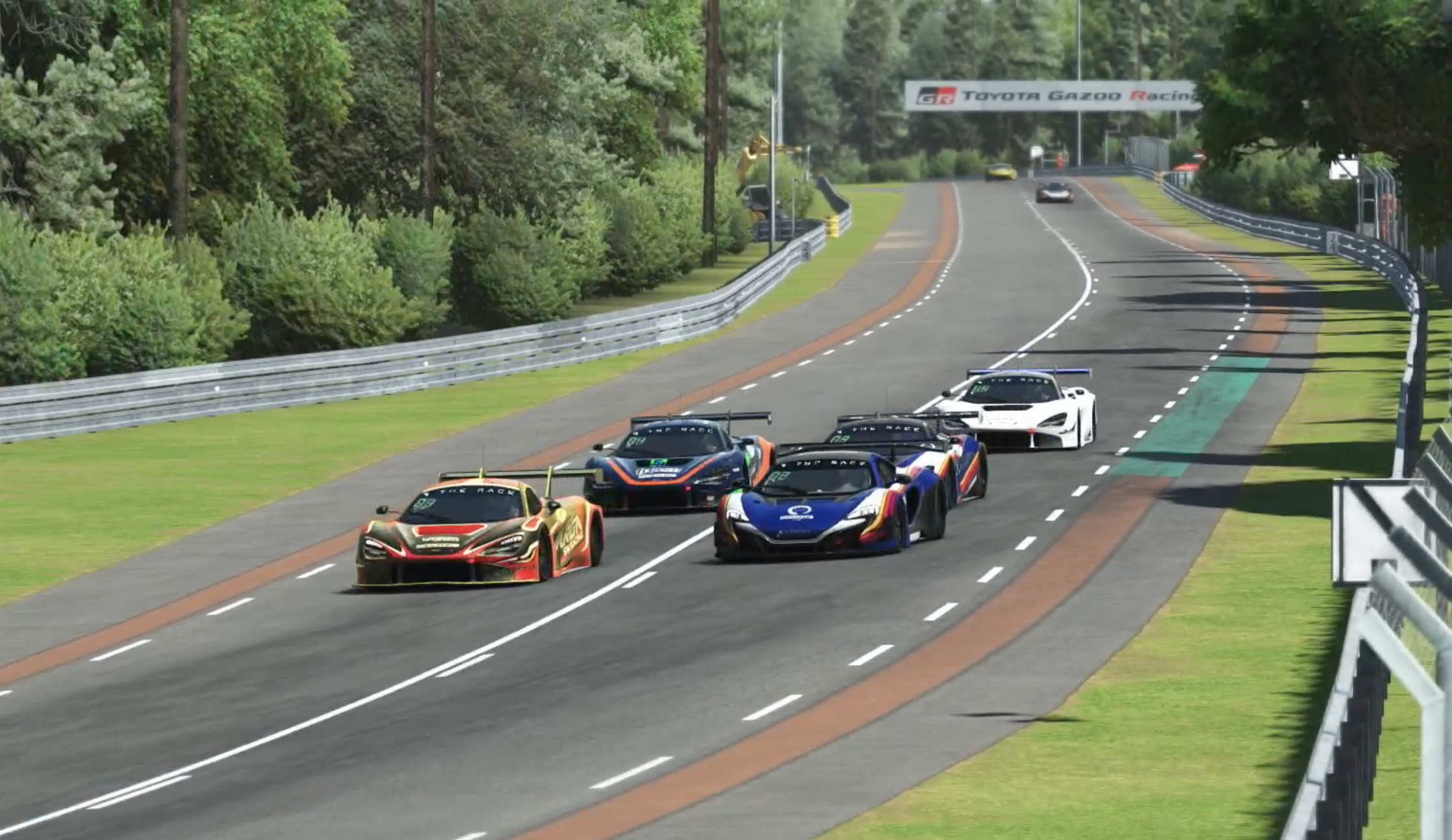 A 45 minute-long main race ran as usual for the first 35 minutes until three drivers, including Sedlacek, all disconnected at the same time.
At the time Sedlacek was in contention for the race win while Hoyer had fallen to eighth – which would've been more than enough for Sedlacek to win the title.
However the disconnections, along with a drive-through penalty for one driver who was ahead of Hoyer, meant the Burst Esport driver finished the main race in fourth and won the championship.
Despite a clear technical issue that was out of the hands of the multiple drivers it affected, the race wasn't stopped as the rules stated that at least 20% of the drivers have to disconnect for a race to be red-flagged.
Settled in court the following year
Sam Smith
The legal profession has made a lot of money from motorsport over the years, but the latter half of 1989 witnessed a few particularly bumper paydays.
Allan McNish and David Brabham were the British Formula 3 title protagonists with West Surrey (Ralt-Mugen) and Bowman (Ralt-VW Spiess). The inclusion of the engine detail is crucial as it was this that ultimately influenced the spiky title narrative.
Brabham flew out of the traps quickly, winning three of the first five races. McNish appeared to initially get side-tracked thanks to an intense rivalry with team-mate Derek Higgins.
Once that subsided McNish came back strongly with a mid-season winning streak in which consecutive victories were reeled off at Thruxton, Silverstone South, Donington Park and at the British Grand Prix-supporting round on the Silverstone GP track in July.
That final win triggered an initial protest around suspicions that Bowman (featuring a young Trevor Carlin) had over the potency over McNish's Neil Brown-tuned Mugen engine and specifically the starter motor position.
When West Surrey counter-protested Brabham's VW-Spiess unit about a supposed cylinder-head irregularity the bitterness rose to the surface. Both engines were initially found to be illegal, but an appeal lodged by WSR's Dick Bennetts was placed meaning only Brabham lost points.
It seemed at the time to all hinge on the final round at Thruxton which McNish won from Brabham. Yet the courts awaited and ultimately the Silverstone race results were allowed to stand, meaning that Brabham regained the Silverstone points and title.
That the gavel hammer came down for the final time in February 1990 meant that, Bowman and Brabham apart, few really cared.
By that time McNish had begun his F3000 career and a stint testing for McLaren, and Brabham was about to join his father's eponymous team in F1.
It was perhaps the lamest and most unsatisfying way to ever conclude a championship as the lawyers shuffled out of a nondescript court tribunal three months after the season had ended.
Overshadowed by tragedies
Matt Beer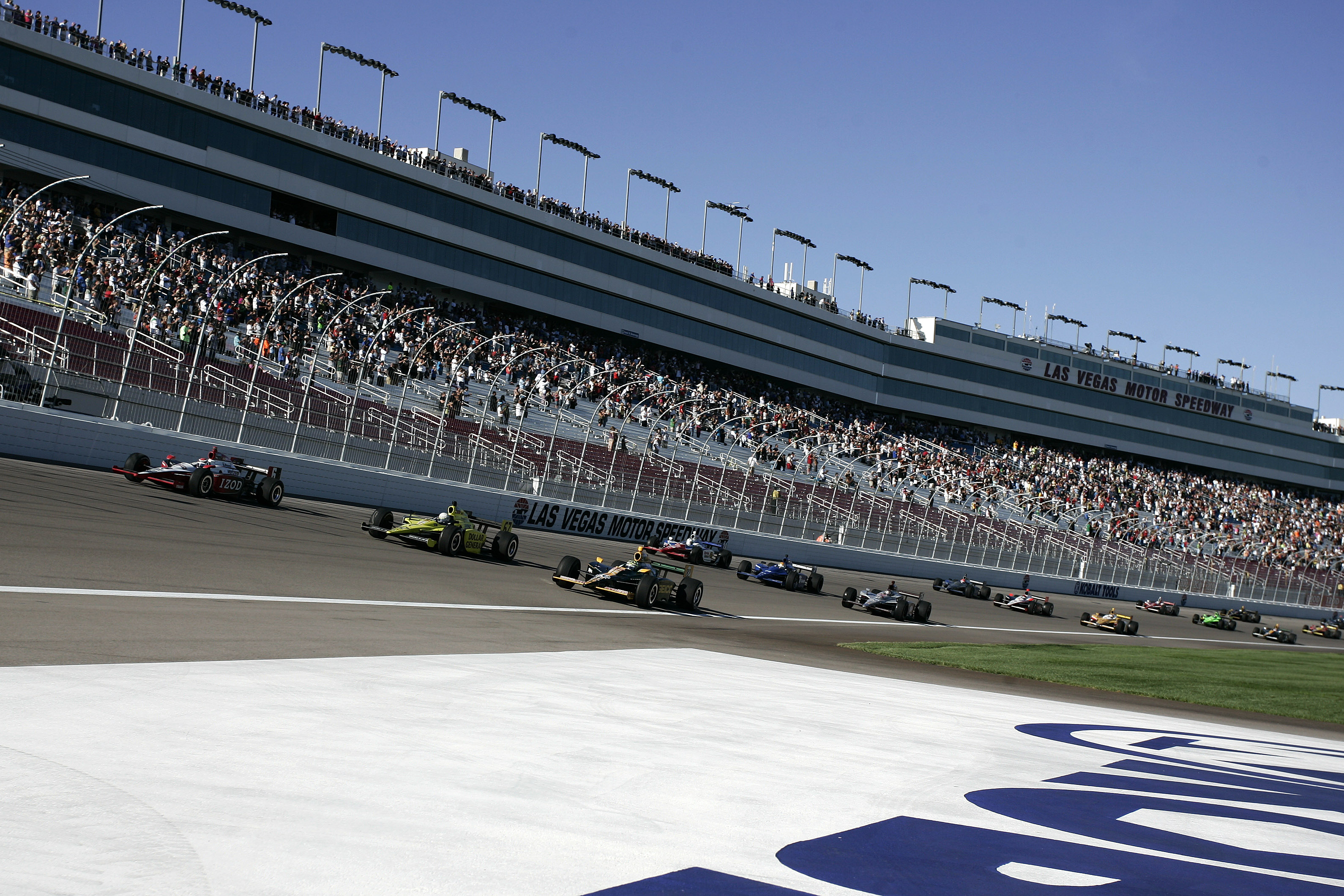 When this topic was floated, the first terrible title deciders that came to my mind weren't battle settled by underhand driving, but two championships where the points standings look great on paper but the finale will always be overshadowed by a tragic accident.
Juan Pablo Montoya's extraordinary achievement of winning the CART Champ Car World Series as a rookie in 1999 was just a footnote on the day at Fontana after the horrific crash that claimed the life of Greg Moore early in the race. Moore's close friend Dario Franchitti had a disappointing run to 10th thereafter, with Montoya's fourth place meaning they ended the year equal on points. Seven wins for Montoya versus three for Franchitti ensured the rookie was champion. For a long time that looked like as close to an IndyCar title as Franchitti would come, but it was not a day he would've wanted to celebrate anything had the points worked out differently.
Twelve years later, and a decade ago this weekend, Franchitti was in that same unhappy position as he clinched his fourth and final IndyCar crown once the Las Vegas finale was called off following the death of Dan Wheldon in a hideous multi-car pile-up. Franchitti had gone into the decider 18 points clear of Will Power, who was one of the drivers injured in the horrendous crash.
And on the F1 side of things, there was, of course, the 1961 title race that was decided, in Phil Hill's favour, in the worst way imaginable – by a fatal crash for Wolfgang von Trips that also claimed the lives of 15 spectators.
Elimination race
Valentin Khorounzhiy
The 2005 Spanish F3 season is probably among the more obscure on this list, and though national F3 series were in much stronger shape back then, this campaign's most notable event in terms of mainstream motorsport relevance is probably future four-time F1 champion Sebastian Vettel rocking up for a one-off and scoring a podium.
That was a few months prior to the Barcelona title decider, which had the ingredients to be a four-way classic. Jose Manuel Perez-Aicart held a significant lead, but the fact he'd qualified only eighth meant that he'd have to fight hard for any points – leaving the likes of future GT mainstay Andy Soucek, future GP2 race winner Javier Villa and Ricardo Risatti III (now prominent in the Argentine Super TC2000) with a real chance of making a run for the crown.
It sounded quite tantalising – right until the first corner, where Risatti got caught out by track conditions and took Villa with him into the gravel, while a massive multi-car pile-up unfolded behind, with Perez-Aicart also eliminated.
When the severely thinned-out race resumed following what was remarkably only a safety car stoppage, Soucek eased to victory and the title.
---
Of the notable omissions in the above list, two might stick out in particular – Jerez 1997 in Formula 1 and Battersea Park Formula E in 2016.
But while it is true that there was a distinct case of questionable driving in both, with Schumacher disqualified from the championship outright, in the end we were swayed by the fact they didn't change the outcome.
Neither Schumacher's, nor Lucas di Grassi's manoeuvre swung the title race, with Jacques Villeneuve and Sebastien Buemi crowned respectively.
But are there any other examples that come to your mind when it comes to infamous title deciders? Let us know in the comments below, or on our Twitter page @wearetherace.