The grandeur of Ferrari's overall victory in the Le Mans 24 Hours, on its top-flight return to the race after half a century away no less, could scarcely be more starkly juxtaposed to its underwhelming form in Formula 1 in 2023.
Much has been made of the pre-event balance of performance change that certainly put the 499P on a much more equal footing versus Toyota, but take nothing away from Ferrari and the #51 crew that won the race with such a measured performance.
At a time when Ferrari has just one podium finish from seven races at the start of the F1 season – or two from eight, if you count Charles Leclerc's second-place finish in the Azerbaijan Grand Prix sprint race – its Le Mans triumph poses an important question about Ferrari's 2023 with one of two likely answers: does it bank Ferrari some credit and spare its F1 blushes, or further highlight how mediocre its grand prix racing campaign has been?
That's potentially complicated by how authentically Ferrari – and how connected – you consider the World Endurance Championship Hypercar project to be.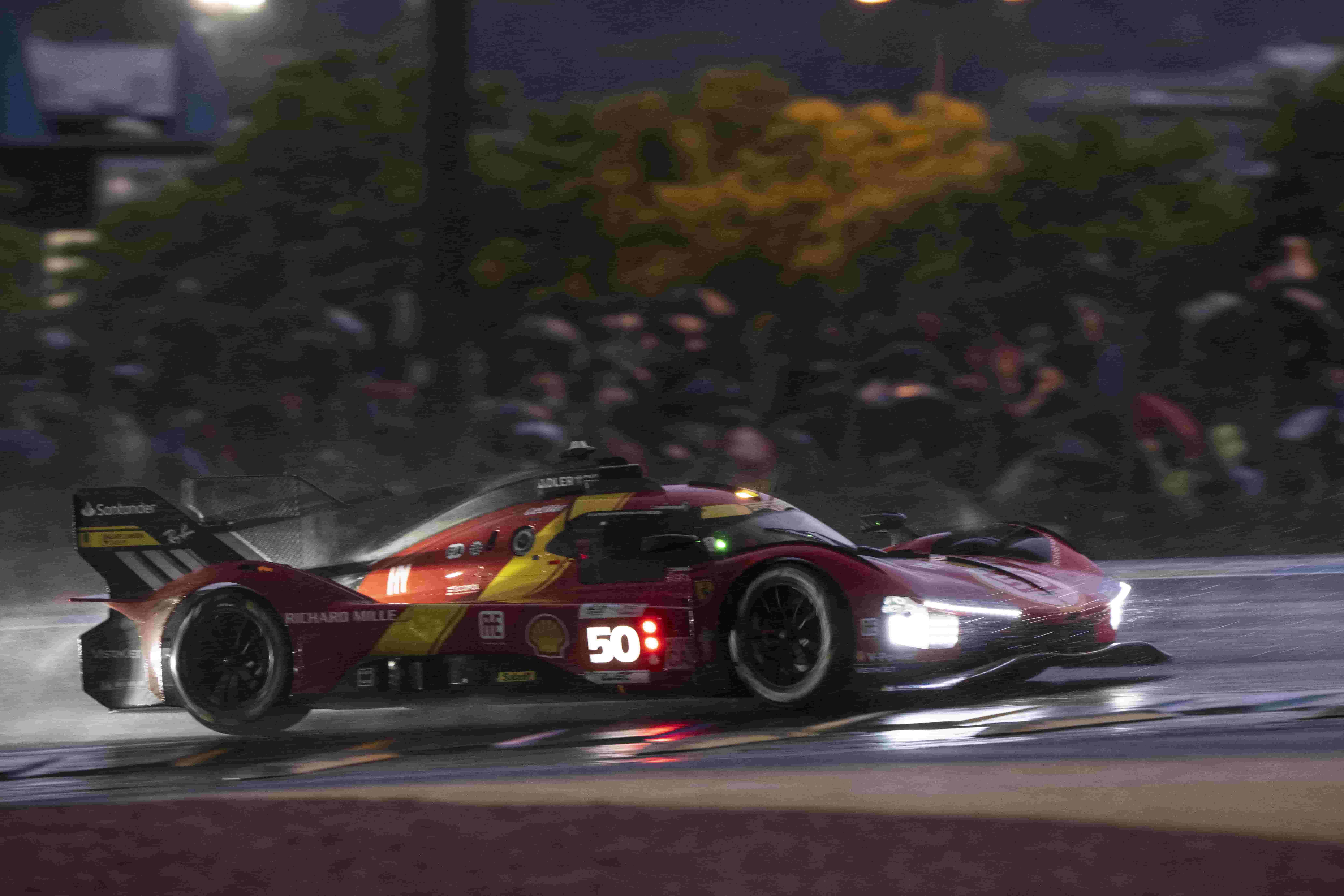 That operation is, as Sam Smith describes on The Race F1 Podcast, something of a "committee": tubs are built by Dallara, aerodynamic design – plus other aspects of the 499P's vehicle dynamics – is carried out by the Centro Stile studio at Ferrari's Maranello base, and the AF Corse team runs the programme.
So it's not the pure set-up that the F1 team is. But there are similarities to other F1 team structures – Mercedes is, after all, effectively a bespoke racing team in which Mercedes invests and which it lends its name to – and it's also a more commonplace practice in sportscar racing. As Smith puts it, "to call it a 100% Ferrari factory programme is not quite accurate, but it's pretty close".
Variations of the sense of achievement at Le Mans were cited by Ferrari top brass – chairman John Elkann called it "unforgettable", Ferrari's global endurance chief Antonello Coletta said it was "historic and epic", and head of endurance race cars Ferdinando Cannizzo described it as "thrilling; it is a feeling that is hard to describe" – but the underlying theme was the same, one of immense pride not just in winning but in the hard work that has gone into building a car that, at the very least, has been the most-credible challenger to WEC dominator Toyota's GR010.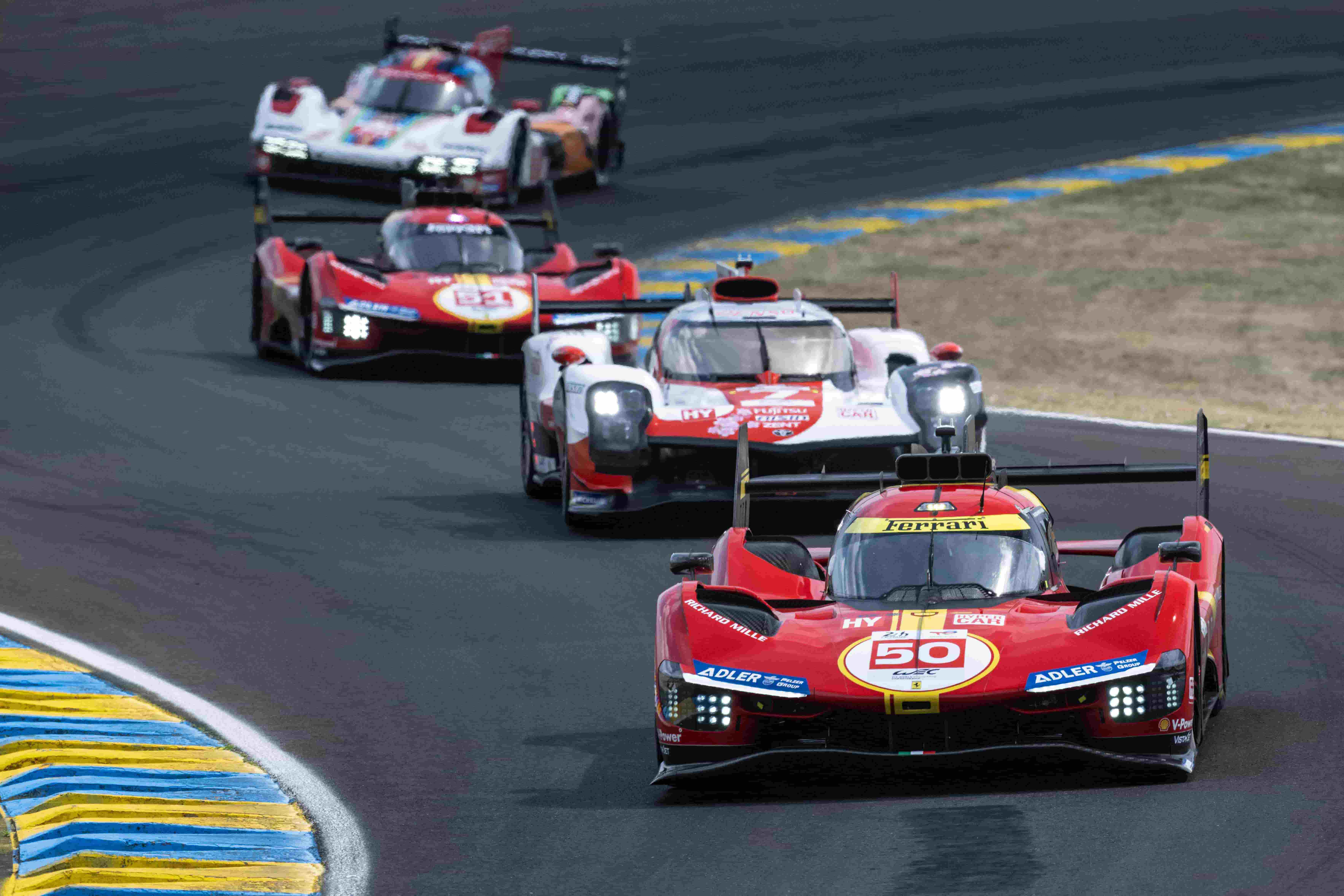 Can that same sense of pride be lent to the F1 team right now? It can absolutely be said about working for Ferrari, but not about what it's achieving – not just in a floundering 2023 campaign, but following its capitulation while in title contention the year before.
In a race where there are 24 hours in which anything can go wrong, barely a thing did for the #51 crew piloted by Alessandro Pier Guidi, James Calado and Antonio Giovinazzi. And even when it threatened to inside the final half hour, when Pier Guidi was required to perform an in-car reboot at the final pitstop, there was a sense of calm as TV shots flitted between the car and the Ferrari pitwall.
"These were incredibly tense moments because the car wouldn't start, but we were ready because we had prepared the back-up procedure and everything went well," said Cannizzo, in reference to that late heart-in-mouth reset.
Now, this is a very different arena in which pitstops take far longer than they do in F1 and the winning Ferrari and the #8 Toyota that ended up as its main challenger spent the majority of the end of the race on a very similar strategy – so one potentially stinging variable was taken out of the equation.
But the point is there to be made: calm, clear execution from a Ferrari pitwall doesn't exactly chime with the impression the F1 team has given off over the last 12 months-plus – strategic indecision has been the number one perceived weakness laid at Ferrari's door for much of that period.
And even if such criticism has been less prevalent in 2023, is that because mistakes are fewer and further between? Possibly. But it's also just as likely to be because Ferrari simply isn't fighting for the positions where judging conditions and making the right call is race-critical with the SF-23 in the way it was last year when the SF-75 was capable of challenging for race wins.
All of that serves to disconnect the Le Mans/F1 scenarios – which in turn lends itself more to the conclusion that this triumph hasn't helped Ferrari's F1 image.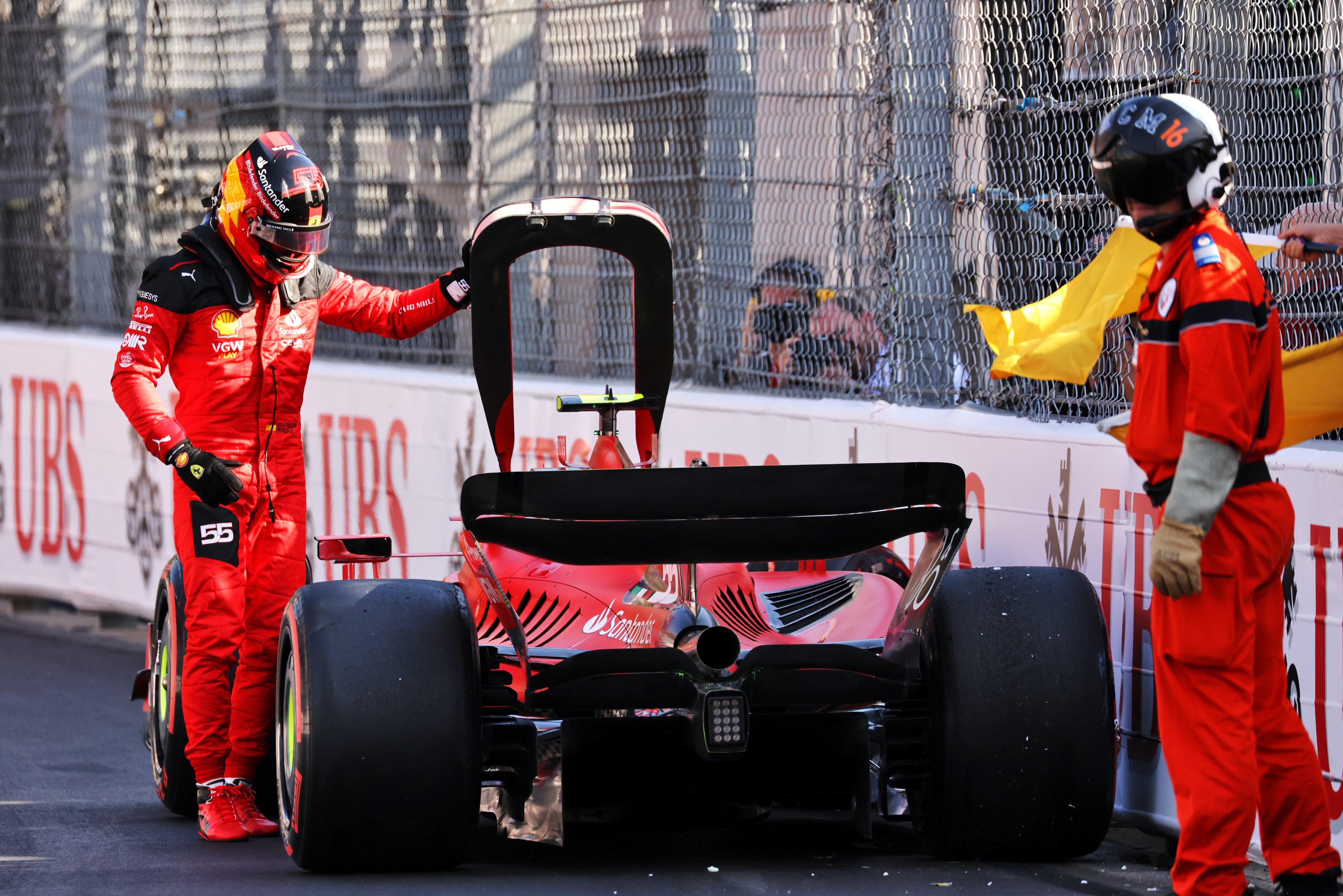 That's reinforced in part of Elkann's quote. "The emotions they have given to our tifosi on a great day that brings together past, present and future, is also a reminder of the importance of finding the courage and the humility to always improve," he said, referring to Coletta, AF Corse founder Amato Ferrari and "the entire team, from our mechanics to our drivers".
Ferrari F1 team principal Fred Vasseur has not had it easy in his first few months in the position as he attempts to get the Ferrari house in order and set out his manifesto, but a common theme has been a desire to play down the extent of the malaise the team finds itself in – or at least a reticence to publicly admit that bigger changes are needed.
Vasseur's humility is not in question, but the stance he's adopted does seem to contradict Elkann's desire for "courage" in a situation where improvement is clearly needed.
And given the separation of powers between the two projects, nor can the launch of the Hypercar project and Ferrari's return to the forefront in sportscar racing be cited as a distraction that has contributed to the F1 team's predicament. F1 may not be on the "pedestal" it once was at Ferrari – another observation, cited by Scott Mitchell-Malm, on The Race F1 Podcast – as it diversifies its racing activities and broadens its automotive market activities and its reach with hybrid technology (one area where there is crossover between the F1 and Hypercar programmes), but that is not a substitute for the kind of F1 success it craves and is currently missing.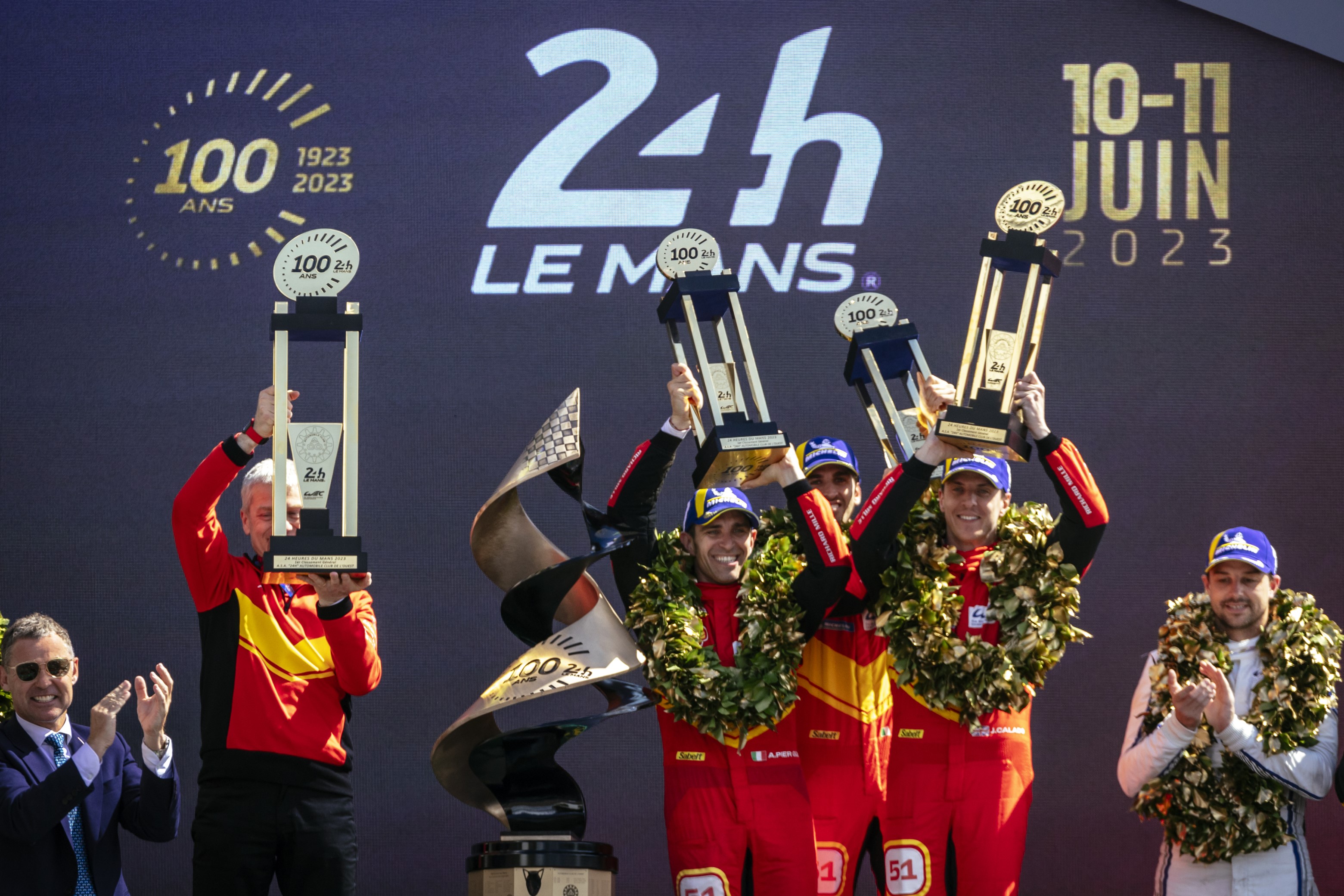 As coveted as Le Mans 24 Hours success is, the WEC is nowhere near the behemoth of commercial opportunity that F1 is – even if further manufacturers and privateers are expected to join for 2024 – and as such there's no way the two projects are considered to be on an equal footing. The fact that Ferrari has succeeded outside of F1 might make its predicament there that little bit more painful, though.
Ferrari should rightly celebrate its success in a race as tricky as this year's Le Mans 24 Hours, one that featured 16 Hypercar entries no less. But that doesn't give the brand a free pass for its current F1 shortcomings.