Nyck de Vries waited two-and-a-half years from winning the 2019 Formula 2 championship to actually making his debut in a Formula 1 car as part of a grand prix weekend.
But an actual F1 race seat remains some way off for the reigning Formula E champion.
De Vries was a contender for a race drive for 2022, holding talks with both Williams and Alfa Romeo but missing out on a deal.
Although De Vries is under contract to Mercedes, winning the 2020/21 Formula E title for it, Toto Wolff has stated he wouldn't prevent De Vries taking up an F1 opportunity outside the Mercedes family.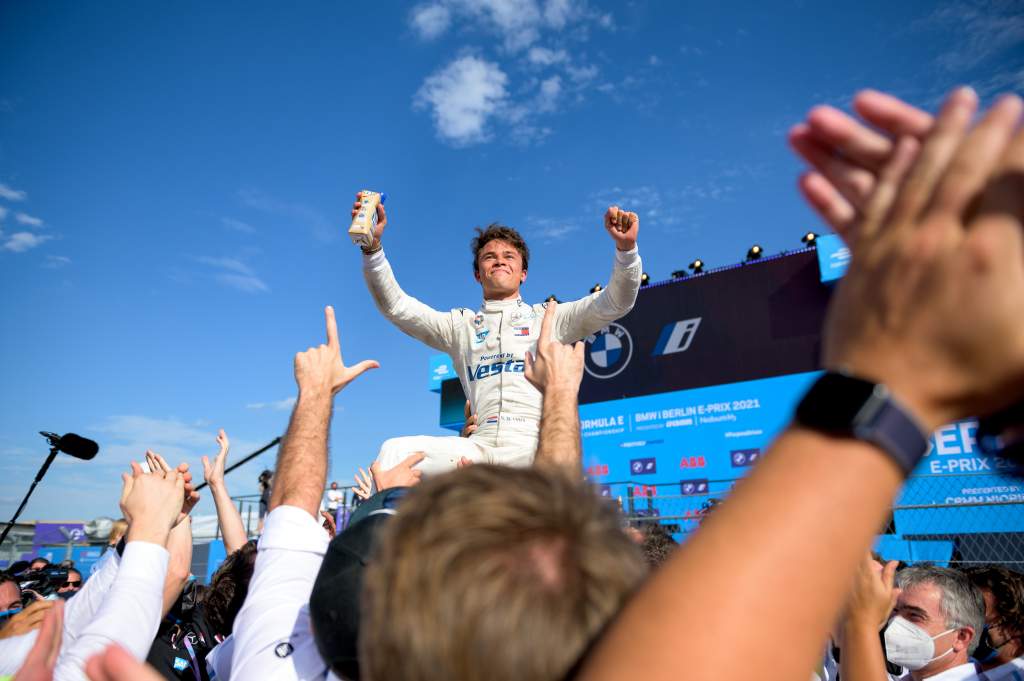 Williams is set to have at least one opening for a driver next year. Alex Albon has only been officially confirmed for 2022 and remains under long-term contract to Red Bull. Most likely he will remain at Williams given his strong performances, especially with Sergio Perez well-placed to retain his Red Bull seat.
But team-mate Nicholas Latifi is likely to be replaced in 2023 – even if reports before the Spanish Grand Prix that this will happen during this year, with de Vries taking his seat, are wide of the mark.
Latifi brings significant financial backing to the team, which played a key role in its survival prior to the Dorilton Capital takeover in 2020. But his contract expires at the end of this year and Williams is well-aware there are better options out there than Latifi, who is well-liked in the team but has only very occasionally shown the pace to be close to George Russell or Albon during his time at Williams.
This means there is a potential opportunity there, but whether de Vries is as high on the list of replacements as some suggest is another question. He confirmed the Spain FP1 run came about through the fact "Mercedes and Williams share reserve driver duties, and the rule that rookie drivers should get to run in FP1".
As Williams is obliged to run a rookie – defined as a driver with no more than two grand prix starts – in two FP1 sessions this year, once in each car, de Vries was a logical choice. Given de Vries is expected to fill this role for Mercedes too this year, a run-out with Williams relatively early in the season gives him more experience to prepare for those duties.
Williams head of vehicle performance Dave Robson confirmed during the Spanish GP weekend that there are no plans to run de Vries again, indicating another driver will be used for the second of its two mandatory rookie driver runs.
It's not clear who Williams plans to run in FP1 later this year, although it does have F2 racer Logan Sargeant on its books. His F3 results in recent years means he qualifies for the free practice superlicence required to be able to run in FP1.
Robson spoke highly of the job de Vries did after taking over Albon's car. This is despite de Vries having relatively little preparation, with what he described as "two-and-a-half hours in the simulator", having last driven an F1 car in the 2021 Abu Dhabi young driver test five months earlier.
"Everything he did was really good," said Robson. "He didn't put a foot wrong.
"He completed the engineering programme that we needed him to do, which for us was the most important bit. Not only did he not have a huge amount of time in the simulator, we gave him the prime [hard] tyre for his first run, which we knew would be a little bit difficult, but at least it gave him the opportunity to do a good number of laps.
"And then to go straight from that all the way to the qualifying [soft] compound is a big ask for anyone and actually, you can see in the laptime he did a very good job. So his pace was there. His ability to understand the tyre and do the out-lap correctly was really impressive.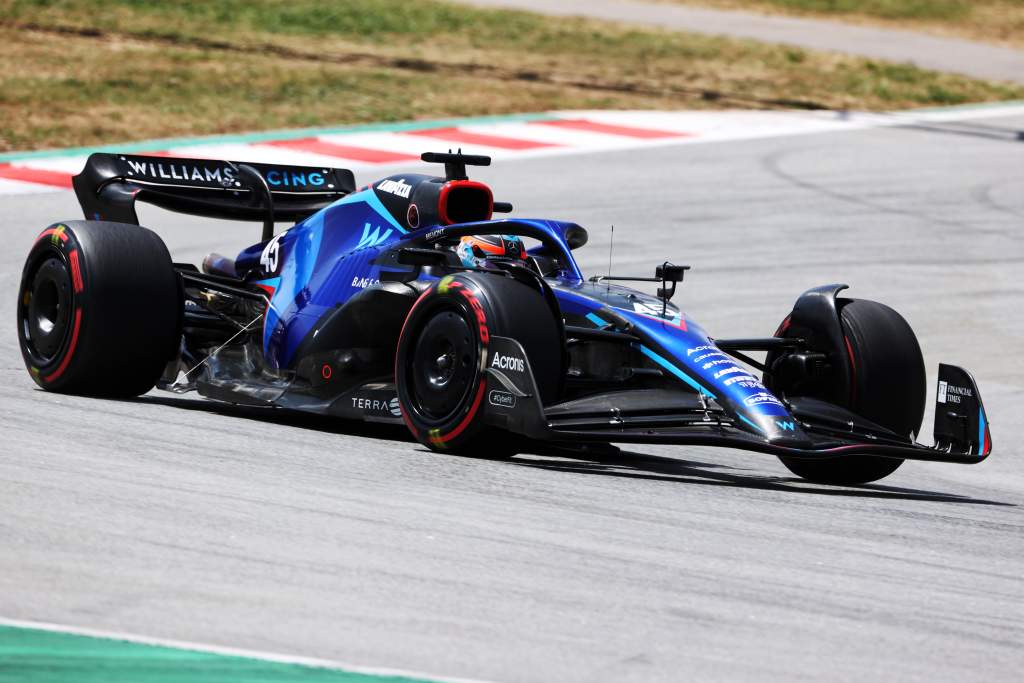 "And then after that, his feedback post-session was extremely good. He had some very useful comments on the balance of the car, which agrees quite well with what we've heard from the two race drivers.
"So I think in that regard, considering he only gets an hour in the car, he did a really good job and he clearly has what he needs to be to be an absolute top quality competition driver.
"He's worthy of a place on the grid, but so many people are. He took his opportunity well and I think he should be pleased with and proud of what he did."
Robson has hit the nail on the head in terms of de Vries's hopes of landing a drive. He's unquestionably a driver capable of acquitting himself well in F1, and given he won the F2 title he has arguably earned that right. But the question is whether he's the best-available choice.
Given de Vries's run appears more to have been preparation for FP1 outings for Mercedes later in the year, it seems he's not top of Williams's list for next season.
There's also interest from Williams in Alpine-contracted Oscar Piastri, who is reckoned by many to have greater overall potential in F1 than de Vries. Given Piastri is teed up as a reserve driver for what appears to be half of the grid, perhaps he could also be evaluated in an FP1 session later in the year.
However, Williams would have to be satisfied with effectively a loan deal to take on Piastri – something the Albon arrangement suggests the team would be open to.
Williams will also be waiting to see how the rest of the driver market shakes out to see who might become available. There remains potential for plenty of drivers moving given a multitude of contracts expire at the end of the year. Given Williams is towards the bottom of the F1 food chain in terms of tempting drivers to join considering its current performance level, it's logical to keep a watching brief.
However, that doesn't mean de Vries isn't an option. As Russell pointed out during the Spanish GP weekend, FP1 outings are far from the perfect shop window for aspiring F1 drivers, but teams do get a good idea of their abilities from running them. De Vries has certainly not hurt his chances with what he did in Spain.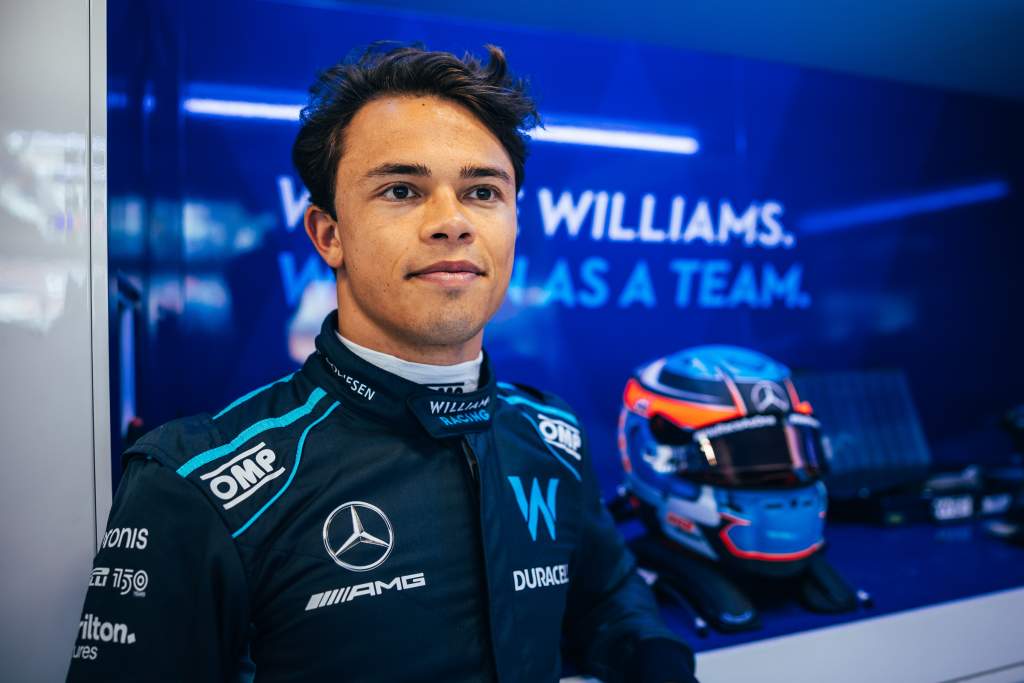 "Judging some takes a lot more than a one-hour session," said de Vries.
"But your history, what you're currently doing, what you've been doing, feedback, how you've worked with the team, no mistakes, consistency – there's a lot to take into consideration.
"But still, in an hour session you get an opportunity to show something. So when it's there you take it."
De Vries completed 27 laps during FP1 in Spain, setting a best time 3.092s off the pace but just under a tenth of a second quicker than Latifi. That time was set on his soft set of Pirellis, having started the session on hards, with Latifi also using softs for his best lap.
He did have one mishap prior to a push lap when he believed he was in the correct mode, but had failed to engage the rotary switch precisely. As he put it, "that switch was literally in front of me but I still didn't get it quite in the right position" – a very minor error given he'd attempted to make the change rather than missing it.
De Vries was content with the job he did, but as any driver given just one hour in an unfamiliar car on a green track should, he felt there was more to come.
"I'm never satisfied, I'm never good enough," said de Vries. "But don't get me wrong, I was very pleased with my job.
"I know where we are with both cars and know that I went out very early on the C3. I had quite a lot of traffic from Valtteri [Bottas] in sector 3, so I just felt like there was more in there.
"There was more to come, but from my personal side I think it was OK."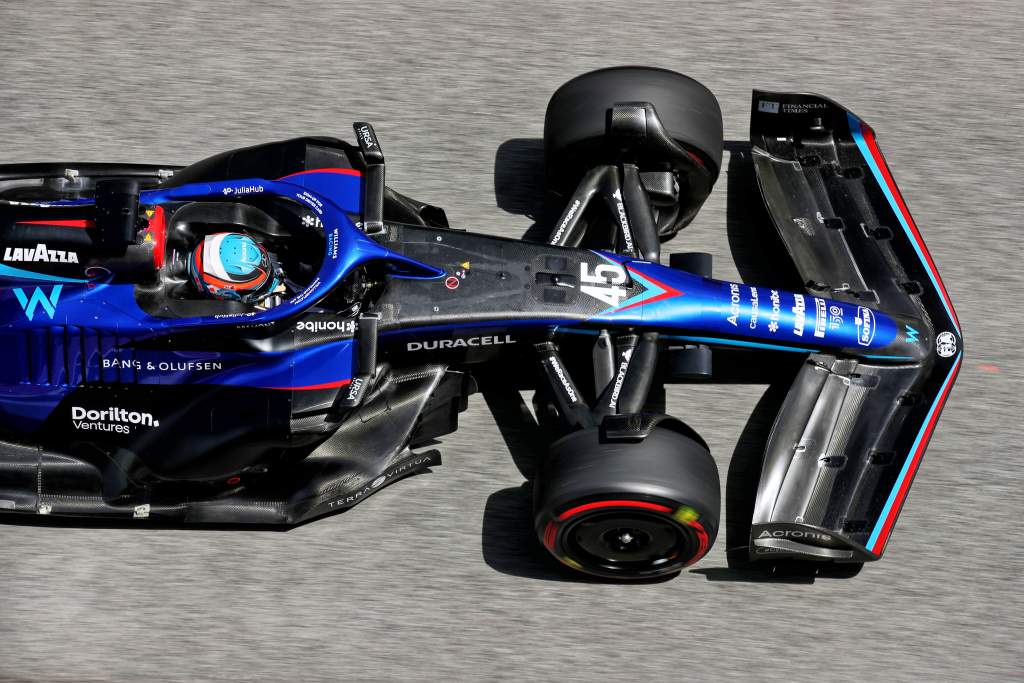 De Vries refused to get drawn into any speculation about a possible F1 future with Williams after his run.
It's not unusual for drivers to do this given they don't want to give anything away, but de Vries didn't want to give any indication that he might be in the running. But he did believe he was able to show his worth.
"We're focusing on this outing first before we even talk about the future," said de Vries when asked by The Race if the team has indicated he is under consideration for a 2023 race seat.
"That's a little bit out of my hands. For me, what was most important was to do a good job here – not only taking future perspectives into consideration, but more for me as an individual.
"I always want to do well and when you get such an opportunity, it's not about participating, you also want to show what you're worth and I think I did a decent job.
"We'll see what the future brings."
There is one other dimension to the possibility of de Vries racing in F1 next year. Even if he were to be offered a drive – and that's far from a certainty – he would have to decide whether it's in his best interests career-wise to take it.
While Mercedes will withdraw from Formula E at the end of his season, he's understood to be in a strong position for a drive elsewhere in the all-electric series next year.
On top of that, he's also understood to be in line for an offer from Toyota to join its World Endurance Championship racing line-up, having been its reserve since 2020. This means he could potentially dovetail two manufacturer deals in high-profile series outside of F1. What's more, there's even interest from IndyCar. He's a man in demand.
While F1 will always have been his objective, a short-term, likely less lucrative deal with a team towards the back of the grid might appeal less than racing elsewhere at the front. Those non-F1 options would also likely lead to longer-term opportunities that could ensure he has a well-paid racing career stretching for years in front of him.
That puts de Vries in a good position. Whatever happens, he is set to be racing at a good level next season, so even if an appealing F1 opportunity isn't forthcoming – and it may well not be – he still has a bright future as a driver.