Zak Brown is proud that "bad blood" has not developed between his McLaren Formula 1 team and Carlos Sainz Jr, unlike other parties involved in this week's driver market developments.
Sebastian Vettel's unexpected exit from Ferrari was announced on Tuesday, with Vettel claiming they no longer had a "common desire to stay together" and team boss Mattia Binotto saying on Wednesday that they did not share the same "short-term or long-term goals" anymore.
On Thursday, McLaren announced it had signed Daniel Ricciardo to replace Ferrari-bound Sainz, and Ricciardo's current team Renault issued a short statement in which a thinly-veiled swipe from team boss Cyril Abiteboul appeared to call Ricciardo's loyalty into question.
McLaren and Sainz struck a two-year deal beginning in 2019 but Ferrari identified Sainz as its preferred replacement if the out-of-contract Vettel left at the end of 2020.
Sainz was given permission to speak to Ferrari by McLaren over the winter, so McLaren Racing CEO Brown said it wasn't a case of 'getting wind of' Sainz's potential move but that his team was in the loop throughout.
He said that while "the majority" of driver moves are the result of people "sneaking around the back of motorhomes trying to have secret dates", that was not the sort of relationship McLaren fostered with its drivers.
Brown believes that being able to have a conversation with Sainz and team boss Andreas Seidl about his possible departure to Ferrari will allow them to eventually leave on good terms, citing Sainz's unexpected video 'letter to the McLaren family' as an example of their strong relationship.
"It was all very above board and I think you can see [that] by the way we're eventually going to part," Brown told Sky Sports F1.
"He did a great video, which we didn't even know he was doing, that's something he did on his own.
"So I think there's a real affection for the Sainz family and McLaren and always will be.
"And I think it's great to see that drivers and teams can separate and there not be animosity.
"Because I think if you look at some of the other movements, it looks like unfortunately there's some bad blood – yet those people still need to race together this year.
"So I'm quite proud of how we've handled it."
In McLaren's press release announcing Ricciardo had been signed for 2021, Brown and Seidl praised Sainz's role in McLaren's progress.
McLaren brought Sainz into the team for 2019 after missing out on signing Ricciardo, who took Sainz's drive at Renault.
However, Sainz blossomed alongside rookie Lando Norris, scoring his first podium in Brazil and ending the season as the best-placed driver of the non-'big three' teams.
Sainz has signed a two-year deal with Ferrari to partner two-time race winner Charles Leclerc.
Brown believes Sainz will enjoy success at his famous new team.
"He did a better job than I thought he was going to do," Brown said. "But he really didn't make any mistakes.
"He showed real maturity. A lot of pace. He worked really well with Lando.
"He's very fast, he's a team player. I never felt nervous when Lando and Carlos were around each other on the track.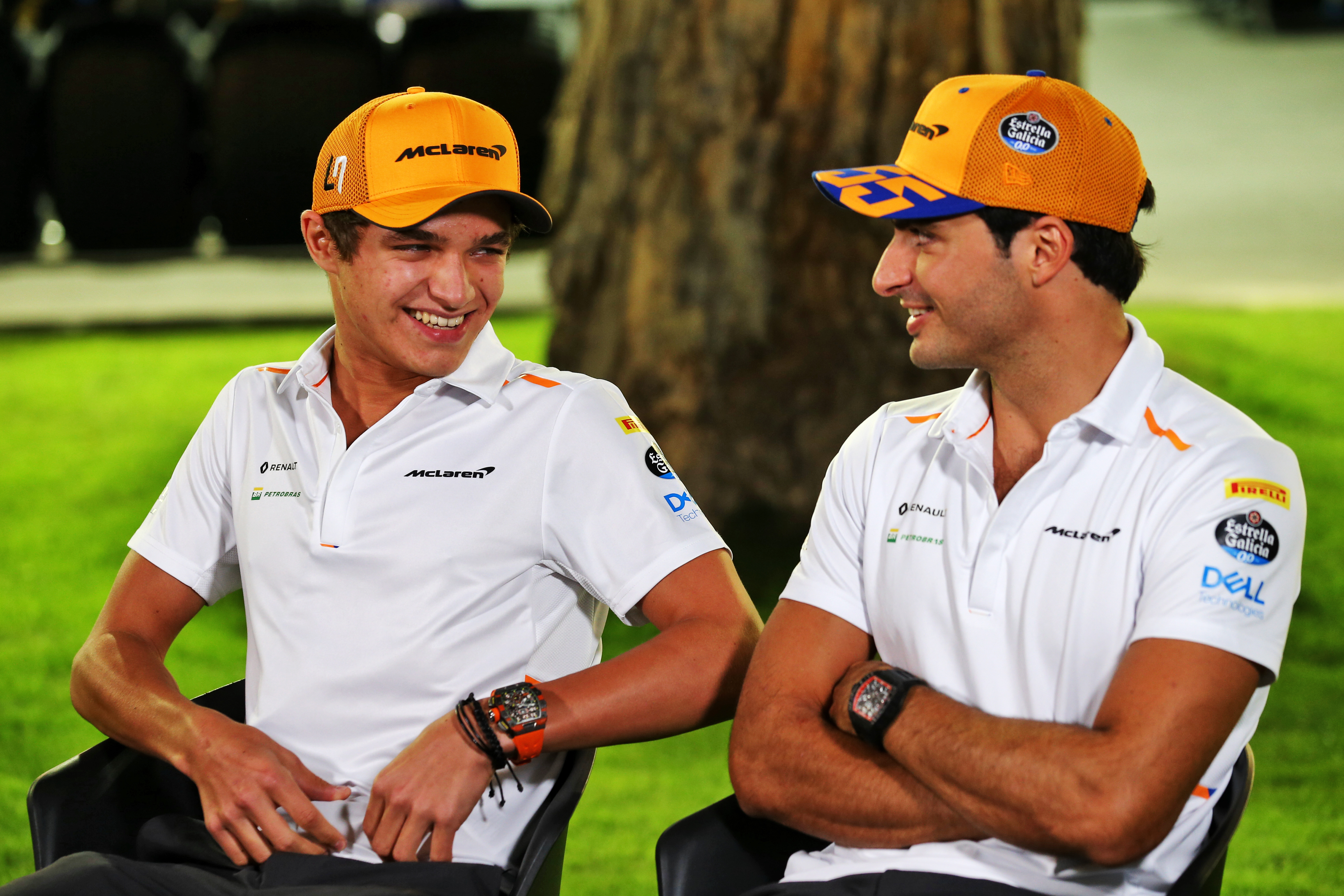 "Some of the other teams you see the team-mates getting near each other and they seem to have magnets.
"I think he's going to go really well at Ferrari. I think he's give Leclerc a run for his money.
"I think he'll be really good for the Ferrari mould.
"If they have a race winning car, I think Carlos is going to win races."