Since departing MotoGP at the end of the 2021 season, two-time race winner and former factory Ducati rider Danilo Petrucci has been on a rollercoaster of a journey, first heading to Dakar and becoming a stage winner as a rookie before then taking on the MotoAmerica superbike championship and winning at the very first time of trying in front of the Grand Prix paddock at the Circuit of the Americas in April.
Yet since taking that incredible win at COTA, Petrucci's wild journey in the domestic production bike racing championship has continued, highlighting where there's huge room for improvement in what is arguably the world's second-most prestigious national series after the British Superbike Championship.
Petrucci, who retains the championship lead by four points over South African Matthew Scholtz after the first six races of the season, had a dream start to his time in America, something that he described to The Race in April as both a lifelong dream and a welcome antidote for a career spent in the high-pressure world of MotoGP, by winning the first three races at COTA and Road Atlanta a few weeks later.
However, he also got his first taste of the series' pitfalls at the Georgian circuit too, when he failed to finish the second race due to a technical problem in large part caused by the race organiser.
Race day was plagued both by red flags (a normal issue on the somewhat dangerous American circuits) and power outages, and a 45-minute delay meant the bikes sat on the grid overheating while electricity was resumed, causing Petrucci's Warhorse HSBK Racing Ducati to overheat – and for the engine to let go afterwards.
"Just embarrassing what happened today," Petrucci fumed on social media afterwards. "In 25 years of racing, I've never seen that they stop the race because the circuit cameras have no power. We stood on the various starting grids for more than five minutes and our engine blew off because the water was boiling."
Petrucci calmed down in the days that followed, though, bringing the traditional grace that made him a fan favourite in MotoGP to the situation.
"I don't want to criticise anyone," he explained. "MotoAmerica is really an exciting championship and I want to trust that this episode is really one in a million. It's not their fault, neither the circuit. I was just upset because I lost a race for this incredible reason. But it's what it is and in my life nothing has come easy.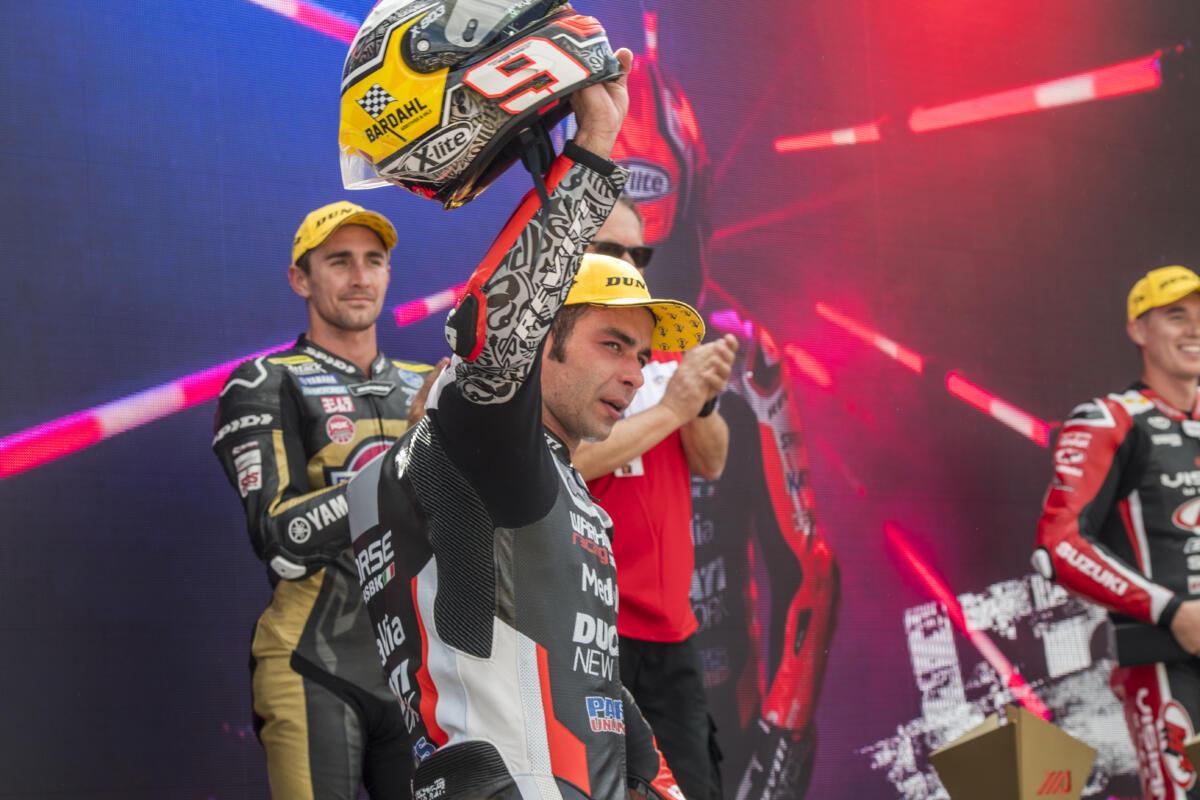 "My life has been all 'sliding doors,' taking that last spot of the train every time at the last moment. It's exciting and this is what keeps me alive. It's not exciting to wait for the plane for two hours, it's exciting to jump on at the last moment, and this championship it's really exciting."
But while he might have been forgiving the first time round, this weekend's hair-raising issues at Virginia International Raceway might well leave him somewhat less quick to move on, after he was left stranded trackside following a terrifying crash.
Falling on the blisteringly fast kink on the circuit's main straight as he took avoiding action not to hit another rider, Petrucci was not only thrown from his bike at 175mph but, much more concerningly, was left unattended by the trackside marshals and medics until he picked himself up and limped away.
View this post on Instagram

"I crashed at 280km/h under the finish line, that's on a sixth-gear corner for avoid touching another rider," he explained. "I hit three sponsor signs with my body, multiple burns, multiple hematomas and a deep cut on the ankle with five stitches.
"I rolled for over 100 metres, maybe one of the worst crashes of my entire career. And I [was] lying down for over two minutes with no assistance, hearing the bikes pass next to me, till I stood up by myself and went alone to the medical centre."
It's not the first time this year that American marshals and medics have been criticised, following a similarly- ong delay in reaching Moto3 rider Alberto Surra following his own huge crash on the straight at COTA during practice for the Grand Prix there in April.
It is however unfortunately normal for the American national series, with one MotoAmerica paddock regular telling The Race that the number of marshals and medics provided at a UK track day would be higher, and that even at club racing level in Britain, never mind at BSB events, the standard is significantly better.
It's something that has been an issue for some time in MotoAmerica, with tracks notoriously dangerous – but the arrival of Petrucci (and his outspoken nature) is drawing justified criticism to it; criticism that the organiser – headed by former Grand Prix world champion Wayne Rainey – needs to act on before more serious incidents occur.
The Race has contacted MotoAmerica for a response to Petrucci's comments.