Much of whatever attention was left from Fabio Quartararo's MotoGP title win at Misano on Sunday might have rightly fallen on race winner Marc Marquez.
He secured his first back-to-back win since his career-threatening arm injury last year, but it was arguably not the most important result of the day for Honda – with Marquez's team-mate Pol Espargaro's second place arguably far more important for the Japanese manufacturer.
That's because while Marquez's win was undoubtedly something special, and an important step in his return to full fitness after the injuries sustained at Jerez last year, it remains a step on the path back to what we know he's more than capable of. He's not an six-time world champion for nothing, and every fresh victory now seems like progress.
His performances have so far been easy to attribute entirely to his physical condition as he struggles back to full fitness but there has been another factor at play all along too; just how bad the current iteration of Honda's RC213V is.
Always a difficult-to-ride motorbike and tougher than ever in 2021, it's Espargaro's result not Marquez's that hints at progress.
Not only was Sunday's race the first time that he's stepped onto the podium for Honda, it actually marked the 30-year-old's best-ever MotoGP result, with all his previous six podiums KTM third places. And while it might have been somewhat aided by falls for both the factory Ducatis in front of him, you nonetheless have to make it to the finish line to score.
Given the difficult debut Honda season that he's had so far, it's telling that his immediate response post-race wasn't to talk about how much the result meant to him but instead what it means to his employer, thanks to the hardships that they too have faced in recent months.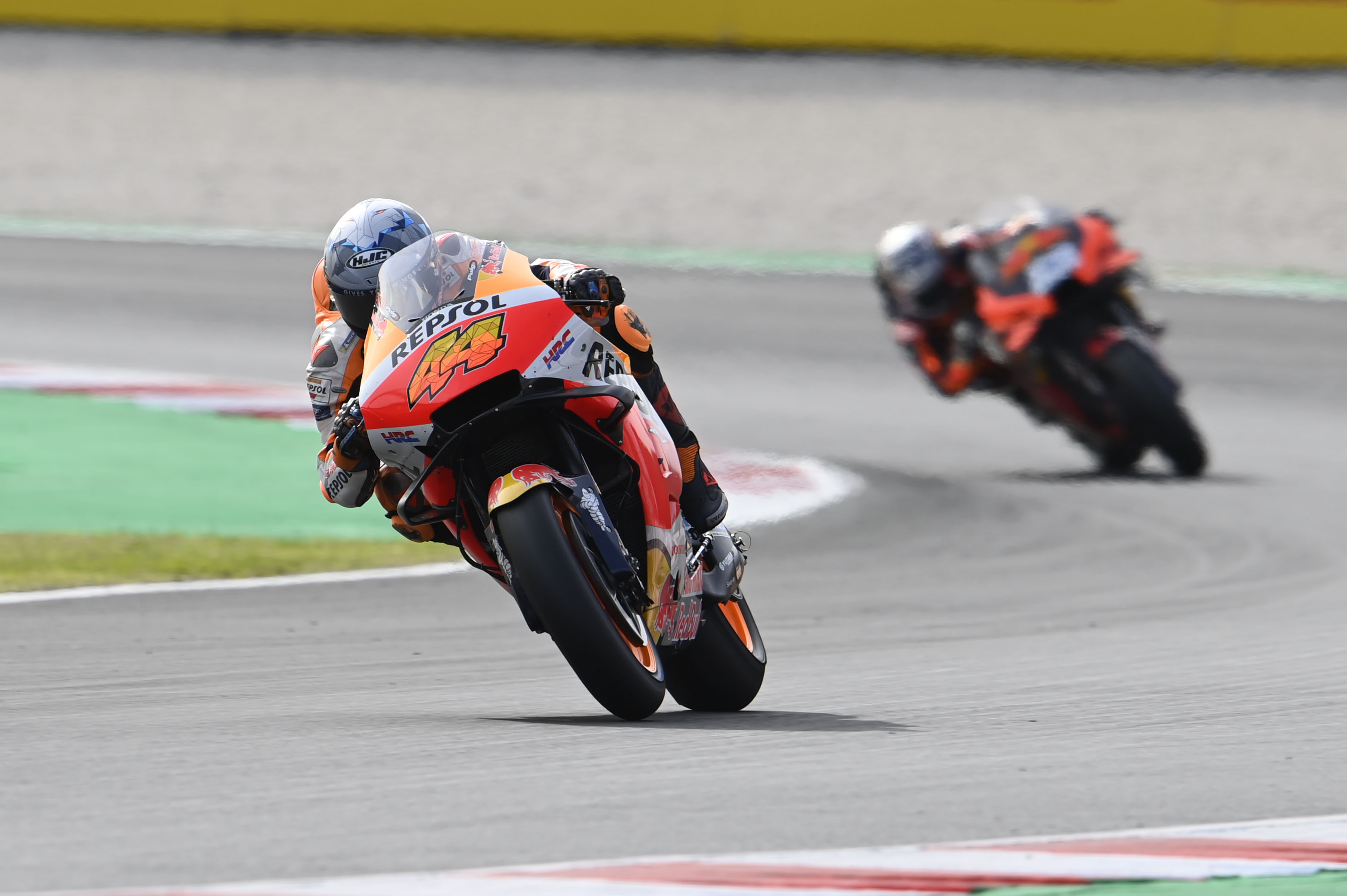 That's because that while some of Honda's issues are undoubtedly a result of its traditional strategy of building an aggressive unfriendly machine and then simply hiring the best riders in the world to pilot it (a strategy that dramatically failed in 2020 when Marquez got hurt), another part of the issue of late has been the coronavirus pandemic.
Admitting to the issues caused by the absence of Marquez last year, the team embarked on a new plan to try and adapt its bike to be more forgiving – but with engineers trapped for months at a time in Europe and unable to give direct feedback to the factory thanks to COVID travel restrictions, progress has been slow.
It's finally starting to show now, though, according to both Espargaro and Marquez after the second race in Misano – and it's in large part why the Spaniard was even happier for his team than for him afterwards.
"It's important for the team," Espargaro insisted. "They've been working hugely, because these COVID times have hit the Japanese manufacturers more than the Europeans. You can feel their pain when we're riding the bike and it's harder to improve our problems because they can't work as well as the European manufacturers. It's just unbelievable how hard they work and I'm pleased for myself but even more for them.
"Talking about ego, it's super important for me as a rider too. It's an important moment for my career, but I feel more release for Honda. You guys haven't seen them working in the past days. I've been in a European manufacturer and I know how they were working in COVID times, and it was flat out even if COVID was hitting strong. But the Japanese took safety more seriously than Europeans, and in this time they struggled more.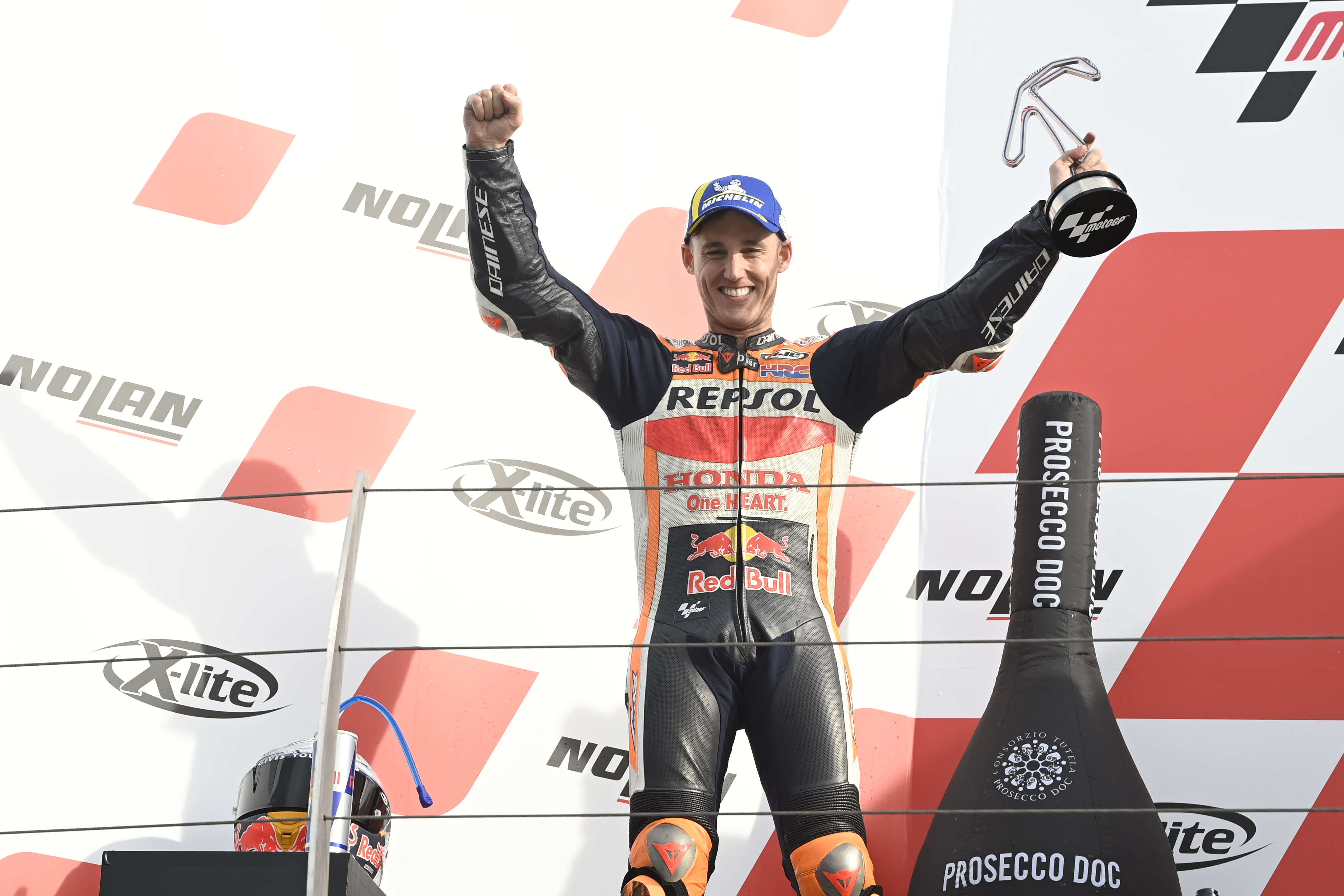 "We've seen the European manufacturers make a huge step while the Japanese struggled more. For sure it's important for me but I saw Takeo [Yokoyama, team technical boss] and [Tetsuhiro] Kuwata-san's [HRC race manager]'s faces after the race and it was amazing. It's crazy how happy they are."
However, while it might have been a very important result for them – in fact, Honda's first MotoGP one-two since Aragon in 2017 – there is clearly still some work to do ahead of a more competitive 2022 season.
Making significant progress last month at the two-day test after the first Misano race and working on a new chassis that both Espargaro and Marquez have used since the initial feedback on its 2022 machine is positive.
But with only the chassis able to be used right away as MotoGP engine development freeze rules prevent the new powerplant from appearing just yet, Espargaro also conceded that while there is light at the end of the tunnel, there is still plenty of hard work to come.
"In the test, I was just trying to focus on the rear grip," he explained, of his constant Honda bugbear, "to try and get some more with the new package, and it means that I can ride more in the way that I like.
"The package that we found here wasn't working so good in America and I paid for that in the race there. I did a very bad race – but I knew that it would work well again here. I was just focusing on repeating what I did in the last race and in the test, because the test was super good."