The departure of Valentino Rossi at the end of the 2021 MotoGP season means grand prix racing loses its most accomplished 'Sunday man'.
While that is by no means the most significant statistical category where Rossi has excelled – he's the most accomplished when it comes to a whole lot of metrics and groupings – it's felt like an inalienable part of his style as a rider, particularly in the latter years, even if not all the numbers support such a characterisation.
Can someone really be a 'Sunday man', after all, if they have 55 premier-class pole positions, third-most in history and 40 more than anyone on the current grid not named Marc Marquez? Can they really be a 'Sunday man' if they have multiple seasons with more pole positions than wins, and some truly impressive pole streaks?
Ultimately, you'd still have to lean towards a 'yes' – just because of how his race day accolades dwarf those from qualifying, and because of how this so clearly deviates from all but one of his fellow MotoGP-era champions.
---
Poles/
Wins
Rate
Front rows/
Podiums

Rate
Valentino Rossi
55/89
0.62
142/199
0.71
Nicky Hayden
5/3
1.67
28/29
0.97
Casey Stoner
39/38
1.03
75/69
1.09
Jorge Lorenzo
42/47
0.89
123/114
1.08
Marc Marquez
62/59
1.05
101/99
1.02
Joan Mir
0/1
0.00
2/13
0.15
Fabio Quartararo
15/8
1.88
36/20
1.80
* Excluding poles and front rows that weren't followed by an actual race start/race results
** Only top-3 qualifyings counted for Valentino Rossi, despite four-bike front rows pre-2004
---
But Rossi's Sunday excellence was already much less on display in 2021. In qualifying, he'd often have the benefit of being able to play his cards perfectly and grab a timely tow, which then wouldn't count for much in the race.
Instead, three other riders were the clear race day outliers in 2021 (the table above gives a very strong hint as to the identity of one of them). And with Rossi moving on to four-wheeled pastures, it's this trio that can be considered MotoGP's joint and interim Sunday men for at least the start of 2022.
Brad Binder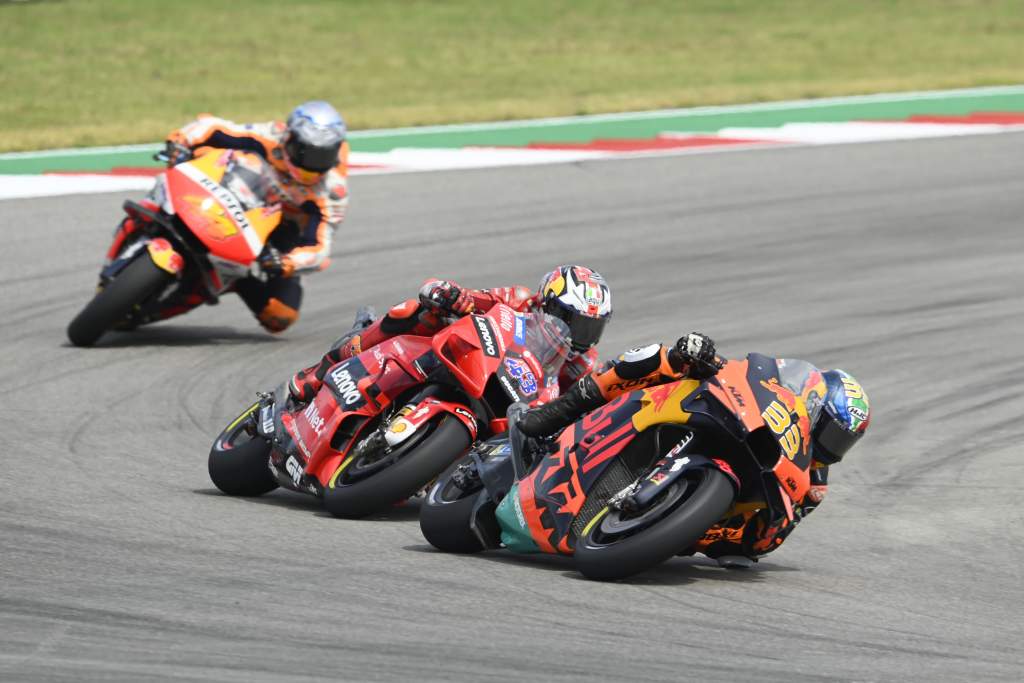 The South African was very much part of a general KTM-wide tendency to qualify poorly for most of 2021, but he's the rider who was able to overcome it most effectively, producing 13 top-10 finishes in a campaign of just four top-10 starts.
Yet it's also clear that Binder's qualifying results were not entirely down to the RC16. In a qualifying head-to-head comparison, he wound up trailing Miguel Oliveira 11-7 over the season – and the Portuguese rider had been on course for a much more commanding advantage before his mid-season injury and subsequent dip in form.
"He's not the best, I would say, for qualifying," said the now-ousted KTM team manager Mike Leitner to MotoGP.com, "but we count very strong on him for racing. He has to do a step, we have to do a step with him."
Leitner did also emphasise that Binder was visiting a lot of venues for the first time this year given the particularities of the COVID-compacted 2020 calendar, and it was clear this will have tipped the scales towards the South African performing better as a weekend wore on.
And perform better he did. No rider in MotoGP gained as many places relative to their starting positions in 2021 as Binder, who was alone in cracking triple digits, aided not only by strong race pace but the impressive ability to stay on the bike (though not necessarily stay out of trouble, given he did get involved in a couple of incidents and was accused by none other than Rossi of "not caring" about rivals).
Enea Bastianini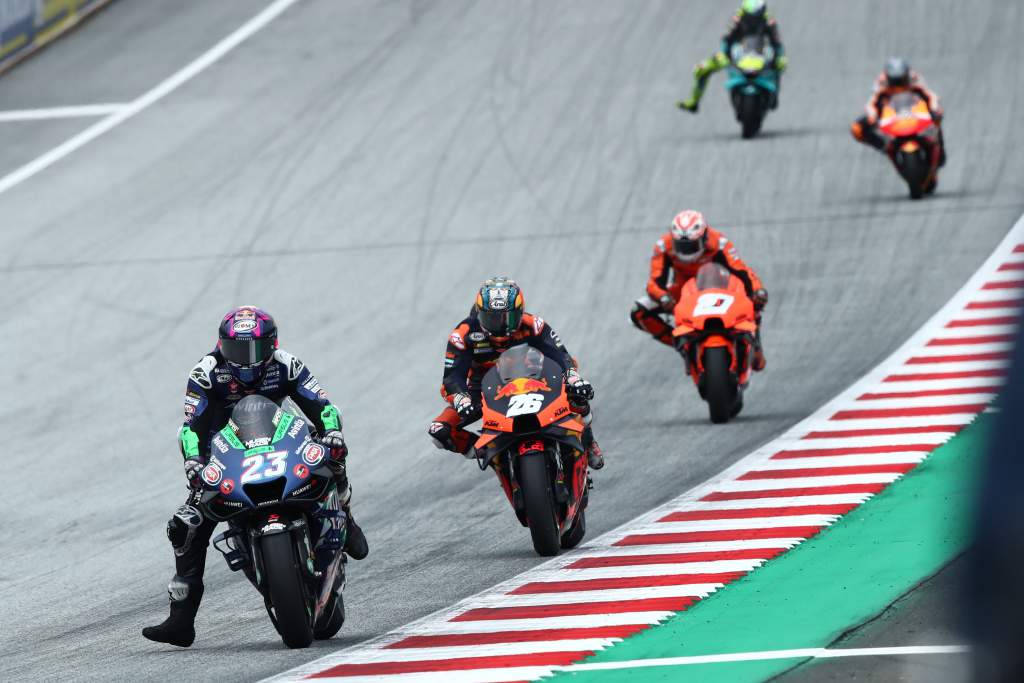 Bastianini's season did not lack for highlights, particularly in the latter stages, but for the most part those highlights tended to come on Sundays.
In qualifying, the Italian was where you'd normally expect an Avintia Ducati rider on a two-year old Desmosedici to be. Or maybe even further back than that, on average – given he went 7-11 in qualifying versus fellow rookie Luca Marini, who even put his Ducati on the front row on one occasion, despite being usually well adrift on Bastianini in terms of race pace.
Given the qualifying underperformances, and the fact having to overtake so many riders is onerous on the tyres in terms of wear and pressure, it's remarkable that Bastianini got as close as he did to both rookie of the year (yes, main rival Jorge Martin missed a few races but he was also reliably qualifying up front) and the overall top 10.
A starting average of 15.8 is easier to stomach when you're one of two full-time riders in the field – the other being Alex Marquez – who, retirements aside, finished every race higher than they started.
Joan Mir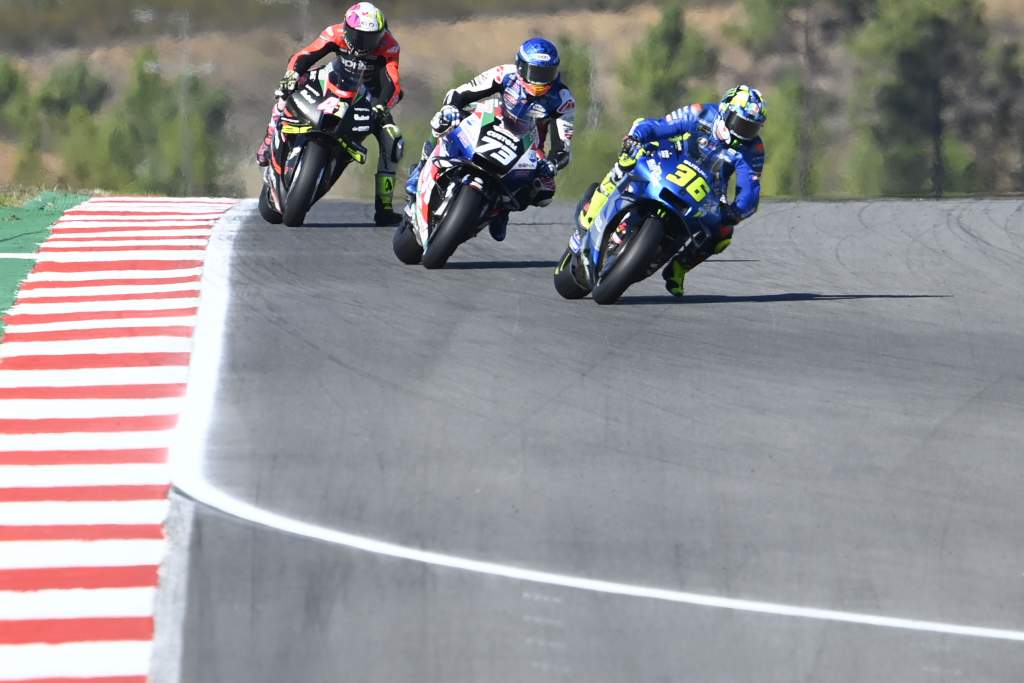 It should be fairly uncontroversial to say that, despite going winless in a title defence that never really got off the ground, Joan Mir had a really good season, dragging his Suzuki GSX-RR to third in the standings.
In some ways, that applied to qualifying too. Mir was 6-11 versus team-mate Alex Rins in the qualifying head-to-head, but actually had a marginally better average starting position of 9.5. That intuitively makes sense given Mir and Rins have looked very close on single-lap pace for much of the season, which is credit to Mir given his team-mate is largely seen as a better qualifier.
That closeness is also why the lack of single-lap pace is seen as more of a Suzuki problem than a Mir problem. "I'm a lot more nervous and a lot more stressed on Saturday than normally on Sunday," he admitted back in April. "It's something that we have to fix."
Ultimately, Mir's qualifying form did improve, quite substantially, in the season's run-in, which he has described as being down to "a little bit of everything".
The two primary components of that appear to be a better understanding of how to work with fresh rubber, and the corner-exit improvements brought on by "the second generation" of Suzuki's take on the ride height device.
Past record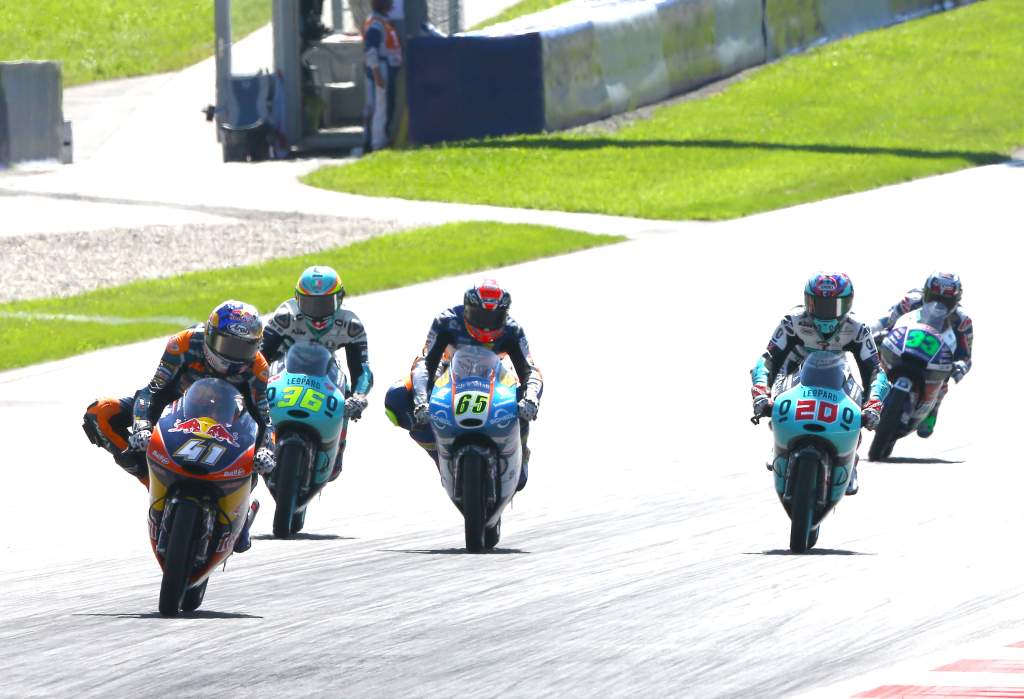 There can't be much argument as to whether these three were MotoGP's standout 'Sunday men' in 2021 – Binder, Mir and Bastianini make up a comfortable top three, by quite some margin, as they're the only riders to make up over a third of the available places from grid to chequered flag over the course of the season's 18 races.
But could '21 have been an outlier for any of them? Their pre-MotoGP careers offer some additional context to help answer that question.
---
Poles per win, lighter classes
Joan Mir – 0.18
Valentino Rossi – 0.38
Brad Binder – 0.47
Enea Bastianini – 1.5
Top-3 starts per podium finish, lighter classes
Joan Mir – 0.45
Brad Binder – 0.49
Enea Bastianini – 0.78
Valentino Rossi – 0.92
Starts per pole, lighter classes
Joan Mir – 27.5
Brad Binder – 20.7
Enea Bastianini – 13.7
Valentino Rossi – 6.0
---
For Binder and Mir, a pair of Moto3 champions, the answer is no. Binder was a reasonably prolific qualifier in the lightweight class, but his race performances absolutely dwarfed his one-lap efforts in Moto2. And Mir never even graced the front row in Moto2, while his dominant run to a Moto3 title was accomplished with just one pole position – compared to nine (!) for Jorge Martin that same season.
Mir did score four poles in his preceding stint in CEV Moto3, but he also spent two seasons as a pretty good Red Bull Rookies Cup rider around that same time, and went pole-less.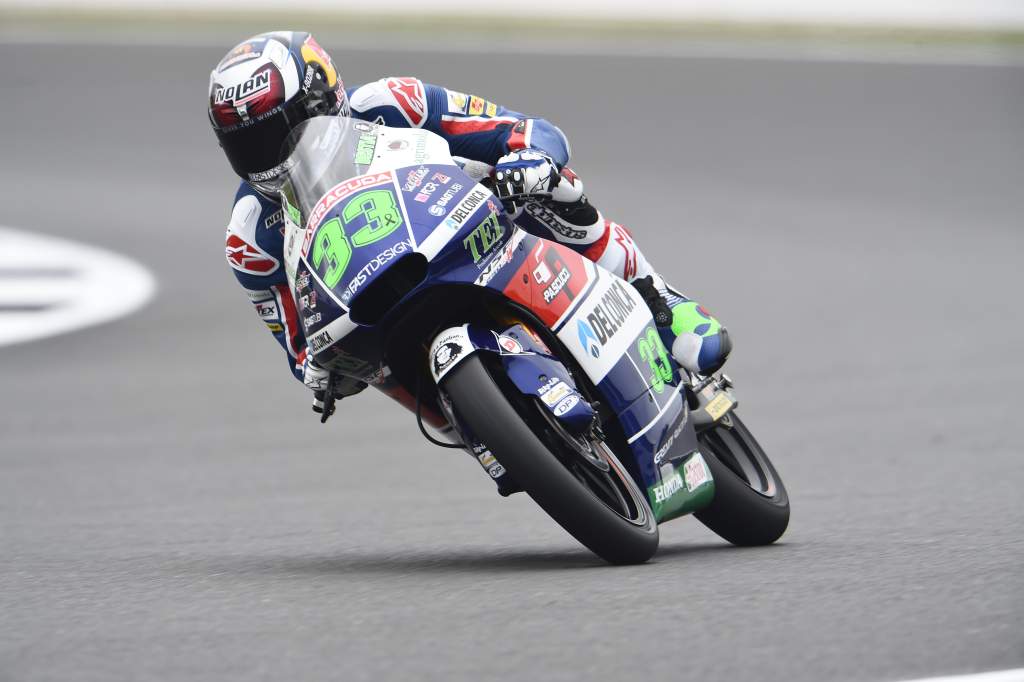 Of the trio, Bastianini is very much the one who showed a penchant for one-lap excellence more recently.
The Italian is the joint third-most prolific poleman of the Moto3 era, behind only Martin and Rins.
True, he only had a handful more than Binder in a similar amount of starts, but Bastianini never dominated Moto3 the way Binder did. Remarkably, he then never claimed a Moto2 pole despite winning the title in 2020.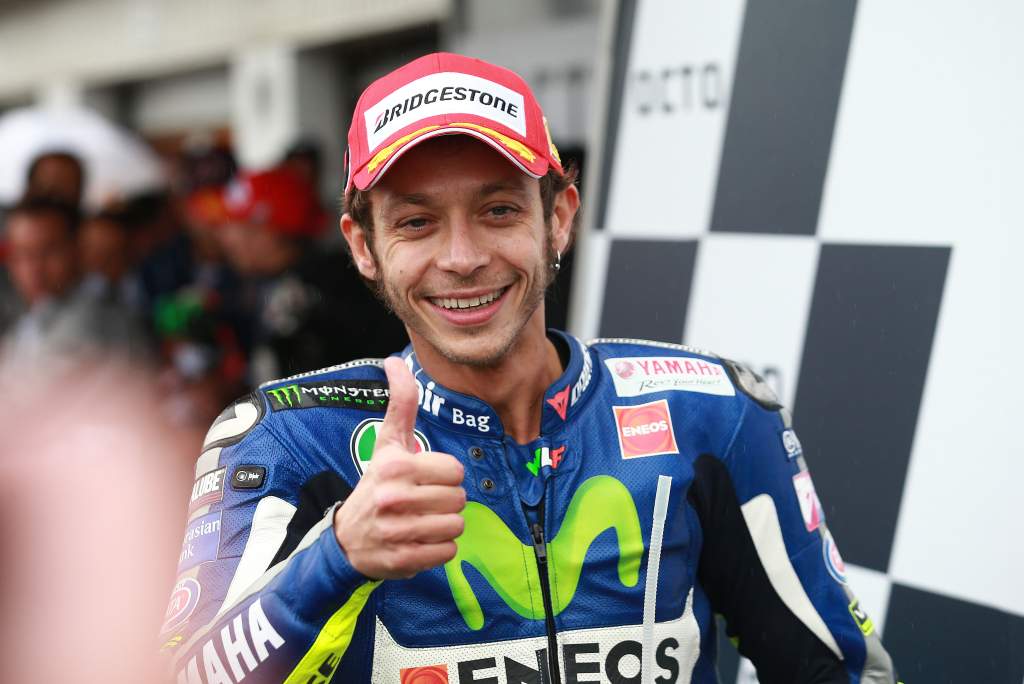 It's hard to say which of the three riders has been closest to the Rossi 'Sunday man' mould in 2021. Rossi, after all, competed for most of his career in a very different MotoGP, where the gaps were bigger and qualifying seemed much less integral (but also potentially less variant).
What is clear is that Binder, Bastianini and Mir have all excelled at turning a year of bad qualifying into a year of good race results.
Binder's figure of 112 positions gained is a little deceptive since it also includes riders who started ahead of him but didn't finish. Yet even correcting for those, we get 73 occasions where a rider started a race ahead of Binder and finished it behind the South African. For Bastianini, that number is 60, and for Mir it's 55.
Yet in a certain sense Mir's 55 is the most impressive by far, because he tended to qualify better than the other two. Not only did he have considerably fewer riders ahead of him to overtake, but those he was trying to pass were naturally the faster riders on the grid.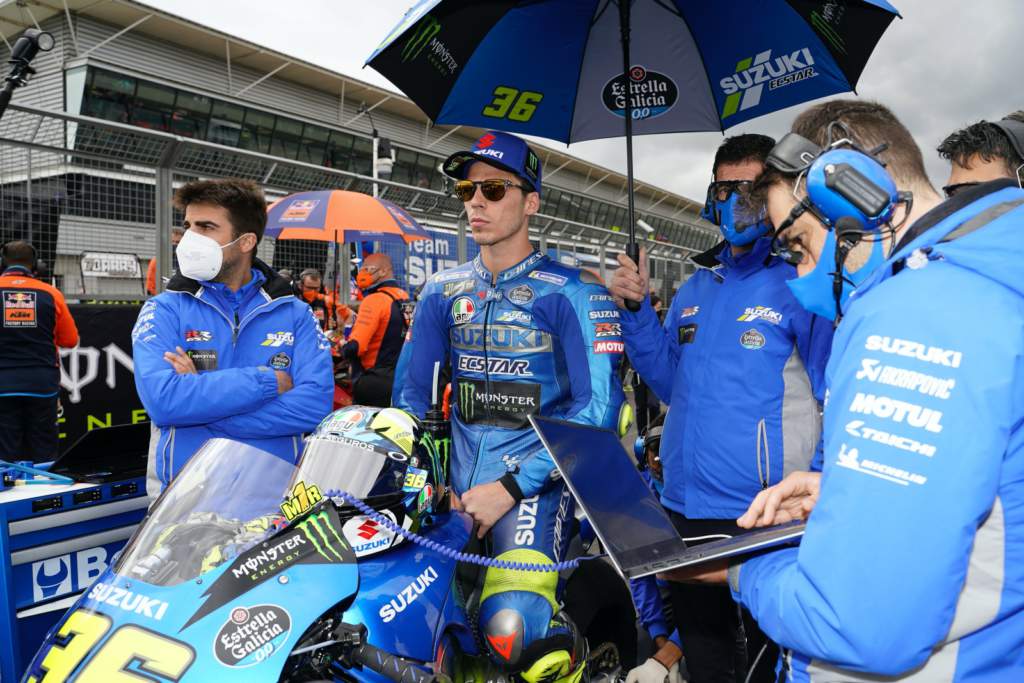 All in all, though, 'Sunday man' is not a title any of the trio will cherish, because as impressive as regular race fightbacks are, they're also limiting.
The good news is, qualifying improvements should come naturally for Bastianini and Binder. Both will be more familiar with the vast majority of tracks in 2021, and Bastianini will have a 2021-spec Ducati at his disposal, which is an absolute qualifying weapon.
And Mir, for his part, looks to have taken a considerable step forward – with the caveat of a small-ish sample size – at the end of 2021. The Spaniard has spent all season craving single-lap improvements, because he is all too aware that he will need them to fight the likes of Fabio Quartararo and Francesco Bagnaia – a pair of riders absolutely relentless when it comes to scoring poles and front-row starts week in and week out.
All three – Bastianini, Binder and Mir – made those riders' lives easier by qualifying poorly in 2021. If they find an extra gear in qualifying, they won't necessarily stop being 'Sunday men' but instead will each become a much more fearsome adversary.