Fabio Quartararo and Maverick Vinales looked like the no-brainer Yamaha line-up of the future when they spent the latter half of 2019 as the only riders capable of challenging Marc Marquez.
They then looked even more of a no-brainer when they finished 1-2 in the two Jerez races that opened 2020.
And though their title challenges unravelling and Franco Morbidelli's older-spec Yamaha finishing ahead of them may have taken the shine off a little bit, there is still no doubting that Yamaha now has one of the best rider line-ups in MotoGP and almost certainly the one with the most upside.
Vinales only turned 26 in January but has won a race in each season since 2016. And Quartararo is 21, replacing a rider twice his age in Valentino Rossi and one who at this point in his career, his obvious legend status notwithstanding, is clearly not as productive as Quartararo.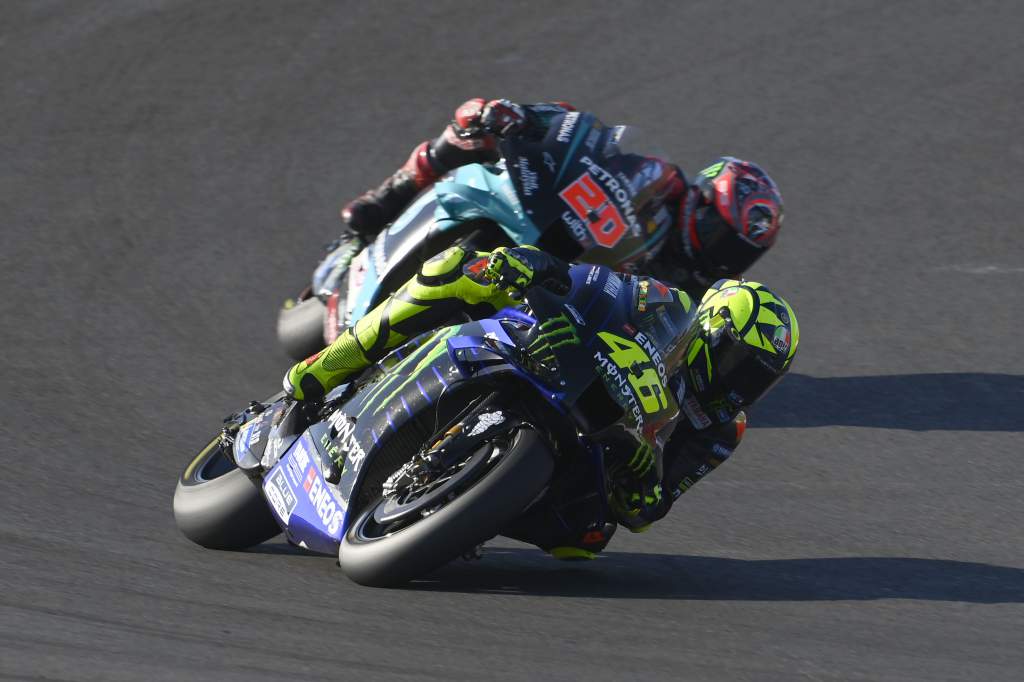 Yamaha's launch event this week was tellingly optimistic, and its potentially future-proof line-up is probably a big reason why. If its engineers have got to the bottom of the works M1s' Jekyll and Hyde act – and they really kind of haven't since 2017, so there's no guarantees there – then Yamaha will be in a phenomenal position to end its title drought.
At the same time, it is clear that a line-up of this kind offers very different management challenges to the one it fielded before, and that if the package reaches the level it should be at, Yamaha will need to figure out a way to unite two top riders – who will by definition no longer be united by the battle against the shortcomings of the package.
"We have these young superstar fast riders who have all the potential to win – so we're excited by that and it's definitely kind of a generation change, but I'm expecting it to work well," Yamaha MotoGP team's managing director Lin Jarvis said during the launch.
"I'm looking forward to that interaction, that pushing of each other.
"Honestly in the past we had that as well when we had two super-strong riders, when we had, let's say in particular, the era of [Jorge] Lorenzo – Rossi, not always easy to manage but they pushed each other and they stepped up and we want to be in that zone.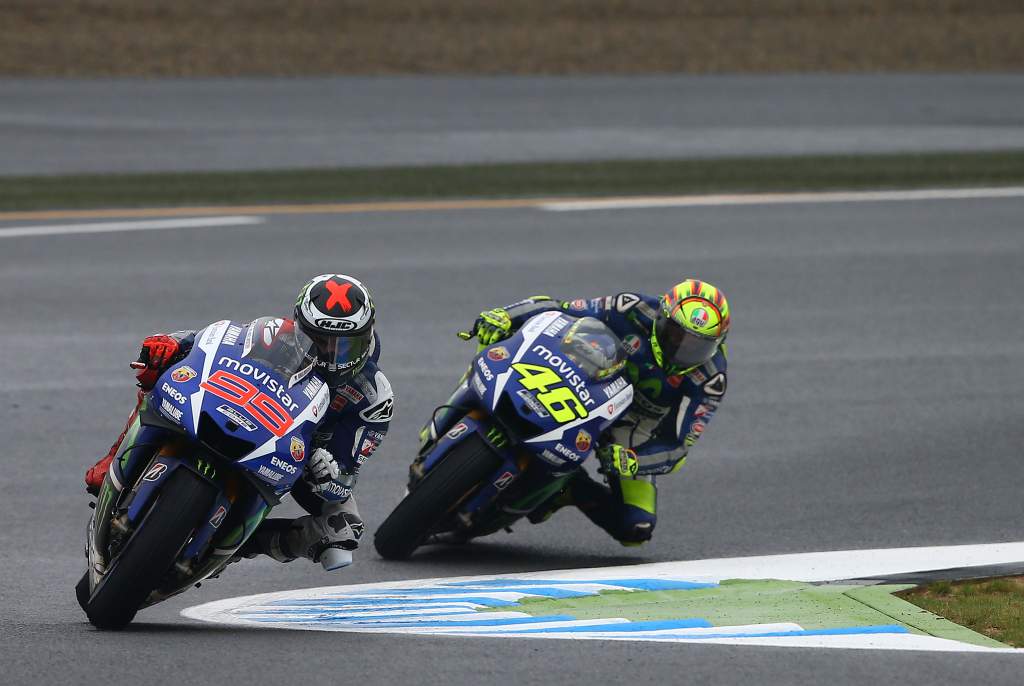 "So, it's challenging but I hope that I have that challenge to face, because they [Vinales and Quartararo] have great potential."
"Let's hope that we're fortunate to have management problems with our riders," he later added. "Because if we have problems, that means they're both fighting for victories and fighting with each other."
The Lorenzo/Rossi era being "not always easy to manage" is obviously a bit of a tactful understatement, as it got quite bitter and very publicly so on several occasions.
But it's the only reference point this current version of Yamaha has, because besides Lorenzo and Rossi it has never had two genuine title rivals within its camp throughout any MotoGP campaign.
Jarvis says he expects both Quartararo and Vinales to challenge for the top three in the standings, and that sounds reasonable. But, again, beyond Lorenzo/Rossi that would be a novelty for the squad.
If you look at the history of this Yamaha factory team, since its 1999 inception as it replaced Wayne Rainey's factory-supported outfit, only on three occasions did both its riders score 75% or more of the champion's tally – and on all three occasions these riders were Valentino Rossi and Jorge Lorenzo.
Factory Yamaha riders' percentage of points scored relative to champion
| | | |
| --- | --- | --- |
| Year | Lead rider | Second rider |
| 1999 | 72.7 (Biaggi) | 46.8 (Checa) |
| 2000 | 65.9 (Biaggi) | 60.1 (Checa) |
| 2001 | 67.4 (Biaggi) | 42.2 (Checa) |
| 2002 | 60.6 (Biaggi) | 39.7 (Checa) |
| 2003 | 34.5 (Checa) | 12.6 (Melandri) |
| 2004 | 100 (Rossi) | 38.5 (Checa) |
| 2005 | 100 (Rossi) | 48.8 (Edwards) |
| 2006 | 98.0 (Rossi) | 49.2 (Edwards) |
| 2007 | 65.7 (Rossi) | 33.8 (Edwards) |
| 2008 | 100 (Rossi) | 50.9 (Lorenzo) |
| 2009 | 100 (Rossi) | 85.3 (Lorenzo) |
| 2010 | 100 (Lorenzo) | 60.8 (Rossi) |
| 2011 | 74.3 (Lorenzo) | 50.3 (Spies) |
| 2012 | 100 (Lorenzo) | 25.1 (Spies) |
| 2013 | 98.8 (Lorenzo) | 71.0 (Rossi) |
| 2014 | 81.5 (Rossi) | 72.7 (Lorenzo) |
| 2015 | 100 (Lorenzo) | 98.5 (Rossi) |
| 2016 | 83.6 (Rossi) | 78.2 (Lorenzo) |
| 2017 | 77.2 (Vinales) | 69.8 (Rossi) |
| 2018 | 61.7 (Rossi) | 60.1 (Vinales) |
| 2019 | 50.2 (Vinales) | 41.4 (Rossi) |
| 2020 | 77.2 (Vinales) | 38.6 (Rossi) |
For all the fractiousness, Rossi/Lorenzo was a properly top partnership, and there's no surprise that emulating it doesn't sound too bad to Quartararo.
"With Maverick, I hope it will be like Valentino/Lorenzo because they fight 1-2 in the championship until the last race of the year," he said, referencing the extremely not-friendly contest of 2015 in particular – the title run-in in which Rossi repeatedly insisted Lorenzo was getting help from Marc Marquez, while Lorenzo once instructed the crowd to boo his team-mate.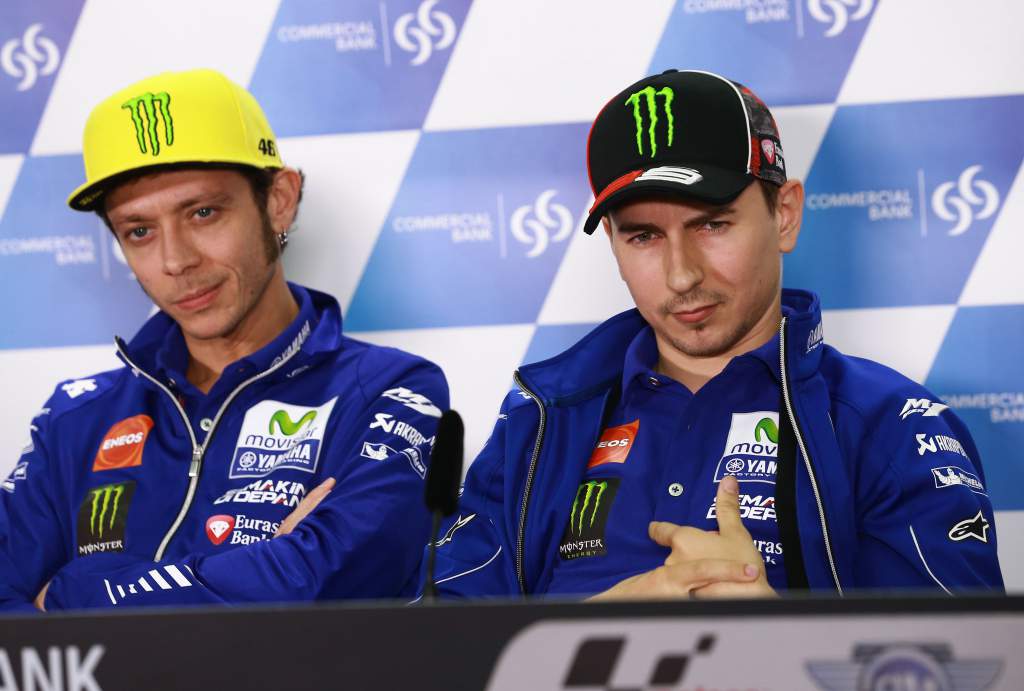 "I hope to be in the place of Lorenzo, to win the championship," Quartararo added, laughing.
"But yes, Maverick, I have a good relationship with him, I think that we can work really well together and bring Yamaha to the top, that's my goal. My personal goal is to fight for the championship."
A "good relationship" is not the first thing that comes to mind when you think of Rossi/Lorenzo, and indeed Jarvis alluded to as much, unprompted. And yet there's the belief, coming from at least one of the riders that make up the new Yamaha 'superteam', that it can be more united than before.
"I think for us the important [thing is] the unity, in the team," Vinales said. "Because for the last, let's say, three years, the team was a little bit like everyone was going alone, we were not all in one.
"And I think with Esteban [Garcia, Vinales' crew chief], also with Lin, with Maio [Meregalli, Yamaha team director], what we are trying to do is to take the 20 or 24 guys that are working inside the team, to make it one team.
"After all, the previous year has been difficult because [there was] Valentino's team, my team. I think now Yamaha has the opportunity to make one team, one complete team, and to go forward in the same direction, with both riders, and I think to accomplish what we are able to accomplish."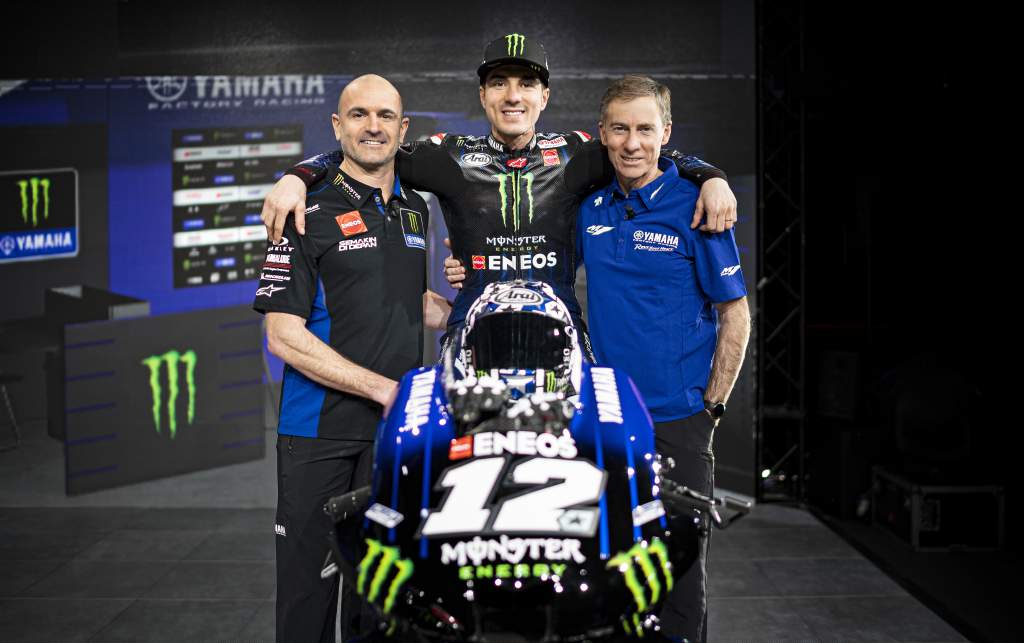 It is difficult to interpret Vinales' words as anything other than him expressing a belief that he'll find it easier to work with Quartararo than with Rossi. That needn't be a slight on the Italian, but rather a suggestion that he had his own established methods and his stature formed a natural gravitational field at Yamaha (though Rossi himself would probably dispute that, given his 2020 hint that he didn't feel he was having a significant impact on the M1's development).
If you do read between the lines of Vinales' statement, however, you can take it as him admitting to an "opportunity" to rebuild Yamaha in his vision and enjoy a more influential role.
Vinales made it clear he didn't see himself as "the number one rider" as he didn't believe that's a thing that exists at Yamaha, yet he also said of his newfound status: "Looks like I'm the senior, looks like I have all the weight with the team, but it's something I like, it gives me an extra motivation because I know I can lead the Yamaha team and I know what we're able to do."
If Vinales expects Quartararo to acknowledge and defer to his seniority on whichever issues arise, the success of this whole 'more united team' enterprise will depend on whether Quartararo plays along. But it's here where Yamaha seemingly has some reason to be optimistic.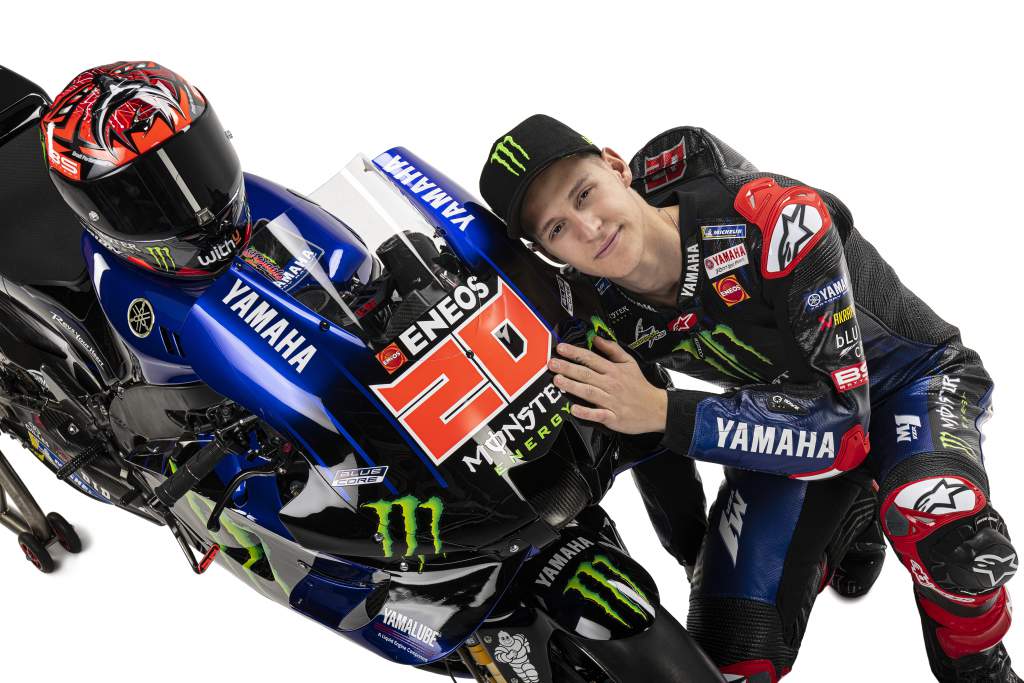 Rossi and Lorenzo have shown themselves to be very complicated, maybe even difficult, characters as MotoGP riders.
Vinales has, too – he's established something of a reputation for being moody during his time at Yamaha (and also before MotoGP), and acknowledged during the launch that he's not been the easiest for the team to deal with.
Yet Quartararo has no such reputation. Maybe he hasn't had the opportunity to build it up yet, but there's been a rather wide acknowledgment of the Frenchman as an easy-going figure conducive to a good team spirit. That doesn't mean he's unemotional, but he's been able to take his 2020 setbacks relatively well – perhaps mindful of the fact that a few years prior, as a midfield Moto2 rider, he couldn't have imagined ending up where he is now so quickly.
"I've yet to get to know him really well, of course, because for two years he was in the next door garage, so I'll find out – but for me I like his approach," Jarvis said of Quartararo.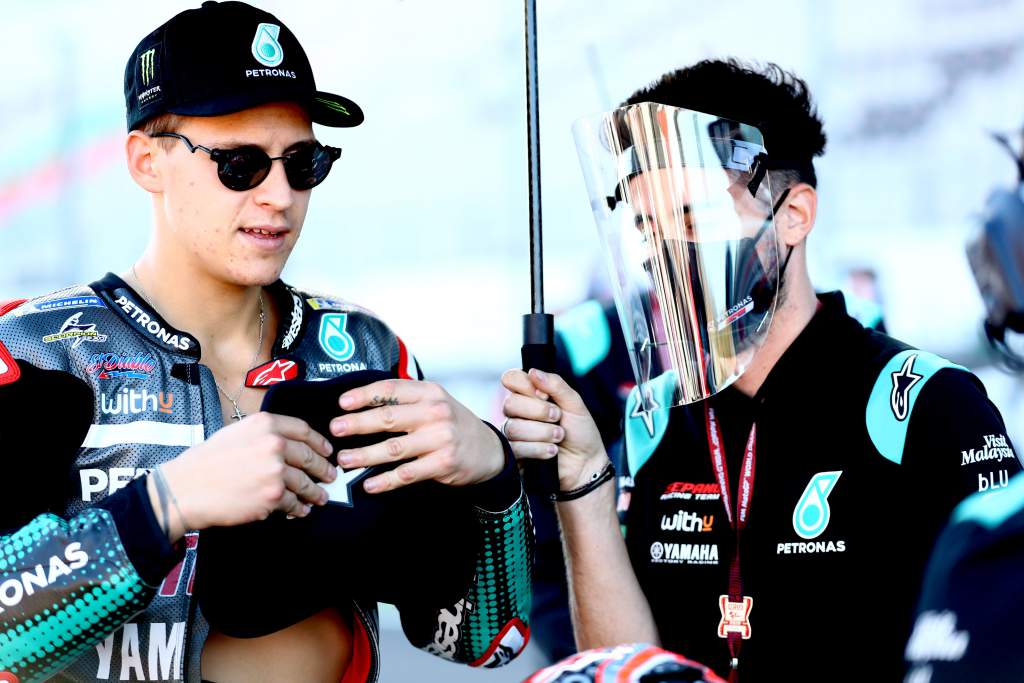 "He has a lot of natural raw talent and skill and he approaches [riding] with enjoyment. He expresses the enjoyment. He's almost always smiling."
And when speaking about his new combination of riders, Jarvis added: "They both have a good appreciation for each other's characters, they both have a common passion as well, which is motocross in addition to MotoGP, they both love to do motocross.
"You could feel, I hope, if you saw the team launch, you could feel the dynamic with them is pretty good."
And you know what? While it was easy to poke fun at Yamaha's presentation from PlayStation 1 Land, Jarvis' words did ring true – the two riders did seem at ease with each other.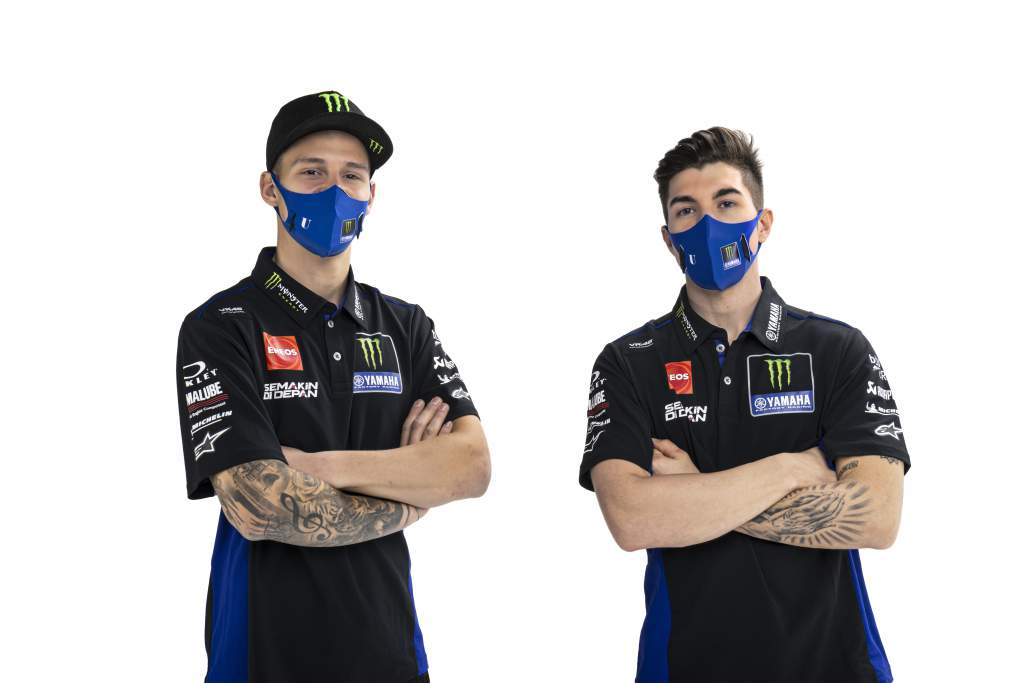 The question then is whether this survives first contact with a battle for victory. To answer that, you can point to Suzuki's very healthy dynamic between Joan Mir and Alex Rins, who are from the pretty much the same generation of MotoGP riders as Quartararo and Vinales respectively, and who kept it extremely cordial as Suzuki emerged as the bike to beat in 2020.
But you can also counter that with the fact Rins' early-season injury clipped the wings of his title challenge, and that he was never really close enough in the points to have a reason to believe 2020 was his year, whereas Mir was in the thick of it throughout.
It stands to reason both Suzuki and Yamaha will have a much harder job managing the relationship between its works riders in 2021 than Suzuki did last year – provided this year's M1 is the kind of consistent package the GSX-RR is.
Yamaha should be prepared that some form of intra-team strife could come with that consistency. But Jarvis is definitely right about one thing – it's a problem you want to have the opportunity to have.