Valentino Rossi's MotoGP team can and should target a milestone first premier-class win in the opening rounds of the 2023 season.
Such was the message from its riders during the VR46 team's 2023 launch – which, instead of being formatted like a traditional presentation, centred on an informal conversation between Luca Marini and Marco Bezzecchi that came off as only lightly scripted.
There are lofty expectations for the customer Ducati team after the 2022 season it's had and the even better pre-season it's going through right now. Ducati's reigning champion Pecco Bagnaia, who knows the VR46 structure well given his status as a fellow protege of Rossi's to Bezzecchi and Marini, said last month that both riders looked like they could be consistent top-five threats early on in 2023.
In 2022, Bezzecchi, on a year-old Ducati, was comfortably the best rookie in the field, even coming close to a maiden win at Assen, while Marini – a half-brother of team owner Rossi – weathered the initial teething problems of a factory-spec Desmosedici to emerge as a frequent top-six challenger in the latter half of the season.
And while Marini will now, like Bezzecchi, run a year-old Ducati instead of the up-to-date version, this seems to be paying off as he's topped both the Valencia post-season test last November and the Sepang test last month.
"This year, with this bike I felt from the beginning very comfortable," he said in his conversation with Bezzecchi.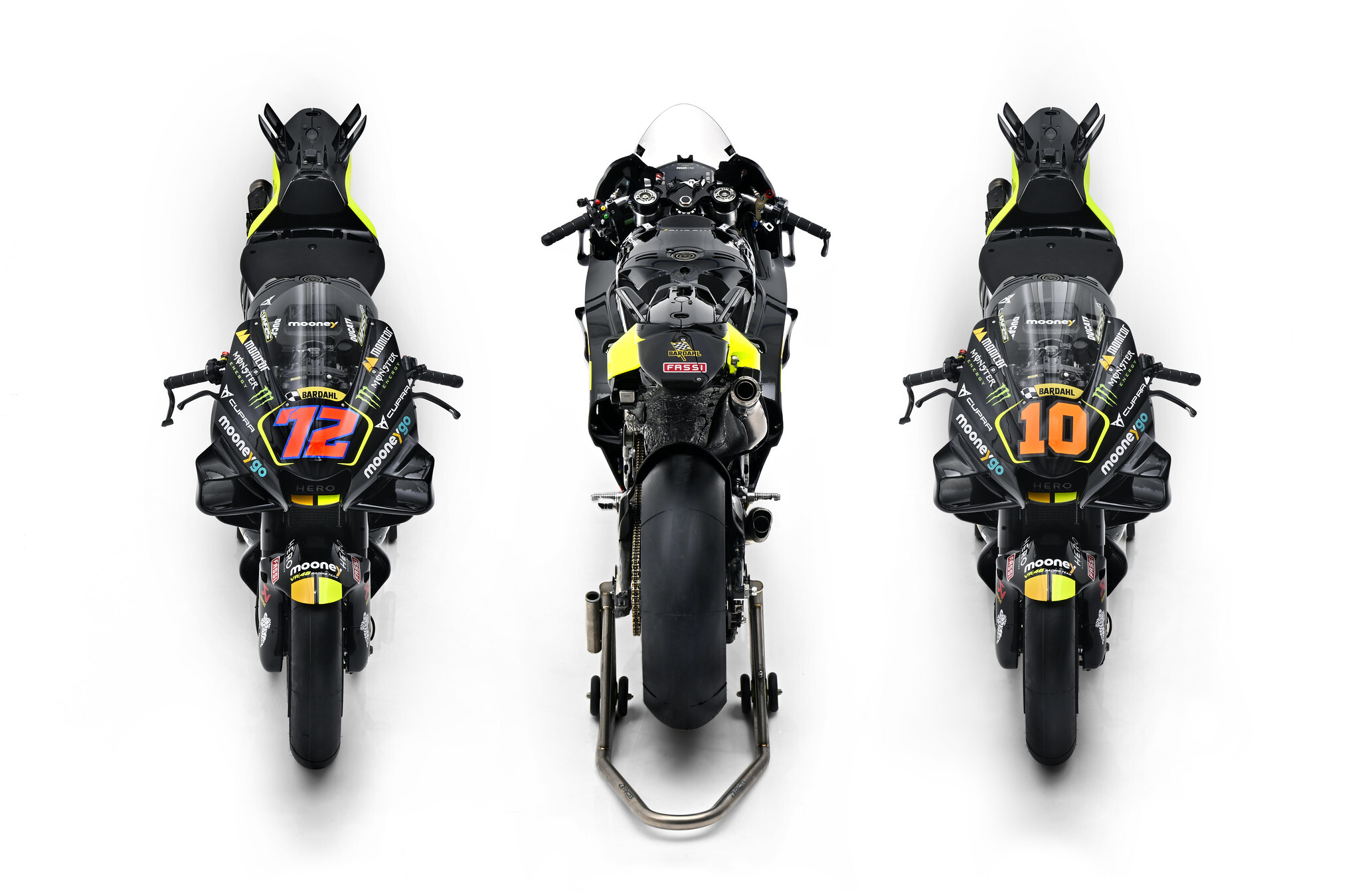 "The expectations, we need to wait – because during the test we didn't try so many things, the package we have now is very good. But the pace was strong, the laptime on the qualifying simulation was fantastic, I'm really satisfied about it.
"But… we need to wait."
However, he then added a certain degree of bullishness: "I think that we can fight for the top five position every race. I want to try to use our potential in the first races because I think the factory teams need to work a little bit on their new specification while we [with the year-old GP22] are ready now to try to win. So this is the target for the first races, I think."
"For me, the same," said Bezzecchi. "My only target is to try to reach a first victory. This is the goal that I'm searching for from the beginning.
"And of course, as you said, having a package that is already very fast, very competitive from the end of last year, I think that the first races for sure we are more ready maybe compared to the factory teams. So we have to use this small advantage – because then they will arrive."
'CLEANED UP' LIVERY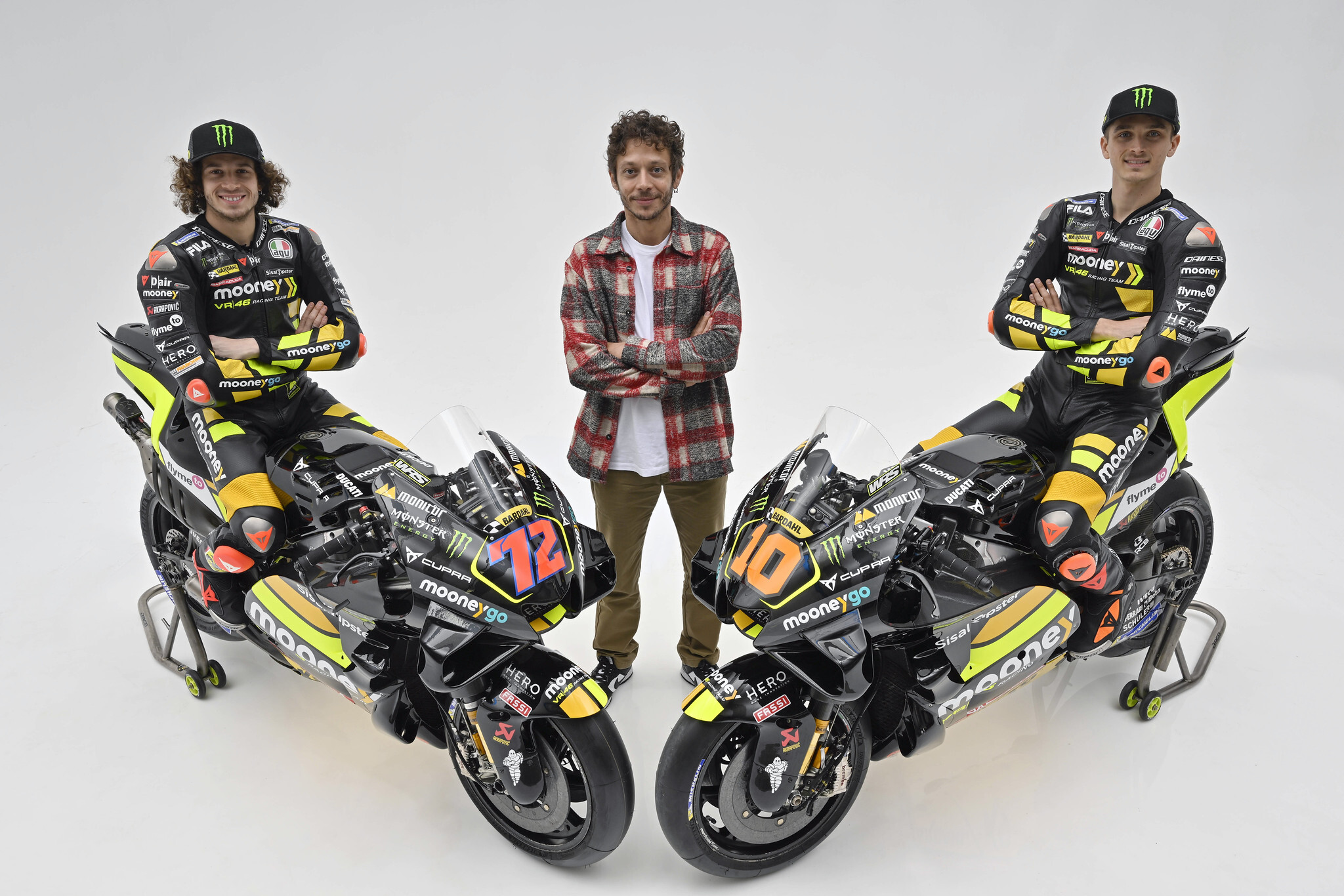 While VR46 has retained a broadly similar, title sponsor Mooney-inspired colour scheme for its second year as a fully-fledged two-bike MotoGP operation, it has refined the livery, removing gray tones in favour of a more "aggressive" emphasis on black.
In a way, the paint job has shifted a little more towards what both Marini and Bezzecchi were campaigning in Moto2 as VR46 riders.
"I really like it," said Bezzecchi of the livery. "I think a race bike in black is always really nice, very aggressive. Compared to last year, I think we put one gear [extra] on aggressivity."
"I agree," said Marini. "With more black, also the number plate looks much better. And also the tail like this, I like it, without the number [on the seat unit]."
"Yeah, because the number [last year] was very very big," Bezzecchi concurred. "And I think now it's more clean, the bike is more clean."