Yamaha MotoGP rider Valentino Rossi says his miraculous near-miss with the crashing bikes of Franco Morbidelli and Johann Zarco in the Austrian Grand Prix left him "feeling bad" and "very much scared".
Rossi was chasing after works team-mate Maverick Vinales for fifth when Zarco and Morbidelli collided behind him on approach to the Turn 3 right-hander.
As the corner is at such a sharp angle but comes after a long straight, the two crashed bikes went flying across the racing line after the collision at high speed.
"I feel bad, I'm scared, very much. Because yes, today was very dangerous" :: Valentino Rossi
Zarco's Avintia Ducati slammed into the inside airfence, was launched over the inside kerb and cartwheeled over Vinales, while Morbidelli's Petronas SRT Yamaha remained at ground level and threaded the needle between Vinales and Rossi as the two turned in, before bouncing through the gravel and finally coming to a rest.
Fellow riders acknowledged the factory Yamaha men came close to a horrific impact, with Aprilia rider Aleix Espargaro saying that the championship had dodged "one of the worst days of MotoGP history" and Tech3 KTM's Miguel Oliveira agreeing Rossi and Vinales escaped "a very, very, very big tragedy" and "can light up a candle for the angels".
Rossi was captured by cameras re-watching the incident once he'd arrived to his garage under the red flag, and was visibly shaken by what he'd seen.
And the seven-time MotoGP champion confirmed that was the case when talking to the media after the race, describing the accident as "so scary" and "terrifying".
We have no idea how Rossi and Viñales avoided this, we're just so thankful they did.

Morbidelli and Zarco tangle on the straight and crash out.

Both riders are up and walking.#AustrianGP pic.twitter.com/izLDfWq9aY

— MotoGP on BT Sport (@btsportmotogp) August 16, 2020
"We have to pray to somebody. Everybody has to pray to who they decide to," he quipped when told of Oliveira's comment.
"But, fuck, I'm very very… I feel bad, I'm scared, very much. Because yes, today was very dangerous."
Rossi took the restart and completed the 20-lap 'second race' in fifth place, finishing three tenths behind the KTM of Brad Binder.
"It was a very difficult moment, really – to restart for the second race and try to retake the concentration.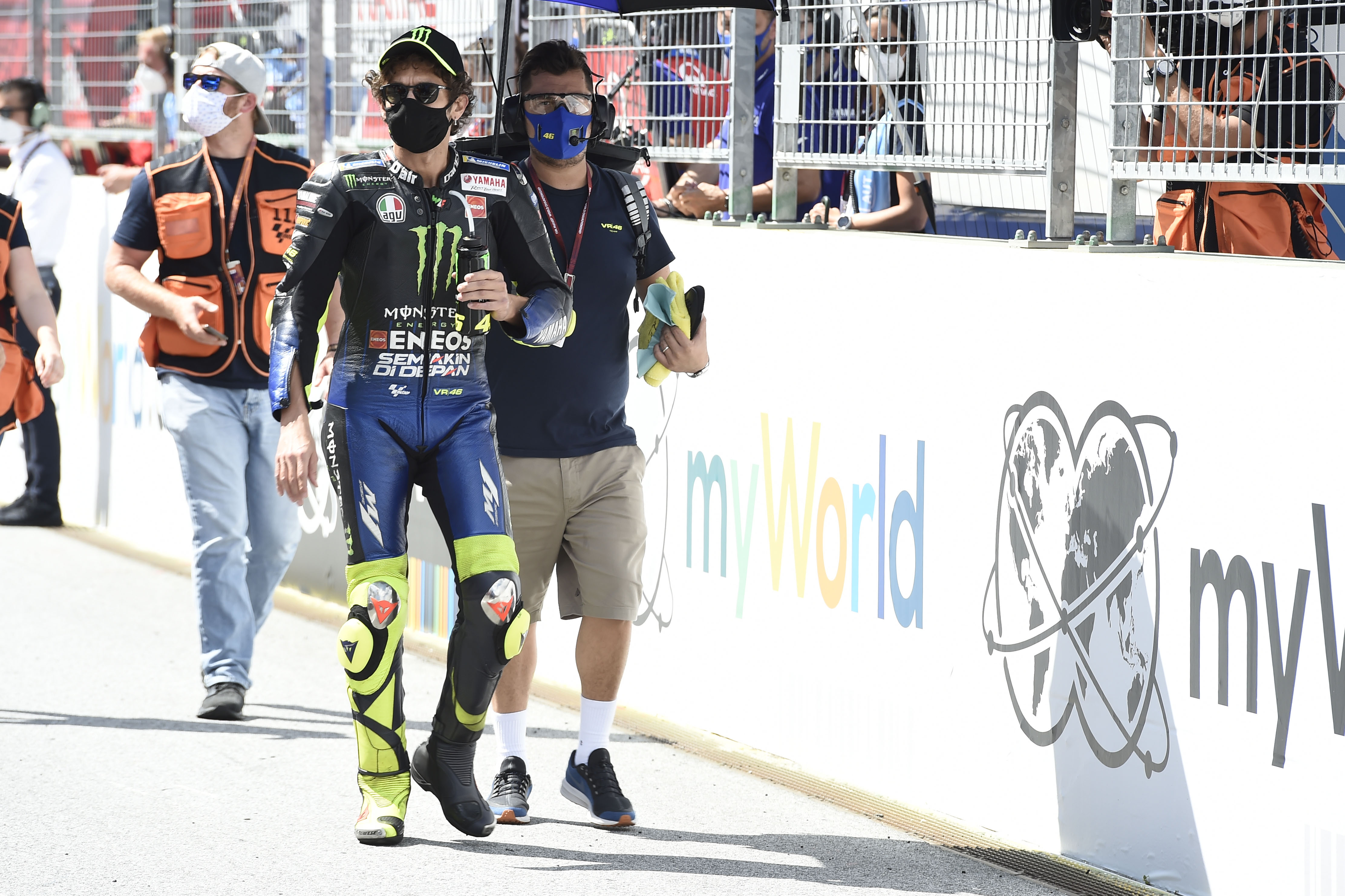 "I think that at the end I don't have a choice, because I don't want to say 'ciao ciao' to everybody, go home, I have to restart.
"You try not to think but it's really difficult – and also now it's not easy."
Rossi is yet to officially commit to a MotoGP deal beyond 2020, but is widely expected to remain on the grid via a switch to Petronas Yamaha.
Asked if he'd called his family in the aftermath of the incident, he said: "I spoke with my girlfriend already, she is destroyed, but I didn't speak with my mum and [father] Graziano, now I will call them for sure, especially my mother."
"I listened and I said 'fuck, someone crashed'. And then I heard a big explosion, I think was when the bike of Johann hit the wall" :: Maverick Vinales
Vinales, whose race after the red flag was undone by a slipping clutch, was less emotive when discussing the crash and said he "didn't see it" in real time.
"I saw the replay, and I saw the bikes went very close to us, but anyway we risk every day on the track and we know we are exposed to that," he said. "Honestly, no more comment about it."
Vinales did post a picture of himself covering his head as Zarco's bike went over him, and when asked about that gesture given that he hadn't seen the accident, he said: "Well, I listened. You know when the bike crashes, you hear the scratch [of the asphalt].
Bad result, but today we have to be happy 🙂 #AustrianGP // Mal resultado, pero hoy tenemos que estar contentos 🙂 #AustrianGP🇦🇹#MV12 #12gang #MonsterYamaha #MotoGP pic.twitter.com/wFf6byCvPu

— Maverick Viñales (@mvkoficial12) August 16, 2020
"I listened and I said 'fuck, someone crashed'. And then I heard a big explosion, I think was when the bike of Johann hit the wall. And I saw pieces all around. So what I did was cover myself, and I saw the bike was flying over.
"What I did after this was push full gas, because I thought 'maybe they don't put the red flag out and I need to push'. So, I keep pushing.
"For sure, we risk but you cannot think about that. If you think about that, you don't go fast.
"And honestly for the second race I didn't think about it, I thought just about going to the front and pushing, and that's it."