Over the opening four races of the 2022 MotoGP season, satellite Ducati rider Enea Bastianini has been nothing short of miraculous.
He's taken 50% of the season opening race wins and fired the historic Gresini Racing squad back into the limelight as it returns to fully independent status after seven seasons partnered up with Aprilia.
What's made his results all the more impressive is that they've come as the factory Ducatis (and the other three satellite riders on 2022-spec Desmosedicis) have struggled, with expected title contender Pecco Bagnaia already 38 points adrift of his old hand-me-down 2021 bike with Bastianini on board.
Of course, there's was always an expectation that 2020 Moto2 champion Bastianini would start the season strongly given how refined his bike was for the start of the season. The 2021 Ducati won four of the final six races of 2021 in the hands of Bagnaia, and Bastianini has been spared any of the development work that has taken up so much of the factor riders' time throughout winter.
Instead able to concentrate on simply riding the bike and dialling in a base setting, it's paid off far more than anyone had anticipated with his incredible start to the season.
Yet, the strength of Bastianini's start to the year is such that it can't all simply be chalked down to good timing. The 24-year-old Italian is clearly doing something special too.
Factory Ducati rider Jack Miller was easily hunted down and caught by Bastianini at Austin last weekend, as Bastianini escaped to his second win and Miller ended up third behind Alex Rins' Suzuki.
Miller got an up close and personal look at Bastianini as he passed and rode away from him, and is also able to analyse his data thanks to Ducati's internal information sharing.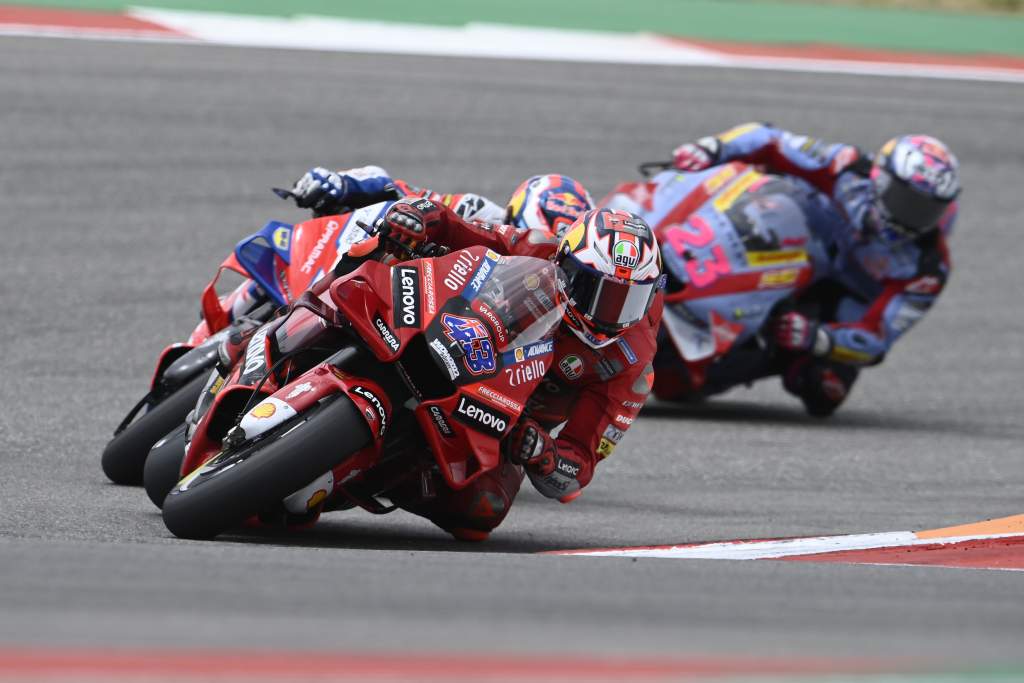 Having seen Bastianini's technique, Miller has been trying his best to replicate it – but so far, that's something none of the Ducati riders seems to be able to manage.
"Honestly, if I knew I would do it!" Miller joked after the race. "But he's riding well. When he comes past you, he looks effortless.
"He has a particular style where he sits very central and his head goes on an angle. You look at him with the thing moving underneath him and he just looks really solid there. It works.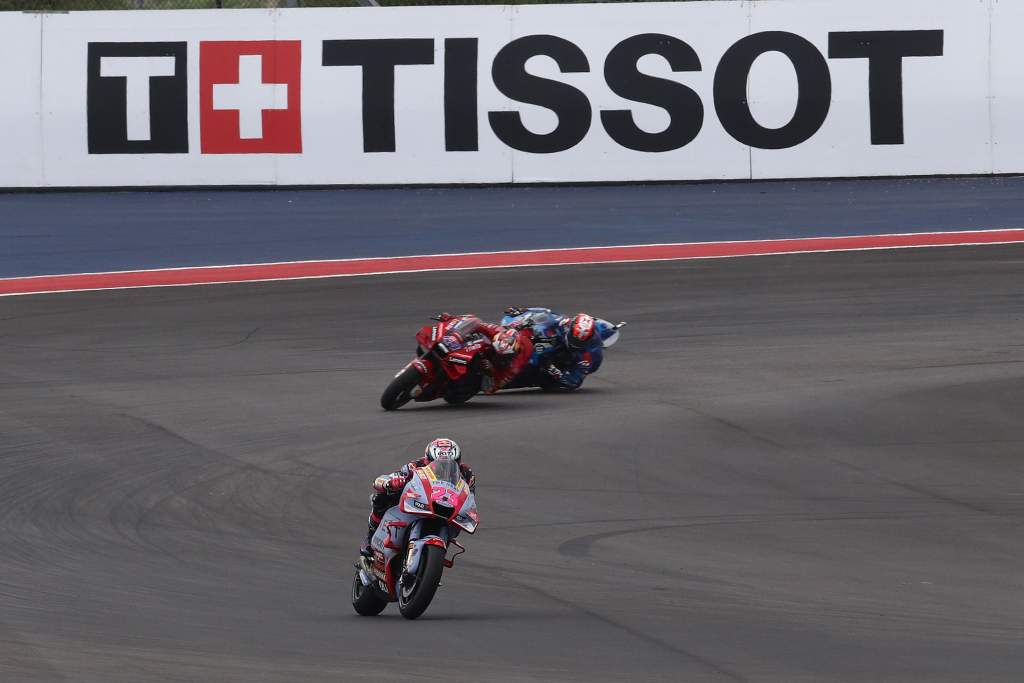 "He's able to let the bike move under him and stay really firm and really calm on it.
"Of course, he's a pocket man as well, a small bloke, so he's very, very fast on the straight. And he can stop it rather well as well, because when you're not having to haul up an extra 10 kilos it helps!"
But while the straightline speed advantage might be one aspect of Bastianini's strength, the real thing that he does best seems to come from that smooth riding style and the way it specifically doesn't stress the rear tyre in the latter stages of the race.
"That's him," admitted Miller of Bastianini's ability to conserve rubber. "He was on the GP19 last year and it was the same issue – he did the exact same thing to me last year except it was for sixth position. That's him.
"He's unreal with the way he puts the throttle down. For some reason, he never really uses the rear of the bike to turn, which is my big problem.
"I'm always using the rear of the bike to turn but he's able to ride in a really smooth way, and fast.
"For tyre management that's the best thing, and it's all down to him. If I could train myself in his style… I've been trying to for seven years and I still haven't got it!"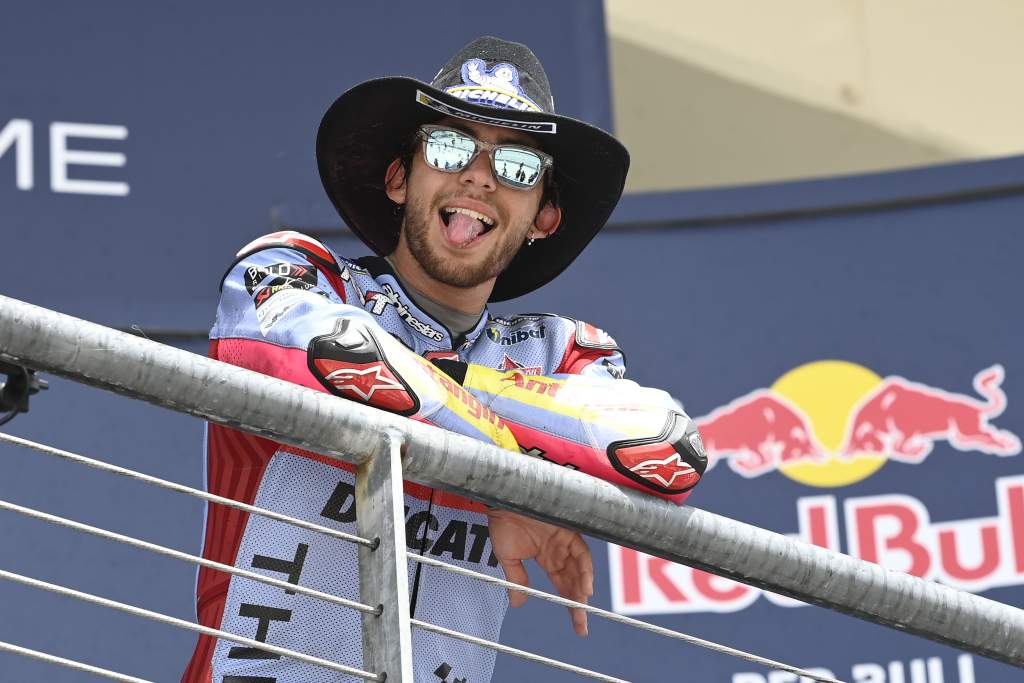 Perhaps worryingly for his rivals, Bastianini himself is adamant that at the start of only his second season in the championship, he's still got a way to go before he's fully competent at riding a MotoGP bike.
Aware, just like Miller and his fellow Ducati riders, where he needs to improve from looking at the shared data, he actually believes that replicating some of Miller's style will pay off for him in the long term.
"Some of the riders have a very different style to mine, but Jack's is quite close and I compare with him the data every time," said Bastianini.
"The bike for me is still very similar, the '21 bike with respect to the '22 one, and I think there isn't a big step. For the moment, I'm not in an advantage.
"My feeling is that I'm really fast on the entry of the corner, especially when there is one big braking zone, but I pay for that moment in the middle of the corner.
"I'm more slow there, especially when I check the data inside the box with respect to Jack and especially [Jorge] Martin. I have to improve in this, because my style is too different. I have to improve more."