Fabio Quartararo has conceded that the 2020 MotoGP world championship is now all but lost, admitting that even without crashing out of today's European Grand Prix it would have been all but impossible for him to stop runaway winner Joan Mir.
The Suzuki rider and his team-mate Alex Rins never put a foot wrong from the second the lights went out to almost effortlessly bridge a gap at the front of the race and control it from there until the chequered flag.
And with their incredible pace something that's all but impossible for the Yamahas to match when they're having one of their increasingly more common off days, Quartararo admitted after the race at the Circuit Ricardo Tormo in Valencia that there's simply nothing that he can do to match the combination of rider and machine at Suzuki.
With a complete lack of dry-weather set-up time meaning he went into the race almost blind, even without a crash it looked unlikely that he would be able to challenge the Suzuki duo – and that's exactly how it played out in the end.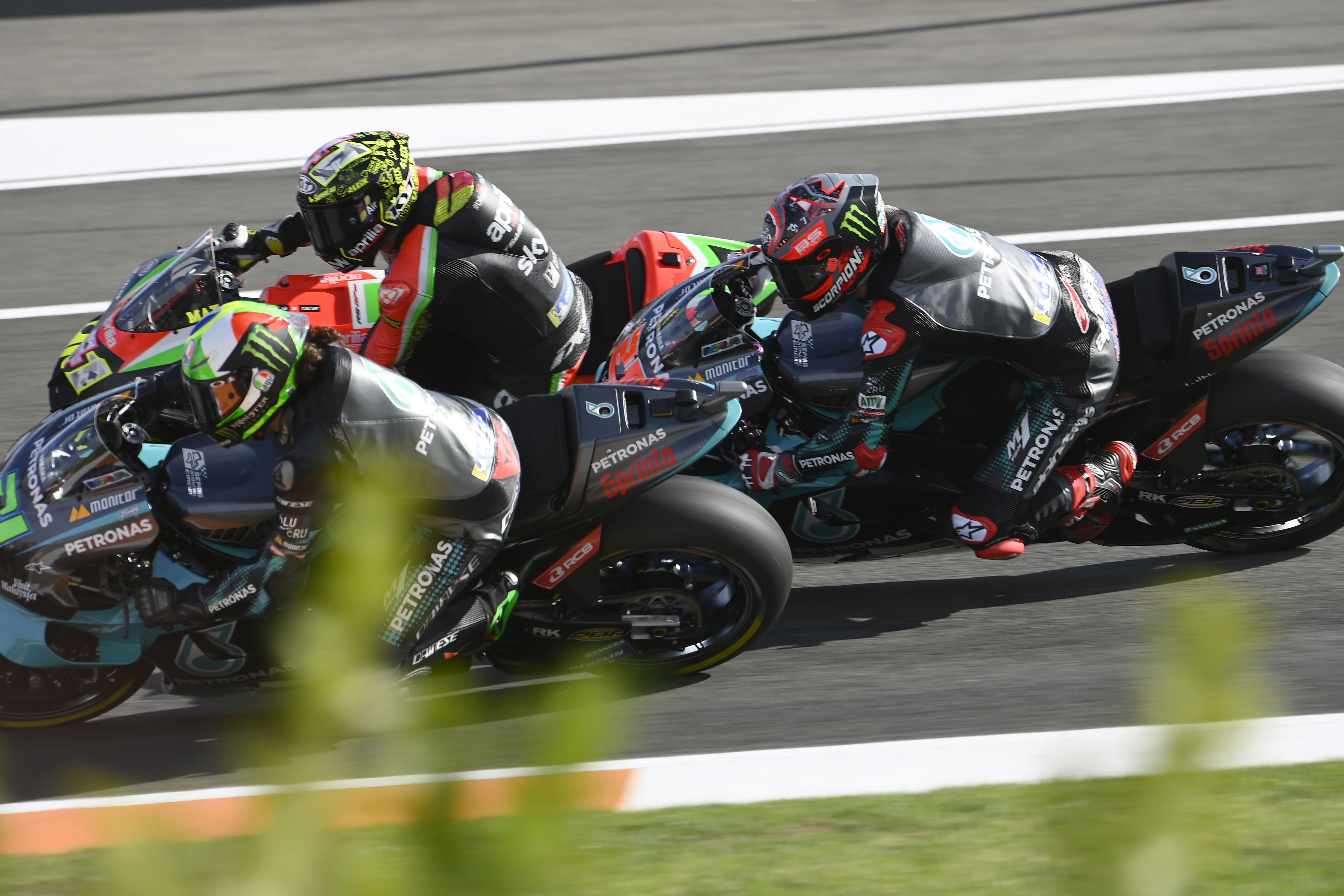 "Both riders are really fast," said Quartararo after the race. "First of all it's the riders, then the bike. It looks like we have tough times, with a really irregular season for me and for Yamaha, while they are always on top. They are always a step in front of us. I don't know what to say – it looks like both riders are really unbeatable."
The crash that definitively ended any chances he had of scoring well in the European Grand Prix came early on in the race, with the Frenchman forced to take avoiding action when Aleix Espargaro went down in front of him.
Able to remount and ride a strong comeback race to a points-scoring position in 14th even if it was last on track, he was nonetheless adamant that it wasn't the day that ended his title hopes.
"Unfortunately I couldn't do a lot before the crash – Aleix crashed in front of me, he was very close, I had to brake a little more with the reaction, and it was similar to Silverstone last year [pictured below].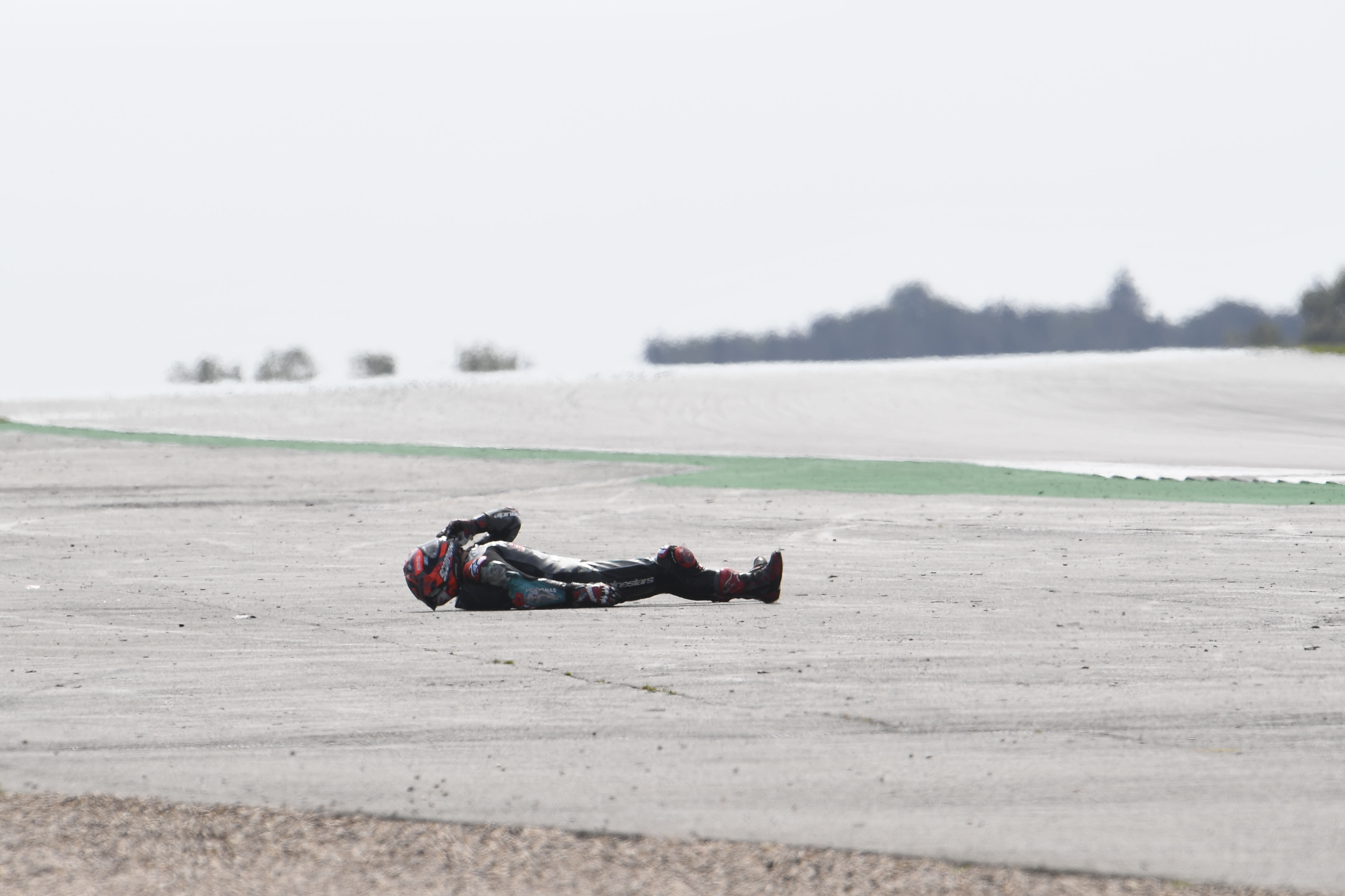 "I had a crash, I had a problem restarting the bike.
"I'm so sad because of the crash but it was going to be difficult anyway. The championship isn't over, but let's say we're focusing on other things now, like finishing in second place. I lost the championship today, but the fight at Aragon started it.
"I just wanted to start the race there with a little less pressure in the front tyre but the Yamaha protocol said no, and as a result I had the hardest race of my life. I wasn't able to score a point when we had the pace to fight for the top five or six."
Heartbreaking scenes to watch! 💔

Don't give up @FabioQ20! It's not over until the final flag! ⚔️#EuropeanGP 🇪🇺 pic.twitter.com/qnsAJwwyBM

— MotoGP™🏁 (@MotoGP) November 8, 2020
But despite admitting that his 2020 challenge is pretty much spent, Quartararo is keen to keep pushing for the remaining two races of the year while there's still some hope left.
With him needing to finish at least first and third in Valencia and Portimao while title leader Mir fails to take home any points, it's a big ask – but the Petronas Yamaha rider is keen to keep his motivation high for the time being at least.
"In my head I'm fully focused, even if some people think I'm not motivated because I've lost many points today. I'm just focused on what I want – to try and finish as high in the championship as I can. I'm feeling good in the head, I just need to be clear, and we know where the problems are.
"There is quite a lot to improve, but I just want to give my best in the next few days. It's not that we lost the championship today and I'm not motivated anymore, so we'll just try to come back stronger next week so that I can have more information.
"But we will need to change many things next year to make things work now, because it seems that the other factories are working in a much better way than ours."