MotoGP championship hopeful Fabio Quartararo says he has bigger issues to worry about at Sepang than the small fracture to his finger he suffered in a practice crash.
Quartararo fell during the pre-qualifying fourth practice at Turn 8, where many riders have been getting caught out by bumps, and hurt his left hand, spending the lead-up to the pole shoot-out grimacing in pain.
Drama! @FabioQ20 crashes out at T8, exactly where @PeccoBagnaia fell at the end of FP3 💥💥💥#MalaysianGP 🇲🇾 pic.twitter.com/C68xRgBppI

— MotoGP™🏁 (@MotoGP) October 22, 2022
He qualified only 12th in the end, behind all three of his remaining title rivals despite crashes for Pecco Bagnaia and Aleix Espargaro, and then headed to the circuit medical centre, where he was diagnosed with a contusion and a small fracture to the middle finger.
However, Quartararo insisted afterwards the injury was not the root of the under-par qualifying performance.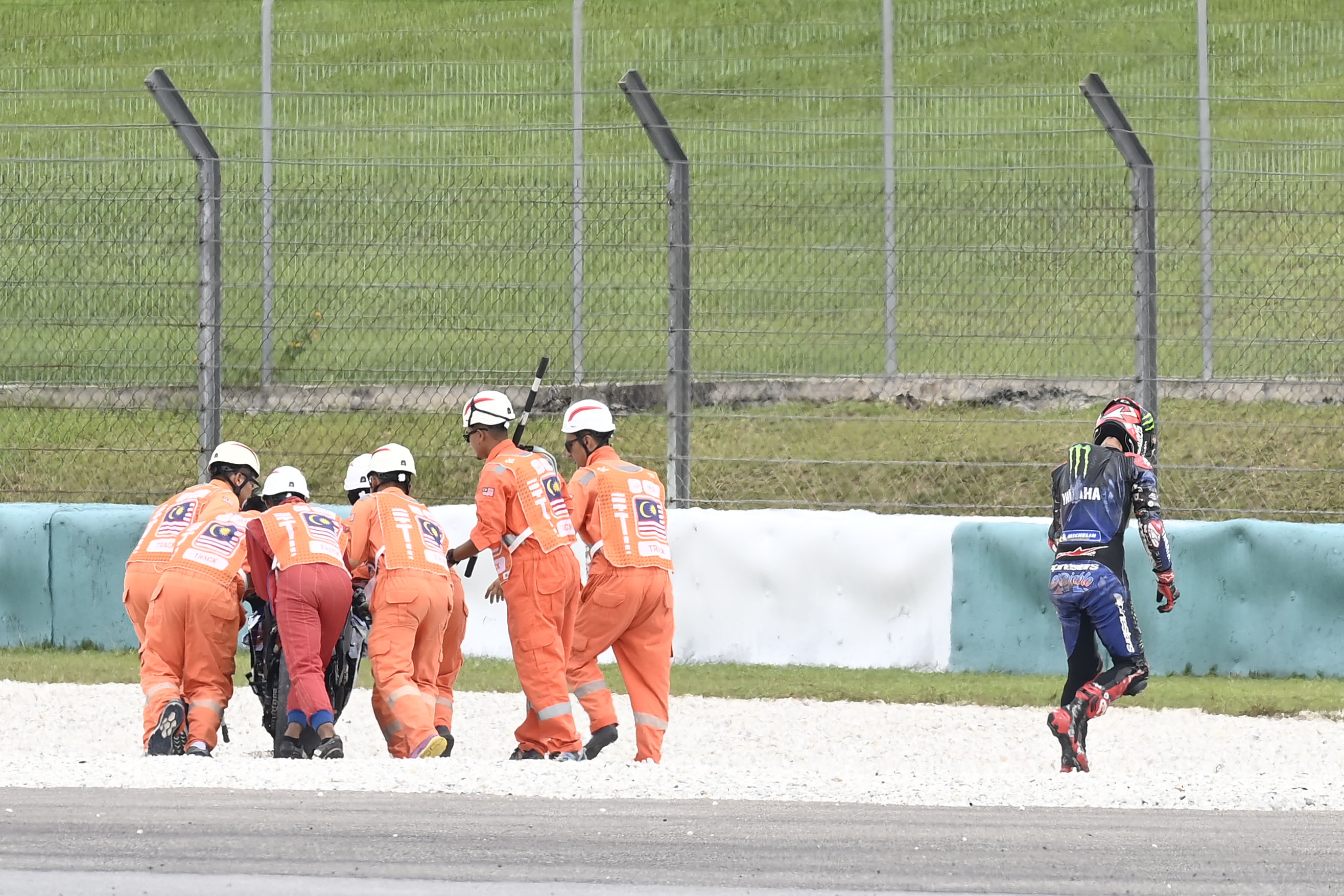 "For the pace I was not feeling so bad after the crash," Quartararo said.
"Honestly, in the qualifying was not a problem. Maybe I was not as focused, I don't know.
✅ @FabioQ20's back in the garage and seems to have some pain in his left hand ⚠️#MalaysianGP 🇲🇾 pic.twitter.com/CErJL82VGw

— MotoGP™🏁 (@MotoGP) October 22, 2022
"The first run was something I still don't understand, and the second run we didn't calculate to make two laps. So… second run was much better, not on the feeling but just on the laptime, until the moment in the same corner where I crashed."
Following up, he said: "It's really strange the way we are having these last races. I don't know if we work in the correct way or not, but we are missing many things.
"And … maybe we should do something different. Really strange last races."
Quartararo's decisive flying lap in Q2 unravelled with a wobble at Turn 8, although by then he'd already surrendered a significant amount of time relative to the frontrunners.
He ended up suffering his first qualifying defeat of the season to team-mate Franco Morbidelli, who placed seventh on the grid but will need to serve a double long lap penalty on Sunday for impeding Bagnaia and Marc Marquez.
Quartararo praised the under-fire Morbidelli, saying: "Franco today was fast. And especially in qualifying. We will analyse well, until Turn 8 where we had the mistake, what he did different to us."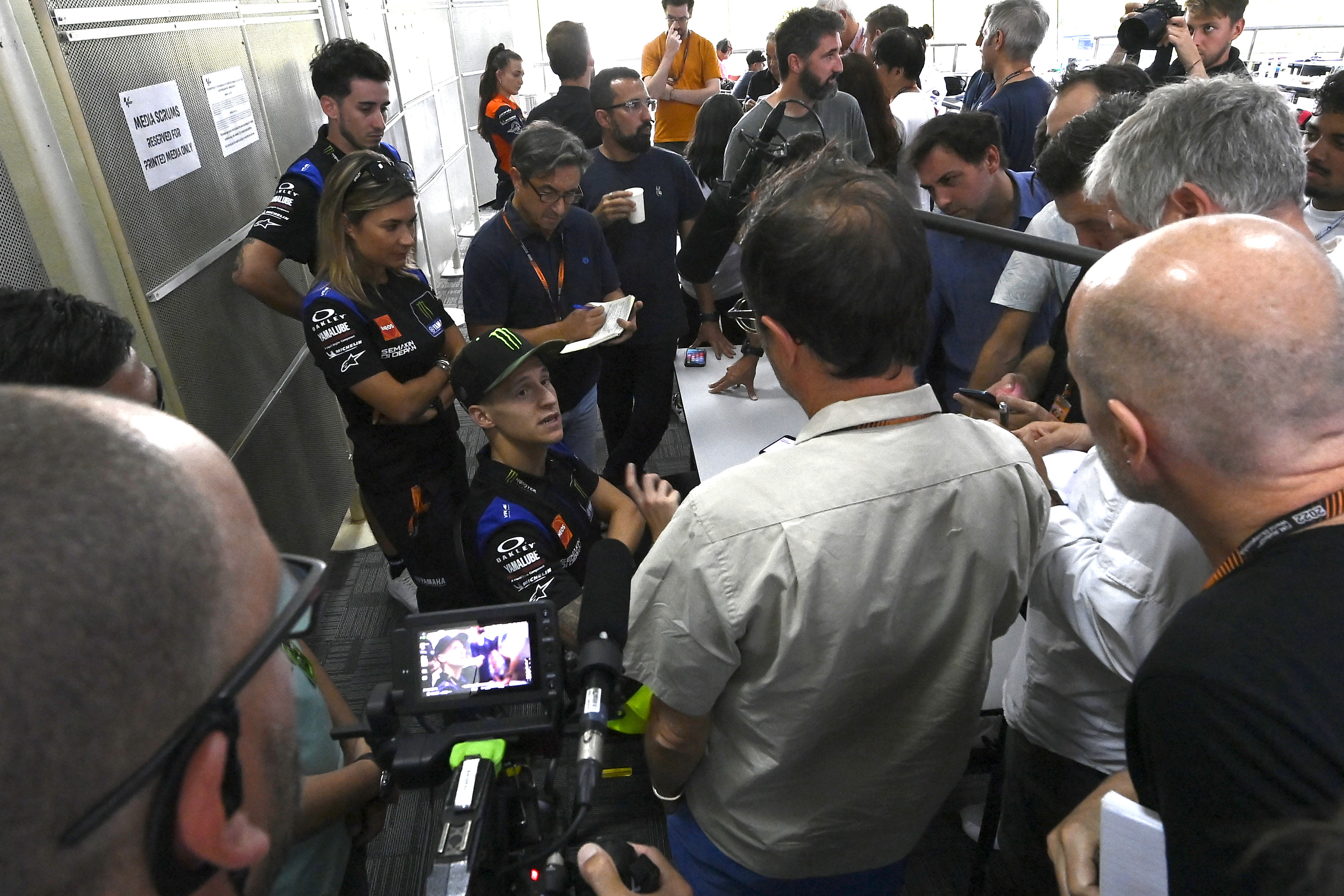 Quartararo needs to not be outscored by 10 points by Bagnaia to maintain his title hopes into the Valencia finale – but admitted he doesn't see any places where he can overtake. "It will be the mystery of tomorrow," he said sardonically.
But while he uses the left hand for braking and operating the ride height device, he said of the injury: "Honestly… will not be a problem [tomorrow].
"I think in the race I will have many things to think about apart from the finger.
"I think it shouldn't be a problem, and for sure I'll take something [medicinal] for the race."