Ducati rider Danilo Petrucci took his second MotoGP win in a thrilling wet French Grand Prix at Le Mans, leading a surprise podium of Honda rookie Alex Marquez and KTM's Pol Espargaro.
Petrucci, who was told by Ducati early this year that he would not be getting an extension for 2021, has had a difficult campaign and will make the switch to satellite KTM squad Tech3 next year.
However, a rain-affected race presented him with the opportunity to add another highlight to his Ducati CV and Petrucci duly took it, ending a podium-less streak that stretched to Barcelona last June in the process.
The preceding Moto3 race was in dry conditions, but five minutes before the scheduled MotoGP lights-out time a very light drizzle transformed into proper rainfall, forcing a 10-minute postponement to the start as the whole field switched to wet tyres.
A lightning start from fifth on the grid by Cal Crutchlow nearly handed him the lead entering the first corner, but Pramac Ducati's Jack Miller fended him off and poleman Fabio Quartararo got back ahead of the LCR Honda rider for second into Turn 1.
However, Quartararo was then swiftly swallowed up by the works Ducatis of Petrucci and Andrea Dovizioso, and the factory team-mates then both edged ahead of Miller within just over a lap.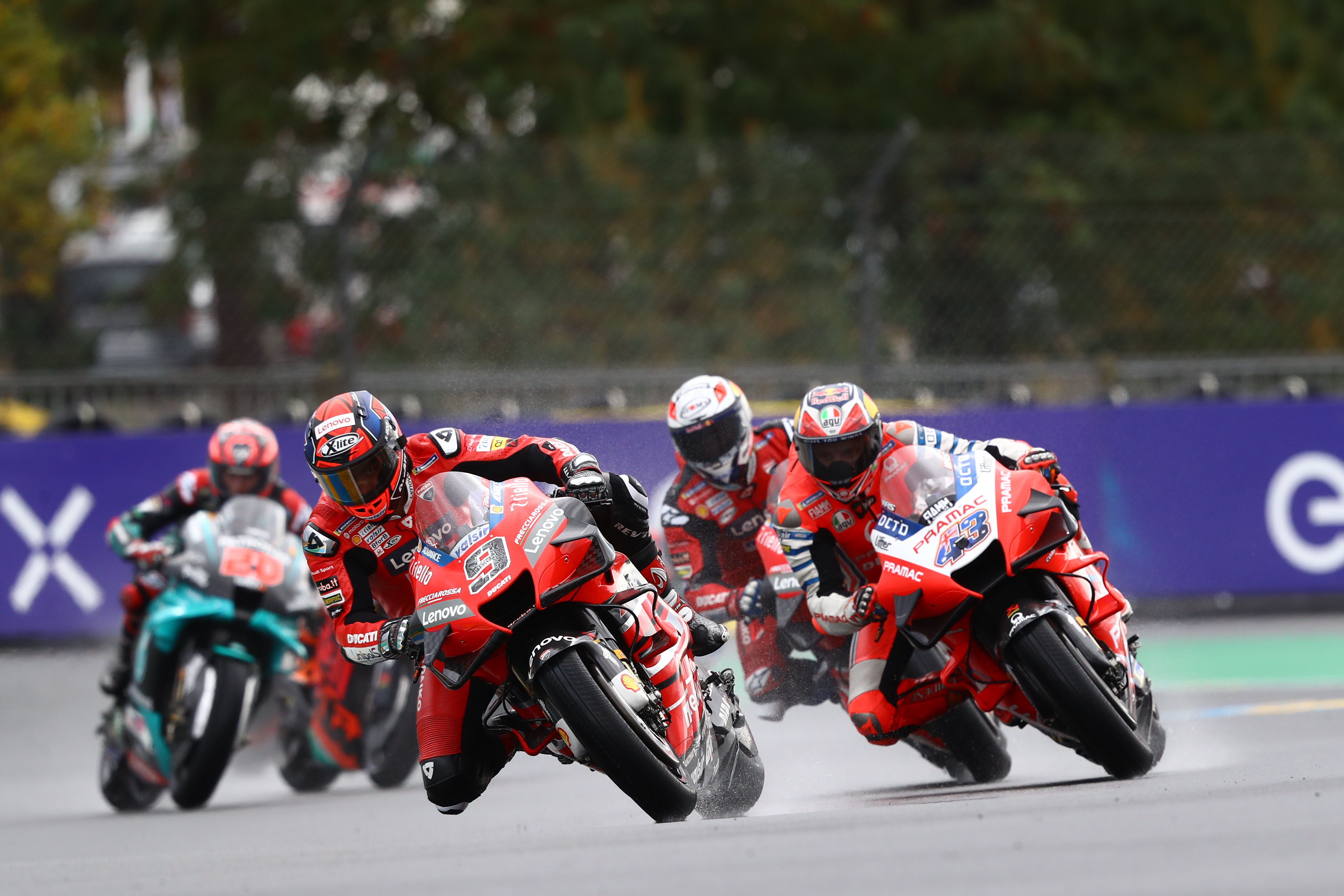 The three Ducatis were nearly three seconds clear after four laps, but that gap stabilised and began to recede once Suzuki's Alex Rins – who had started 16th – had fought his way through to run best of the rest.
With the Desmosedicis running in formation, Rins arrived at the back of the lead group by lap 13, making an initial attempt to overtake third-placed Miller on the brakes at Le Musee, only to run out wide and hand the position back.
Two lap later, Rins snuck ahead of Miller again at the Dunlop Chicane, but the Australian repassed him at Garage Vert, the pair managing to stay in touch with the two leaders despite their dogfight.
With nine laps left, Dovizioso made his move for the lead, diving down the inside of Petrucci, but his team-mate stayed with him throughout the lead and attempted to retake the spot round the outside of Garage Bleu.
And Rins sensed his opportunity at the moment, taking the inside line into the corner, with Dovizioso sandwiched between the two and dropping down to fourth as a result.
Miller had benefited from cutting Garage Bleu in that incident, and swiftly repassed Rins for second, only for his Desmosedici GP20 to begin smoking and force him out of the race.
Yet Rins' latest stint in second place was short-lived, too, as he slid off at the Dunlop Chicane at the very next lap, remounting his GSX-RR in last place.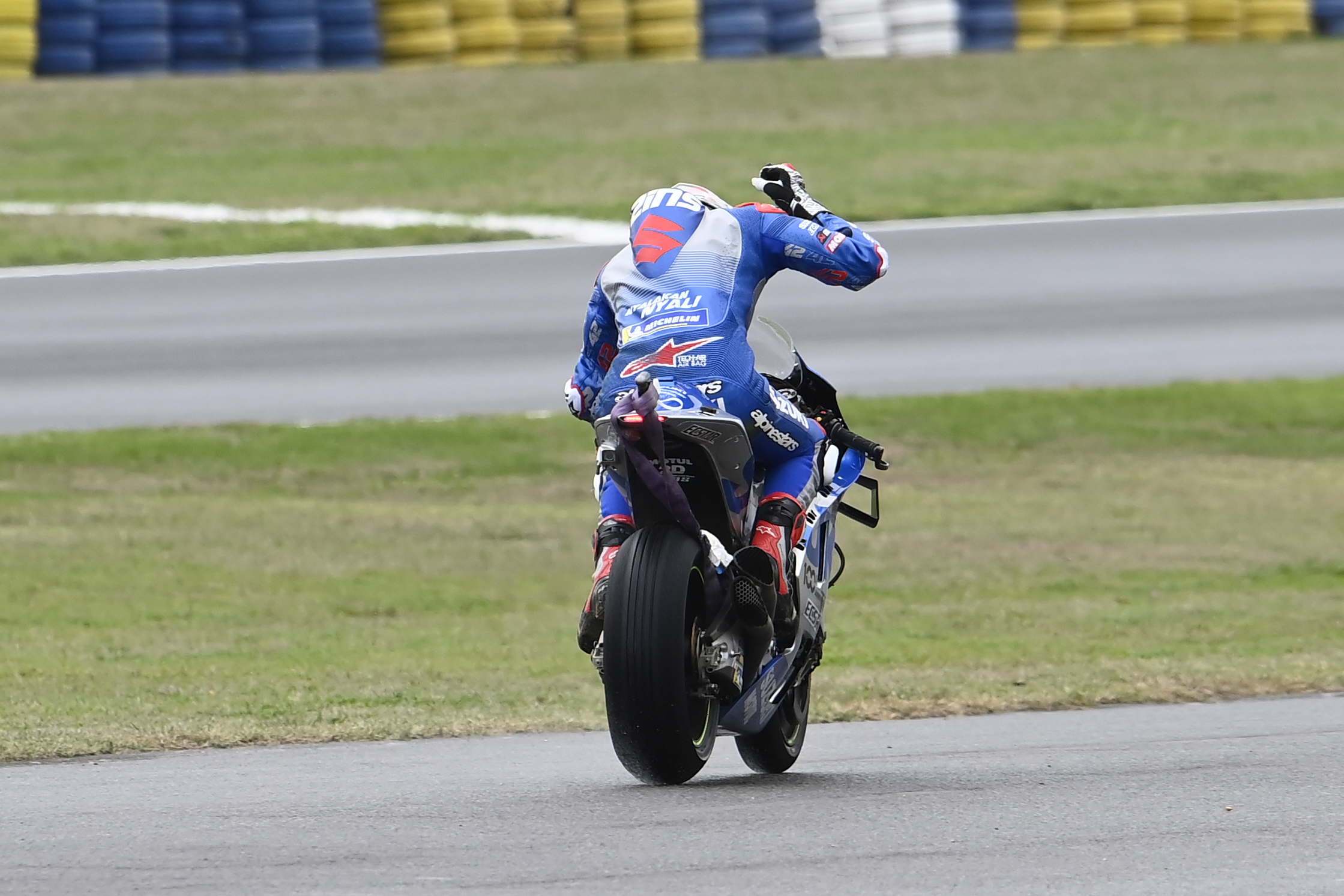 All of a sudden, Petrucci was left with a lead of over two seconds, with Dovizioso instead having to fight off Marquez and Pol Espargaro – the former having shadowed the latter for much of the race before finally making the overtake.
But despite Dovizioso just narrowly hanging on to second, both he and his immediate pursuers quickly began to gain on Petrucci again, taking his lead down to just over a second with four laps to go.
A lap later, Dovizioso left the door ever so slightly jar at La Chapelle and Marquez pounced, with Espargaro demoting the Ducati man off the podium at the Dunlop chicane the next time by.
Marquez managed to reduce Petrucci's lead over the next lap but ultimately appeared to settle for second place, which marked Honda's first podium of a troubled campaign, while Espargaro completed the top three.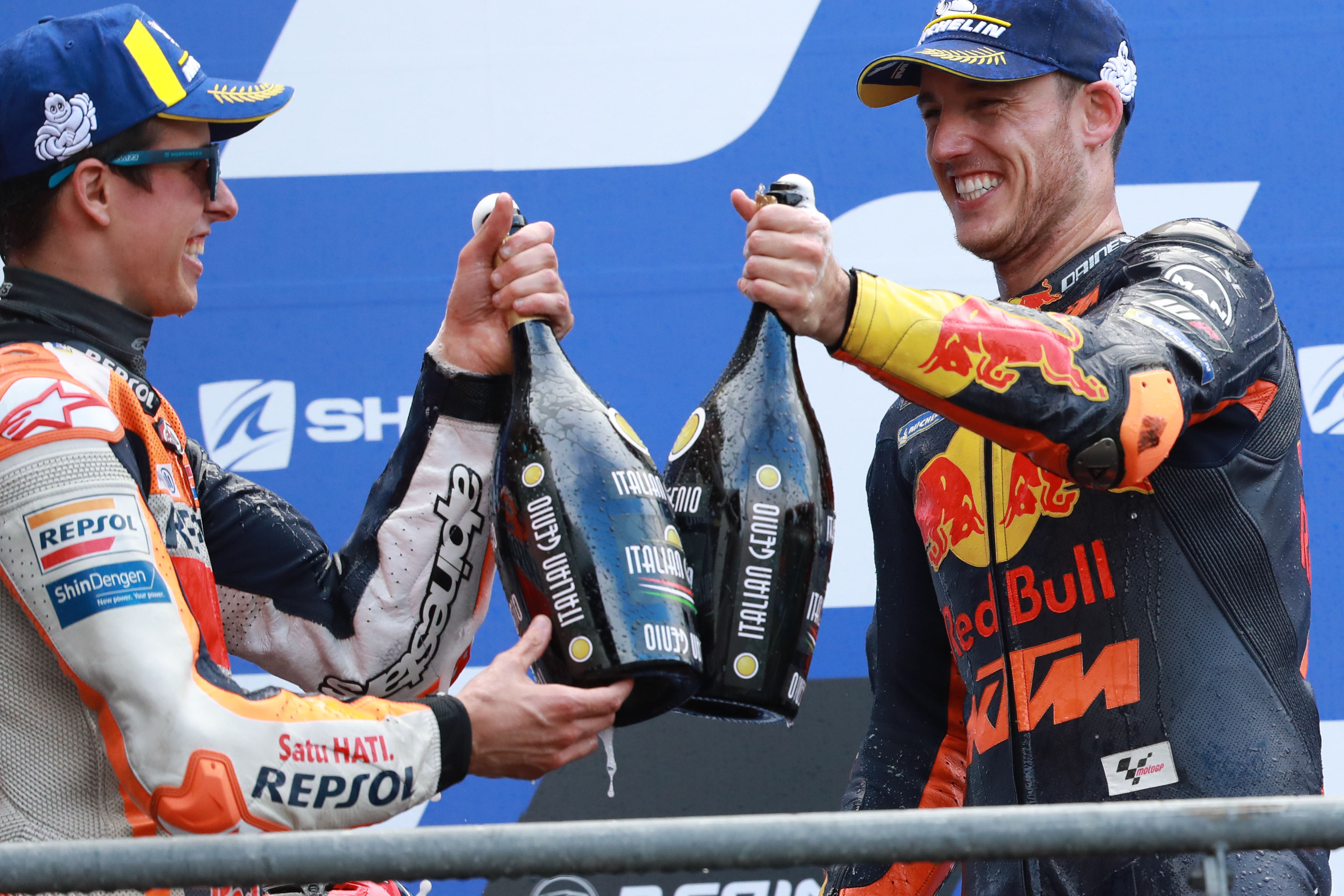 Despite having virtually run out of rear grip, Dovizioso fought off Miguel Oliveira's late attacks to secure fourth, with Tech3 KTM rider Oliveira also beaten by Johann Zarco at the very end.
Avintia Ducati rider Zarco made up two places on the final lap, his overtake on Oliveira coming after he'd dispatched Takaaki Nakagami – who nonetheless maintained his streak of finishing every race in the top 10 this season.
Quartararo had struggled badly for pace all throughout what was his first proper wet race in MotoGP, but benefited from attrition to stay in the top 10 for most of it.
Overtaken by Honda stand-in Stefan Bradl for eighth late on, he narrowly held on to beat title rivals Maverick Vinales (Yamaha) and Joan Mir (Suzuki) at the finish.
Vinales and Mir had been two riders badly compromised by Valentino Rossi dropping his Yamaha at the Dunlop chicane at the very start, forcing the pair to take avoiding action and dropping them to the back of the field.
Mir now sits 10 points behind Quartararo in second, with Dovizioso and Vinales a further eight and nine behind the Suzuki rider respectively.
Joining Rossi and Miller on the list of retirements were Aprilia's Bradley Smith, who ran in the top 10 early on when he crashed out at the final corner; Franco Morbidelli, who had a poor race and came into the pits on his damaged bike after a fall; Crutchlow, who was on for by far the best result of an injury-ravaged season when he hit the deck from seventh place; and Avintia Ducati's Tito Rabat.
Race Results
| Pos | Name | Team | Bike | Laps | Laps Led | Total Time | Fastest Lap | Pitstops | Pts |
| --- | --- | --- | --- | --- | --- | --- | --- | --- | --- |
| 1 | Danilo Petrucci | Ducati Team | Ducati | 26 | 26 | 45m54.736s | 1m44.217s | 0 | 25 |
| 2 | Alex Marquez | Repsol Honda Team | Honda | 26 | 0 | +1.273s | 1m44.224s | 0 | 20 |
| 3 | Pol Espargaró | Red Bull KTM Factory Racing | KTM | 26 | 0 | +1.711s | 1m44.24s | 0 | 16 |
| 4 | Andrea Dovizioso | Ducati Team | Ducati | 26 | 0 | +3.911s | 1m44.52s | 0 | 13 |
| 5 | Johann Zarco | Avintia Racing | Ducati | 26 | 0 | +4.31s | 1m43.301s | 0 | 11 |
| 6 | Miguel Oliveira | Red Bull KTM Tech 3 | KTM | 26 | 0 | +4.466s | 1m44.305s | 0 | 10 |
| 7 | Takaaki Nakagami | LCR Honda | Honda | 26 | 0 | +5.921s | 1m43.938s | 0 | 9 |
| 8 | Stefan Bradl | Repsol Honda Team | Honda | 26 | 0 | +15.597s | 1m44.247s | 0 | 8 |
| 9 | Fabio Quartararo | Petronas Yamaha SRT | Yamaha | 26 | 0 | +16.687s | 1m44.641s | 0 | 7 |
| 10 | Maverick Viñales | Yamaha Factory Racing | Yamaha | 26 | 0 | +16.895s | 1m43.877s | 0 | 6 |
| 11 | Joan Mir | Team Suzuki MotoGP | Suzuki | 26 | 0 | +16.98s | 1m43.832s | 0 | 5 |
| 12 | Brad Binder | Red Bull KTM Factory Racing | KTM | 26 | 0 | +27.321s | 1m44.895s | 0 | 4 |
| 13 | Francesco Bagnaia | Pramac Racing | Ducati | 26 | 0 | +33.351s | 1m45s | 0 | 3 |
| 14 | Aleix Espargaró | Aprilia Racing Team Gresini | Aprilia | 26 | 0 | +39.176s | 1m45.815s | 0 | 2 |
| 15 | Iker Lecuona | Red Bull KTM Tech 3 | KTM | 26 | 0 | +51.087s | 1m45.735s | 0 | 1 |
| 16 | Alex Rins | Team Suzuki MotoGP | Suzuki | 26 | 0 | +1m14.19s | 1m44.697s | 0 | 0 |
| | Jack Miller | Pramac Racing | Ducati | 19 | 0 | DNF | 1m44.826s | 0 | 0 |
| | Franco Morbidelli | Petronas Yamaha SRT | Yamaha | 18 | 0 | DNF | 1m45.114s | 0 | 0 |
| | Cal Crutchlow | LCR Honda | Honda | 17 | 0 | DNF | 1m44.352s | 0 | 0 |
| | Tito Rabat | Avintia Racing | Ducati | 14 | 0 | DNF | 1m46.944s | 0 | 0 |
| | Bradley Smith | Aprilia Racing Team Gresini | Aprilia | 8 | 0 | DNF | 1m46.54s | 0 | 0 |
| | Valentino Rossi | Yamaha Factory Racing | Yamaha | 0 | 0 | DNF | 0s | 0 | 0 |