Tech3 KTM rider Danilo Petrucci says he "felt dirty" competing at Mugello after the news of Moto3 Jason Dupasquier's passing earlier in the same weekend.
Dupasquier was caught up in a multi-bike crash in Moto3 qualifying on Saturday, and it took over half an hour for him to be evacuated from the site of the accident, in a medical helicopter, after he required urgent medical intervention on-site.
On Sunday, shortly after the end of the Moto3 race, it was announced Dupasquier had passed away in hospital.
"Today, first of all, was really, really a difficult race," Petrucci said, after finishing ninth in the MotoGP main event. "But not for, let's say, the sporting side.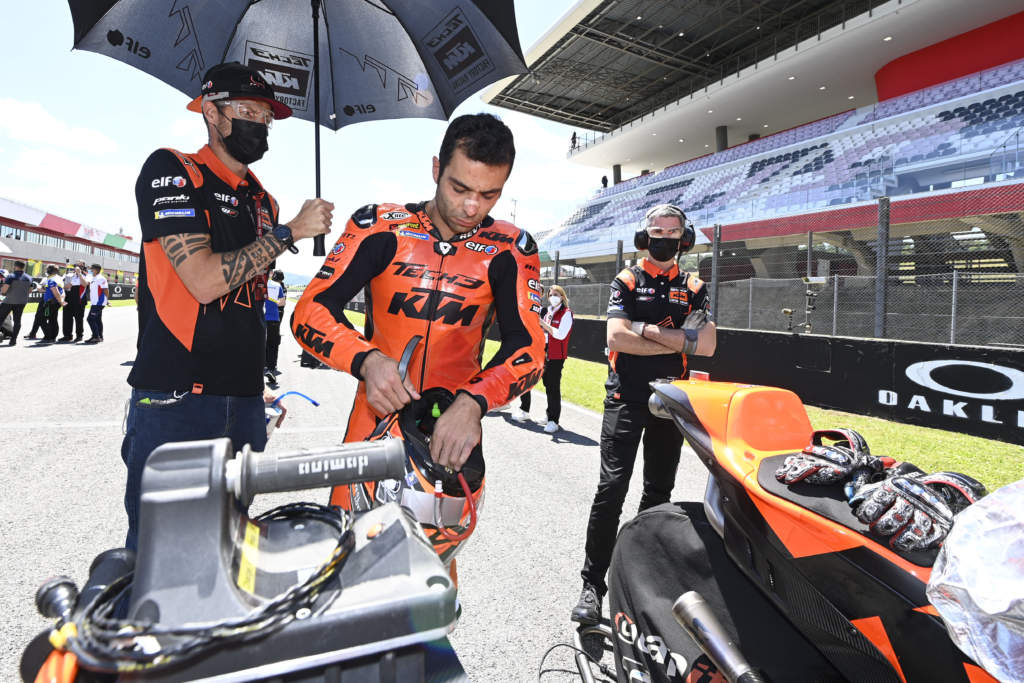 "On the human side, I don't feel really really clean. And I just think that, we are racing on the same track that almost 24 hours ago saw people like us die. For me it's not a great thing.
"But then, let's say, we are not in a position to say we can stop for a day at least. I was feeling always a little bit dirty to do that, thinking about a person like you, a rider like me, is not anymore with us."
Petrucci did specify that Saturday, in the immediate aftermath of the crash, was "the most difficult part" as MotoGP riders headed out onto the track a few minutes after Dupasquier had been airlifted away.
"You see a body on the track, and after three minutes the pitlane opens and you pass in the point where a rider is dead," he said.
"The helicopter left the track and three minutes, we went in. Like nobody crashed, nobody knows, nothing happened.
"When you have the suit on and push the bike and go at 350[km/h], thinking that next time… today was his time, why can't it be mine one day? Just a moment for thinking maybe was better."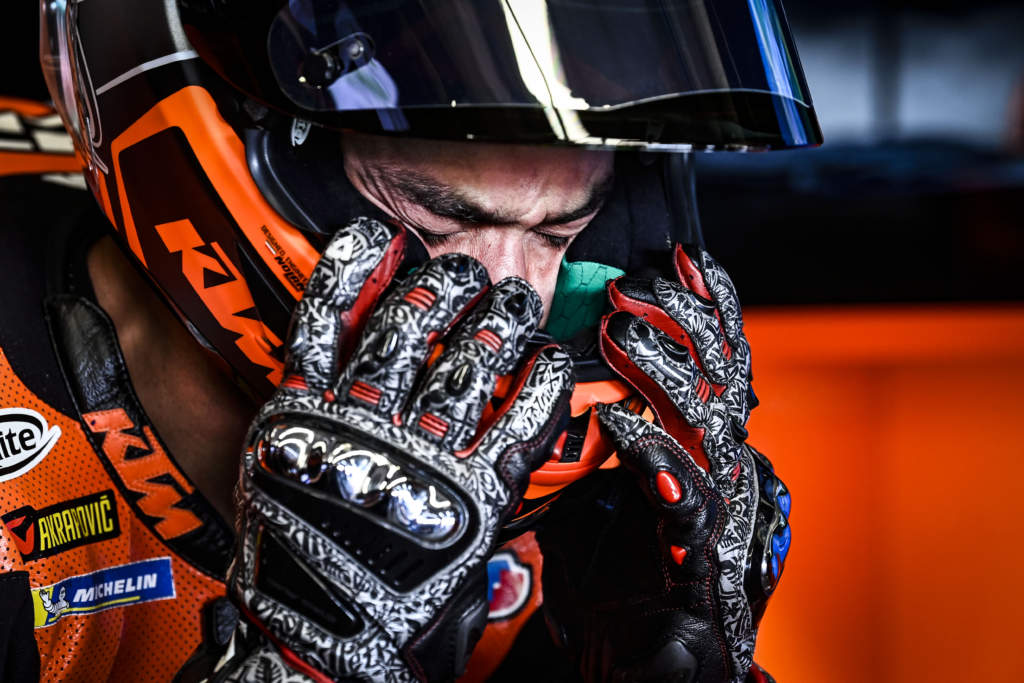 Petrucci lamented a lack of a rider meeting to discuss "if it's correct for his family, for his friends, if we continue to do this" – and intimated that the situation would've been different if it had been a MotoGP rider who passed away.
When The Race contacted MotoGP promoter Dorna to ask whether it had consulted the Dupasquier family or the other grand prix riders about whether to continue with the event, a Dorna spokesperson replied that the organisation had been "in touch" with Dupasquier's family and team since Saturday but did not elaborate.
Asked by The Race whether his preference would've been for a one-day delay or a cancellation of the event, Petrucci said: "I don't know. At least make a meeting, let's say share opinions and comments, would be better. Could be better.
"I didn't know him personally, but imagine to be one of his friends, I think you get rid of the bike today. I don't know if you just think of the bike, or racing, MotoGP, Moto3, tyres, performance, thinking like this… I feel quite, like I told you, like dirty today."
But the reluctance to race was certainly not a universal emotion among the riders.
"It's our job," said winner Fabio Quartararo, who unfurled a Swiss flag after the race in tribute to Dupasquier. "We know the difficult moments that can happen, it happens a few time in a long time.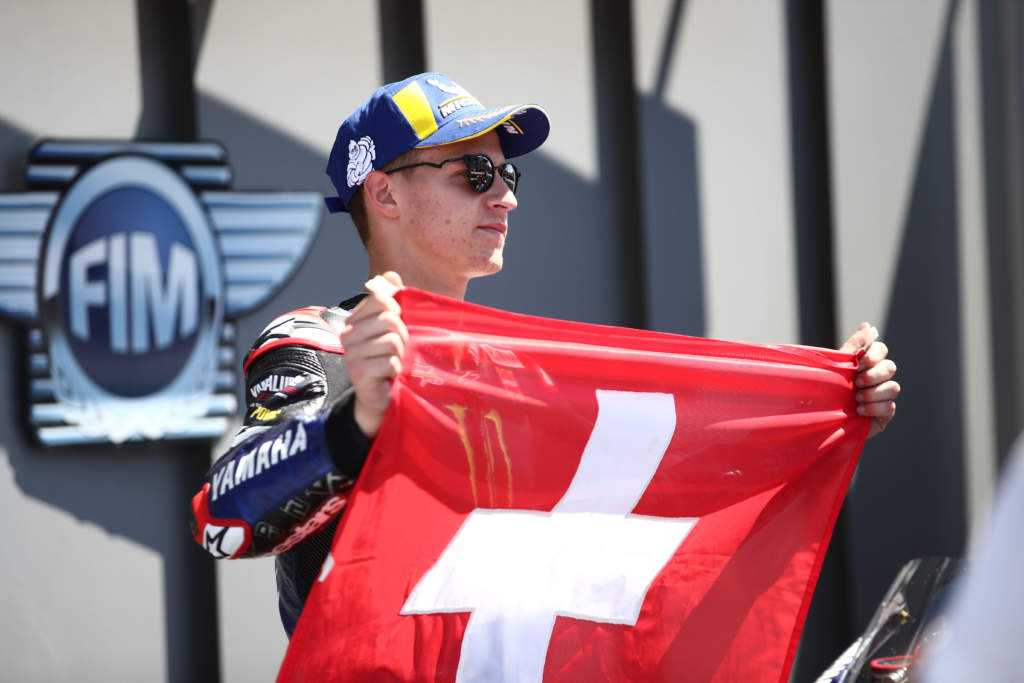 "I think that unfortunately, sad to say, it's our job. We go at 350[km/h], it's not normal."
Second-placed Miguel Oliveira described Dupasquier as "an extremely polite kid, I remember him since the Rookies Cup, his mother is Portuguese so there was kind of a connection there".
"I feel sorry for Jason, I feel sorry for his family," he said. "I cannot imagine the pain their father is going through. But we must carry on because it's the biggest tribute we can pay to his family, is to continue to race."
And Valentino Rossi said that it made no sense to race, but also made no sense not to race.
"After what happened to Jason, the question was why we race. Everything loses sense," he said.
"I think that anyway, also not a lot of sense not to race.
"Because unfortunately what we do today doesn't change what happened to Jason yesterday."