By June of 2021, had Brad Binder really done enough to warrant being the second MotoGP rider to get a contract running through 2024 after Honda superstar Marc Marquez?
I certainly thought not, and surely was not alone in that. Binder did get KTM's first-ever MotoGP win and he was on a convincing trajectory, but his 2024 deal came against the backdrop of Miguel Oliveira having more wins and podiums, and KTM having absurd riches of talent in the pipeline.
A year on, Oliveira still has more wins and podiums, and KTM still has an absolutely stacked junior roster. But any objection to Binder's deal is now just the sound of crickets chirping, the South African having not only asserted himself as comfortably the top KTM rider since his renewal but one of the best performers of the 2022 season so far.
The RC16 is probably the fifth-best bike in MotoGP right now, yet Binder is sixth in the standings, having also ended up sixth last year on what was also a disappointing KTM package.
And though not much has gone too right for KTM since the start of 2021, it is abundantly clear that committing to Binder early was a masterstroke.
---
Binder before and after his 2024 deal
Before renewal
Races 20
Wins 1
Podiums 1
Average start 12.9
Average finish 8.6
Points per race 6.1
After renewal
Races 23
Wins 1
Podiums 2
Average start 13.3
Average finish 7.3
Points per race 9.1
---
The KTM has got worse – relatively speaking, anyway – since his 2020 debut. Binder, however, has improved in virtually every aspect of his game. He is more consistent in his race day execution, less prone to errors, still aggressive yet no longer a lightning rod for criticism like from Valentino Rossi at the start of last year.
Only qualifying is still the sore spot, Binder very much remaining a 'Sunday man' and tending to be a lot less tidy in qualifying trim. Even then the fact that the RC16 as a whole has clearly become less competitive over one lap – see the pre-Assen streak of successive Q1 exits for its whole quartet of riders this year – is a handy excuse, and he's at the very least on par with team-mate Oliveira over one lap if not slightly better.
---
KTM comparison (on average)
Binder versus Oliveira
0.061s ahead in qualifying
6-5 qualifying score
2.506s ahead in races
22 points ahead
Binder versus Gardner
0.574s ahead in qualifying
11-0 qualifying score
24.938s ahead in races
84 points ahead
Binder versus Fernandez
1.046s ahead in qualifying
9-0 qualifying score
23.019s ahead in races
88 points ahead
* qualifying averages taken from last representative segment for each round
---
Binder's 2.5s average race margin over Oliveira is actually flattering the latter, by virtue of a 30-second advantage in his wet-weather Mandalika win – in the race where Binder's ride height device got stuck, rendering comparison moot.
Throwing that race out turns Binder's advantage into a much more substantial 7.494s, and since Mandalika he has been ahead in all but one race – Portimao, where he crashed out while running admittedly quite far behind Oliveira.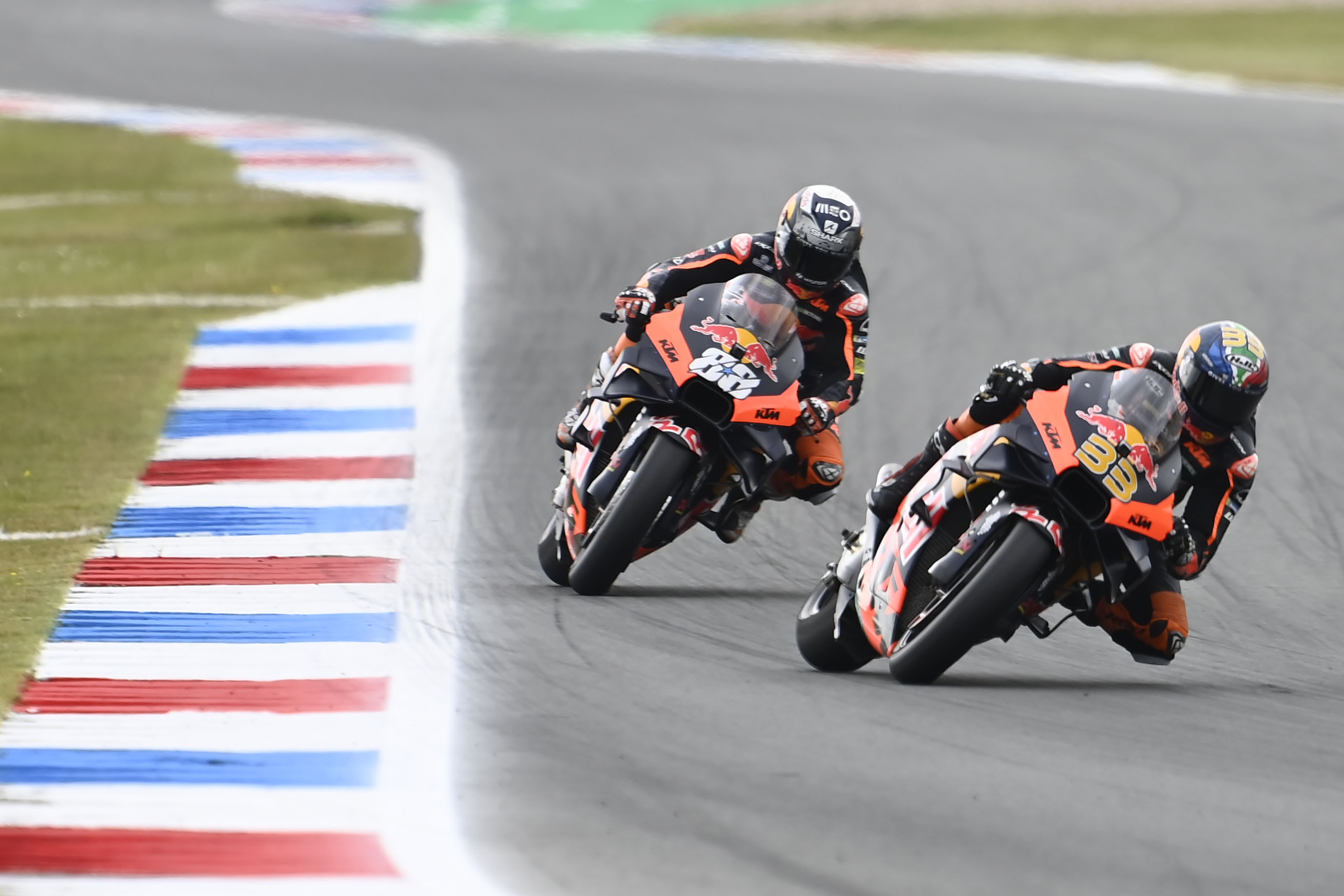 Oliveira is a four-time MotoGP race winner, his obvious pedigree making Binder's coup of 'KTM number one' status all the more impressive. Binder appears to know it, too, because the hunger is there "to win races and fight for podiums", and his demeanour with the media has made it clear he believes he belongs to fighting out front.
The South African is a consummate professional when it comes to handling press conferences and scrums, well-taught by either his long-time corporate benefactors at Red Bull/KTM or just his personal development to stay away from the most sensational soundbites while still conveying a healthy dose of character.
But in year three of his premier-class career Binder has not really shied away from the implication that he deserves – or at least aspires to, in the very immediate future – more than what the RC16 has been giving him.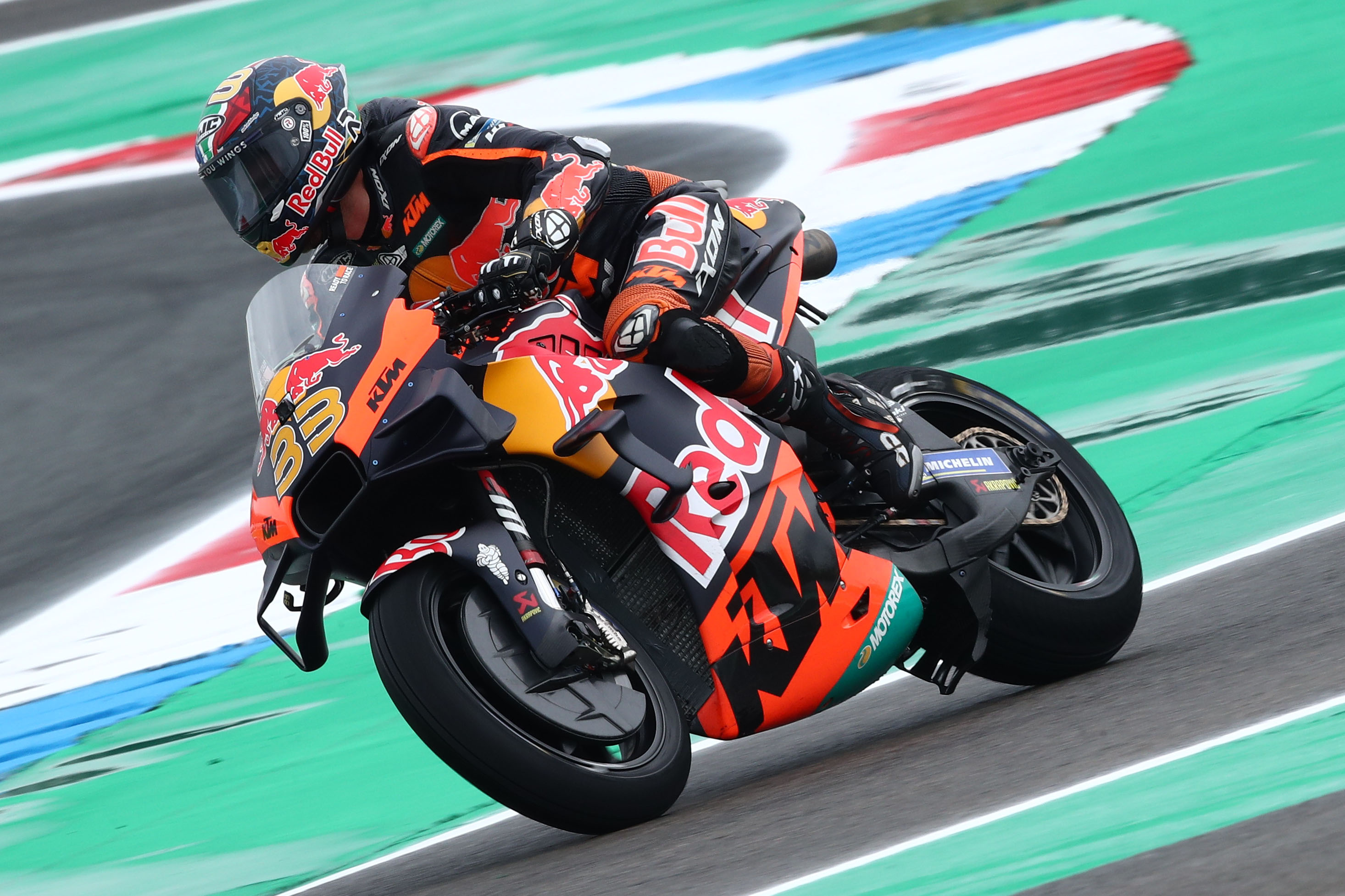 See, for a demonstration, his reaction to qualifying 10th – his best grid position in a long while – last time out at Assen. He was excited but, in pointing to the gap to the front, described it as a "country mile" and acknowledged it was "not good at all".
He was more animated and lively after finishing fifth on the Sunday, but there was still a clear undercurrent to his post-race rhetoric: "It was nice to see. It's been a while since we were that close to the front. Hopefully that's something to build on for the future."
None of that is to suggest Binder is unsettled, and the truth is that had he not secured the contract extension last year, it would've probably been a very smooth negotiation – albeit one potentially yielding more lucrative terms? – this spring.
But KTM did well to zero in on its prized asset and cut off any chance of any other team even getting a sniff of him. What it already saw in Binder then is clear to see for everyone now.