Former Aprilia MotoGP rider Sam Lowes says he's not at all surprised to see the ongoing chaos at the Italian manufacturer in the aftermath of Andrea Iannone's doping ban, having previously witnessed first-hand the politics that seems to dominate its grand prix programme.
Lowes rode for Aprilia in 2017, graduating from satellite Moto2 team Gresini Racing after fighting for the world championship in the intermediate class – but survived only halfway through his two-year deal before getting the chop to make way for fellow Brit Scott Redding.
Though the split at the time was attributed to a run of poor results as the rookie came to terms with what was at the time a particularly difficult bike to ride, Lowes' performances didn't quite tell the full story of his year.
Struggling not only to make the adaption to MotoGP but also battling technical problems that caused a significant number of his nearly 30 crashes that year, he also ended up riding a bike that altered not only race-by-race but session-by-session as he took on the brunt of the Noale factory's development riding.
And, with events since then showing that Aprilia's treatment of him was more the rule than the exception after it fired Redding in similar circumstances, only to become embroiled in a mess of their own making with Iannone, Lowes is less than surprised at its current predicament.
"If other people had jumped on the Aprilia and went well, I'd think differently about it," said Lowes about his time in the MotoGP team. "But in the end it's still a joke."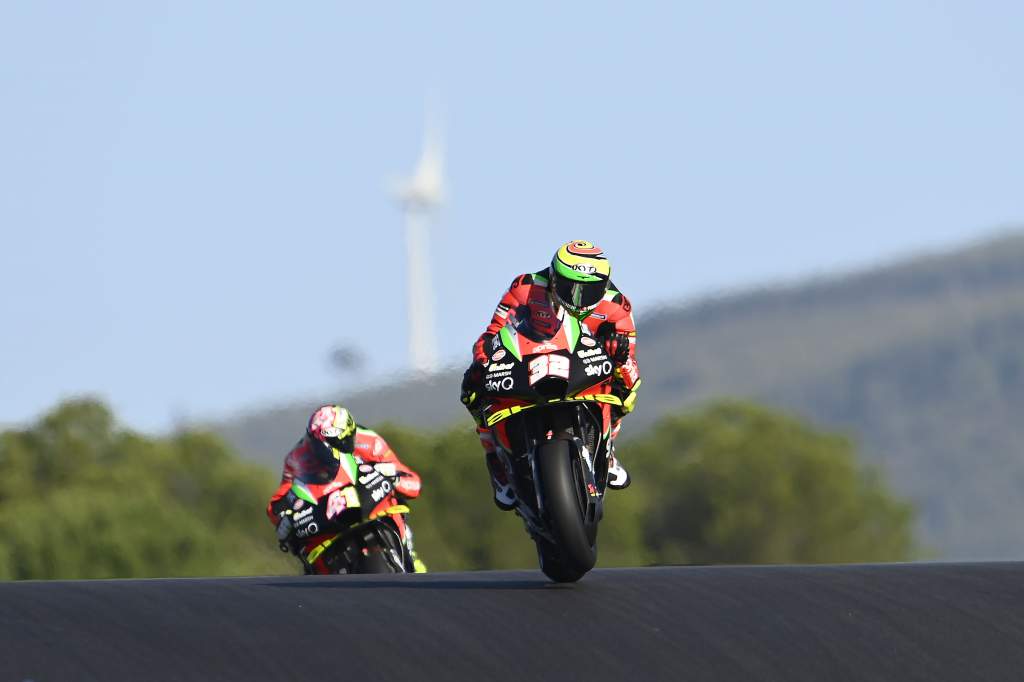 Aprilia unsuccessfully pursued several riders as it looked for a new team-mate to Aleix Espargaro, subsequently confirming it will head into 2021 with the same rider roster – of Espargaro and test riders Bradley Smith and Lorenzo Savadori.
"They've announced their riders for 2021 without announcing their riders," Lowes continued. "How can you get to the top level of racing and be a factory team, but still do that? That's good for me, because it shows me that there's some stuff going on there.
"Even directly after me, Scott struggled, then he went to BSB [British Superbike] and won races and the title, went to WSB [World Superbike] and won races, and now people are talking about him coming back to MotoGP.
"He was almost laughed out of Aprilia, because he was throwing his leathers in the crowd after finishing last. But that's how they make you feel, and he's back at the front again now because he's a fucking great rider."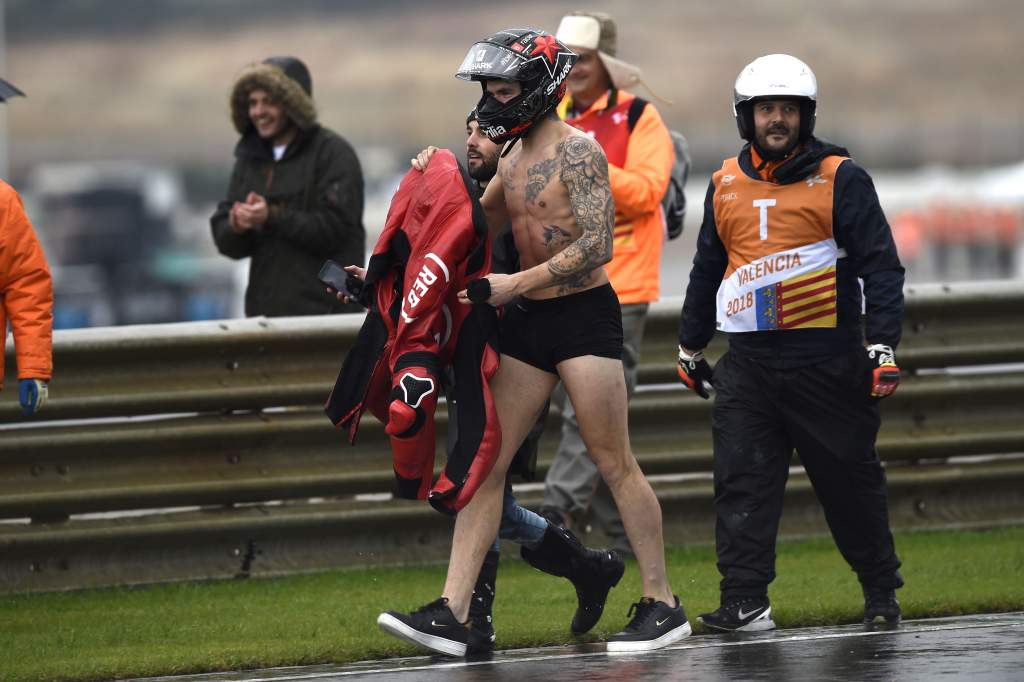 The team says it will decide which of Smith and Savadori gets the race seat alongside Espargaro based on performances in testing – something that Lowes says makes little sense to him.
"There are just some fucking dickheads in there, that's it. Some dickhead people who just cover their arses and don't understand the way it should work. They don't respect other people, but it's all about respect in racing and they lack it.
"It's not nice what they're doing to Bradley and Lorenzo, is it? Obviously Bradley should have that ride, if you just take those two riders. It's a no-brainer. But there must be something else going on. Otherwise, why would you announce anything? You just look stupid. It's really strange, and I feel sorry for them."
Thankfully for Lowes, he was finally able to put his own disastrous 2017 behind him in 2020 after signing with the MarcVDS team and showing that he was once again able to be fast.
Lowes' Marc VDS revival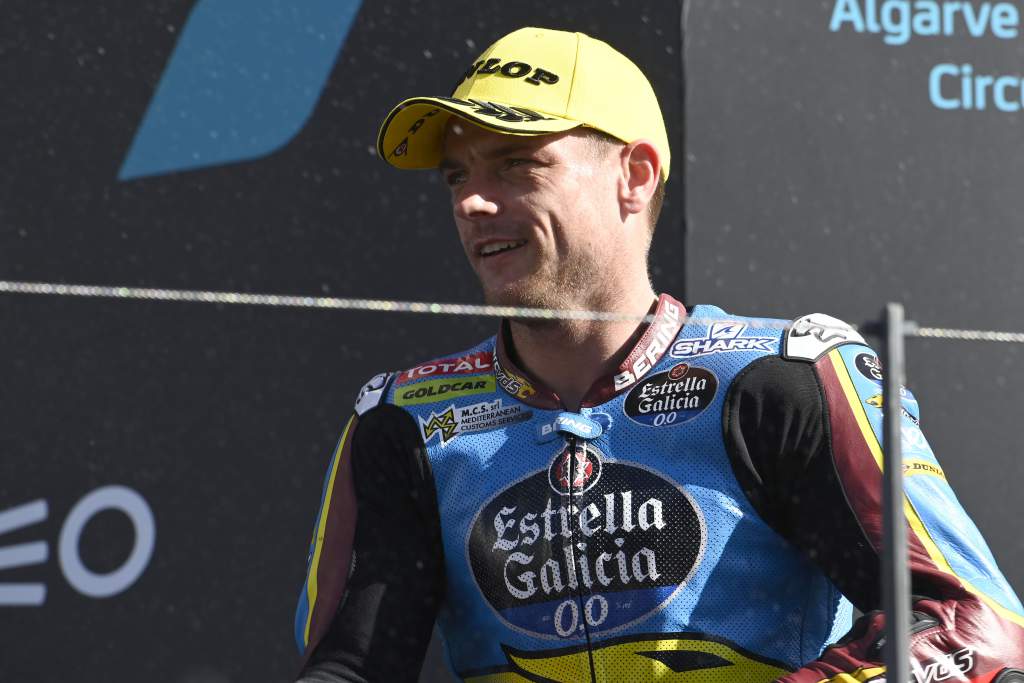 Struggling in 2018 as a satellite KTM rider in Moto2 before never quite gelling in 2019 with his old Gresini squad, Lowes says that respect has played a big role in helping him to find his feet in 2020 after signing for the team managed by fiance Marina Rossi and sponsored by Belgian beer tycoon Marc van der Straten.
"Maybe some people think I got the ride with this team because of Marina, and maybe it helped me a little. But funnily enough, they're not saying that now. All the guys still treated me well – Marc told them 'Sam's your rider next year,' and they treated me with respect.
"My crew chief actually came to me in the paddock one day last year and told me he was looking forward to it, that he remembered when we worked together before and I was fast. When you give a little respect it goes a long way, but at Aprilia things got in a negative way and it just continued that way.
"The difference between good and bad isn't huge, but all riders should get some respect. It's fucking hard to be on that grid, whether you're first or last."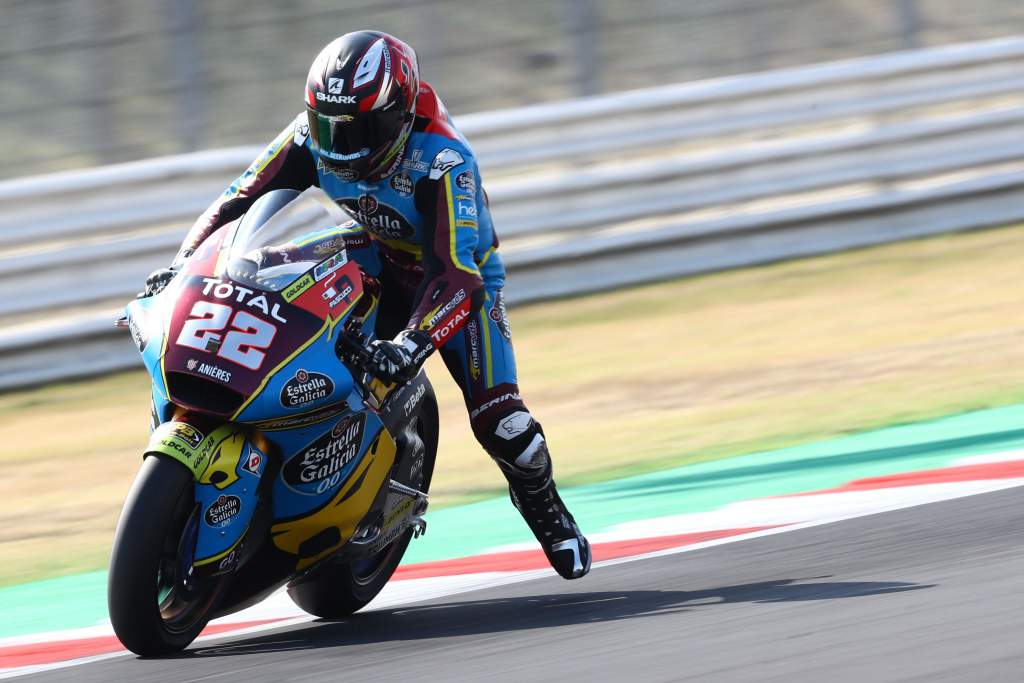 But there is of course more to the story of how he was able to return to winning ways and fight until the final round for the championship than respect alone, and Lowes says that the hugely-experienced Marc VDS team (reigning world champions with Alex Marquez when he joined) played a big role.
"In testing in 2019 I was fast, but it was about finding out how to be consistently fast. 60% of that has come from the team, because they had a better base setting with the bike, it never changed a lot over the year. Last year I was riding two different bikes in FP1 and FP2, but the class is too tight for that.
"30% is me being better in the head, which is something I've worked on mentally. Being in that moment where I can be fast more, rather than letting distractions get in the way. Just trying to focus on everything session by session. [Twin brother] Alex and I are both working on the same thing, just with different people.
"Then the final 10% is just all the little bits, all of it together. Then I got one result, two results, and away I went. I remember saying last year to Alex, 'all I need is one fucking result, to build on'. So the two most important results I had were the two fourths at Jerez, right after lockdown."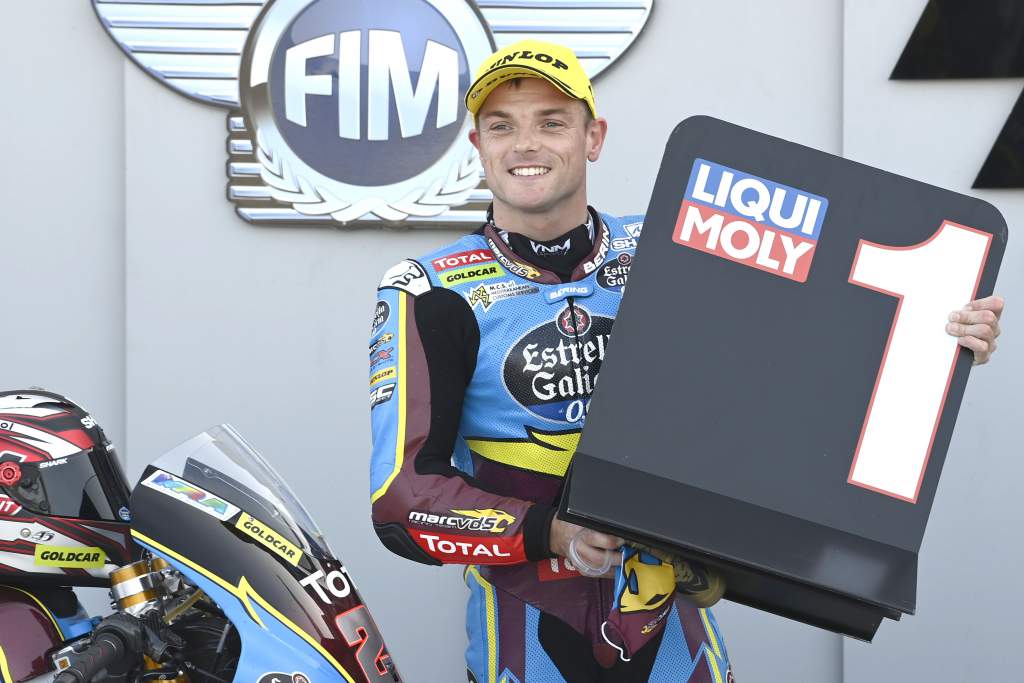 With Lowes eventually three wins in a row, tying on points with Luca Marini in second in the championship and finishing only nine behind eventual winner Enea Bastianini, it's fair to say that he was able to build on those results as the year progressed.
And while he might not have taken the main prize, he told The Race that his targets are now clear for 2021 as he remains with the Marc VDS team for another go at it.
"It's been a year where I've been solid at a lot of different tracks, and that gives me a lot of confidence for next year. It's not like I've just been fast at one track.
"The target now is to win next year, and if I won next year and had a good start to the year after, then that would be my chance to go back to MotoGP. After that, I probably would be too old. But if I got a world title and then continued in that way, I'd like to think that's what would happen.
"Last winter, I trained hard just trying to be fast again. This winter, I'm training thinking about being world champion – and it's realistic. It's fucking great thinking that. It's a single vision, and it's good. It's pressure I've had in the past and it's something I can deal with. The real pressure comes when you're doing shit and trying to turn it around.
"When you're in a team trying to ride the bike and the fucking thing is bent, when you come into the garage afterwards and you're looking at all the mechanics who haven't been paid – that's real pressure. When you're trying to find another chance."
MotoGP chapter not closed yet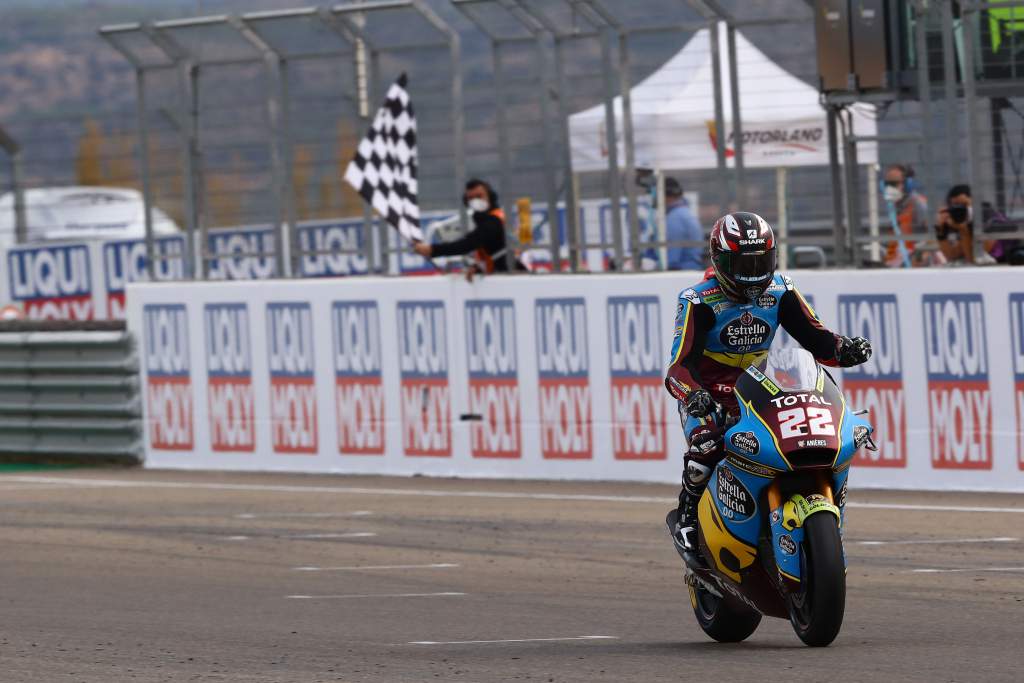 Having turned 30 last year, Lowes is aware that a MotoGP return is not going to be an easy task and is not willing to return just for the sake of it. Nonetheless, he is hoping that continued strong form might well open up some doors that were previously slammed in his face.
"The problem is, I'm 30 now, and age makes a big difference – but if I went and won the world championship, it might make a difference, I might get a chance at MotoGP again. This year was good, I was quick, and in the end age is just a number if you're motivated.
"But I also feel like I can continue on with this team in Moto2 for next year and the year after, and if I'm going to stay in Moto2 why wouldn't I stay here? The team is mint, the people are sound.
"Obviously you want to try and move up. I would just like to try one [premier-class bike] again, to ride one and see how I would do. I really think I would do OK, but I didn't before so I don't know. I might not again. But I'm different now from how I was then. That year really shaped me, that experience.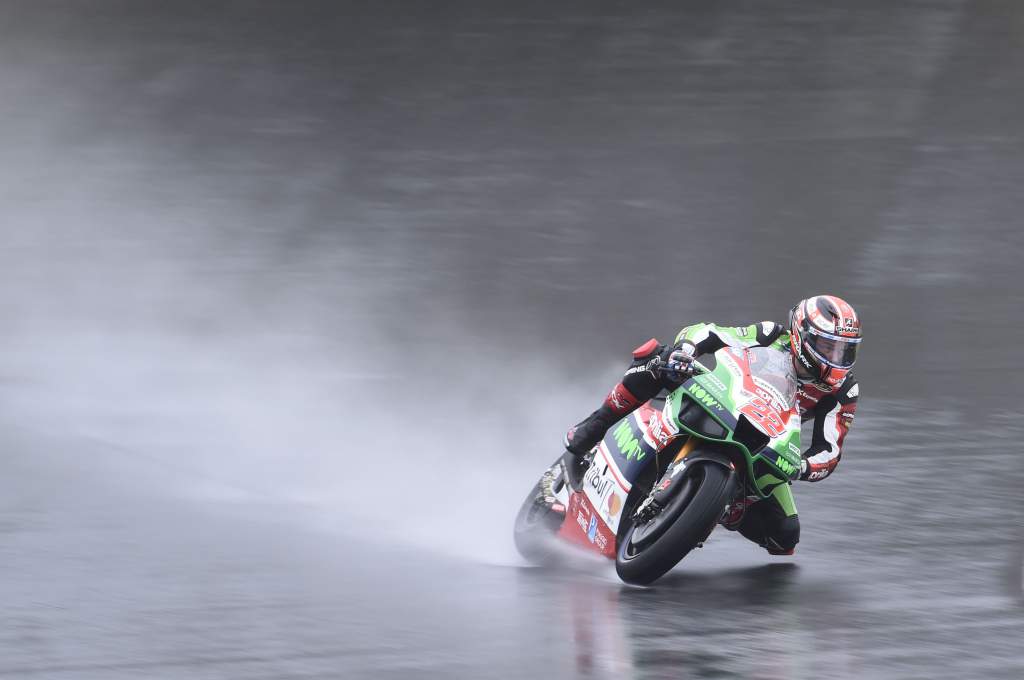 "I've made a big step off the bike in 2020, but it's a confidence thing as well, the same as everything else in this sport. I've had some good rides, I've been fast at every track, I've never been in Q1. I've been on the front row nine times out of 13 races. That's tough to do in Moto2!
"We've been competitive, and part of me would always rather be fast in Moto2 than at the back in MotoGP, and I don't want to go back there just to ride a MotoGP bike. I've done that, even if I didn't enjoy it. I wouldn't mind having a go in the right situation, but it's not really something I've thought much about because I've done [other] shit since then."