In his first media appearance since his horrific Barcelona crash, MotoGP points leader Pecco Bagnaia detailed those harrowing moments and the extent of his relatively minor injuries.
Bagnaia was thrown off his Ducati coming out of the second corner of the Catalan Grand Prix as the race leader, the rear of his Desmosedici GP23 stepping out before he was launched into the air, coming down as the pack of his pursuers made their way through the corner.
Both he and his bike continued to spin violently even as Bagnaia returned to the ground, but while the bike spun itself to the side and away from collision course, Bagnaia had his legs run into by Brad Binder's KTM moments after a near-miss with fellow Ducati rider Jorge Martin.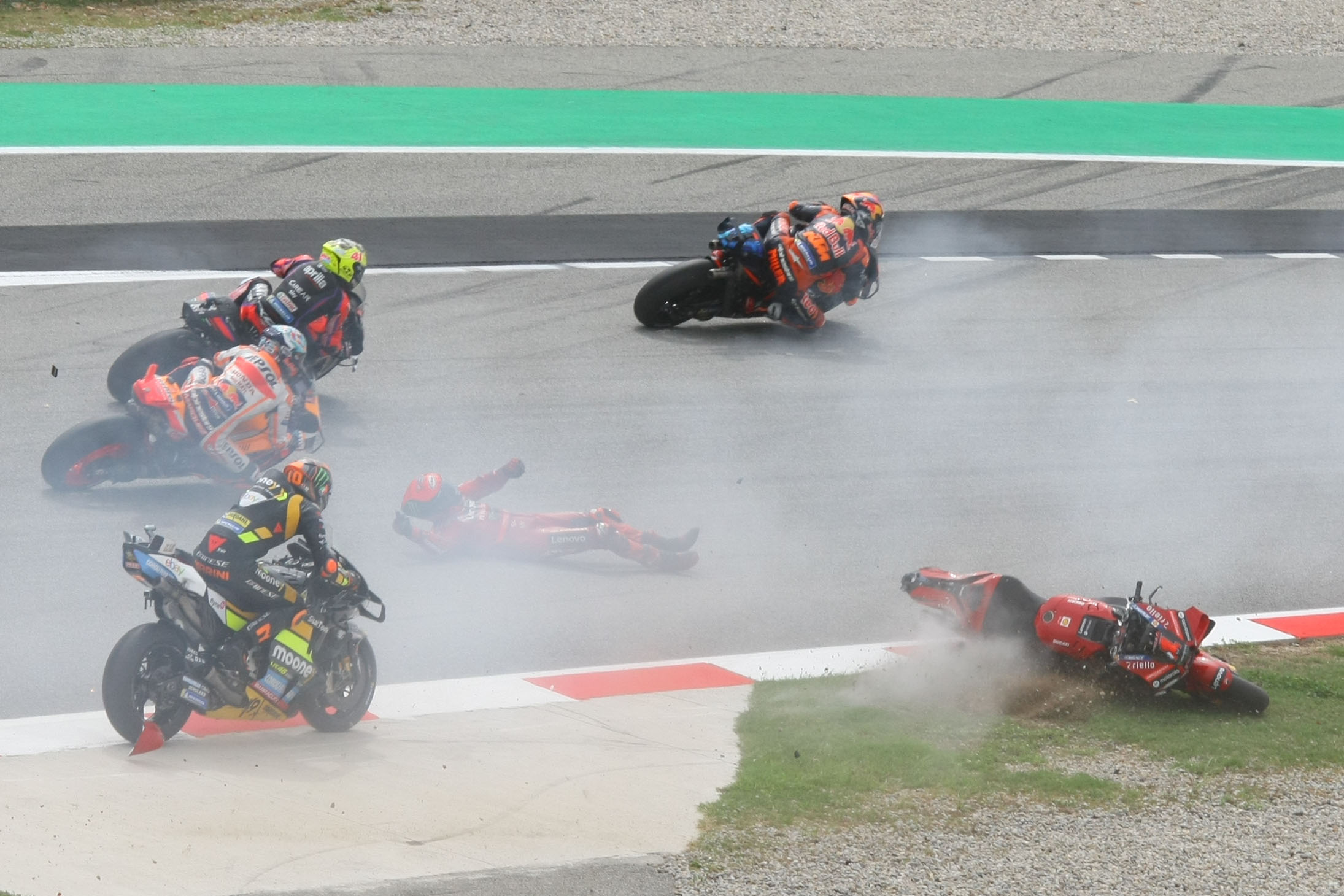 Though an ambulance was required to get him to the medical centre, it soon emerged that Bagnaia's injuries were fortunately minor – at least minor relative to the visuals of the crash – and he ultimately has been passed fit to compete this weekend at Misano, set to hit the track just five days after the accident.
Recalling those moments, Bagnaia said: "From the bike, I felt the slide was the longest ever. It was not finishing.
"And the bike, when the front starts to pump, it is because you are close to making a huge highside. At the Ranch [mentor Valentino Rossi's private dirt track] it's more or less like this every time! So I was prepared for a big jump.
"Then when I was in the air, I was head-down and I felt the airbag explode. The biggest impact was with the ground, and thanks to [racing suit supplier] Alpinestars, we have the hip protection and this helped a lot.
"And then, when I was spinning on track, I was hearing all the bikes, I was seeing all the bikes. I saw a KTM go through my legs. And I was just thinking and hoping that none more will touch me. Honestly, it was a very dramatic situation.
"I think the main job was done by Jorge and Brad to control the situation more. They did a great job, for sure. They were the first ones to arrive to me.
"It was lucky circumstances, for sure. And I understood [was aware during] every second."
LUCKY ESCAPE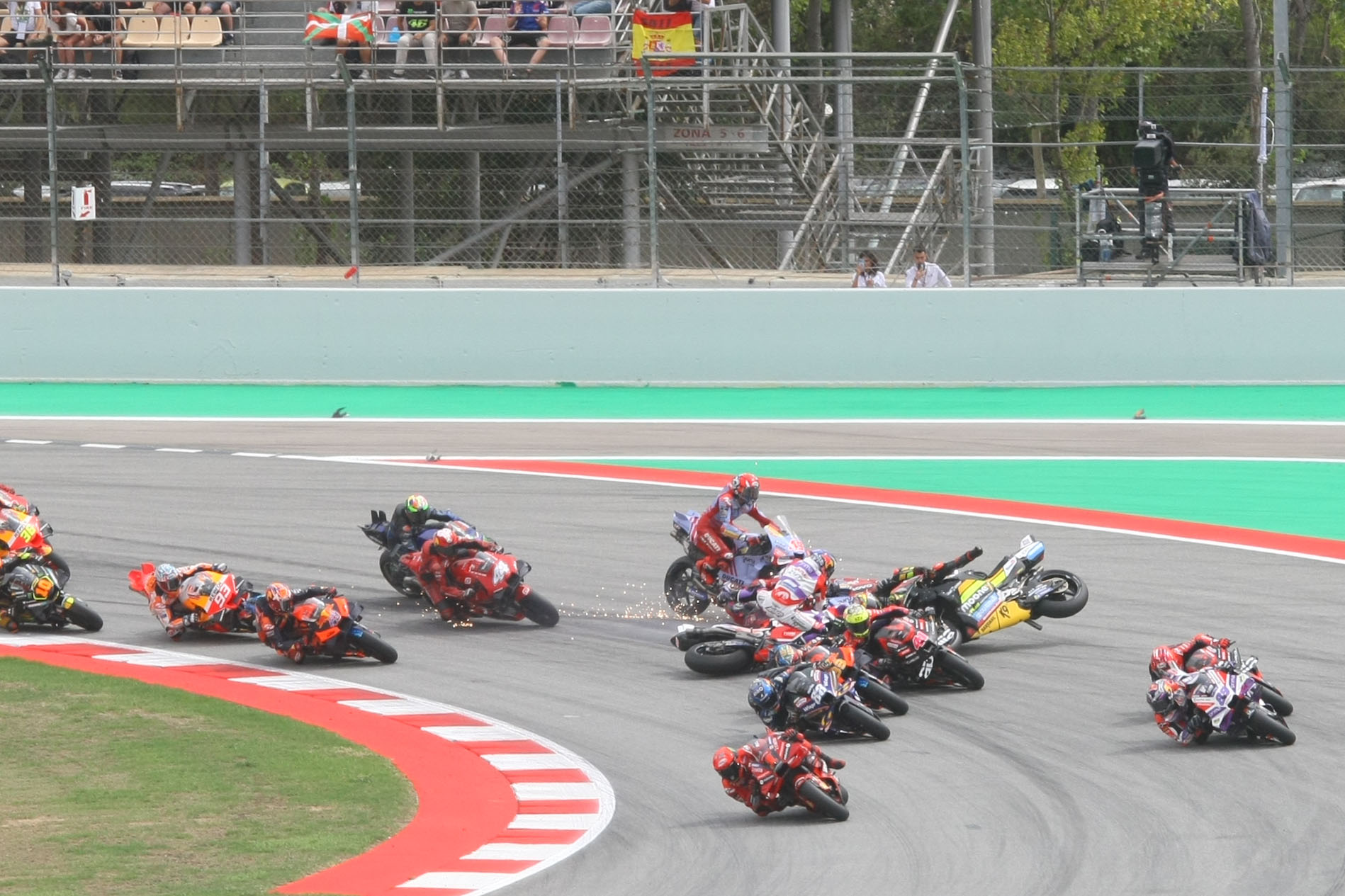 Bagnaia said he was "pleased and lucky to be here", though he seemingly meant it more in the context of being able to at least try to ride at Misano rather than simply surviving the accident.
But there was a widespread understanding that the crash could've ended up so much worse – and fellow Ducati rider Alex Marquez went as far as to suggest that a different collision, caused by the other works Ducati, in the opening corner was a life-saver for Bagnaia.
His team-mate Enea Bastianini had caused a multi-bike pile-up at Turn 1, not just removing his Ducati and four other Ducatis from the race (and therefore the pack) at that point in time, but also breaking up the pack ever so slightly.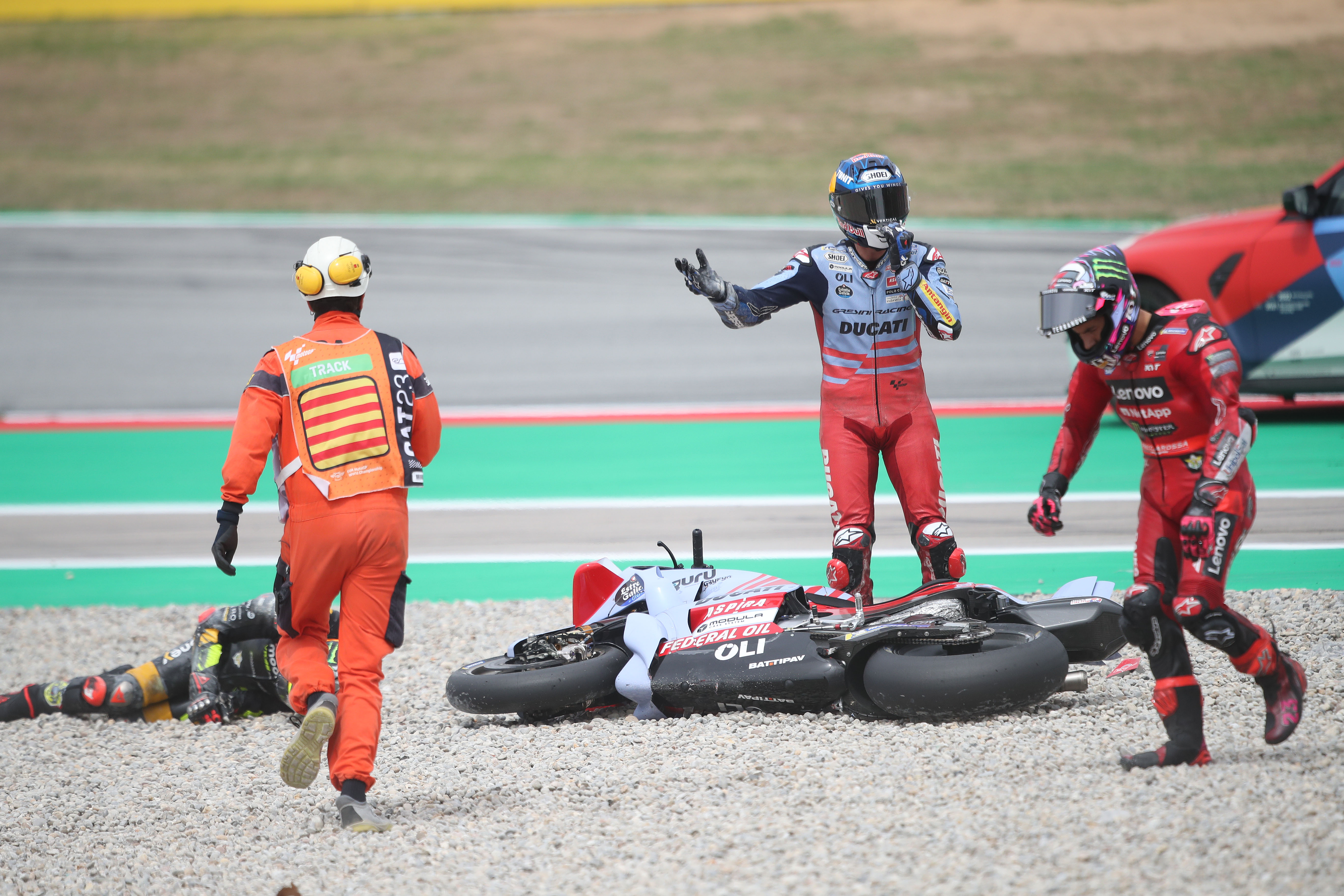 "He was really lucky," said Marquez – one of the riders taken down by Bastianini – of Bagnaia.
"And we need to be thankful to Enea, for what he did in Turn 1. Because he created, like, a gap that was the key that somebody didn't go into Pecco.
"It's like this. Enea saved his life. It was a mistake of Enea, he took out four more riders, but for that reason the destination of that moment was that one. He saved the life of Pecco."
Bagnaia didn't quite go that far but did admit the pile-up was fortunate for him.
He also mentioned that his slightly compromised Turn 1 entry meant Martin behind him had had to check up and go wide, thus helping create this lead out of Turn 2 that gave rivals more time to react to Bagnaia's crash.
WHAT CAUSED IT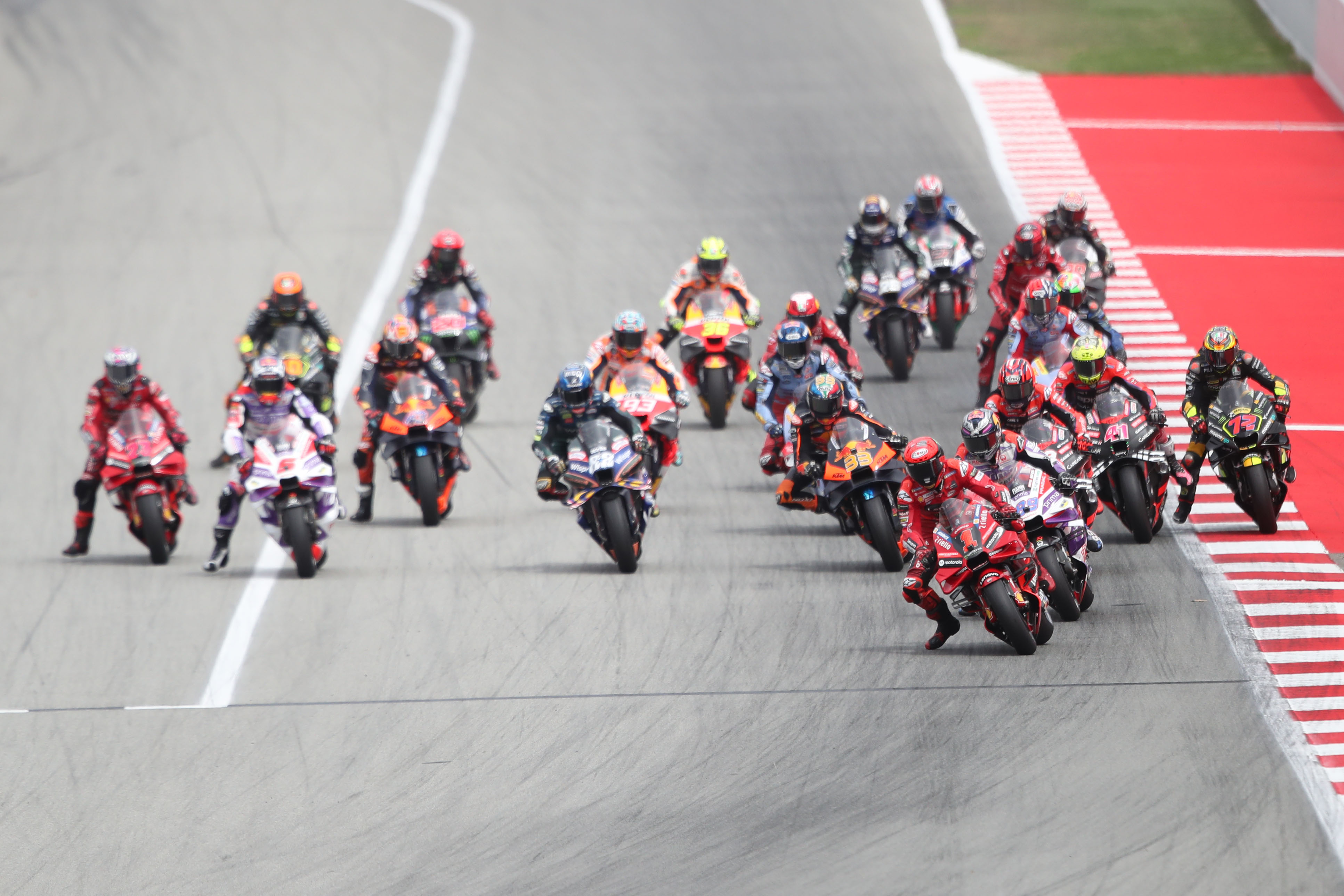 As to what exactly transpired, Bagnaia said that his initial feeling that he hadn't made any major mistake has been backed up by Ducati analysis.
"We checked everything, in terms of the electronic side, mechanical side, riding style. We didn't do anything wrong. It was always fine. It was not our fault," he told MotoGP.com.
Elaborating in the press conference, he said: "From the bike, I was just feeling, from the warm-up lap, that my rear grip was like zero. I almost crashed twice, three times, in the warm-up lap – corner three, corner nine, and corner 12. Without pushing, because it was a warm-up lap.
"And then in the first corner I was already losing a bit the rear tyre, and if you check the images Jorge had to brake a lot – that was why I had this gap in the second corner.
"And as soon as I leaned the bike and I touched, I opened a bit more the gas and I completely lost the rear.
"We didn't do any mistakes. So we are waiting for [tyre supplier] Michelin to analyse everything, because everybody needs to analyse things. But it was quite a heavy, quite a strange crash, so it's important to analyse everything."
Asked by The Race what he expected to hear from Michelin, Bagnaia said: "It can take a lot of time, or a short time, I don't know if my team already spoke [to Michelin] because today was a busy day for me.
"But… I'm asking for an answer from them because I want to understand why I was feeling so slippery all the warm-up lap. And the tyre was already warm!
"So we have to understand what happened, because it's more difficult without knowing."
Bagnaia did, however, make a point of escalating his already-severe prior criticism of the state of the asphalt at the Barcelona track.
In its current state, it is a notably low-grip and tyre-intensive venue, one that many riders want to see resurfaced as soon as possible, though there isn't a universal agreement that the low grip constitutes an actual dangerous variable rather than just part of the challenge.
"For me we can't continue riding there. In terms of safety," said Bagnaia. "The asphalt is a disaster, the grip is a disaster. It's the race with the biggest amount of crashes all the year. Corner five is like on ice.
"So, for me, right now it's over the limit, in terms of safety. For sure it was another comma on the list of why I crashed."
BAGNAIA'S FITNESS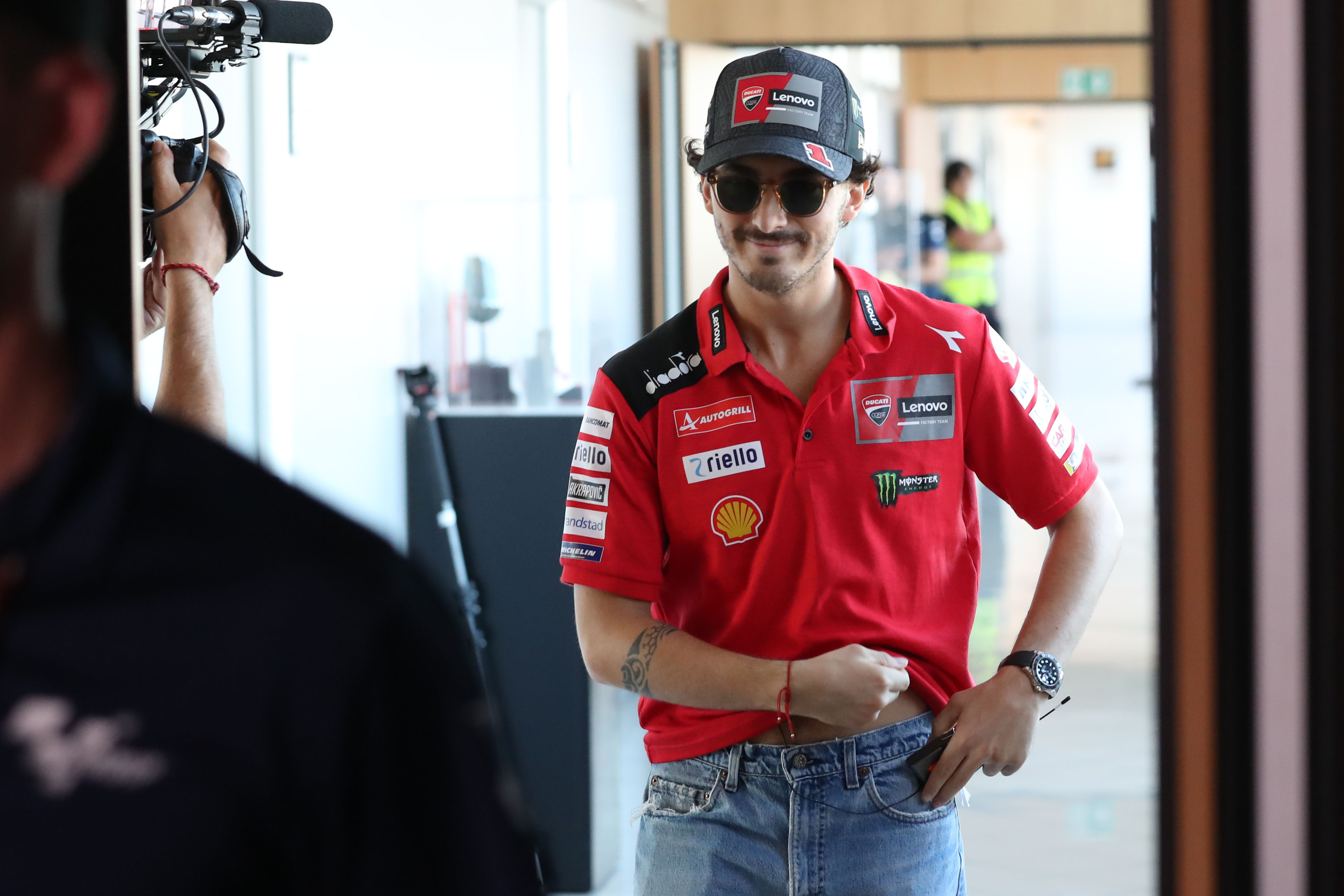 Bagnaia said in the press conference that there was lingering pain in "my booty, and this is something that will not help" – but the big injury concern for the weekend remains his right leg.
"I have a big hematoma in the knee, and it goes down to the foot. It will be a problem to move the leg, but let's see.
"My home grand prix, it was important to be here. And we worked a lot.
"It was not easy because Monday was not an easy day. We worked really hard with our entourage, with our crew, and I'm very proud of the work we did. It's incredible, the step we did, from Monday to now.
"I will continue all weekend to do the therapy and I think it will improve every day."
Bagnaia has a 50-point lead in the standings and is a Misano ace, so will have a good chance of minimising any damage to his championship lead if he is even remotely fit.
He said he felt "almost OK" trying to sit on his stationary Desmosedici on Wednesday.
"We have to see tomorrow morning, my feeling on the bike," he added.
"But it's one of my favourite weekends, my home grand prix, the force and the power that fans can give to us in this grand prix is incredible. I train a lot here so it's a track I know perfectly. So let's see."