After only one round of the 2023 MotoGP championship we've already had the most punishing weekend for riders in a very long time, with only 18 of the 22 racers who started last weekend at Portimao making the back-to-back trip this coming week to Argentina's Termas de Rio Hondo circuit – a remarkable 18% deletion after only a single round of the championship.
Of the four riders out, Tech3 Gas Gas rider Pol Espargaro is by far the most hurt. Impacting a wall during FP2, he's been left with multiple broken vertebrae and a fractured jaw – injuries that, according to initial reports, look set to rule the Spaniard out not for weeks but for months.
Then there's new factory Ducati signing and pre-season championship contender Enea Bastianini, whose title aspirations might already be gone after contact with Luca Marini during Saturday's sprint race resulted in him going down hard, fracturing a collarbone. He will miss Argentina, but Ducati announced on Tuesday that he would not require and is targeting a return for round three at the Circuit of the Americas – where he of course took a stunning victory in 2022.
Marc Marquez and Miguel Oliveira are the remaining two, both injured in Marquez's overly aggressive lunge on Oliveira and Jorge Martin during Sunday's main race. Marquez has already had surgery to install two screws into his thumb, while Oliveira, escaping without any broken bones, suffered extensive ligament damage that could take even longer to heal up.
Beyond the four who won't start this coming weekend, Martin is riding with a broken toe from the Marquez incident, while Raul Fernandez will seek medical treatment after Termas for numbness in his arm after his own crash during Sunday's race.
The situation is even worse in the lower classes, where four riders failed to even start the Portuguese Grand Prix in the Moto2 class, following not just a tough weekend at Portimao but an equally punishing test at the track a week beforehand.
So why on earth was the opening weekend of 2023 just so attritional? The most obvious factor, of course, is the introduction of sprint races to MotoGP. It was here where Bastianini broke his shoulder, adding the danger of another race start at what would previously have been a fairly sedate time of the weekend – no-one has ever lost a title due to an aggressive collision in FP4, after all.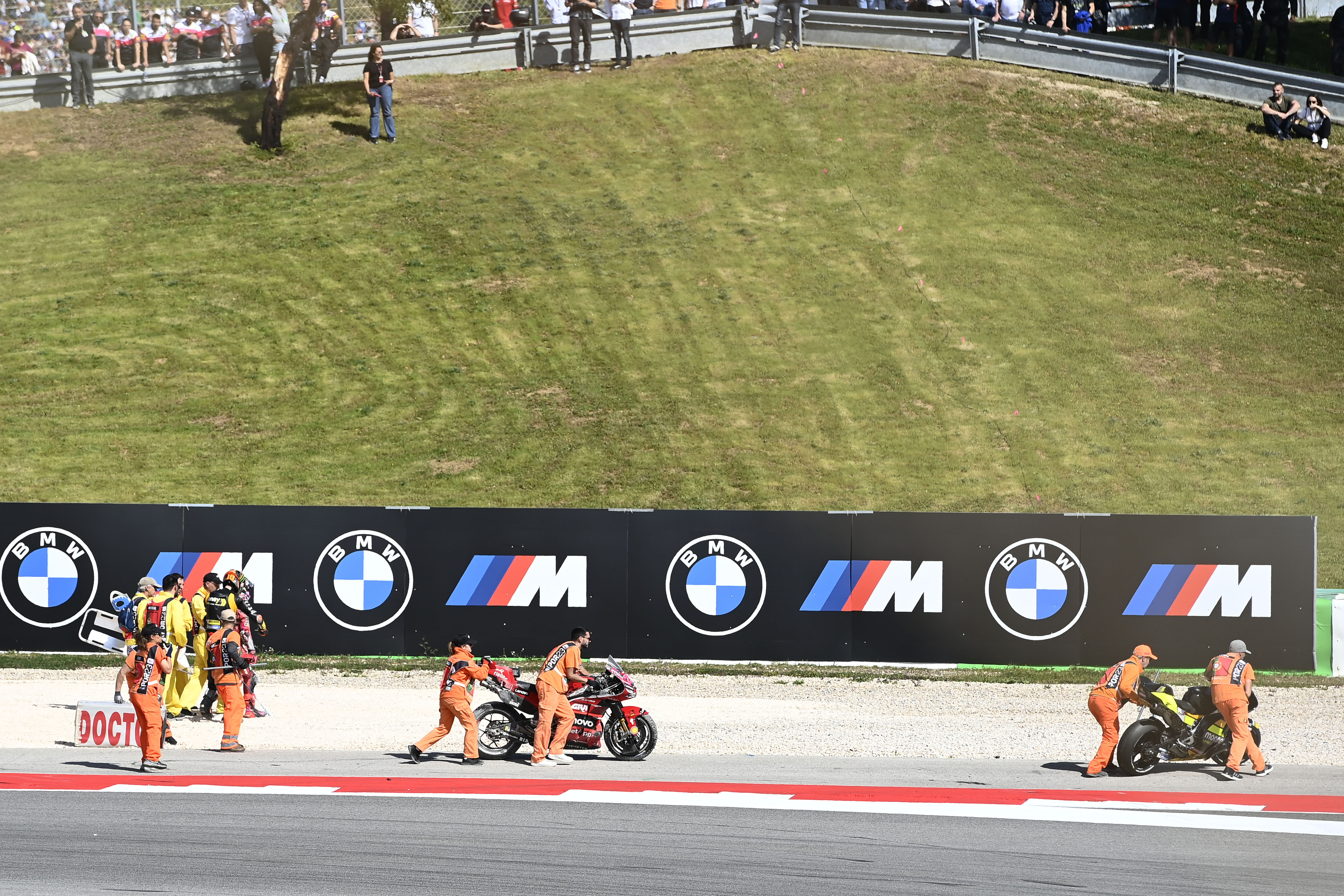 The sprint also played a role in Espargaro's fall. With FP3 no longer giving the chance to progress directly to the higher tier of qualifying, sending out riders to push for a Q2 spot on a cooling track (it is the Atlantic coast in March, after all), was always going to pile on the pressure – and the Gas Gas rider was very much a victim of that.
There's also the reality that sprint races absolutely ramped up the pressure on the grid and in the races. Already a tense weekend thanks to its new status as the opening round of the season, adding sprints into the mix may well be something we look back on in the future as a step too far.
However, not all blame can be put on the sprint races. Instead, a considerable amount of it also needs to be reserved for series organiser Dorna and the Portimao circuit, which have had four years of riders calling on them to replace the boulders that make up the track's gravel traps with something smaller and more forgiving.
The circuit's measures so far – pouring new, smaller gravel over the existing gravel in the most problematic areas – haven't been enough but it has told The Race it is going to replace the gravel at all runoff areas for the future.
Further criticism has been levelled at the circuit for the power outage during FP2 that led to a delay of 30 minutes and pushed back the most intense section of the session, which took place in worse track conditions as a result.
These kinds of problems add to MotoGP riders' love-hate relationship with Portimao, given how visually spectacular and fun to ride it is while considering the obvious safety implications of blind corners and significant elevation changes.
The gravel and lengthy power-outage delay are not issues you'd expect at a world championship-level event but, clearly, plans are in place to improve things – only time will tell if they're enough to satisfy riders.