Aprilia rider Aleix Espargaro has been penalised for his altercation with rival Franco Morbidelli during Saturday MotoGP practice in Qatar.
THAT @AleixEspargaro incident will undergo a thorough investigation. 🤯#MotoGP|#QatarGP 🇶🇦 pic.twitter.com/uCQhBOSkD6

— MotoGP on TNT Sports (@motogpontnt) November 18, 2023
Espargaro - who had already been critical of Morbidelli's on-track conduct last year - was beside himself after a run-in with the Yamaha rider, which had unclear origins but concluded with Espargaro lunging down the inside of Morbidelli at the hairpin-esque Turn 6, causing the pair to make contact and both to run out wide.
There was an initial burst of annoyance from Espargaro and, with Morbidelli pulling alongside him (and potentially blocking Espargaro's way out of the long-lap penalty loop both had by then found themselves in), it seemed to irritate the Spaniard further.
Just as Morbidelli gestured for Espargaro to calm down a few metres down the road, Espargaro gave the Italian a whack on the helmet - before quickly riding away from the scene.
Tempers flared between @AleixEspargaro and @FrankyMorbido12 in FP2 earlier on! 😱

The Spaniard has been fined and handed a 6-place grid penalty for Sunday's race ⚠️#QatarGP 🇶🇦 pic.twitter.com/0wOq1emo6x

— MotoGP™🏁 (@MotoGP) November 18, 2023
A MotoGP.com interview with Yamaha team manager Maio Meregalli shortly after the fact suggested Yamaha fully expected a penalty to come Espargaro's way, with Meregalli anticipating "good action" in response.
"It may be that Franco was in the wrong place, but for me, to punch people it's not the right way to think, especially in our sport," Meregalli said.
"If we have to show people how we should behave [i.e. serve as an example], this is not the way at all."
Meregalli added that "as far as I know, maybe it's not the first time," although it was not clear which other incident he was referencing.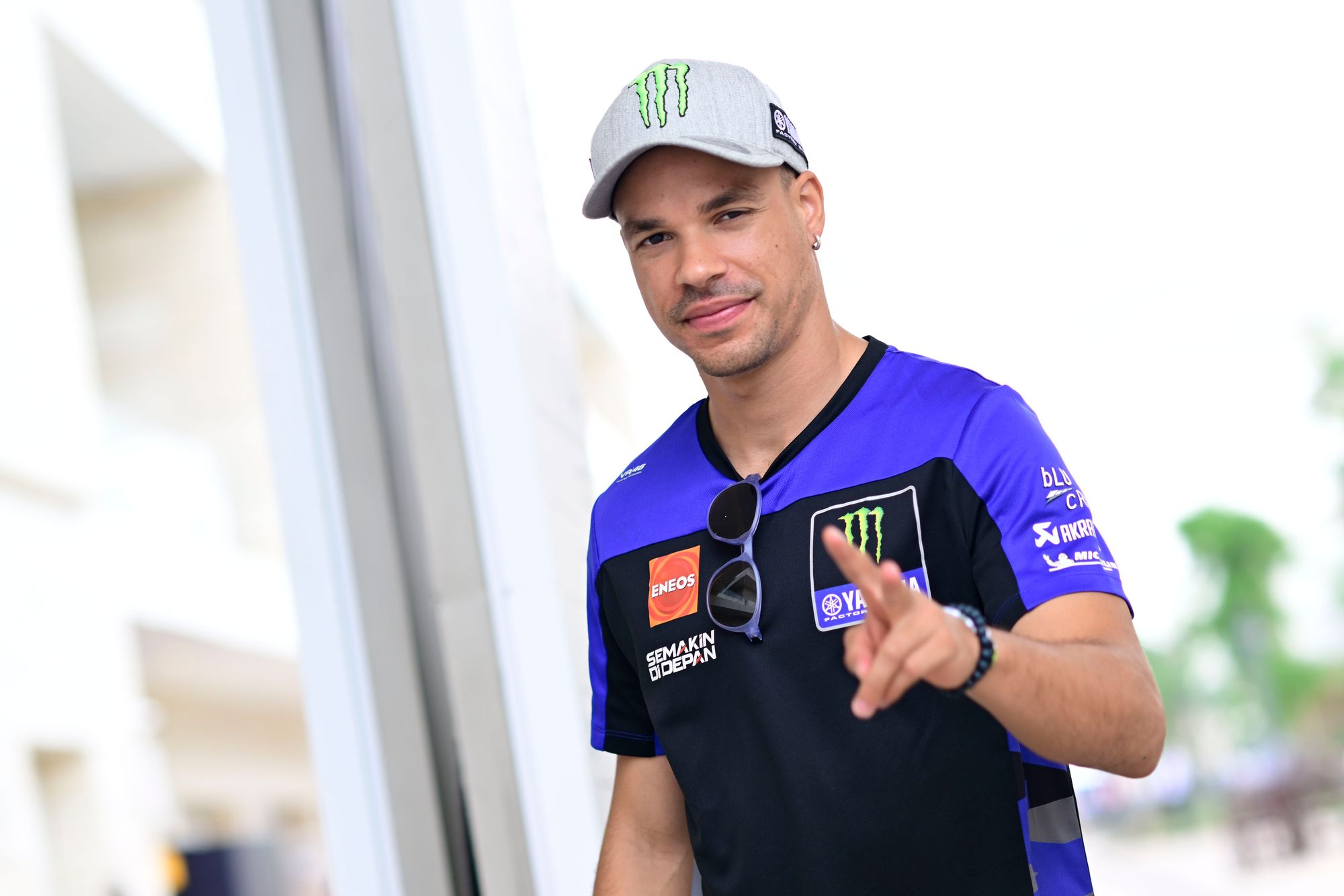 In any case, the stewards assessed Espargaro with a six-place grid penalty and a fine of 10,000 Euros for "behaving in an aggressive manner, including physically striking" Morbidelli.
They deemed Espargaro's actions to have been "detrimental to the interest of the sport".
The Friday incident
The Espargaro/Morbidelli altercation was, remarkably, not the first unusual on-track spat this weekend involving an Espargaro brother.
In Friday practice, Pol Espargaro seemingly angered Marco Bezzecchi by overtaking him during their respective flying laps. This ultimately culminated in Bezzecchi nudging the younger Espargaro's KTM repeatedly as they lined up for practice starts.
💥 bonk 💥

Bez wasn't too happy with @polespargaro cutting it close after the chequered flag and he made sure he knew about it! 😅#QatarGP 🇶🇦 pic.twitter.com/xhW8rcmW6Y

— MotoGP™🏁 (@MotoGP) November 17, 2023
Bezzecchi did not speak to the written press after the race, while his adversary largely chose to laugh the incident off.
"I think it was the funniest moment of the day. It's okay," he said. "I'm not going to talk about this. It happened."
Asked whether it was a bit of joking between the two, he said: "No, it was not. But it is what it is. I just... I don't want to talk about this. There is nothing to be gained from talking about this or complaining. Just, I think these moments that my age gives me, knowledge, to not talk too much. I'm getting mature. Yeah, it was like that."
No sanctions came about as a result of the incident.
Another grid penalty
The Beast is furious! 😮@Bestia23 was up on the lap record before he hit traffic! 🚨#QatarGP 🇶🇦 pic.twitter.com/3mtbW4cxsM

— MotoGP™🏁 (@MotoGP) November 18, 2023
In addition to the penalty for the elder Espargaro, the MotoGP stewards also assessed a three-place grid penalty against LCR Honda stand-in Iker Lecuona.
A cruising Lecuona had got in the way of Ducati works rider Enea Bastianini during a Q1 lap that could've potentially taken the latter to Q2.
He will only lose one position, though, having qualified in penultimate place, ahead only of LCR team-mate Takaaki Nakagami.
Espargaro, meanwhile, will move down from 10th to 16th - with Brad Binder, Augusto Fernandez, Bezzecchi, Fabio Quartararo, Bastianini and Jack Miller benefitting.