Aleix Espargaro says the long-lap penalty loop at Silverstone is "ridiculous" in length – but admits that may paint him in a bad light in the context of his MotoGP title rival Fabio Quartararo having to serve it.
Espargaro is 21 points behind Quartararo in the title race but will get an opportunity to close up ground, as Quartararo is saddled with a long-lap penalty for having run Espargaro into the gravel at Assen.
And while on Thursday ahead of the round he "fully agreed" with Quartararo's penalty angst given what much of the grid perceives as inconsistent application of sanctions, he also stressed after Friday practice that he felt the Silverstone long lap penalty – located on the outside of The Loop, the hairpin-like left-hander – was not of a similar value as at other tracks.
Practice attempt number 1 of the long lap penalty loop for @FabioQ20 👀#BritishGP 🇬🇧 pic.twitter.com/mpJrshy1Ve

— MotoGP™🏁 (@MotoGP) August 5, 2022
"It will look like I'm saying it because my rival will have to do a long-lap penalty… but it's a joke," Espargaro said, having seen Quartararo practice it repeatedly during Friday's running.
"You lose eight tenths. You see that – he was trying today, and you lose eight tenths. We have to be more professional on this.
"Long lap is a soft penalty. I like this penalty. It's a show, it's nice. But if it's, like they say, three seconds, it has to be three seconds everywhere. If in one place it's 2.8s, it's okay, but eight tenths? It's ridiculous.
"We have to be serious with the long-lap penalty. I don't think it's that difficult. Somebody comes with a superbike and you try it – 'okay, it's fast, let's make it a little bit tighter, now it's more or less okay'. And you can have half a second up and down, but not from 3.1s or 3.2s I remember in Barcelona to 0.8 here. That's a huge difference.
Mark that up as the 5th practice attempt! 🔄

At this rate, @FabioQ20's going to set a lap record on the same lap he takes the long lap penalty 😅#BritishGP 🇬🇧 pic.twitter.com/5j6C7oE61n

— MotoGP™🏁 (@MotoGP) August 5, 2022
"I don't like my situation right now, because I have nothing against Fabio, and it looks like now I'm saying this because he has to do a long lap. But it's not because of Fabio.
"But the rules, again, what we want, the riders, is that everything looks a little bit always the same. The long-lap penalty, the penalties in general, how we treat everything. Here once again there is a lot of difference with other tracks, so it's where we have to improve."
While the figure cited by Espargaro is difficult to verify, Quartararo's laptimes suggest his losses in the laps where he tried the long lap loop were indeed considerably short of the mooted three-second figure.
Quartararo for his part said the laptime losses were "quite a lot – I will not say the numbers, but we lose quite a lot".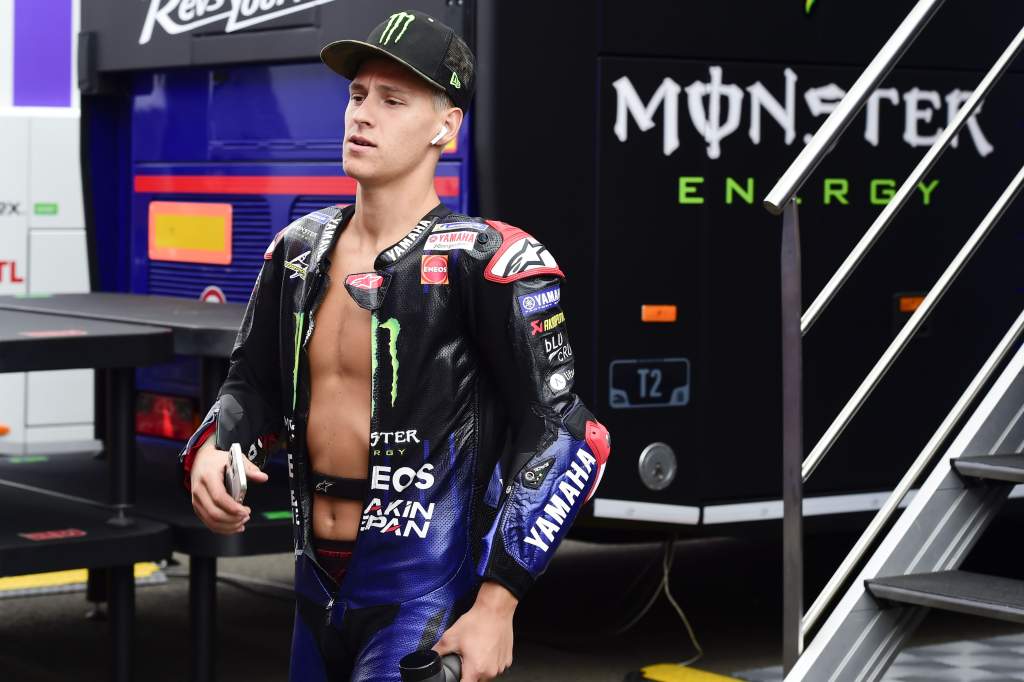 But he also acknowledged it was "not so bad" compared to somewhere like Barcelona – and he also expressed a concern that its exit represented "a dangerous place to get back on track", which left him worried about having to serve it while the pack was still bunched up in the early going.
Regardless of his qualms about the size of the sanction at Silverstone, Espargaro reckoned that it would not have been a massive hindrance to his title rival anyway – citing the fact Jack Miller scored a podium at the Sachsenring and fought for one at Assen despite serving long-lap penalties in both races.
"Anyway, doesn't matter. Even if it was two seconds, Jack [Miller] proved during this year that you can do the long lap and fight for the podium. Imagine Fabio," he said.
Moto2 championship leader Celestino Vietti will also serve a long-lap penalty for not following the correct practice start procedure in Moto2 FP2.