One source told The Race last week that Alex Zanardi did somewhere around 40 days of oval testing before he did his first left-only race back in 1996.
When you compare that with where we're at heading into the Indianapolis 500 in 2023, it's incredible.
This year's IndyCar rookie class had a test day at Texas Motor Speedway, then the Texas event weekend which had only one practice, a qualifying and a race.
Then they had the traditional open test at Speedway, but that was one day due to rain. Then practice last week was only three days after Tuesday got rained off.
So that's eight days, but some of those featured much less running than pounding around a track for hours like in a 1990s CART test.
Not only do the current rookies get so little time in the car, the cars are also much more complicated with the roll-bars and weight jacker which the drivers are playing with every corner. And while much more data being available to deal with all of these intricacies of oval racing is good, it's also a rabbit warren you can waste so much time looking at unless someone is telling you exactly where you need to look.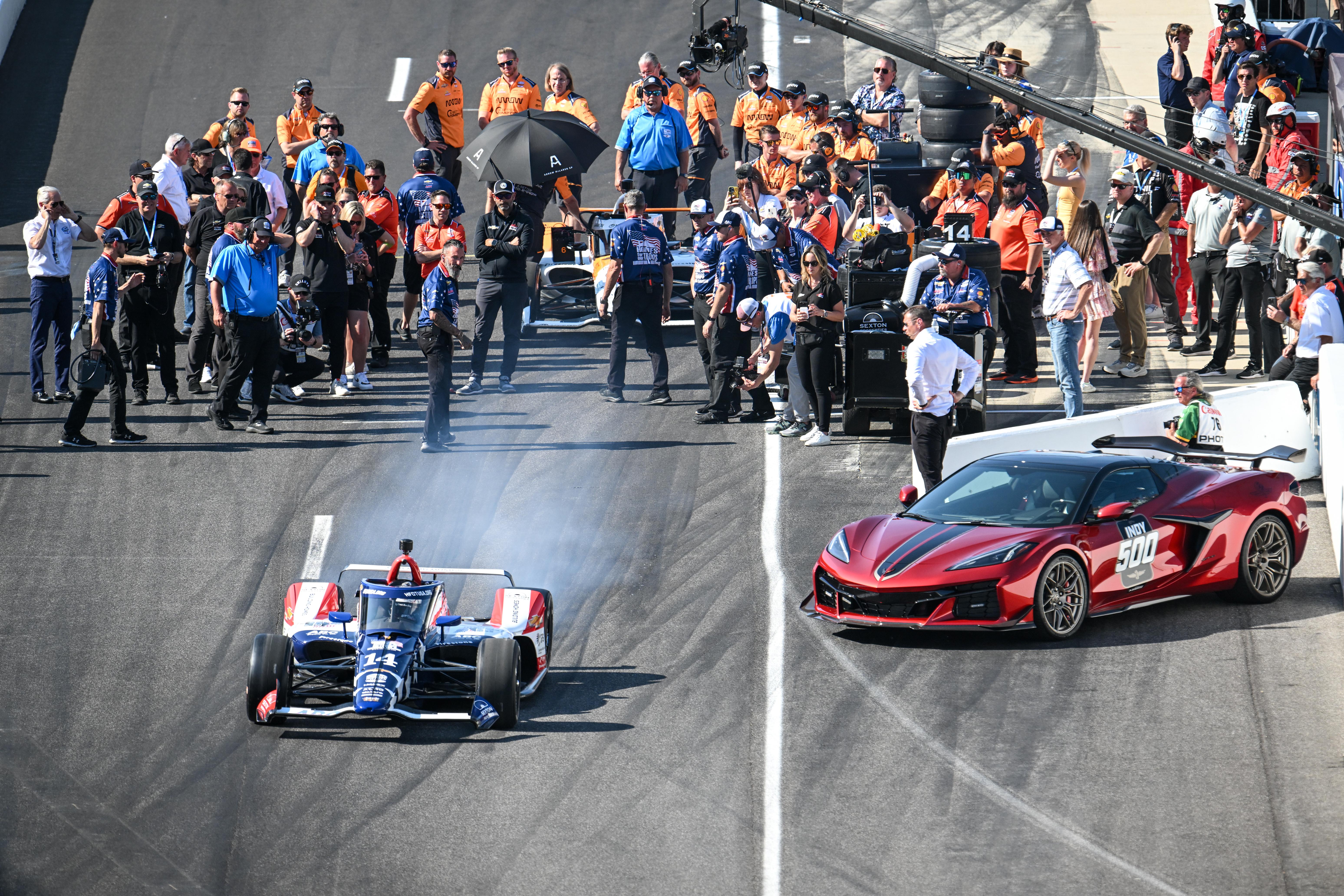 It's perhaps one of the reasons we've seen a high number of crashes from inexperienced drivers in recent years, coupled with having to pile on front downforce in dirty air which wears the tyres and creates ill-handling race cars in traffic especially late in a stint.
For the drivers coming up from Indy Lights – no Indy NXT – they also do not have the experience of the Freedom 100 race as the series no longer runs on the IMS oval.
Despite all of these factors, Monday's post-qualifying practice crash where Stefan Wilson and Katherine Legge collided was the first incident of the month. Neither of those drivers are rookies.
And that's not the only impressive element. All of the rookies starred in their own way in Indy 500 qualifying.
The highest qualifier was Benjamin Pedersen, who has done little to thrill IndyCar fans in his first five races with only one finish inside the top 20 – unsurprisingly that best finish of 15th was on an oval – but he's been brilliant all May.
Granted, his AJ Foyt team is on the up after plenty of hard work in the off-season has given the team its best start since 2001 at the 500 with Santino Ferrucci's fourth place and Pedersen is 11th, ahead of all Team Penske's cars no less.
Asked by The Race about the lack of testing and what he had achieved, Pedersen replied: "Yeah, it's a good point. Obviously when I joined Indy Lights, now Indy NXT, two years ago, that was the first year they stopped coming here for the Freedom 100, so I just didn't have the opportunity to run here in anything, only the road course.
"My first time here was my ROP [rookie orientation practice] a couple of weeks ago, almost a month probably now. So yeah, not much experience here, but it just changes so much. You can definitely see people with experience here, how that can help them.
"If you have a really good car, it makes a really big difference. There are four corners. Having a really good team around you to make the right adjustments for different weather situations makes a really big difference.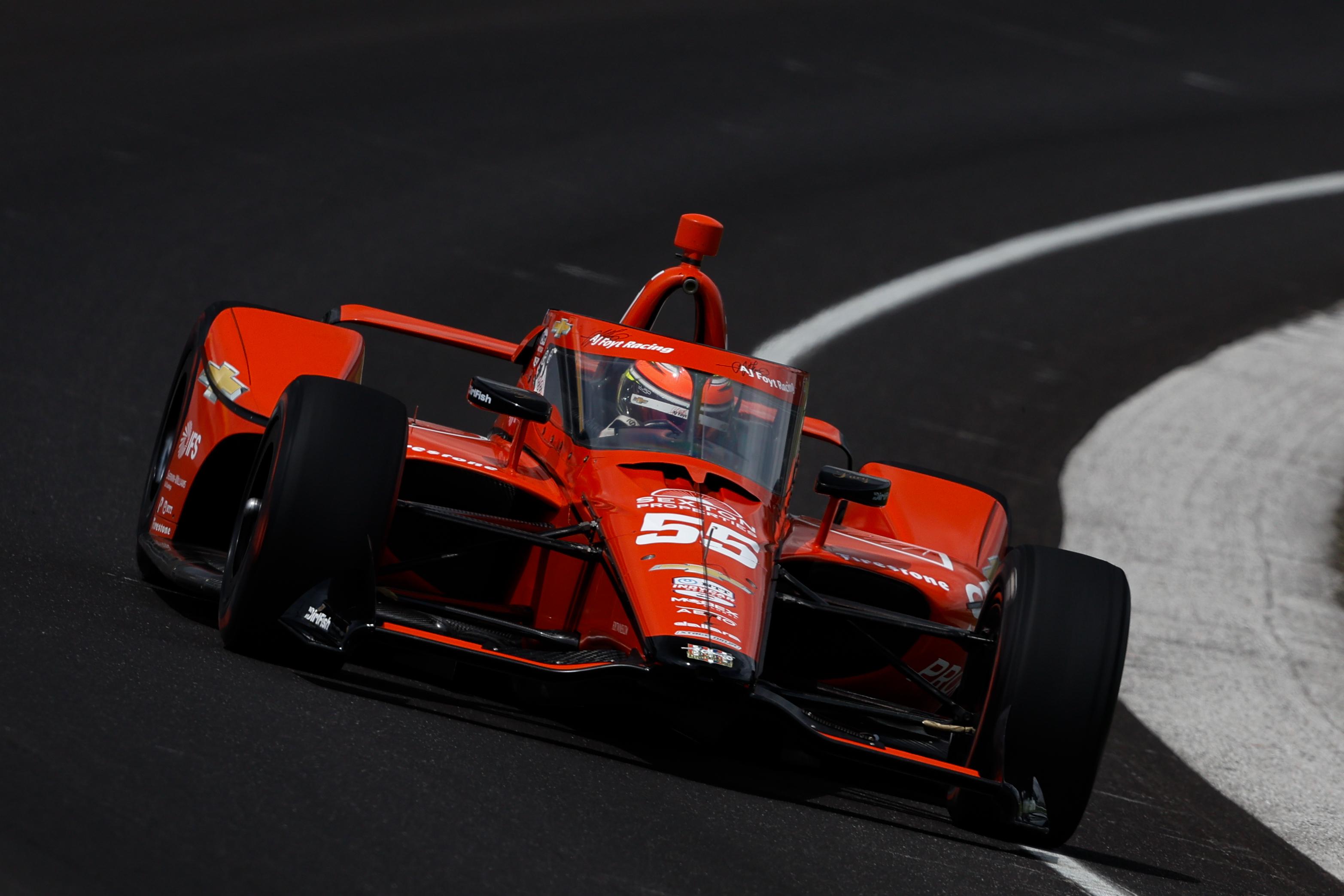 "You can do different lines here. I've definitely spent a lot of time looking at what different drivers do here, looking at videos, data, getting people's perspectives.
"I've asked so many questions just to learn as much as I can. So I think we've covered a lot of ground for my lack of experience here."
In 1996 and 2023 there are very different definitions of "covered a lot of ground", it seems.
Anyway, Ferrucci has never been a great qualifier at the Speedway – never out of the top 10 in a race, though – but that doesn't mean Pedersen being so close to him and making the top 12 in qualifying isn't a mean feat.
On if he was proud of his achievement, Pedersen added: "Yeah, it's pretty surreal coming here as a rookie and have the month that we've had so far. As a team, that aside, just a huge accomplishment with what we have as a goal.
"Obviously it's not my first oval. I had the privilege of doing oval races in Lights at Gateway and Iowa, so just learning a new oval, obviously different car, being in an IndyCar, as well. Texas was helpful at the beginning of this year to learn what a superspeedway is like.
"Yeah, just loving it."
You have to look a fair way down the order for the next two rookies, but both impressed in their own ways.
Agustin Canapino was next, in 27th, and the Juncos Hollinger Racing driver has even less oval experience than Pedersen having come straight from touring car racing in Argentina.
Qualifying for the show with a one-and-done run was really strong and he's just been so methodical all month, building up to the speed that comfortably got him into the race.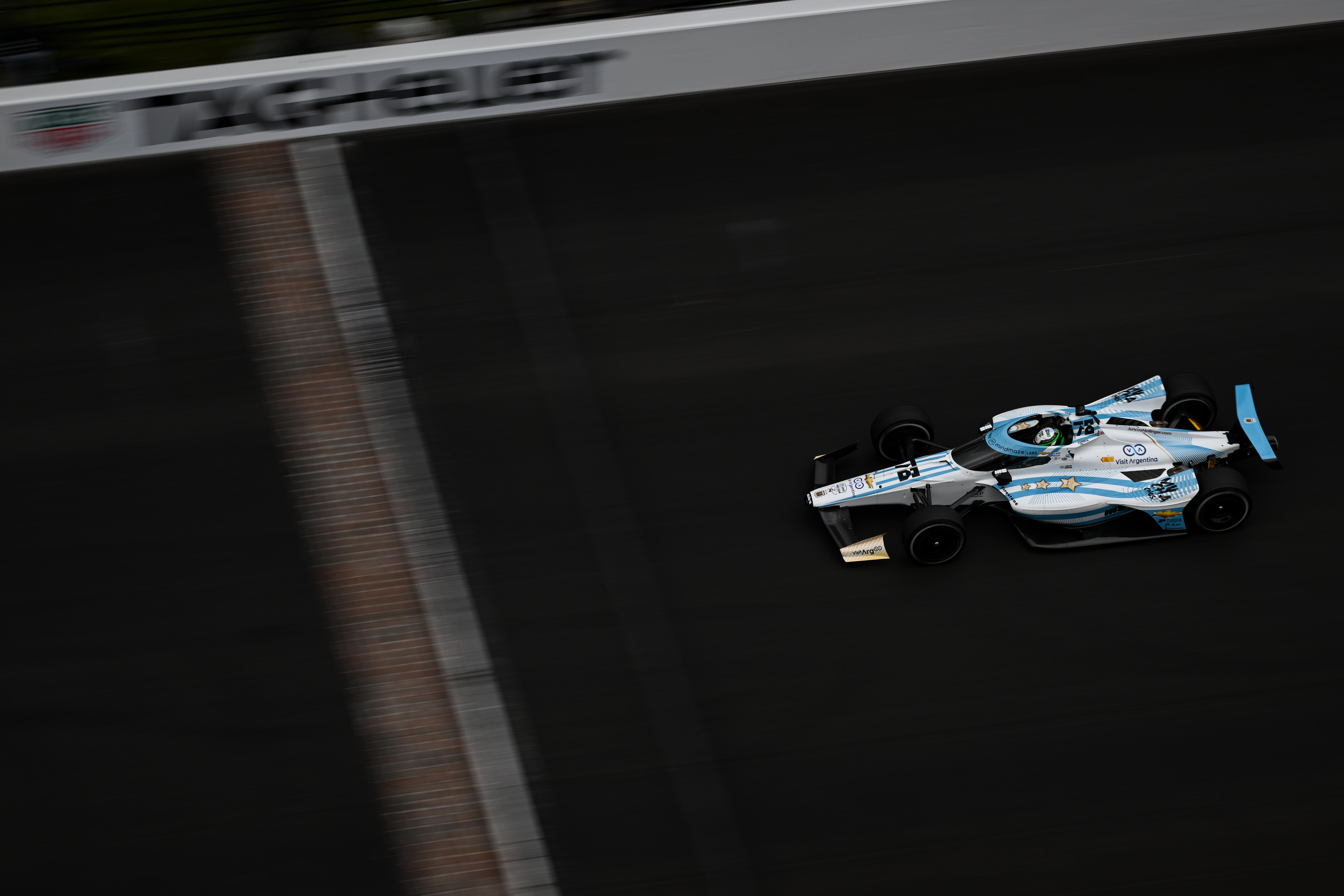 Not only does he have no oval experience but it's worth remembering that without a technical tie-up with a bigger team, in just its second season Juncos has expanded for Canapino's entry so it's still short on the ideal number of staff but making it work.
RC Enerson may be an instructor at the Lucas Oil Raceway, but as a rookie at the Indy 500, he had a lot to learn.
While much bigger teams struggled and fell by the wayside after 12 months of preparation, Abel Motorsports put its programme together in two months. With some great Indy-only people in the team and with good equipment focused on one car, it has shown what can be achieved.
The chassis was the same that Enerson ran with Top Gun Racing back in 2021 and there he ran a 227.298mph and this year with Abel he did a 231.129mph. That speaks for itself.
The only rookie in bump day was Sting Ray Robb. Dale Coyne Racing team-mate David Malukas got bumped out multiple times on Saturday before pulling a lap then good enough for 23rd out of nowhere, but Robb just didn't have that turn of pace in the car.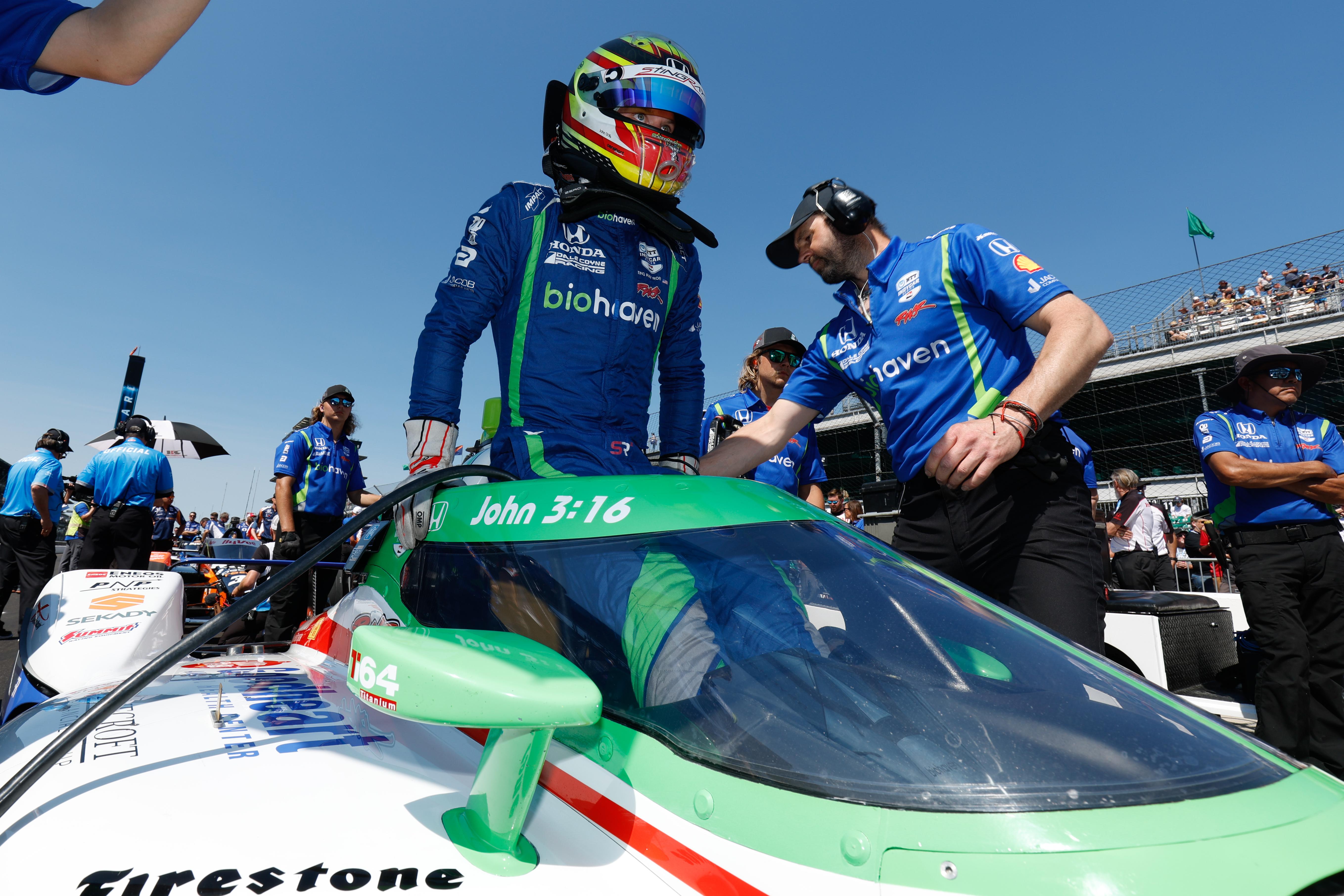 However, under the toughest possible circumstances he delivered a really respectable run in Last Chance qualifying that was good enough that he didn't have to worry about going again to get in the show.
Dale Coyne almost always has good race cars, but its struggle in qualifying this year is a warning shot for this team to improve as it shouldn't be down there no matter how small it is or what limited resources it has.
It's no surprise Robb needed tears after the stress of his run. The others were fortunate to not be in the same position even if they raced in on pace.
With the field as close as it is now and positions being decided by 0.001+s per position over a 10-mile, four-lap run – apparently that works out at something like 16 inches – it's an absolute marvel these rookies are able to be competitive at all given their disadvantage of a lack of track time.
Things like the wind, air pressure and temperatures play such a part in a good run at the speedway and the rookies don't have experience of that yet. And still, in 2023, they've been able to compete and in some cases excel.