One of IndyCar's most difficult-to-unpick enigmas is one of the most regularly discussed drivers of this year's driver market silly season. And no, we're not talking about Romain Grosjean…
On one hand, an average start of 15.5 and finish of 17.64 while running 17th in the championship doesn't seem to warrant such appraisal and attention, but on the other, a handful of star drives mark out the series' second-youngest driver, David Malukas, as someone with the potential to do great things.
---
Malukas headlines this week's The Race IndyCar Podcast episode, discussing the upcoming Gateway oval race and his chances of recreating last year's runner-up finish, the Andretti-linked driver's future, his physical and mental training changes for his sophomore season, and how his social media has boosted his popularity. Listen above.
---
Now seems the perfect time to talk to Malukas heading to a Gateway track where he pulled off a second-place finish last year, and amid silly season rumours that link the driver to a plum seat at one of the series' top teams – Andretti.
"It's chaos," says Malukas, when asked on this week's episode of The Race IndyCar Podcast what he can say about his future, amid so much uncertainty in a silly season headlined by Alex Palou, Marcus Ericsson, Grosjean, Felix Rosenqvist and others.
"I don't even know what I can say about it or anything. But the future looks good for us."
If indeed he snags an Andretti seat, which is what is expected (Andretti has just confirmed Ericsson, but Malukas is expected to be a Devlin DeFrancesco replacement), on paper it will be quite the coup given his 2023 results – but Andretti will have wisely looked beyond that.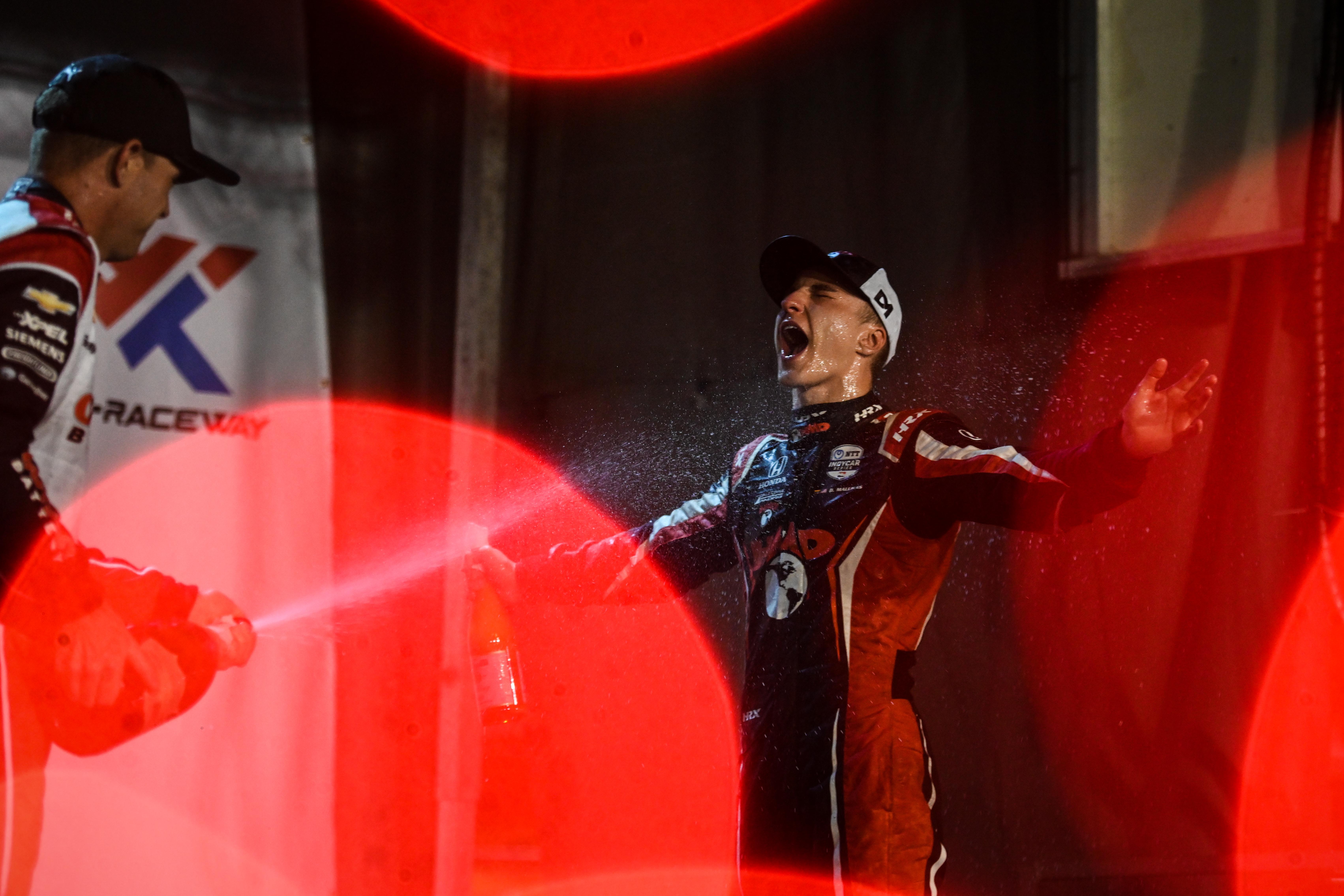 Malukas has over 30 fewer points than he did at this point last year – and that gulf could grow substantially because of his 2022 Gateway podium (pictured above) – so what has caused it?
Ultimately, Dale Coyne is one of the best talent spotters in the business. His team is one of the smallest in terms of personnel and isn't a massive spender, but does a brilliant job developing talent, especially when it comes to engineers and mechanics.
But that makes Coyne prime for the picking when the bigger teams need more personnel.
Malukas lost his engineer from last year, Ross Bunnell, to Scott Dixon, and he's just one of a host of names who have left across the years. That finally seems to have caught up with the team on track in 2023.
"From last year to this season, we lost a few key people that really had the team turning around," says Malukas. "One of them being my main engineer.
"It's clear they were very good, and Dale does a good job of finding good people. It's just unfortunate, they always get taken away by these bigger teams.
"So going into the season, we knew there was going to be some big changes from a structure standpoint, and we were gonna have to just work with each other, build up chemistry again, and try to figure out which way you want to go with the set-up.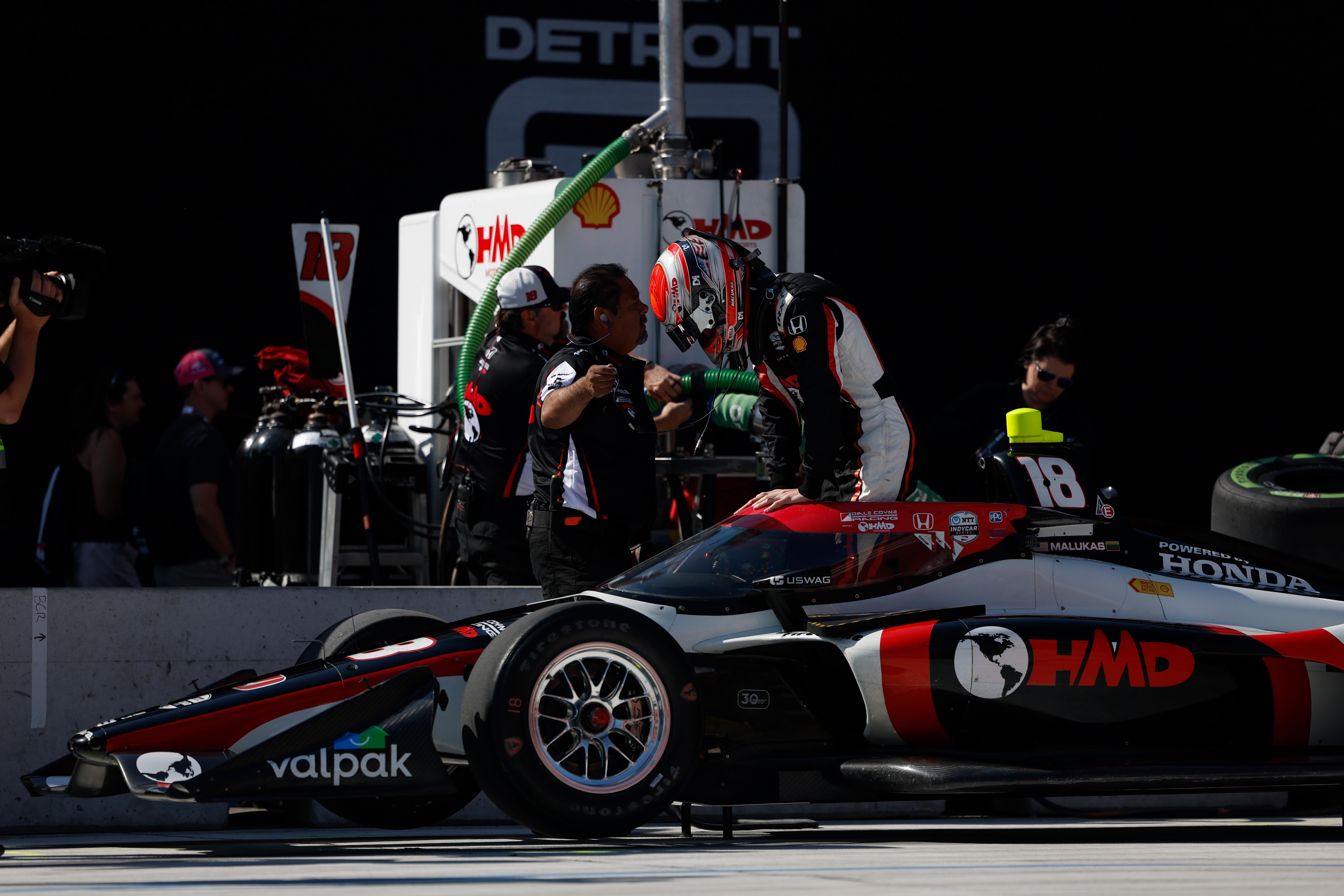 "And it started off pretty strong, and then kind of started to go back down and it's been an up-and-down sort of hill throughout this season.
"We haven't even had a consistent team and it's just been resource and structure issues that we've been trying to struggle with.
"It's been tough, but I think with the equipment and the resources we've had, the team have done a really good job to kind of still keep up with the top teams: at Nashville, we ended up qualifying fifth.
"So we're still there and knocking on the door. It's just unfortunate it took this long for a second year to start building up consistency again."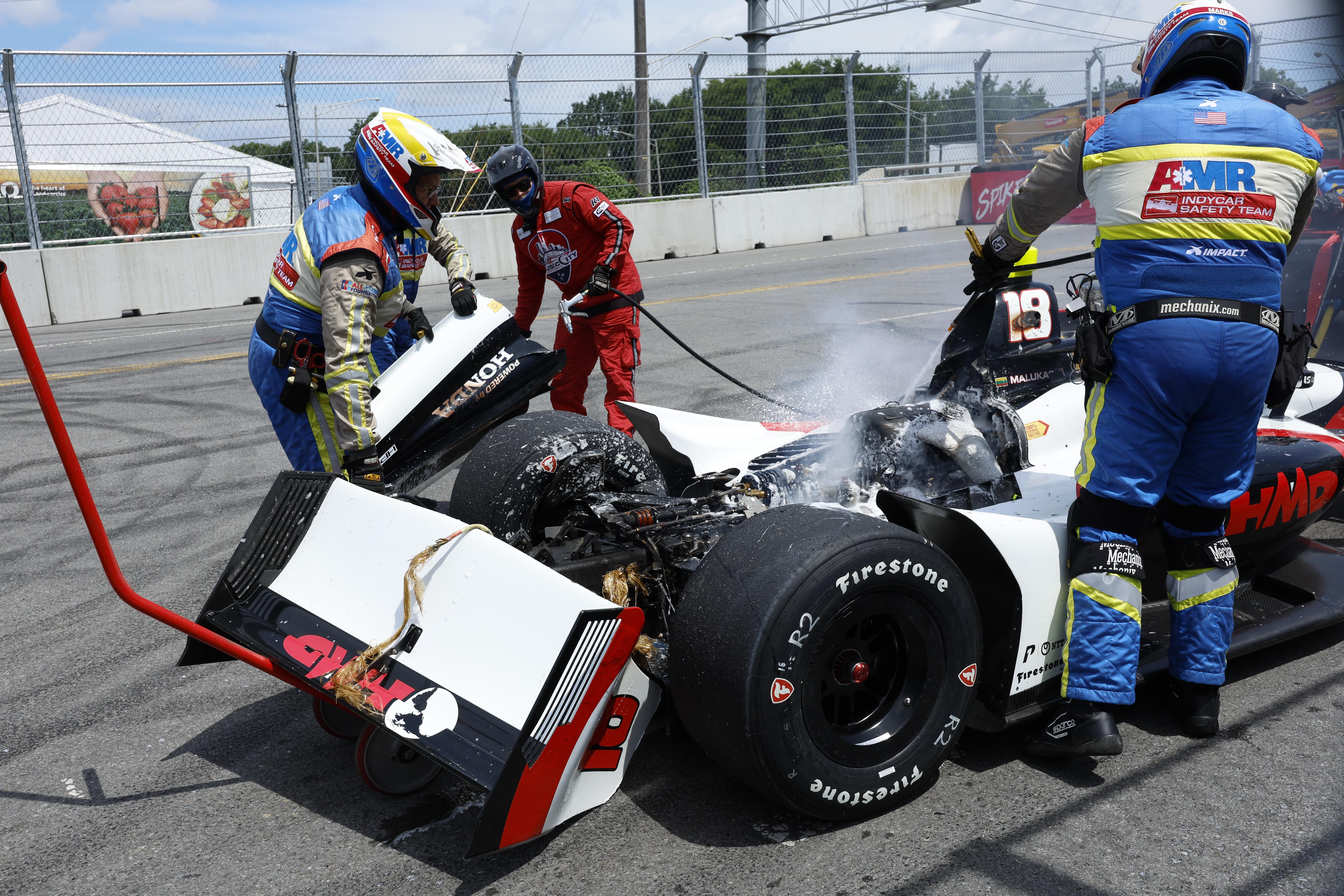 It's true, Coyne has been capable of results like qualifying fifth in Nashville – yet something always seems to go wrong. On that occasion, a mechanical issue at the back of the car effectively melted the stanchion that holds the rear wing up.
Malukas qualified 13th at Road America but had an engine issue. Plenty has gone against him.
At Mid-Ohio – where he scored his and Dale Coyne's best road course finish of the year in sixth – he announced he wouldn't return to Dale Coyne next year, something that shocked many.
But he explains that decision in detail on The Race IndyCar Podcast this week, saying it was as much motivated by clearing the air with Dale Coyne and giving the team a chance to search for replacements as it was to let other teams know he was available.
"It was very tough," says Malukas of reaching that decision and telling the team.
"From my standpoint, I just want to be as honest as I can be, in front of everybody.
"From the team standpoint, I love them. And even after I say that, I love everybody in there and we've had an incredible time together.
"But just unfortunately, my views didn't align with the team as a whole, where the team's future plan was, just talking with Dale and what the future looks like, it just wasn't what I had envisioned and I wanted to try really hard with the team.
"That was a big decision for me and I knew at that point, I didn't want to go there [stay at Dale Coyne].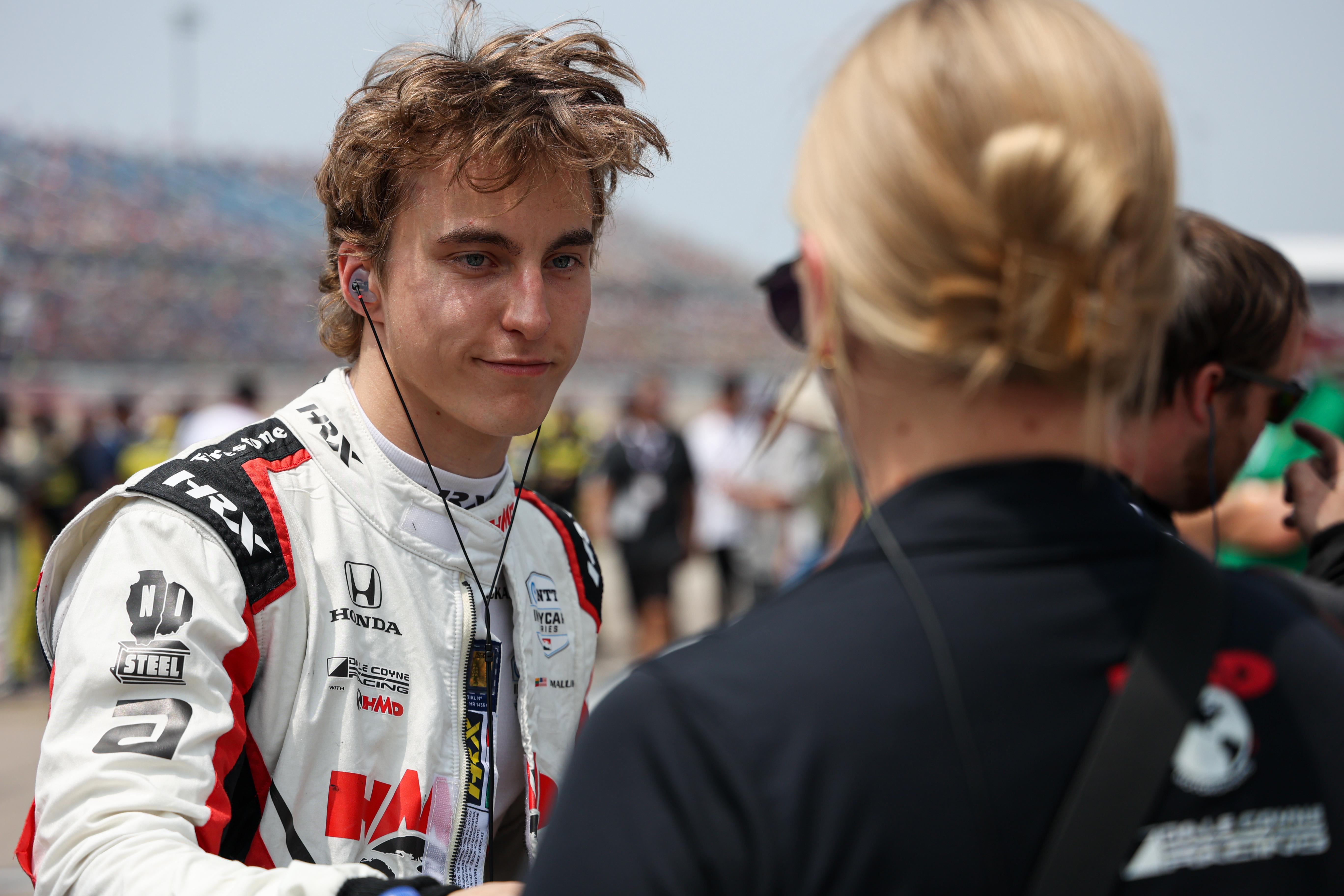 "And I was just going to be honest, and I said it and when I said it, there wasn't any offers from any other team but I knew just to myself that no matter what, I wasn't going to be planning to come back.
"Even if that put me in a position where I don't get seated for next year, like maybe nobody else would put up an offer but from my standpoint, I just knew that that's just how things were going to be from my side.
"I told the team and everybody was good with it and didn't cause any drama; things just were how they were and we put our heads down and look forward – and, of course, announcing that as well showed other teams that I'm definitely looking to go out."
Luckily for him, interest in Malukas hasn't been short.
In some ways, it's a surprise, because I think there are drivers out there who have done more to prove that they deserve one of the few top-tier seats available on the grid.
But equally, just because Malukas hasn't had the machinery to prove the same thing definitely does not mean he's not capable. He's the second-youngest driver in the field still despite being in his second season, and there's still a chance he finishes in the top 15 in the standings this year.
When you consider the 'big four' teams of Andretti, Ganassi, Penske and McLaren make up 14 cars, it shows you that you have to pay very close attention to the drivers hovering around the top-15 mark. They're the best of the rest and likely doing a phenomenal job to be where they are, even if headline results are sparse.
Malukas' decision to leave Coyne without a drive lined up shows that he and his team believe he is capable of bigger and better things.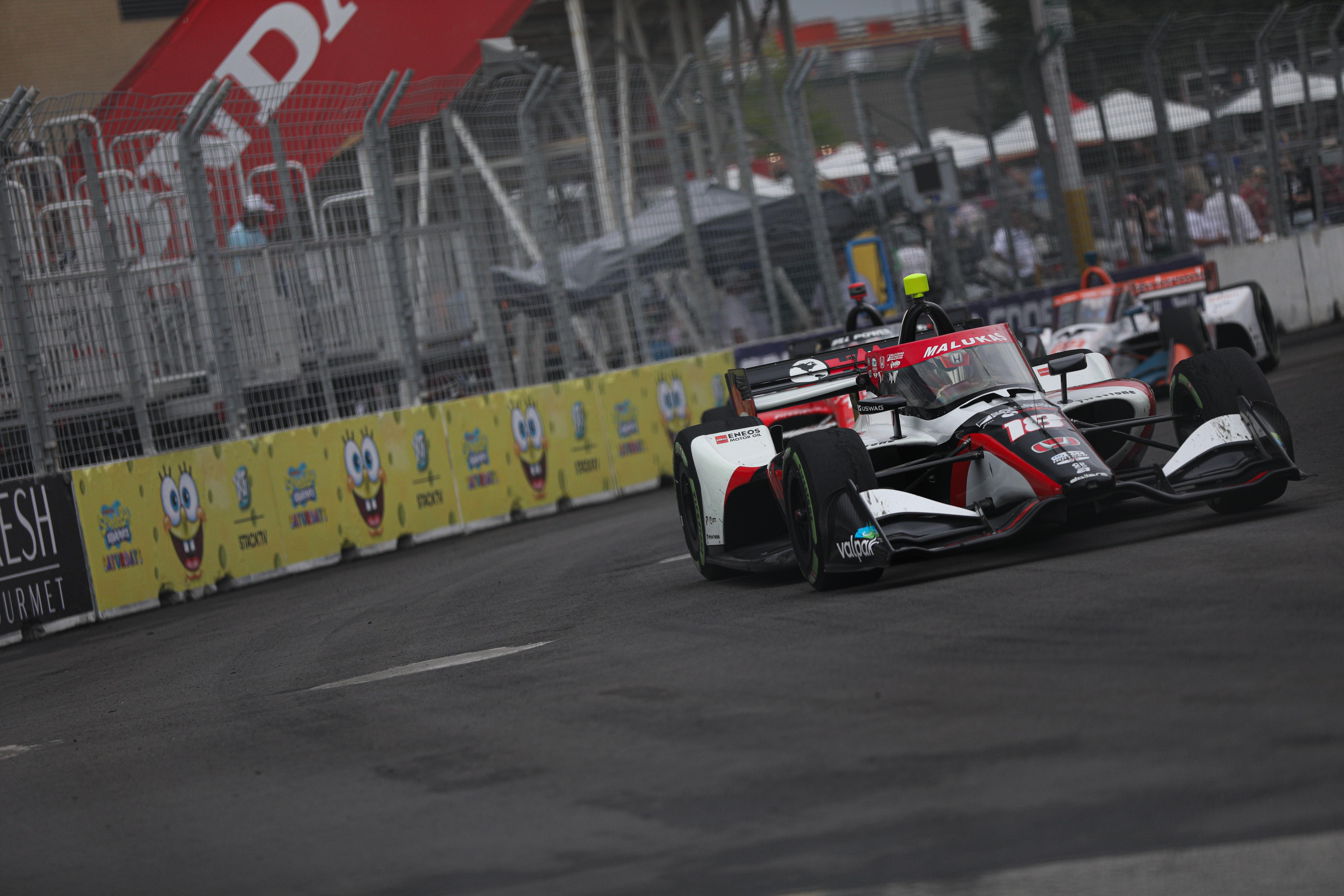 And there are people in the paddock who believe Malukas is performing better than last year, despite his points tally being lower in 2023.
His training has been a big part of that.
"There were definitely a lot of things that needed to change," he says.
"Of course, you can be prepared, but there's so many new things that happen in the car that you wouldn't expect and it's kind of like a culture shock.
"So going into it, from a workout standpoint, I was working out all the wrong things and I realised that after the first few races, I just realised it's more lats [muscle in his back] and my butt than anything that was really sore after a race so I was making sure I was in the gym and we're working out all the proper muscles."
Malukas didn't have a personal trainer then and also struggled to adapt his diet to ensure he was hydrated at the right times so he didn't need to urinate as soon as the race started. The team said he'd have to clean it up, after all…
Adding help on the mental side is another new thing Malukas has tried to do, with therapist/coach Luke Varley.
Marcus Ericsson did something similar this year to try to train his brain like he trains his body, and for Malukas he feels it's produced some strong results as well as a fun and consistent way to monitor his own performance and do his best to replicate or eradicate certain attributes or actions.
Away from the performance changes for this year, he's also upped his social media output, which has made Malukas one of the most fun drivers to follow, with a youthful take on IndyCar PR as a driver.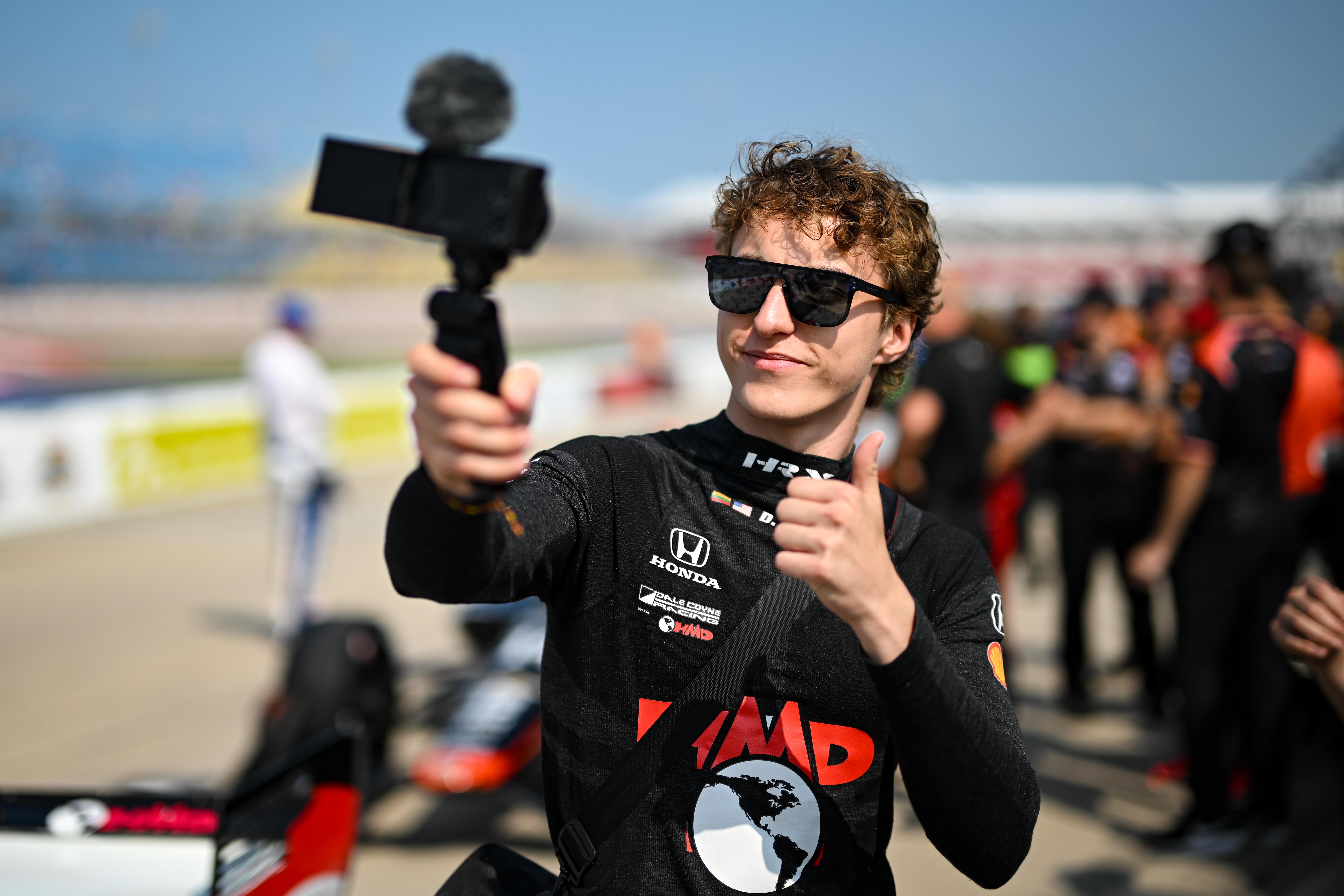 Ultimately, it would be great to see Malukas get a top drive because it will give us a chance once and for all to see how much he can achieve in a team that has that performance upside.
Until then, we can enjoy his memes, his battling with fellow drivers on social media, and tracking where he ends up signing.