Who knew grinding to a heartbreaking near standstill with a dominant victory in sight would actually spur on a surprise title challenge and may have introduced us to a future IndyCar champion?
HMD Motorsports driver Nolan Siegel had a brilliant drive in Detroit in Indy NXT – formerly Indy Lights – end with a gearbox issue that led to him being overtaken on the last lap at the last corner while leading.
Heartbreak for @nolan_siegel!

The race leader slowed on the final 2 corners with a gearbox issue.#INDYNXT // #DetroitGP pic.twitter.com/fEmrYBPgX4

— INDY NXT (@INDYNXT) June 3, 2023
"I think that in racing, you have more bad days than good for sure," Siegel told The Race in an exclusive interview.
"But being able to put that behind you is really important in this sport.
"I was quite upset on Saturday, as you might expect, and so was my engineer and everyone behind me was quite upset with it, but we all sat down, had a chat and calmed ourselves down and spoke about it and decided that it was better to not think too much about it.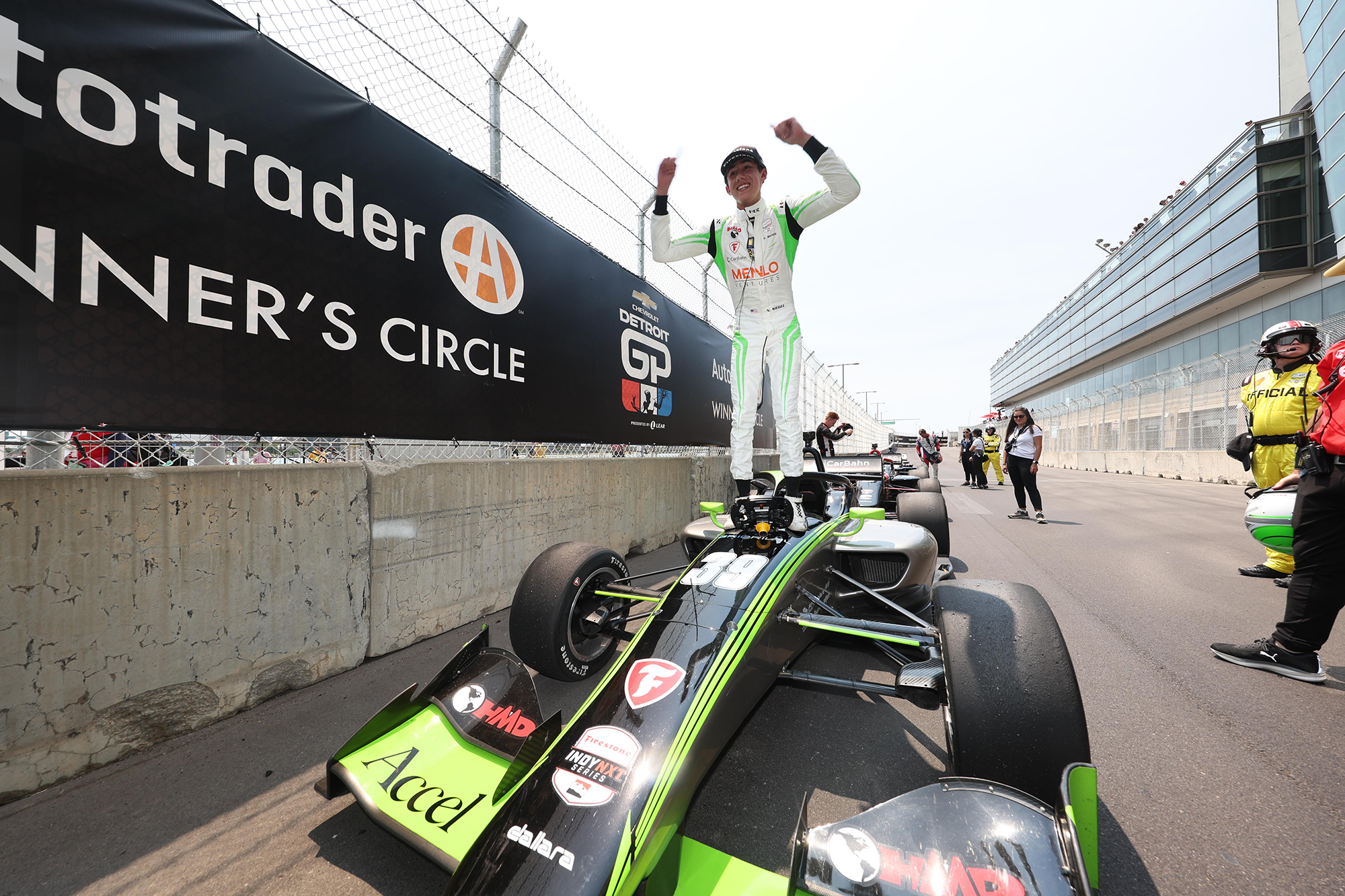 "So we took the positives from the first race being that obviously, the pace was there and the win was possible and it gave us all a lot of confidence going into Sunday.
"I knew that I was going to have the pace because I had the pace the day before and it was pretty straightforward from there so I don't think that I went into Sunday angry about it. I went into Sunday more confident from what happened the day before."
Siegel won the Sunday race – having started neither of the Michigan street races from the front row – and then doubled up at Road America to make it two wins in a row that should have been three, and establish himself at the top of the championship order.
High school graduate and #INDYNXT winner all in one week.  🎓🏆

Watch as @nolan_siegel sees the checkered flag for his first INDY NXT win. #DetroitGP // @HMDMotorsports pic.twitter.com/F5c2qurcNX

— INDY NXT (@INDYNXT) June 4, 2023
At just 18, Siegel is certainly on the young side compared to some of the recent Indy NXT graduates. Born in November 2004, he'd be one of the youngest series champions in recent history.
---
Siegel's resume at a glance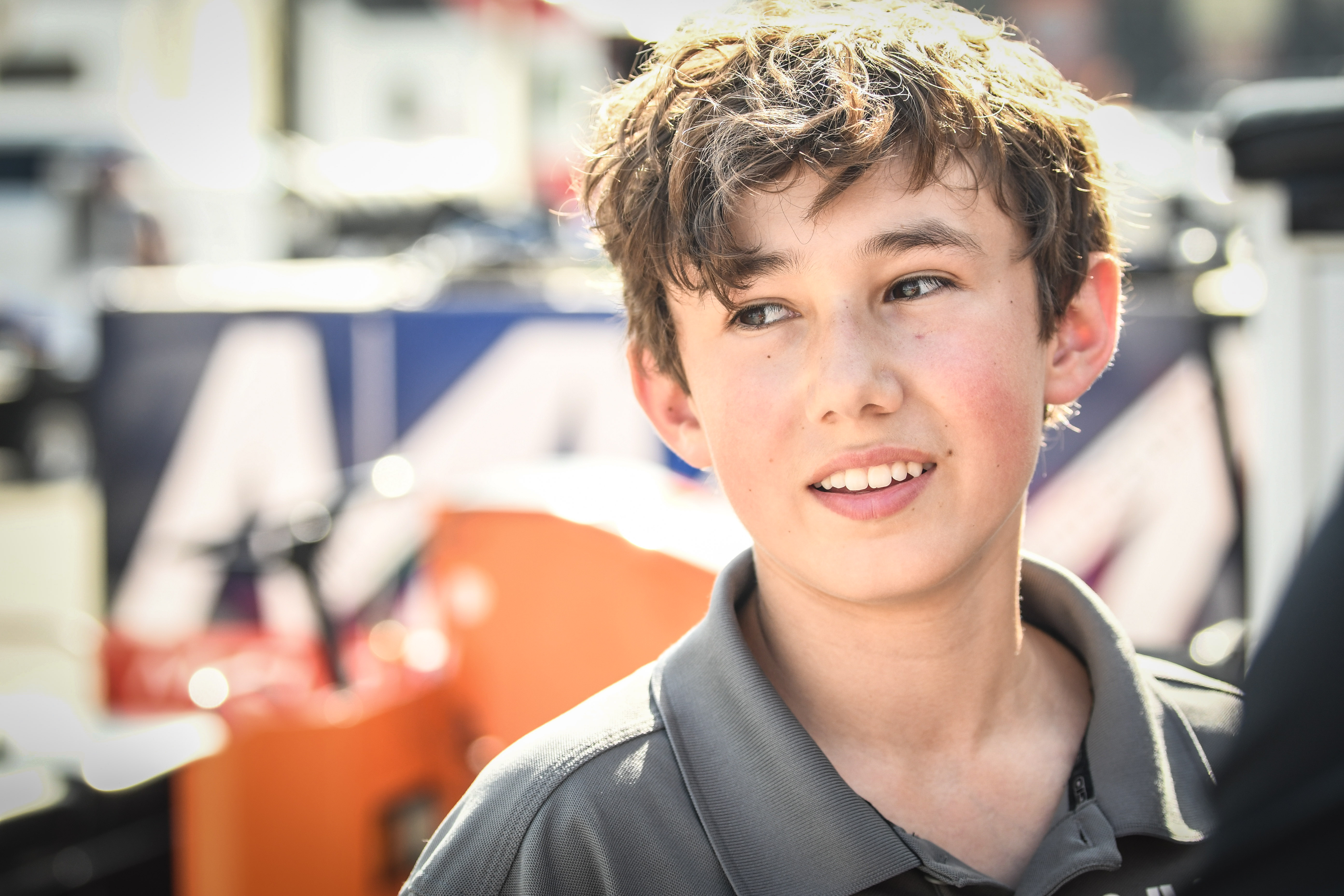 2023 Indy Lights with HMD, two wins, 1st in standings
2022 Indy Pro 2000 with DEForce, two wins, 4th in standings
2021 USF2000 with DEForce, one win, 8th in standings
2020 USF2000 with Jay Howard, 13th in standings
2019 USF2000 with Newman Wachs, 15th in standings
---
Like HMD stablemate David Malukas in his pre-IndyCar career, Siegel has taken some time to put himself in championship contention after a string of seasons not usually fighting for titles. But it's clear something has really clicked this year.
If his current performances continue it's only logical that he'll want to reassess his initial plan of likely needing two years in Indy NXT before looking at IndyCar. If he can stay in the lead of the championship – it ticks over halfway at Mid-Ohio this weekend – and win the title, he'll be guaranteed two IndyCar race outings next year.
"Going into this season, I didn't know what to expect," Siegel adds, asked about his plans based on his current form and if they had changed.
"I'd hoped that I would be in a position to be fighting for the championship and fighting for an IndyCar seat. But realistically, I went in thinking that I was probably going to be doing two years of Indy NXT.
"But now I think that has changed a little bit and the goal now is to obviously stay in the lead of the championship and win the championship.
"If that happens, hopefully go to IndyCar next year. So we still have a long season to go but that's the goal now, rather than focusing on next season in Indy NXT, I think the goal is to be in IndyCar next year."
"It doesn't get old." 🍾#INDYNXT // #RoadAmericaGP pic.twitter.com/yGMfrRjk7c

— INDY NXT (@INDYNXT) June 18, 2023
Asked if his age meant stepping up could be a risk, or if the title would prove he was ready, Siegel added: "It is true, I think you have to be careful about moving up too quickly or when you're not ready, but if I was to win the championship or be fighting for a championship, I think that that shows that I would be ready for that step."
The good news for Siegel is the IndyCar silly season is about to get very busy, very quickly, with plenty of opportunities to move. Almost every team has at least one opening for next season, apart from Penske and likely Arrow McLaren which appears to have filled its spots.
Not only could the timing be right for a step-up in silly season, Siegel is also making himself as rounded as possible in preparation.
The teen – who likes playing his guitar and mountain biking in his native Palo Alto in California not far from the Sonoma circuit – is also making the most of race outings in the IMSA SportsCar Championship, as his father is now a team owner there.
Mark Siegel works for a venture capitalist firm, Menlo Ventures, which manages over $5.5billion of assets according to its LinkedIn page, so presumably motorsport is a nice distraction from another high-paced world.
But IMSA is also growing as a home for young drivers as there's an appetite for seats and a healthy flow of drivers willing to stump up the budget, and, perhaps even more importantly, IMSA's being recognised as a place where young single-seater racers can learn about tyre wear and fuel economy in a way they can't on the Road to Indy.
Siegel won the LMP2 class at Watkins Glen last weekend to extend his victorious racing run.
Congratulations to the LMP2 Class winner of Sahlen's Six Hours of the Glen!#IMSA | #Sahlens6hrs | @WGI | @CrowdStrikeRcng pic.twitter.com/t4sSfv8OER

— #IMSA (@IMSA) June 25, 2023
Siegel is certainly setting himself out from the crowd – he has as many as nine team-mates at HMD in Indy NXT! – and while there are a host of impressive rookies and sophomores with high expectations, one of the youngest drivers in the series has marked himself out among the best.
It's the most pleasant surprise for a driver who has a best championship finish of fourth, in his last season of Indy Pro 2000 in 2022, but clearly is very young and gathering experience with every lap he completes after four years in cars heading into this season.
With a 40-point championship lead (there's 50 for a win), he's already demanded the attention of fans, pundits and IndyCar teams.
What's going on in the rest of the Indy NXT season?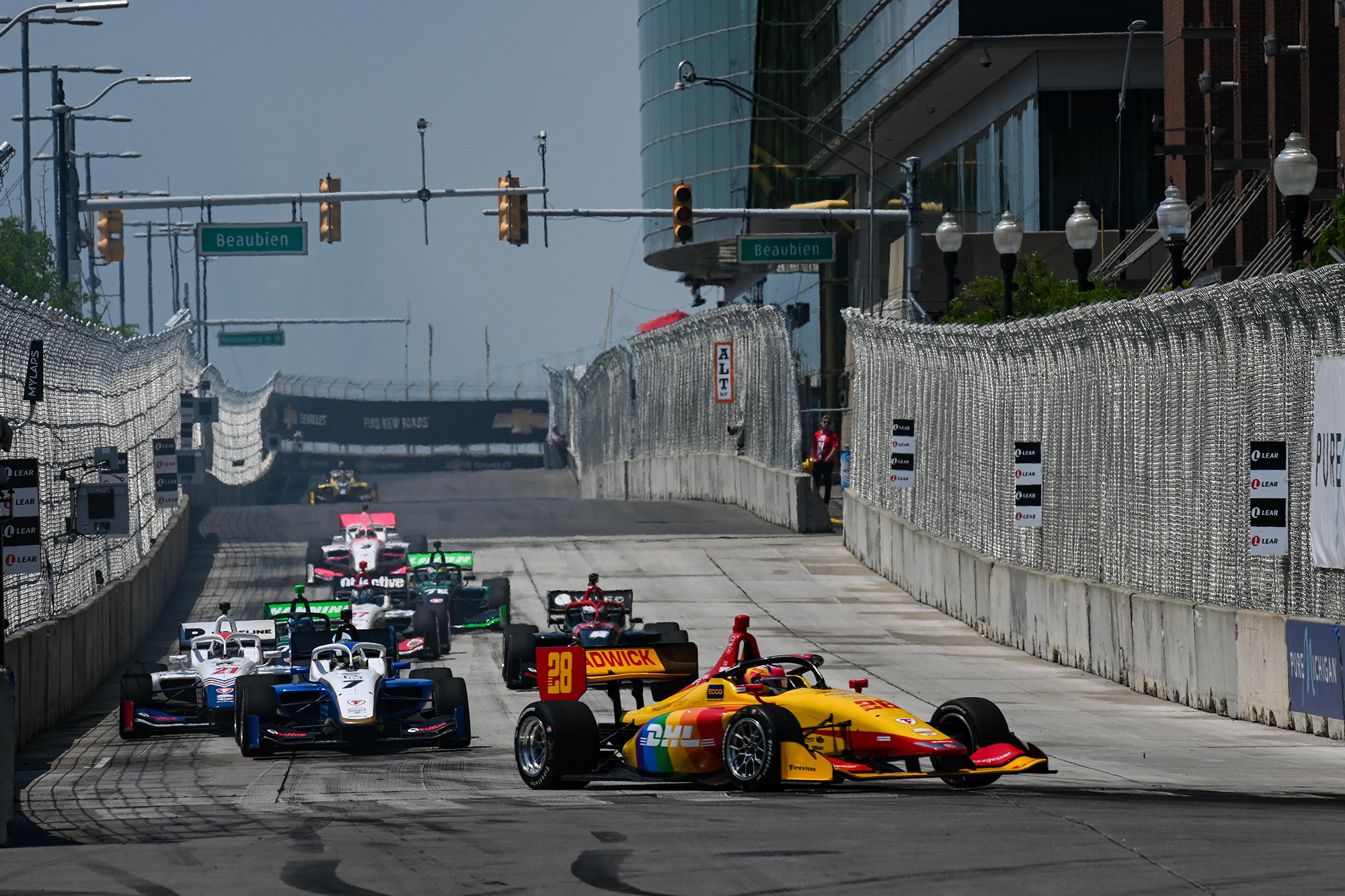 While Siegel has been the standout and a crash for team-mate Christian Rasmussen is the only thing stopping him from being much closer in the equation, the big surprise so far has been a lack of a win for Andretti Autosport.
As it has the highest-finishing returnee from last year, Hunter McElrea, and Indy Pro 2000 champion Louis Foster alongside Jamie Chadwick, there was a lot of excitement coming in.
But McElrea has just one podium so far in 2023 and while Foster has three poles in six races, showing his blistering pace, some reliability issues, a couple of relatively disappointing races and being taken out from pole at Turn 1 in Detroit by McElrea – ruining another points-scoring opportunity – means Foster is seventh while McElrea is third.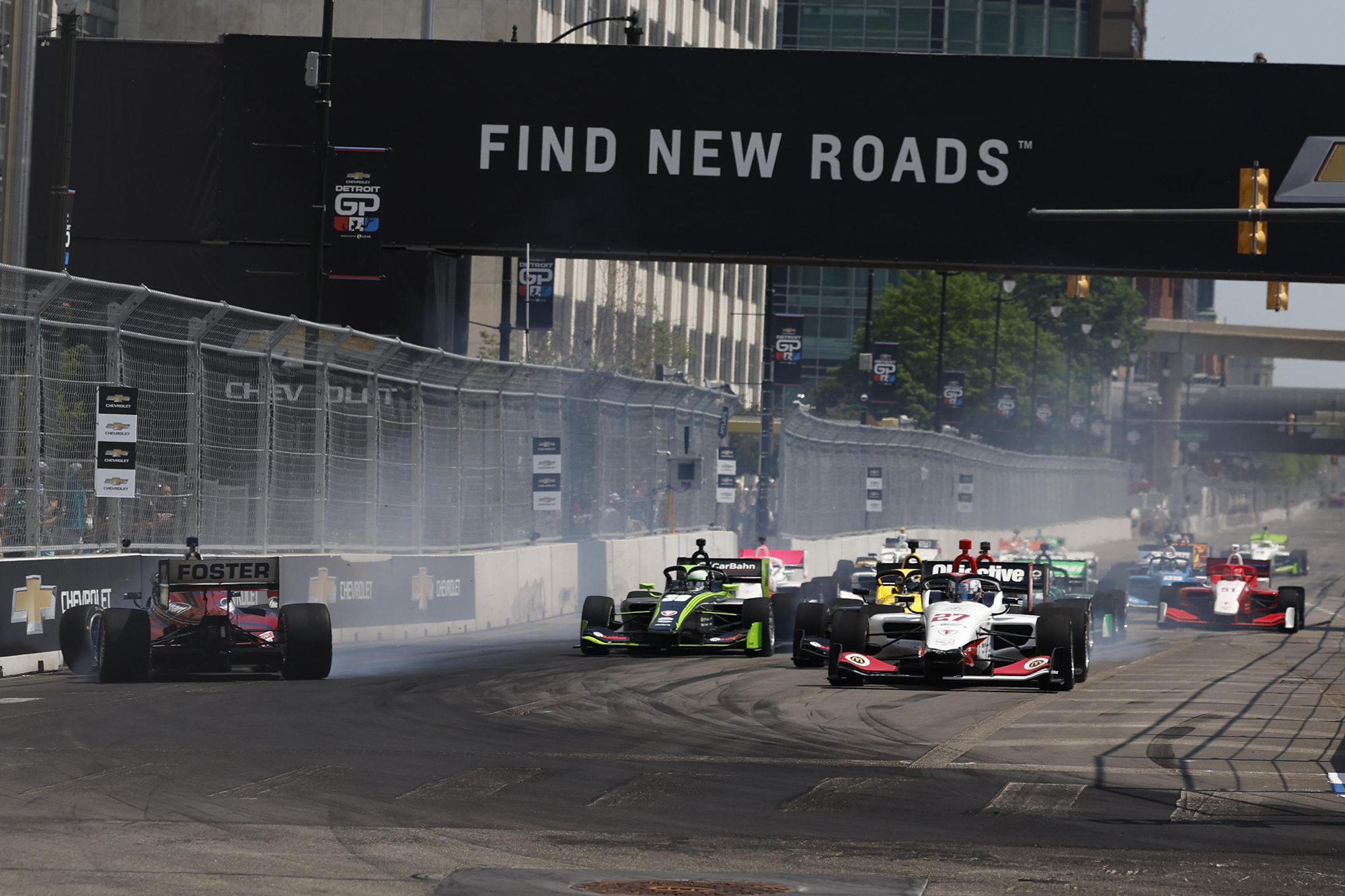 Chadwick is 17th having struggled to deliver her W Series pace in America. There's a premium on learning every single track, and she's twice come close to breaching the top 10 in a tough field that contains nine HMD cars which have worked together to win five of the six races so far.
Jacob Abel – who's likely headed for IndyCar in the near future – has upped his performance alongside his Abel Motorsport team which made its Indianapolis 500 debut earlier this year, while Ganassi's junior driver Kyffin Simpson – who has strong backing and is expected to step up sooner rather than later – is 13th.
What's happening in the rest of the junior single-seater pyramid in the States?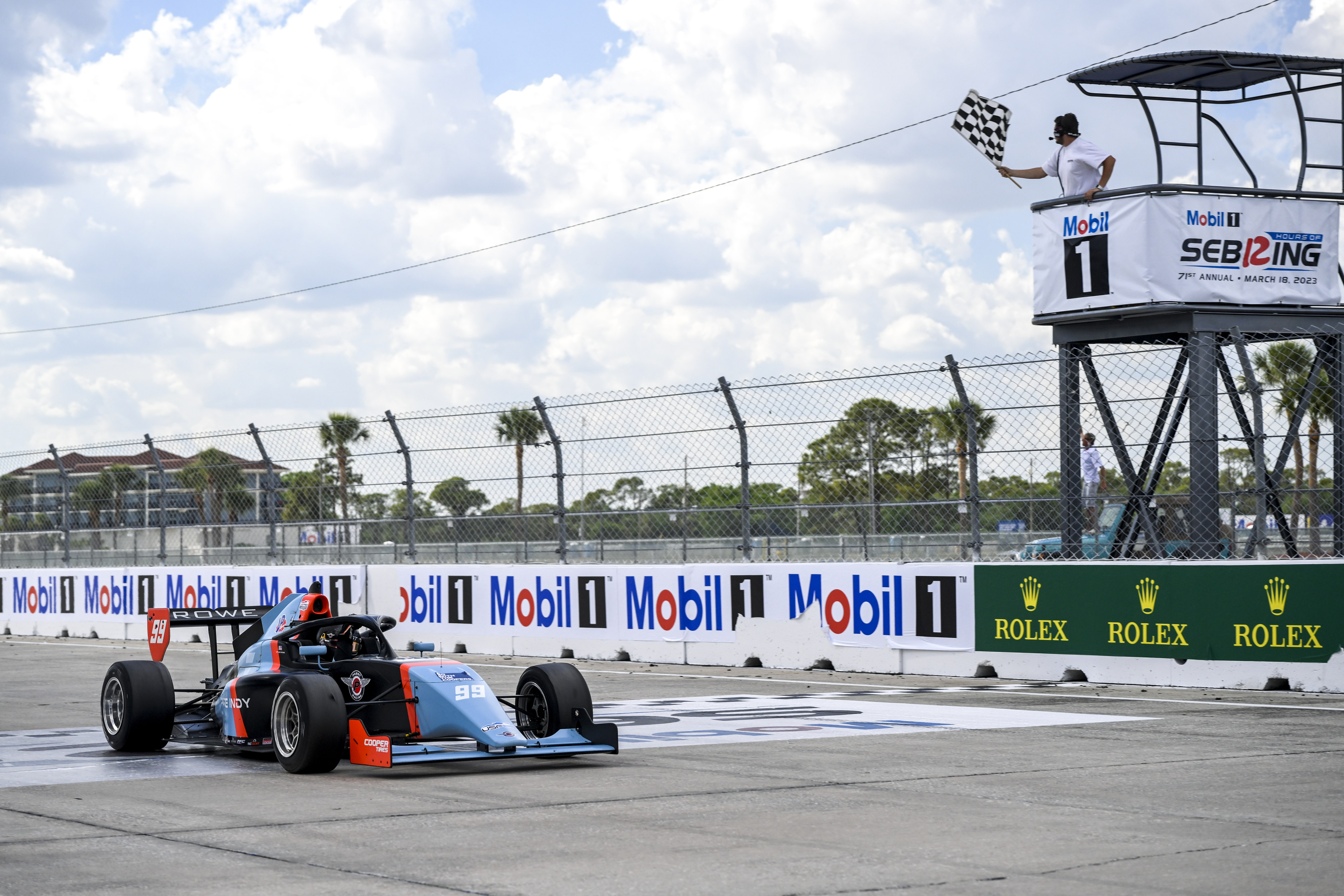 The series under Indy NXT is USF Pro 2000 (formerly Indy Pro 2000) and it's being led by the ace Myles Rowe.
He was given a career reprieve after years out when Penske used its diversity programme to help Rowe onto the grid and he won in his first season back in USF2000. Last year he was second after a heartbreaking crash in the final weekend of the season, and now he's stepped up and is leading the standings for Pabst, where he raced last year.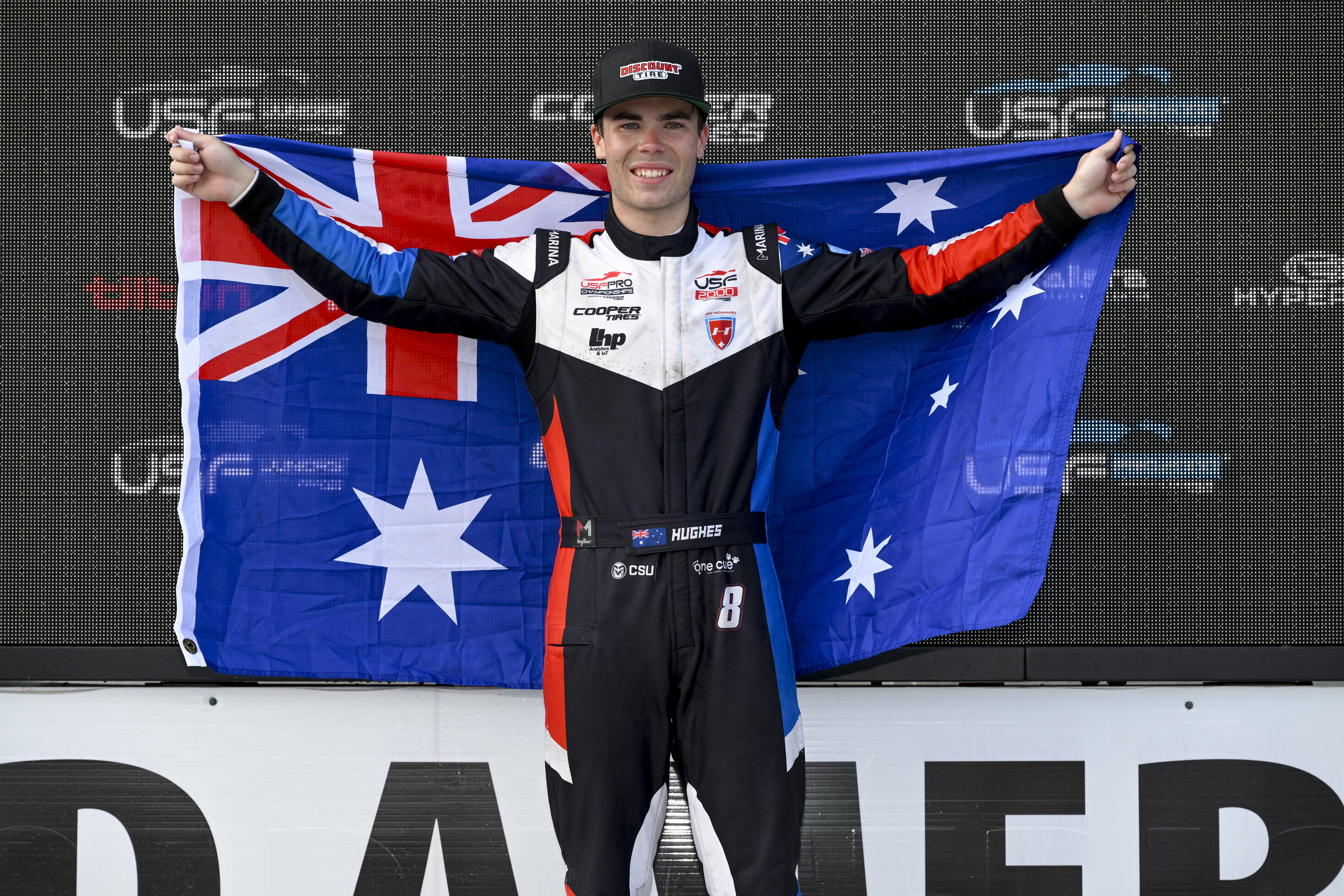 Impressive youngster Lochie Hughes – the reigning F4 United States champion from New Zealand – is leading the USF2000 championship with Simon Sikes in hot pursuit, while in the relatively new USF Juniors series Brazilian Nicolas Giaffone – son of early-2000s IndyCar race-winner Felipe – has won five of the eight races for DEForce Racing.
Outside of the Road to Indy, Kiwi Callum Hedge has won seven Formula Regional Americas races in a row to mark himself out as a future Linus Lundqvist, while Canadian Patrick Woods-Toth is leading the Formula 4 United States series.