"I'm the one gambling big time with this guy," team boss Ricardo Juncos tells The Race when discussing his new signing Agustin Canapino, the Argentinian who made his IndyCar debut last weekend with a brilliant 12th-place finish.
"When you analyse it, theoretically, I'm crazy. And then people said to me, reporters and team owners, even somebody from IndyCar said 'Ricardo, are you sure what you're going to be doing?'. Inside the team as well.
"Because a 33-year-old guy that has never raced go-karts or open-wheel cars in his life and now you put him in the most difficult and competitive motor racing class on the planet.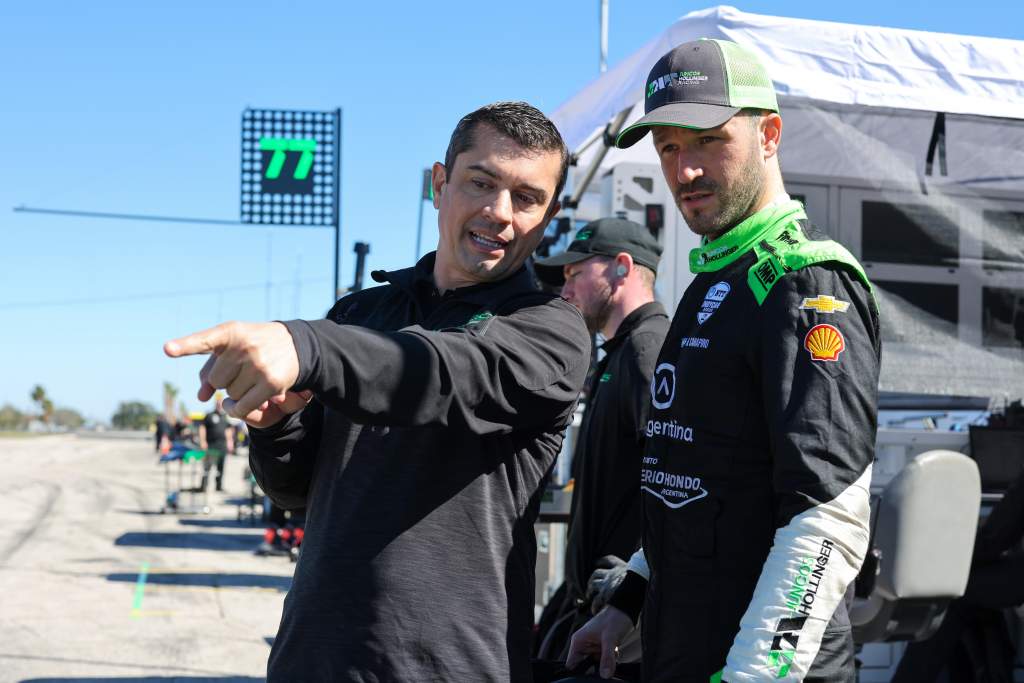 "It was a crazy move from the outside point of view. For me, it wasn't, but at the same time you get doubts, because I say, 'maybe I'm wrong, so many people say to me you shouldn't. Wow, what am I doing here?'"
Still, Juncos knew what Canapino was capable of. We'll get on to why later, but first let's tackle Canapino's weekend.
---
Canapino's IndyCar opener pace deficit
Practice 1 +0.7484s
Practice 2 +1.6284s
Qualifying +1.1296s in his group
Best race lap +0.7705s
---
He came in having had three months of English lessons, having not used the soft tyre in an IndyCar qualifying weekend, having not used carbon fibre brakes before, and having almost no open-wheel experience before either (beyond simracing and a one-off dalliance in the sole Argentinian round of the long-defunct F3 Sudamericana over a decade ago).
Traffic and red flags constantly interrupted his rhythm and progress through the St Petersburg weekend, but there were some standout times, a strong save at Turn 8 in practice two and a lovely race where he avoided race-ruining errors when even veterans around him were crashing in instances where they should have known better.
HUGE save by @AgustinCanapino. 👀#INDYCAR // # FirestoneGP pic.twitter.com/JRxKfiKh94

— NTT INDYCAR SERIES (@IndyCar) March 4, 2023
There's obviously room to improve in terms of his raw pace, but like Scott McLaughlin when he entered the series, the basics are all there.
"I am learning English, please talk slowly! Not too fast," Canapino says as we sit down to discuss his weekend.
"Honestly my goal is to finish the race. Physically this is a tough race, the car is very, very demanding, much more than I had in the past. Very fast without too many assists.
"So everything is new, so my first goal is to finish the race and to learn. It will be difficult to finish the race without mistakes.
"I'm improving step by step. My opponents are [Benjamin] Pedersen and [Sting Ray] Robb because [Marcus] Armstrong is in the Ganassi team and he was a driver in Formula 2. My reference is the rookies like me, and I am much more rookie than them, because they drove Indy Lights in the past. It's a big change and challenge for me this year."
Even before the St Petersburg weekend there were signs that Canapino was going to be just fine in IndyCar. Juncos reported that at the pre-season test at Thermal he set the fastest time in two mini-sectors, which also happened to be some of the fastest parts of the track.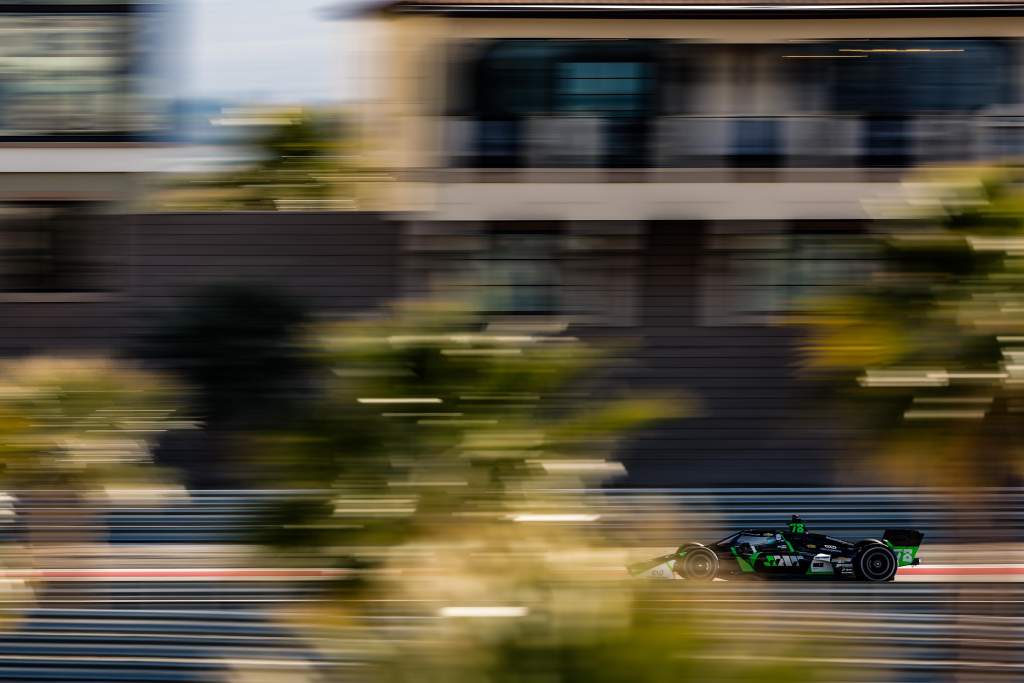 For Canapino, the slow corners are going to be where he gives up a lot of his time and there's very specific learning he needs to do in that area.
"It's the same here [being better at fast corners in St Pete as well], and the opposite of what I expected coming to IndyCar," he adds.
"I need to learn about the tyres, how I warm up the tyres, how to turn the car, maximise the braking because it's my first time with carbon fibre brakes.
"The biggest challenge for me now is understanding how to brake and what the car is doing when I brake, how it's moving for example, I have to learn how to adapt for the slower corners."
It might be quite tricky to work out exactly where Canapino is at, but he's not a million miles away from the pace and given his background, St Pete was extremely impressive.
Speaking of his background, he's been an absolute revelation in IndyCar in the context of his fans back home.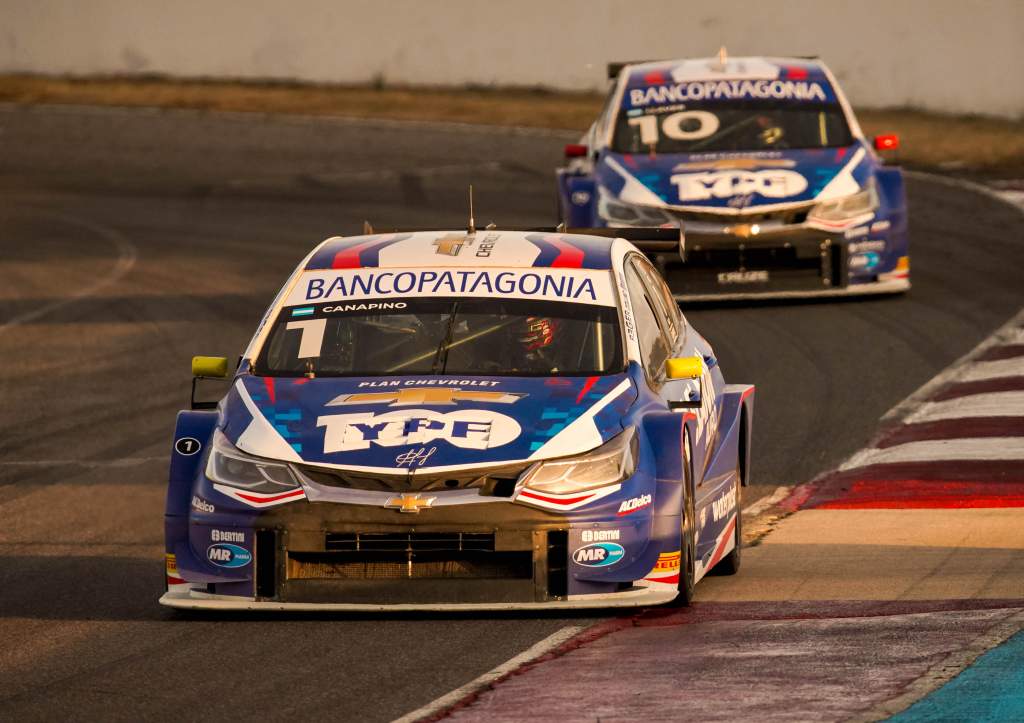 Argentinian motorsport fans are passionate and certainly not short in numbers. Canapino has over 100,000 Twitter followers and another 267,000 on Instagram – making him the fourth-highest-followed driver in IndyCar on the latter – while his old tin-top series Turismo Carretera (in which he has four titles, in addition to two in the above-pictured TC2000) has 472,000 on Instagram, 1000 more than IndyCar itself even if it trails IndyCar significantly on Twitter.
🎉@AGUSTINCANAPINO CAMPEÓN 2019🏆🏆🏆🏆#TCenNeuquen pic.twitter.com/8e3sJfqQAm

— Turismo Carretera ACTC (@actcargentina) December 1, 2019
The point is, there are a lot of racing fans in Argentina! And they are behind Canapino in a serious way.
"In Argentina, he's a God," says Canapino's friend Juan, who was part of Canapino's significant entourage in St Petersburg last weekend. Every social media post or livestream for IndyCar seems to be jumped on by the Argentinians and they can't get enough of their star.
I feel more like I'm grabbing a red carpet celebrity for an interview than an IndyCar driver in the paddock.
The president of IndyCar series owner Penske Entertainment, Mark Miles, says the series is looking at races outside of the US, and those numbers would get anyone excited about an opportunity.
There's a long way to go to make a race happen, but an Argentinian delegation visited the Indianapolis 500 last year and Canapino subsequently demonstrated an IndyCar in the country late last year – an event which drew 75,000 people.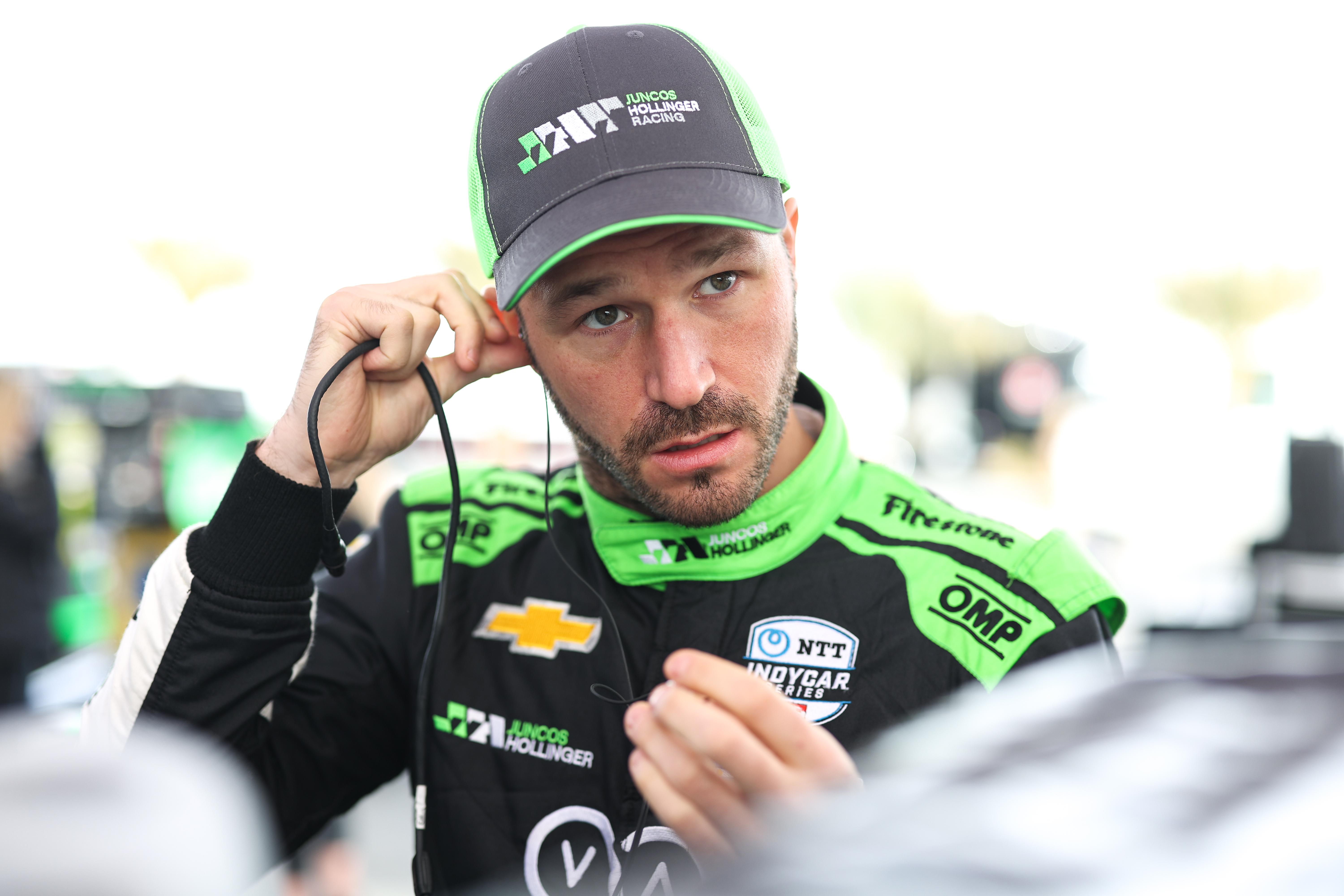 Canapino's strong start – with the apt 'Visit Argentina' sponsor emblazoned on his car and overalls – feels like an order rather than a request.
It's clear then that signing Canapino has turned out to be more than just the Argentinian team boss signing the Argentinian driver. He's showing the pace, and marketing and social elements meant Canapino was a slam dunk for this team on the commercial side, too.
Juncos really decided this was a partnership he wanted to chase back in 2019 when Canapino drove his Cadillac DPi.
"What I saw in 2019, when he raced for us in the DPi car and when he was for, I will say, seven hours in the Dallara simulator prior to the Daytona [24 Hours] race, the very first time I saw him trying the car and what I saw there, it was just something that is absolutely different and absolutely fantastic.
"A totally different level of driver that I've never seen in my life.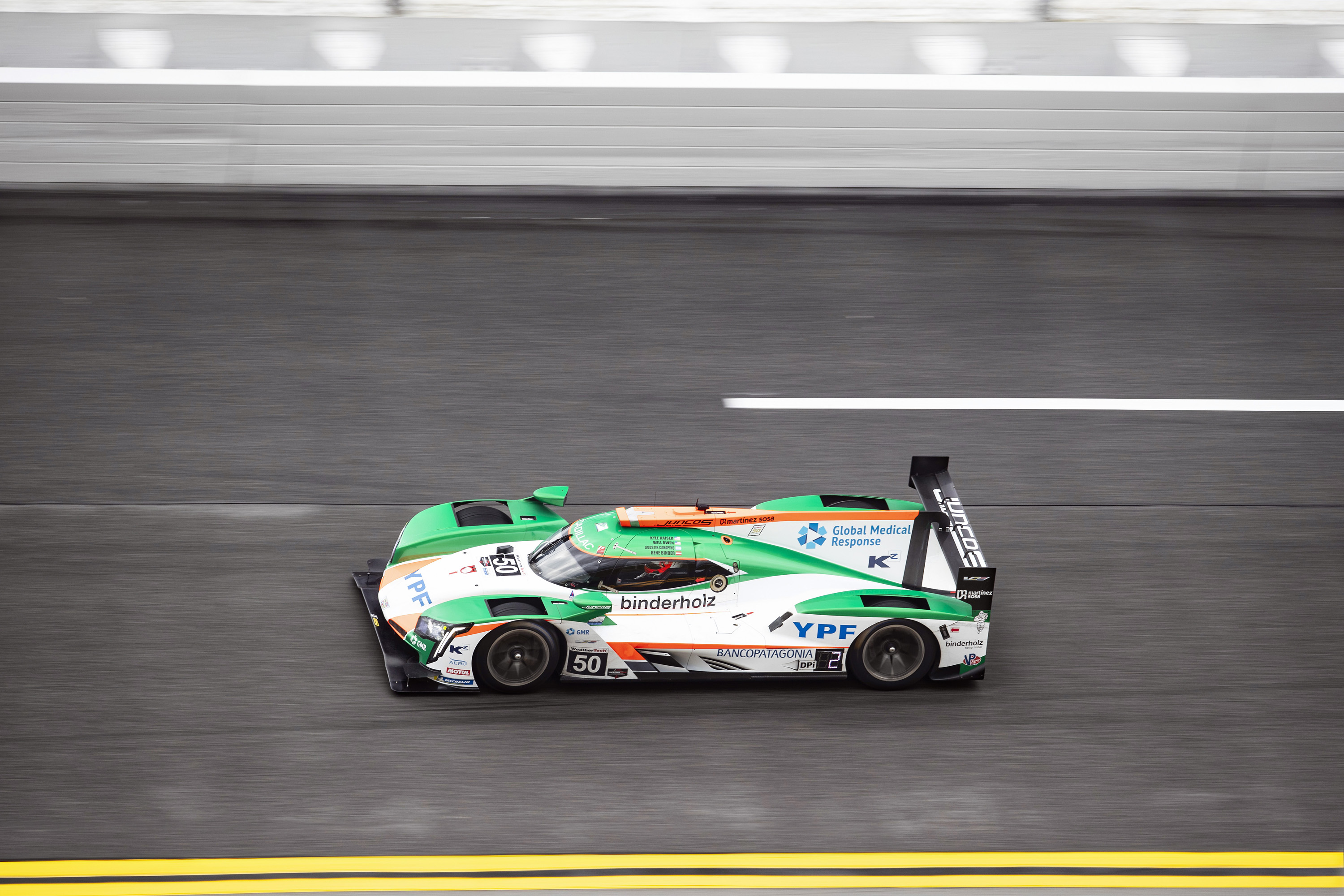 "On top of that, he set the record on the Dallara sim by over a second, even with the history of all the teams in Cadillac, with all the good drivers they have had, he was more than one second faster than anybody before ever, with the same set-ups.
"But when he jumped in the car, it was the fastest Cadillac overall and this is our first time as a team with the Cadillac on the track. We didn't even have a proper team, we put the team together really quickly. We had good people, but we don't even know how good or not the car can be.
"And here is our team catching [Fernando] Alonso [who ultimately won the race that year], passing him, both with the same new tyres. So when I saw that and the way he worked and all of this, I knew that he was special. Four years later, here we are."
Juncos admitted that the demonstration days in Argentina were critical to the deal because they opened up the chance of a test day at Sebring to prepare. Those watching from the outside may have been disappointed with Canapino's times at Sebring, but Juncos says a lot of that was because of some scrappiness on the team side.
How Canapino reacted to that adversity in that test probably impressed Juncos more than if he'd have just turned up and set good times.
Being able to show team co-owner Brad Hollinger the data from this test – combined with the sponsorship package opportunities the team had put together – Ricardo was able to convince everyone involved Canapino was the best option for it to sign.
And looking at how the rookie class performed at the weekend, only Armstrong was ahead and he races for the team that won the race, off the back of three years of F2.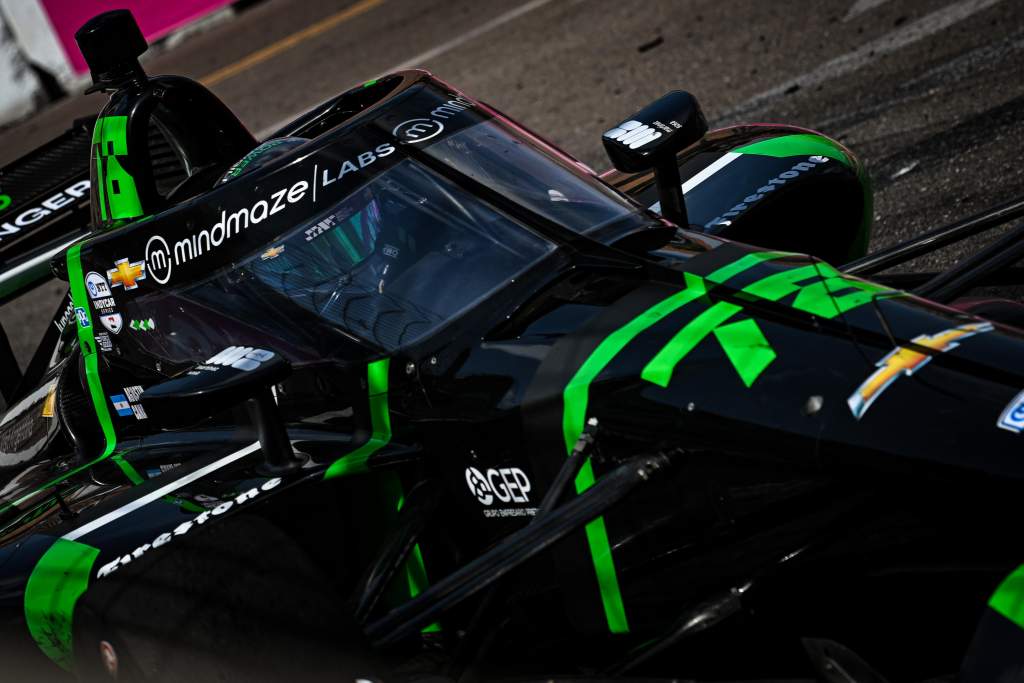 Take nothing away from Armstrong, but he's just not a realistic comparison for Canapino.
"When you see those little things, and the fact that the kid is speaking English now in three months, he couldn't say a word in English [before], I can see his mind and how much dedication he's put in, how quickly he learned anything," adds Juncos.
"I feel a little more relaxed now, more comfortable with my decision.
"Still anything can happen and this is too early and we don't want to go crazy with expectations.
"But [even at Thermal] he was flat out and he was the only one fastest on the two [fastest] sectors.
"Actually where he was the slowest was on the slow corners. He doesn't understand the tyre yet, to use maximum grip with the new tyres and how to treat the tyres before the peak, which is going to come with experience."
Once he does get up to speed, Canapino's team-mate Callum Ilott has shown what can be achieved at Juncos. Ilott went from 22nd in the race to fifth.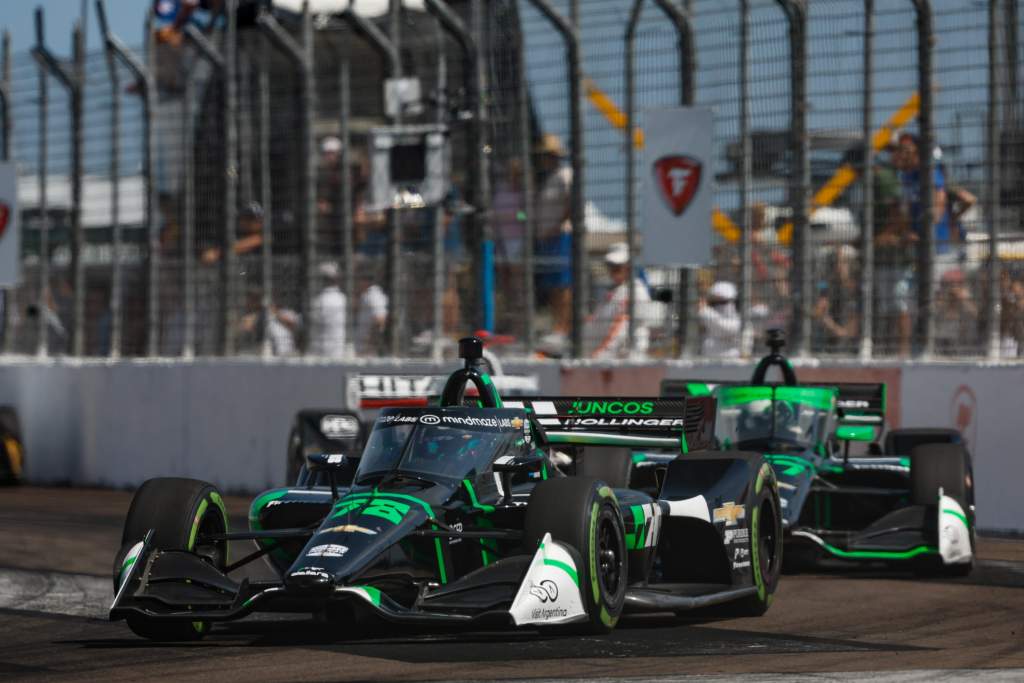 On a to-be-released-soon episode of The Race IndyCar Podcast, Ilott explained that qualifying is perhaps the team's weakest point at the moment but he feels Juncos is strong in races and can cause some big upsets.
There's also going to be some growing pains of becoming a two-car team in only its second full season of competition, but at least everyone in the team is learning at the same time as Canapino.
All the ingredients are there for Canapino to score some solid results this year, and given what everybody thought of his first test at Sebring and what that might mean, he's already proven those conclusions wrong and that he has the potential to be much more than just a novelty in IndyCar.