Whether it was spinning to start the race or carving past people with three-wide overtaking moves, there was not a single dull moment for Jimmie Johnson in Iowa.
The ex-NASCAR star had this weekend circled on his calendar for a while. He told The Race earlier this week that the "expectations go up" for oval races now he is settling into doing them for the first time this year.
Texas was his first IndyCar top-15, never mind top-10 in sixth, while he qualified 12th in the 500 and ran well there at times until a late-race crash took him out.
While he struggles to break into the top 20 on the road and street course IndyCar races, ovals are where he can show flashes of the #48 of old.
Most distinctive in this race was a high line he was using. It wasn't a cheat code – it didn't always work – but it allowed him to get some big runs on track that led to huge overtaking moves and big momentum.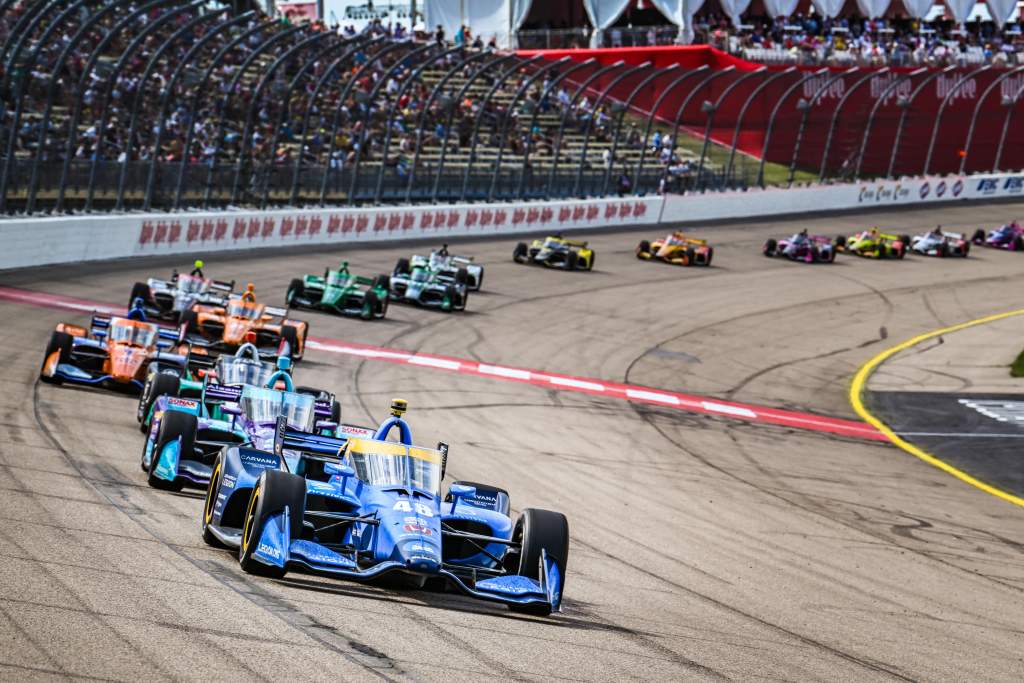 "Jimmie kind of had his own line, he had like lane three or four," laughed Johnson's team-mate Scott Dixon to Peacock TV after the race.
"He did an amazing job today and he was really fun to watch because he was trying stuff which, maybe I need to do a bit more of that."
When your six-time champion team-mate says he needs to take note, there's not many bigger compliments in the series.
"I think he's doing a phenomenal job in the ovals," added Pato O'Ward, who finished second in race one at Iowa.
"In Texas, where I had my issues, I got to follow him for a bit. I thought it was really, really cool to see him explore in areas where no one else was exploring. He was making the car work in areas where no one else was. I think that's why he was so strong.
"I think that NASCAR experience paid off in how those guys are just continuing to explore and see where the grip is. For us, I guess sometimes if you go off of what you know, it can be a big price to pay.
"But, yeah, it was really cool to see that he was kind of thinking outside the box versus everybody else. Yeah, I think he's just going to keep getting better and better."
Johnson had a relatively uneventful start to the race and ran 13th on lap 16 when he spun getting too low through Turns 3 and 4.
While some of his innovating on lines through corners come from the freedom of using his NASCAR experience and not getting too caught up in what is entrenched by IndyCar experience, his lack of knowledge of an IndyCar at Iowa probably contributed to the spin.
"If you think of tracks like Atlanta or Richmond in the Cup cars, probably Kevin Harvick was one of the first ones to expose [that] if you drive on the painted line, it will help turn the car and create some grip," said Johnson after the race.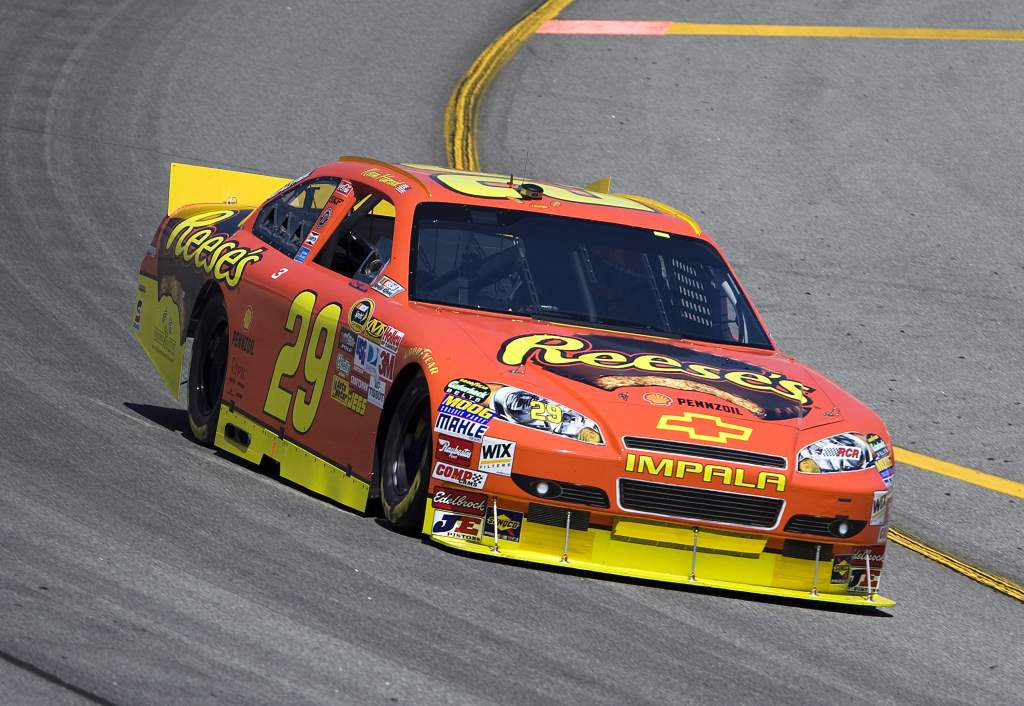 "I just tried it and it didn't work.
"I was running lower and lower in three and four. It was working well.
"I thought, 'let me just put the left sides on the painted lines'. I was backward instantly. It was just a mistake on my behalf."
Full course yellow is out for this spin (and no contact!) by @jimmiejohnson.

WATCH LIVE: @NBC and @PeacockTV#INDYCAR // #HyVeeDeals250 pic.twitter.com/HPT3LrNpmC

— NTT INDYCAR SERIES (@IndyCar) July 23, 2022
What that mistake did was free up some of the drivers further back – including Johnson himself – to pit and take advantage of fresh tyres while the leader stayed out.
By the time leader Newgarden took his first proper pitstop, Johnson had worked himself up from 22nd on the restart to fourth such was the power of the fresh tyres, and that allowed him to run in the top 10 for the remainder of the race.
Even as late as lap 231 of 250 Johnson was fighting for fifth which would have been his best finish, but like for two of his other Ganassi team-mates his right rear tyre wore down over the exceptionally long final stint.
.@jimmiejohnson has made his way up to 5th after spinning at the beginning of the race 👀

WATCH LIVE: @NBC and @PeacockTV#INDYCAR // @INDYCARatIowa pic.twitter.com/LCu9Em8sVs

— NTT INDYCAR SERIES (@IndyCar) July 23, 2022
He was passed by rookie Christian Lundgaard on the final lap, but 11th still constitutes a big points day for a driver who will only get one more opportunity to make use of his oval racing gifts, at Gateway next month.
Asked by The Race if the performance came from being freed up from the repetition of needing to follow a certain racing line on a road and street course and now on an oval he could experiment, Johnson replied: "Just instinctively I was able to be myself in the car and stop thinking so much about everything that I do.
"Thank God there weren't any braking zones for me to get beat in on this oval.
"It was really just about carrying momentum, carrying lines, understanding where a line would be overused, run off and lose grip, find a new line.
"I was just able to be myself. It was really a lot of fun."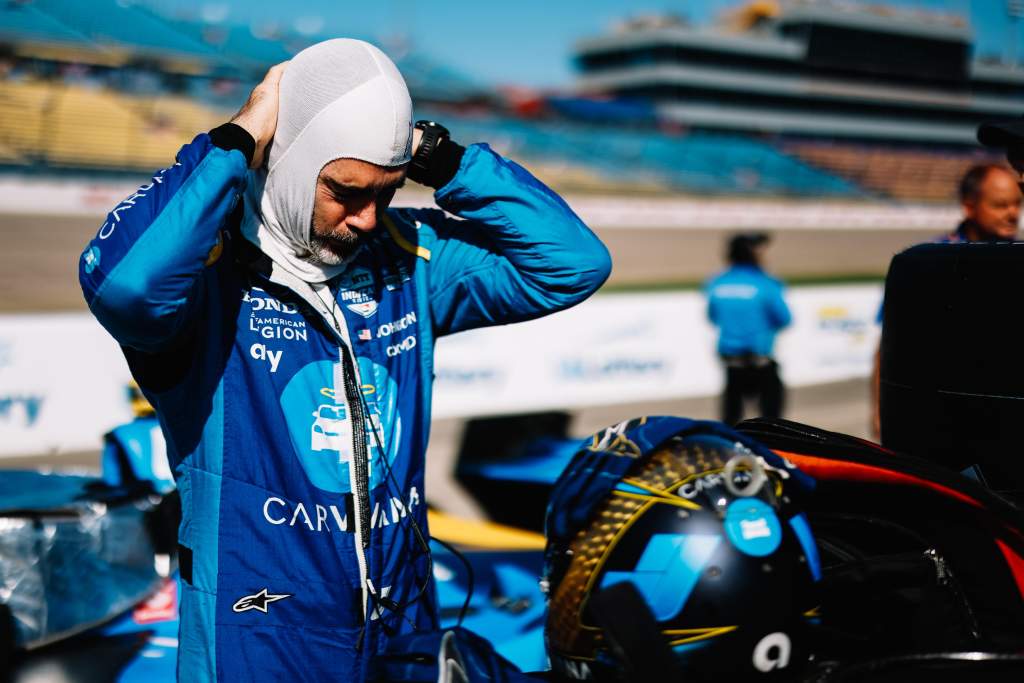 "Be myself" is something we all want to see from Johnson because, as Iowa proves, he brings something even a six-time champion and one of the series most impressive rising stars can't, the ingenuity of someone approaching an IndyCar oval with so much relative and applicable experience as Johnson has.
While he can't "shortcut the learning process" on the road and street circuits, he's got a cheat sheet for the ovals that we only wish could come out more often on the IndyCar calendar.
Johnson starts race two from 13th and the whole Ganassi squad is armed with some crucial knowledge following a tough but valuable day.