Reigning IndyCar rookie of the year Felix Rosenqvist says he "can't blame others" after crashing out of the Texas IndyCar season-opener while challenging for victory.
Rosenqvist – who cited ovals as his area to improve on as he posted an average finish of 17.4 last year – was on course to win throughout the race.
While his Chip Ganassi Racing team-mate Scott Dixon led most of the race, Rosenqvist came on strong in the final 100 laps, able to erase Dixon's lead as the latter twice spent long spells unable to pass back-marker traffic.
But after what should have been the last round of pitstops, Rosenqvist tried to go around the outside of James Hinchcliffe on much older tyres, and Rosenqvist got out of the racing groove, lost grip and crashed into the wall.
"I can't blame others for whatever situation I have," Rosenqvist told NBC.
"Obviously, we came out on new tyres, and I don't know if James [Hinchcliffe] was on really old tires there.
"It's my judgment. I went for the outside, and I probably shouldn't have done it. It's one of those things where you sit there and you're going like 40 mph slower than you want to go behind another car.
"It's kind of tempting to just move up one lane, but it was so slippery.
"I just feel very sorry for my guys. Our NTT DATA car was just unbelievable tonight.
"It was really my breakthrough on ovals, I think, and I had a really good shot there and I threw it away.
"So really disappointed."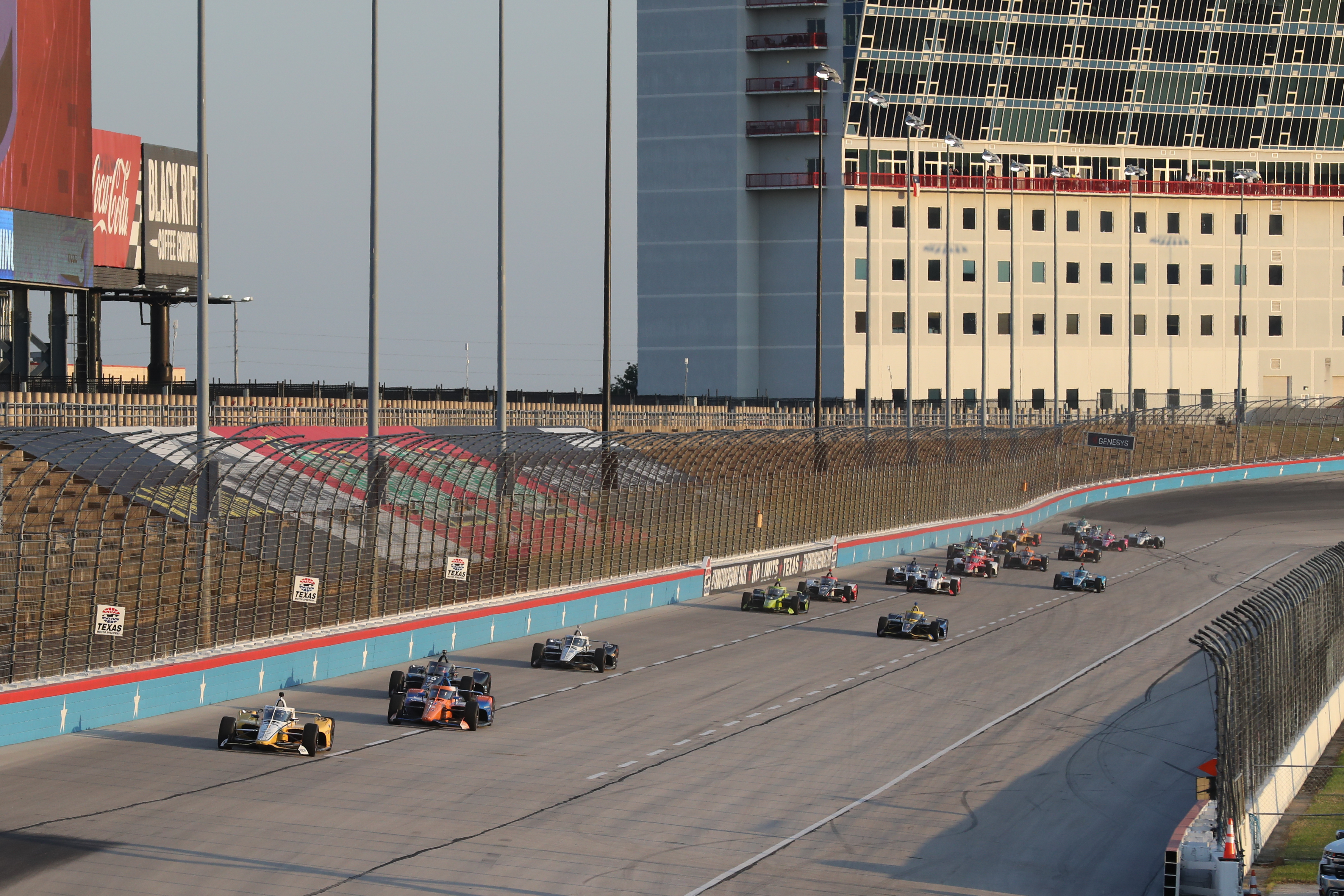 Dixon went on to win the race, but Rosenqvist's pace did not go unnoticed to the five-time series champion.
The pair clashed while fighting for victory at Mid-Ohio last year, with Dixon coming out on top.
When asked if he had been worried by Rosenqvist's form, Dixon said: "I knew the cars were very similar. I knew he was going to be tough.
"I know Felix has been kind of sneaking up on the ovals a little bit more than the road courses and things like that, street courses, where he just naturally feels a lot more comfortable.
"But I knew these days would come where he's going to be knocking on the door pretty hard.
"I feel bad for him. I don't know exactly what happened there. I think he tried to pass around the outside, got caught up, got high, washed out into the wall.
"It's a big NTT race for us here. I am sure they loved seeing the show he was putting on. He's a great kid, a huge talent, is going to go a long way. Occasionally these things happen."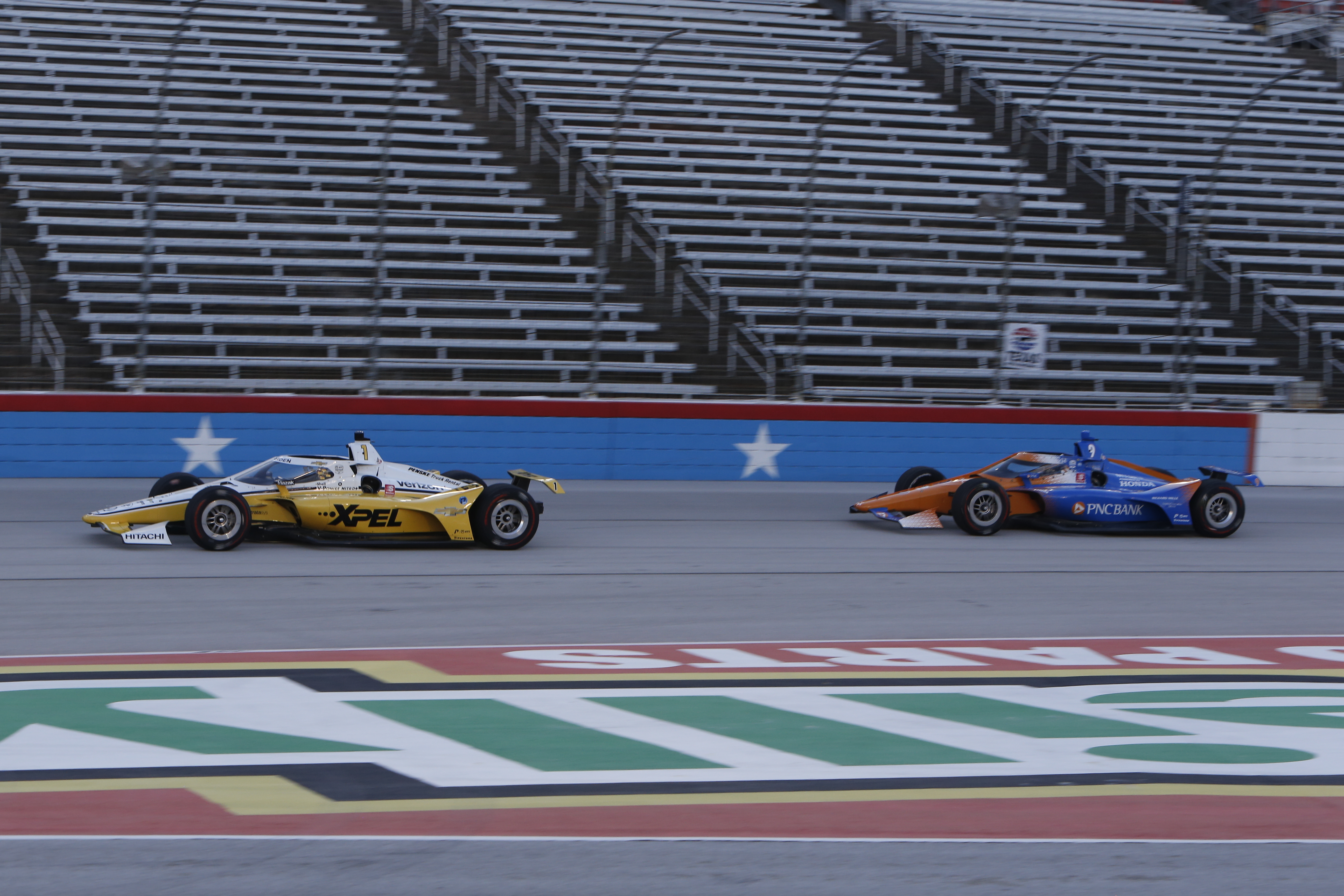 Newgarden had to 'swallow pride' in Dixon defeat
Reigning IndyCar champion and Texas polesitter Josef Newgarden said his third-place felt like "a victory" after he struggled with car set-up one year on from winning the race.
Despite leading just over the first 30 laps, Newgarden struggled with his set-up throughout the race, suffering from vibration on the right-rear tyre.
"I mean, honestly tonight feels like a victory to me," said the Team Penske driver.
"We were not very good.
"Congrats to Scott. They were amazing tonight. I mean, they were just a cut above. They are very deserving winners.
"Honestly, we did everything we could to fight to stay up front.
"Early on I was doing everything I could to keep Scott behind. He was way quicker.
"Once I got a little deeper into the pack, it was even harder to hang onto that front area.
"It was a tough night.
"I think we had good speed in the car. Team Chevy did a great job for us.
"We just did not have a perfect handle on what we needed over a full stint.
"We'll be working hard to come back and make sure we understand why that was.
"We'll be hunting for a win soon. It was a good night to finish third. Great to have XPEL on as a new partner. We want more than that.
"We want to come into the next race and try to fight for the victory."
The next IndyCar round is set to take place without fans on the Indianapolis road course on July 4.