In an era where drivers are reaching the elite level younger and younger, two over 40-year-olds fought it out for one of the biggest prizes in motorsport on Sunday: the Indianapolis 500.
While fans weren't allowed to attend and the event was pushed back to August for the first time, it was at least nice to have some semblance of normality in the previous Indy winners up front as Chip Ganassi Racing's five-time champion Scott Dixon and Rahal Letterman Lanigan's ex-Formula 1 driver Takuma Sato duked it out.
It's been a long journey for both.
Sato remembers going to Suzuka for the Japanese Grand Prix when he was 10 years old, but his family didn't have the budget for motorsport and he was 20 before he earned a scholarship that put him on a path to F1.
It's taken Sato time to find his feet in the States since arriving in 2010. However, Indy is always a place that has come so naturally to him. At just his third attempt in 2012, he pulled off a bold pass on Dixon in the closing stages, and then crashed trying to do the same thing to Dario Franchitti on the last lap at Turn 1 for the win. Typical Sato, felt most who'd followed his career.
After four years with AJ Foyt's team, Sato made the switch to Andretti Autosport in 2017 and took his first Indy 500 crown. His aggressive nature and unwillingness to yield in wheel-to-wheel combat has led to crashes and harsh words from competitors, but most of the American fans have been taken by his story, his determination and his relentlessness that always provide fireworks on track.
Dixon couldn't be much more opposite to Sato in this respect. You'd struggle to find a driver with a bad word to say about him and despite being a five-time IndyCar champion – he hasn't left a trail of pissed off drivers in his wake. He's so nice, it may well have hurt his popularity over the years!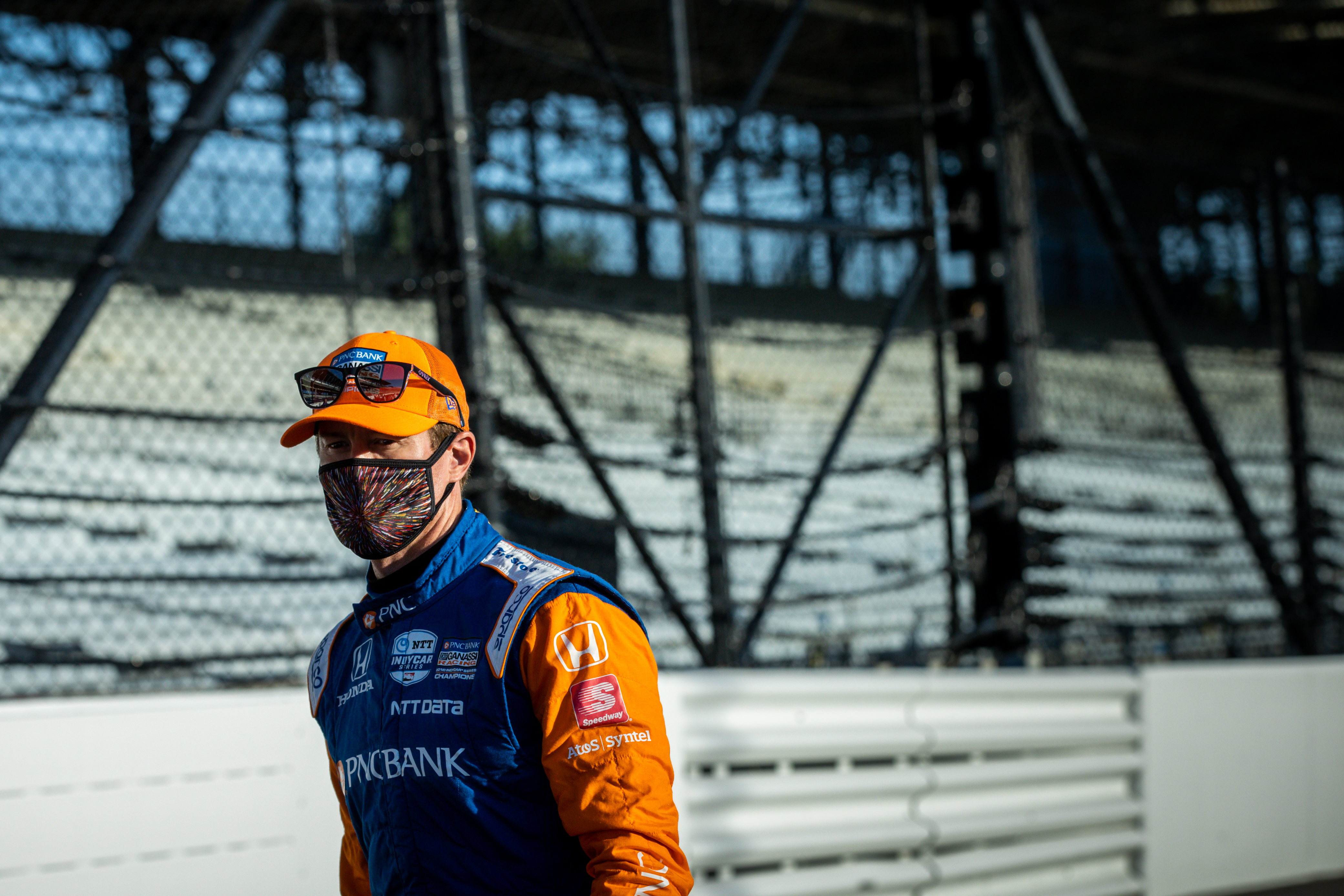 While Sato's career started late, Dixon was already a four-time champion in New Zealand's domestic single-seater when he arrived in the States as an 18-year-old at the start of 1999 to race for ex-F1 driver Stefan Johansson – still his manager – in Indy Lights. By 2001 he was in CART IndyCar and winning in only his third race, two years later he was IRL IndyCar champion with Ganassi.
Five times a series champion but only once an Indy 500 winner, Dixon looked like 2020 would be his year. He qualified second having had a wonderful race car in practice, and immediately moved to the front of the field.
The only time Dixon didn't lead in the first three quarters of the 2020 race was when he was off-sync with another strategy or he needed to save fuel and allowed his opponents to pass so he could slipstream them.
The aeroscreen device has added safety in 2020, but it has also given the car an excessive amount of drag compared to previously, which makes leading a bigger disadvantage for saving fuel as the leader has to push harder to keep up the pace while those behind sit in the draft.
"I probably should have been a little more aggressive on that high side there. I think he would have just run me up anyway, which maybe would have put both of us in the fence, or maybe just me…" :: Scott Dixon
As usual, the varying strategies in the first half of the race made it difficult to know how things would play out. On lap five, James Davison's front-right wheel exploded (pictured below) – something I have never seen happen before – which led to a number of drivers including pre-race favourite and 2019 winner Simon Pagenaud to the pits.
Pagenaud had started 25th, but it was widely believed from practice that he had the best race car and that a number of Chevrolet-powered cars including Pagenaud, Will Power and Fernando Alonso – now on that alternate strategy but who later developed a clutch problem – would be able to move forward at will.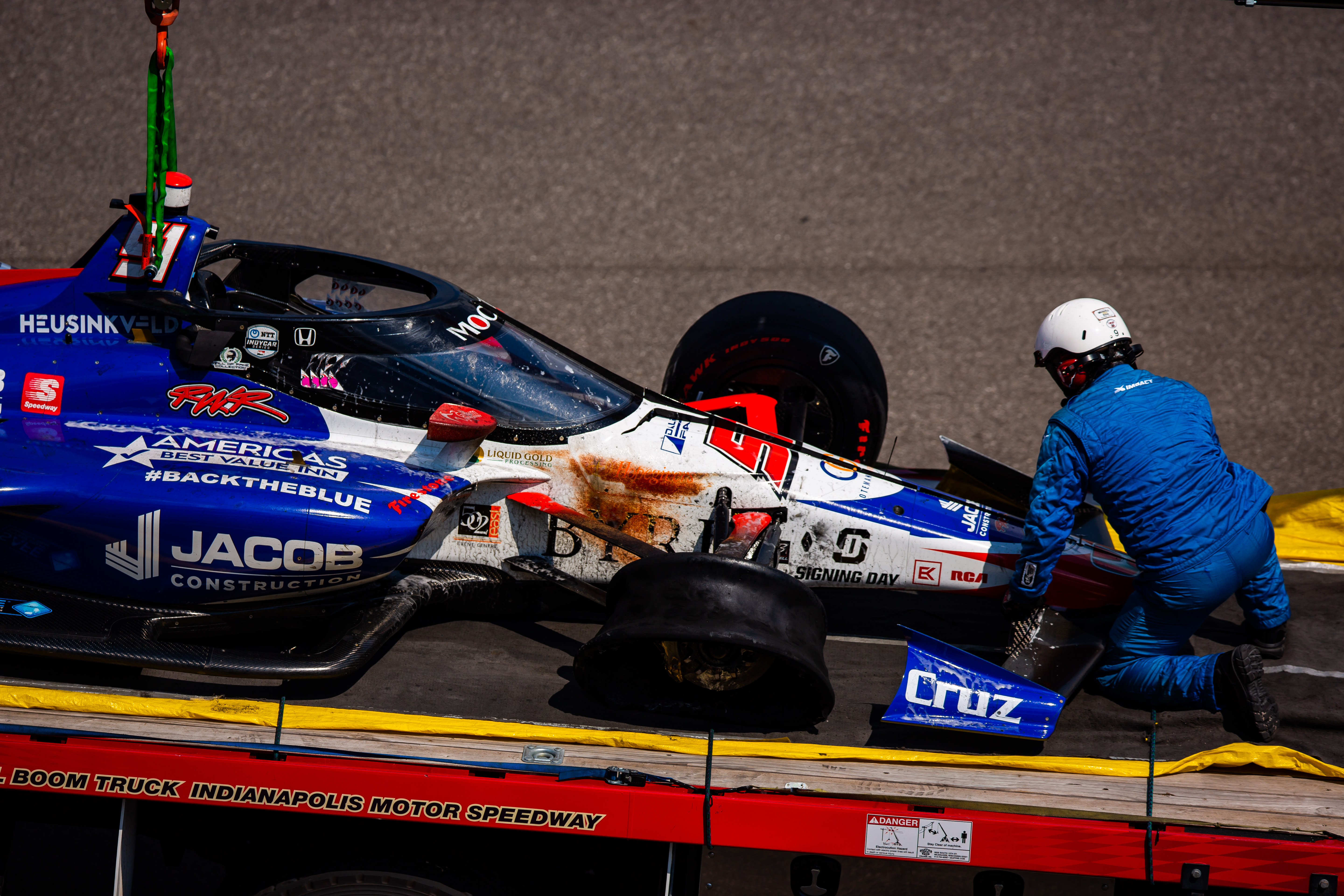 Unfortunately for them, that wasn't the case and the cautions also fell against the alternate strategy drivers. Pagenaud, Power and Alonso's rookie Arrow McLaren SP team-mate Oliver Askew all led that group but even before halfway yellows made it clear they were not going to challenge.
The lead group and almost everyone else pitted under the lap 124 caution for Alex Palou's crash at Turn 1, which set up a one-stop race to the finish.
Sato pitted on lap 168 with Penske's Josef Newgarden in tow, while Dixon stopped a lap later in a bid to be ultra-safe on fuel. A slightly slow stop was negated by excellent in and out laps for Dixon and he jumped ahead of Sato, who had taken the lead just before the stops.
There was still a little bit of fuel conservation to be done, and on lap 185 Sato took the lead without too much trouble and edged ahead. It seemed he was pushing harder than the other frontrunners and Dixon and Sato's team-mate Graham Rahal were confused at his pace – certain he was going to run short of gas.
"When we ran the first couple laps after the last restart, we couldn't get the fuel mileage we needed to finish the race," said Dixon. "We went to a leaner mixture, just kind of sat there. We didn't think they [Sato and team] were going to make it on fuel.
"Seemed like there was a hesitation maybe about 15 to go or 12 to go where I got beside him on the straight. It's like they started to go to a lean mixture, then they decided it was just too slow, so they kind of went back at it.
"I probably should have been a little more aggressive on that high side there [trying to overtake]. I think he would have just run me up anyway, which maybe would have put both of us in the fence, or maybe just me…"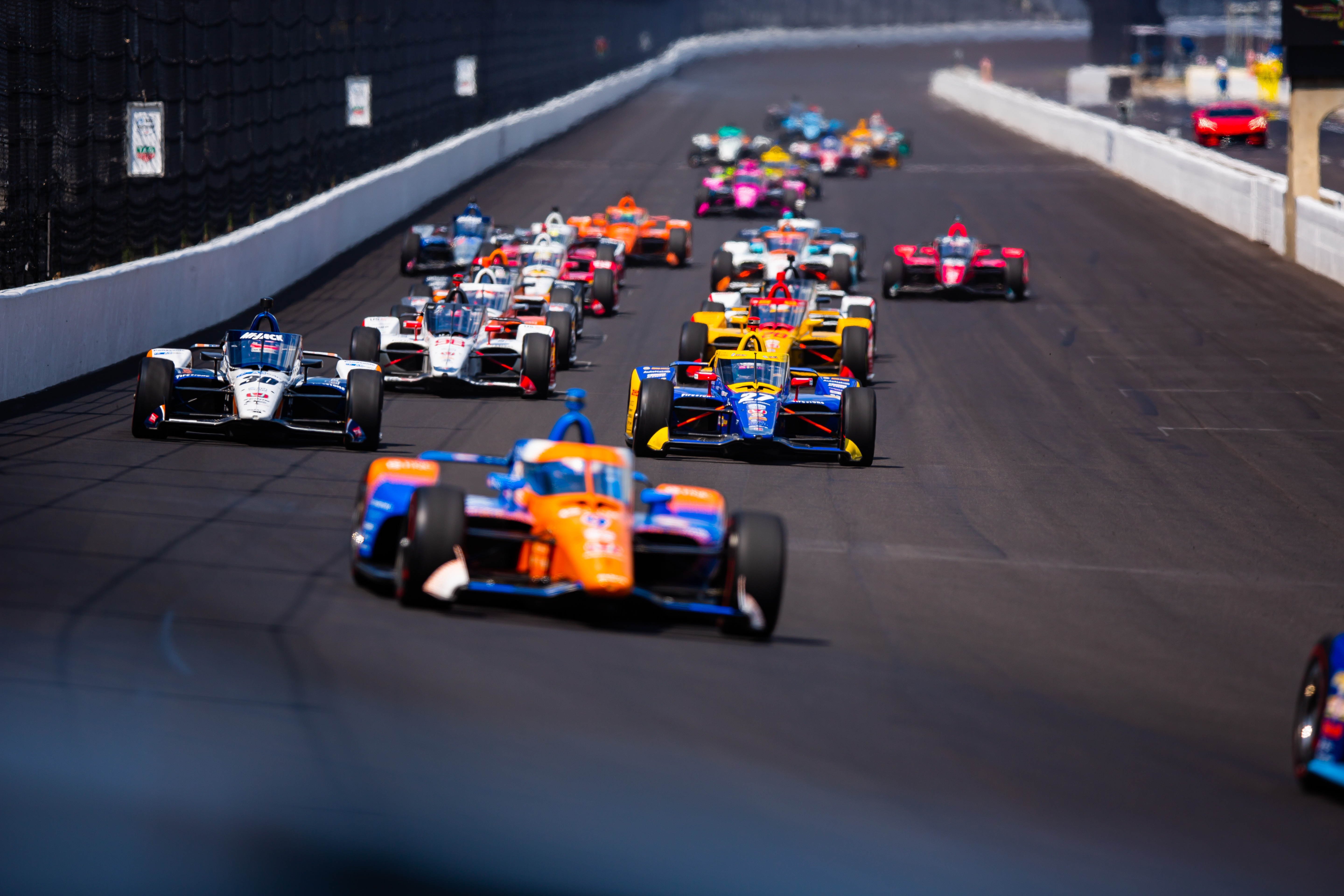 Ultimately Sato cut Dixon off and Dixon backed out of the move, which was wise as there was no way to make that stick around the outside of Turn 1. At this point Dixon reckoned Sato would run out of fuel anyway given him cranking the wick up, and settled in.
In the car – like his rivals – Sato was experimenting with the fuel mixture in a bid to maintain speed and he admits he did change his fuel mixture when Dixon closed in to attempt a pass.
"I knew towards the end of the stint I had very good speed," said Sato. "However, after the restart, when I got the lead, I got a voice from the pit basically saying I was using too much fuel. I had to back off with a leaner mixture, which you can see – immediately Scott caught me and tried to give it a go.
"At that point I had to switch back to the maximum power. When he was three cars, four car lengths behind, I went with the leaner mixture.
It was the first time the race ended under caution since 2013, and it not only robbed Dixon of a shot at the win but the closing Graham Rahal and Santino Ferrucci too
"We were close. Even without it, I was hitting a number. If you scan my radio, we were on the number. Even if it stayed green, I think we would be OK."
Ultimately being aggressive was a gamble worth taking for Sato. He had to as he knew lapped traffic ahead would slow him down. He managed not to lose too much ground to Dixon and put a car between them, which gave him breathing room.
With five laps to go, Sato's Rahal Letterman Lanigan team-mate Spencer Pigot (although Pigot drives for Citrone Buhl Autosport, it's run by RLL) crashed in a horrifying incident. He lost the rear at Turn 4 and crashed heavily into the end of the pitfall. He was later released from hospital without serious injury.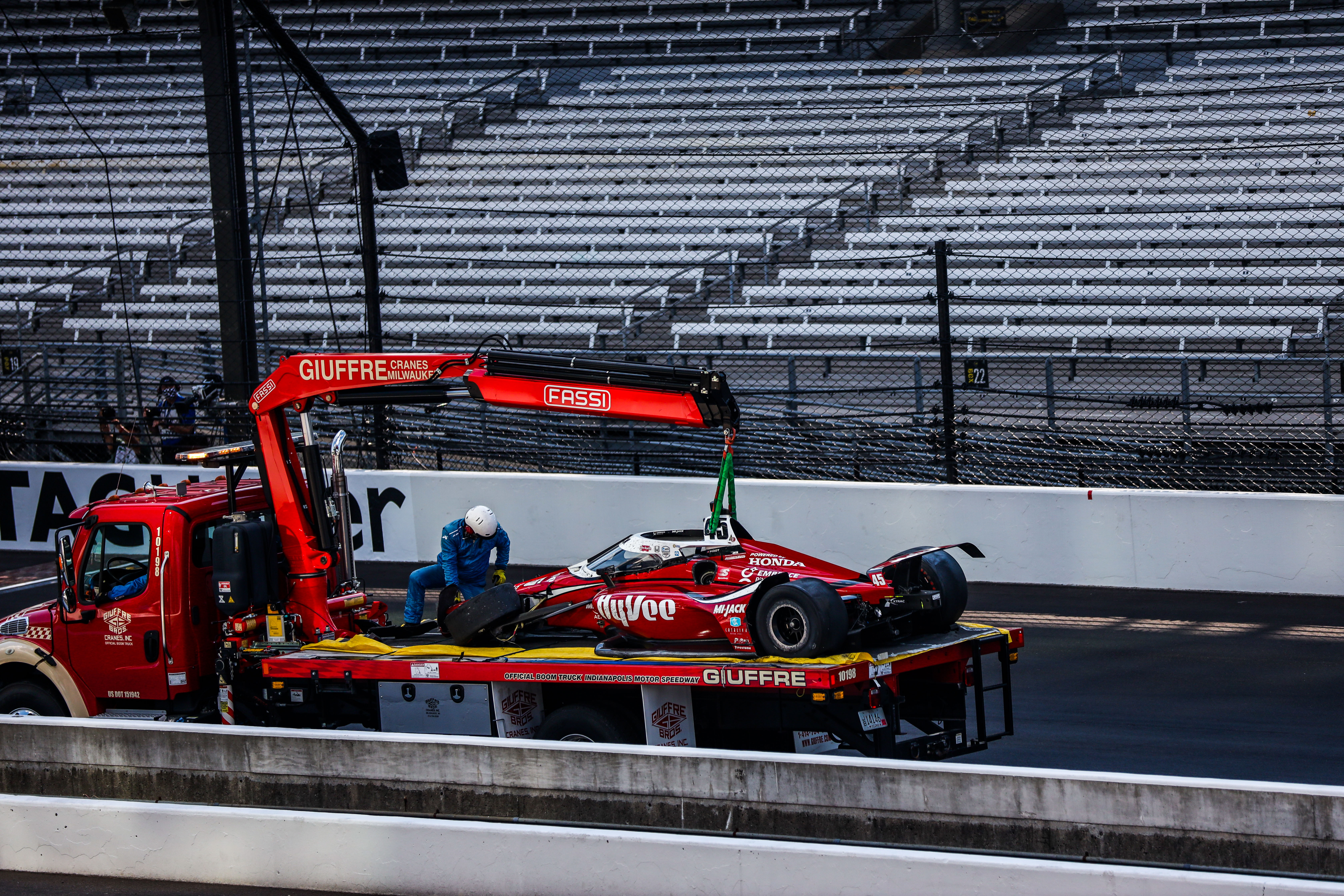 At that point, any concern over fuel was over for Sato and it was consigned to a debate for after the race, but his decision to take the risk and go full beans paid off.
Many criticised the decision not to red flag the race in order to set-up a three-lap shootout to the finish. But the Indy 500 is seldom red-flagged, and an IndyCar statement said: "IndyCar makes every effort to end races under green, but in this case following the assessment of the incident, there were too few laps remaining to gather the field behind the pace car, issue a red flag and then restart for a green-flag finish."
Obviously it hurt Dixon most, and when asked by The Race if he was upset about the decision, he said: "I definitely thought with five to go, they were going to immediately [red flag it] because 1) the size of the crash, and 2) where it was, it wasn't going to be a quick clean-up. I was kind of surprised they didn't.
"For us, it would have been really good because I think the leader would have been a sitting duck. That's kind of harsh on Sato. If they got out there and had a dash with three laps to go, I think all is fair in a situation like that.
"I can't change that. It is what it is. I think it would have been interesting to see how that played out. It would have been much better for us rather than Sato."
It was the first time the race ended under caution since 2013, and it not only robbed Dixon of a shot at the win but the closing Graham Rahal and Santino Ferrucci. Both had jumped Newgarden on track following the last stop and used the lapped traffic to close in.
Ultimately passing was so difficult that they may well have finished in that order anyway, but we'll never know.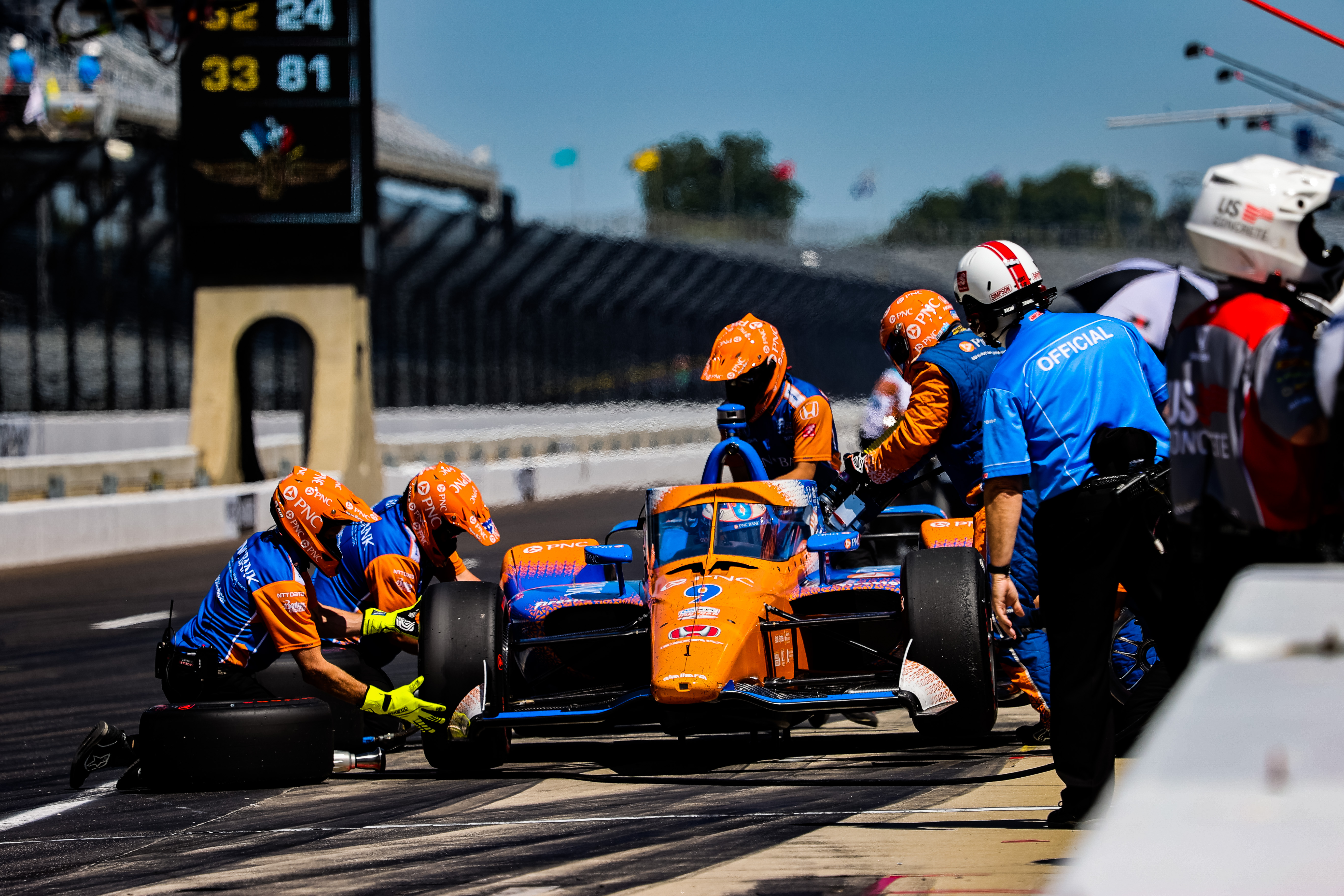 In hindsight, the race came down to a decision by Dixon. He felt Sato would run out of fuel and therefore went conservative with his decision-making, while the late caution obviously played into Sato's aggressive hands.
It's Sato's third top-three finish in the last four Indy 500s. His team boss, three-time IndyCar champion and 1986 Indy 500 winner Bobby Rahal remembers watching Sato in British F3 while part of the Jaguar Formula 1 team, and attempted to explain why Sato is so good at Indy.
"The guy deserves to be highly respected for his abilities, particularly on the ovals," said Rahal. "I think a place like Indianapolis kind of suits his skills because he's very smooth, obviously he's quite brave. He really has a good feel. I think that really works well at a place like Indy.
"The guy has unbelievable work ethic. He's very serious about what he's doing. He has a lot of sponsors. Sometimes I wish he didn't travel as much as he did because he's got so many sponsors and partners he needs to work with and take care of."
What's clear is that Honda's huge qualifying advantage paid dividends. Nine of the top 13 finishers were Honda-powered cars
Ultimately you don't know which Sato is going to turn up at any other race of the year. He entered the Indy 500 16th in the standings and every year it feels like his championship position is skewed by double points at Indy. However, this race is bigger than the IndyCar championship for some. And it's not as simple as to say that it's down to bravery.
Yes, Sato is fearless. But in Sunday's race he had to make huge decisions in a split second, working with the fuel mixtures corner by corner as well as the weight-jacker and anti-roll bars to improve handling. He experimented out front, and in traffic early on to get an idea of what adjustments his car would need at the last pitstop, and every lap he was watching flags to see the wind direction to process how that would affect his car.
You can't put success at Indy down to one thing like fearlessness, it's a number of factors that all come together, but there's no doubt his vast experience is really helping each year.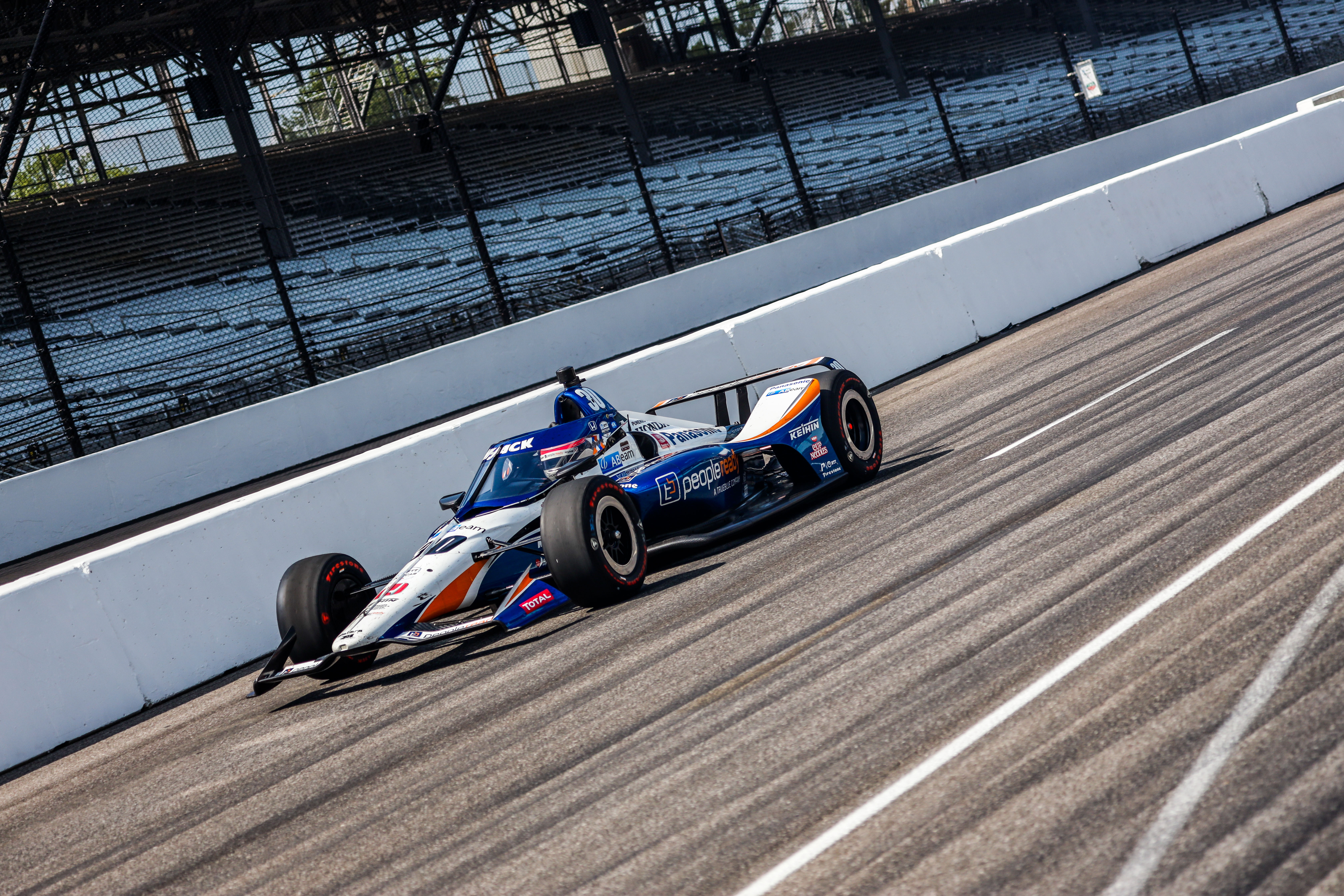 For Dixon, it's another blow to lose a 500 he led more than half of. He does have a nearly 100 point lead in the championship and looks well on his way to a sixth title, but Indy has rarely looked kindly on him. He now has the third-highest tally of laps led in the event's history, yet just that one win.
Asked by The Race how Dixon and his team – having barely put a foot wrong and lost a race they dominated – bounce back and remain resilient, he said: "I think finishing second like this helps you big-time! Makes you pretty angry. You definitely want some redemption.
"I think everybody did a fantastic job. Maybe I could have changed some of the things I did at the end of the race. But it's easy to second-guess yourself, also second-guess the situation.
"Ultimately they did a fantastic job. It's a bit funky like this sometimes. You can't rely on being strong all day. You can't rely on past races or anything like that. It is what it is. It's definitely tough when you come up short in a situation like that.
"That's just what it is."
What's clear is that Honda's huge qualifying advantage paid dividends. Nine of the top 13 finishers were Honda-powered cars, with Newgarden and ace rookie Pato O'Ward fifth and sixth from 13th and 15th on the grid respectively as the top Chevrolet-propelled cars. It was a good strategy and pitstops that got them there as opposed to brilliant power when overtaking.
Honda hasn't won for the last two years, struggling since Sato's previous triumph in 2017.
"It's no secret there have been times in the last several years, especially come qualifying, that the brand X [Chevrolet] has kind of had the upper hand in qualifying, maybe not so much in the race but in qualifying," said Bobby Rahal.
"This year that was 180 degrees.
"I'm really pleased with the job that Honda has done all year. It's not just here, it was Elkhart Lake, Indy GP earlier in the year, Texas. They've really been on top of it. Very, very pleased."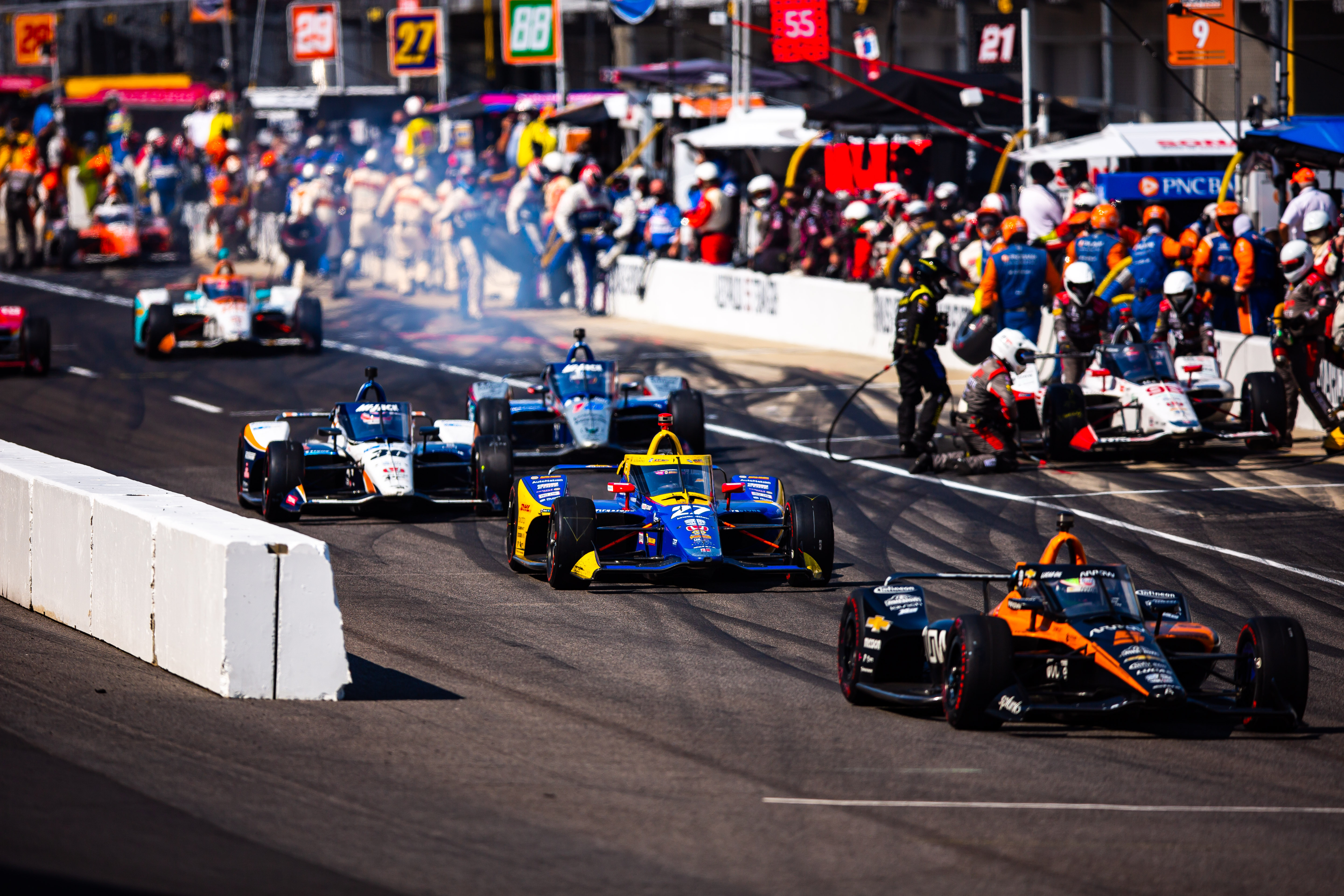 The only other driver who really factored in the fight for victory was Alexander Rossi, but he was sent to the back of the pack for an unsafe release when he hit the side of Sato's car – obviously not damaging it too much.
Mired in the back of the pack, Rossi crashed at Turn 2 shortly after on lap 144 in what was a perfect cross-section of his season. Having finished second and third in the championship the last two years he's currently 14th, and a run of never finishing outside the top seven in the Indy 500 is over. Mistakes and technical issues have slowed him down this season, especially as Dixon is delivering phenomenal consistency.
In fact, Rossi's team Andretti Autosport had a day to forget. Polesitter Marco Andretti struggled on restarts and fell to 13th, while James Hinchcliffe was its best finisher in seventh after failing to select a gear at a pitstop ruled him out of that lead fight. Ryan Hunter-Reay was racey early but strategy went against him and he finished 10th.
If you're a Dixon fan you're heartbroken and if you're a Sato fan you're jubilant
Aside from Andretti's qualifying dominance, the aerodynamic effect of the aeroscreen was the other big pre-race talking point. The teams used the practices effectively to develop set-ups that adapted to the added weight of the device at the front of the car and high-up, which also altered tyre wear but that wasn't even a factor.
In fact, it wasn't really any more difficult to overtake than it has been in previous years. While many are right to point to the brilliant racing IndyCar has on road and street circuits thanks to its spec-chassis and difficult-to-drive cars, dirty air is a big issue on ovals.
The aeroscreen hasn't changed that while adding to safety, so it certainly can't be blamed.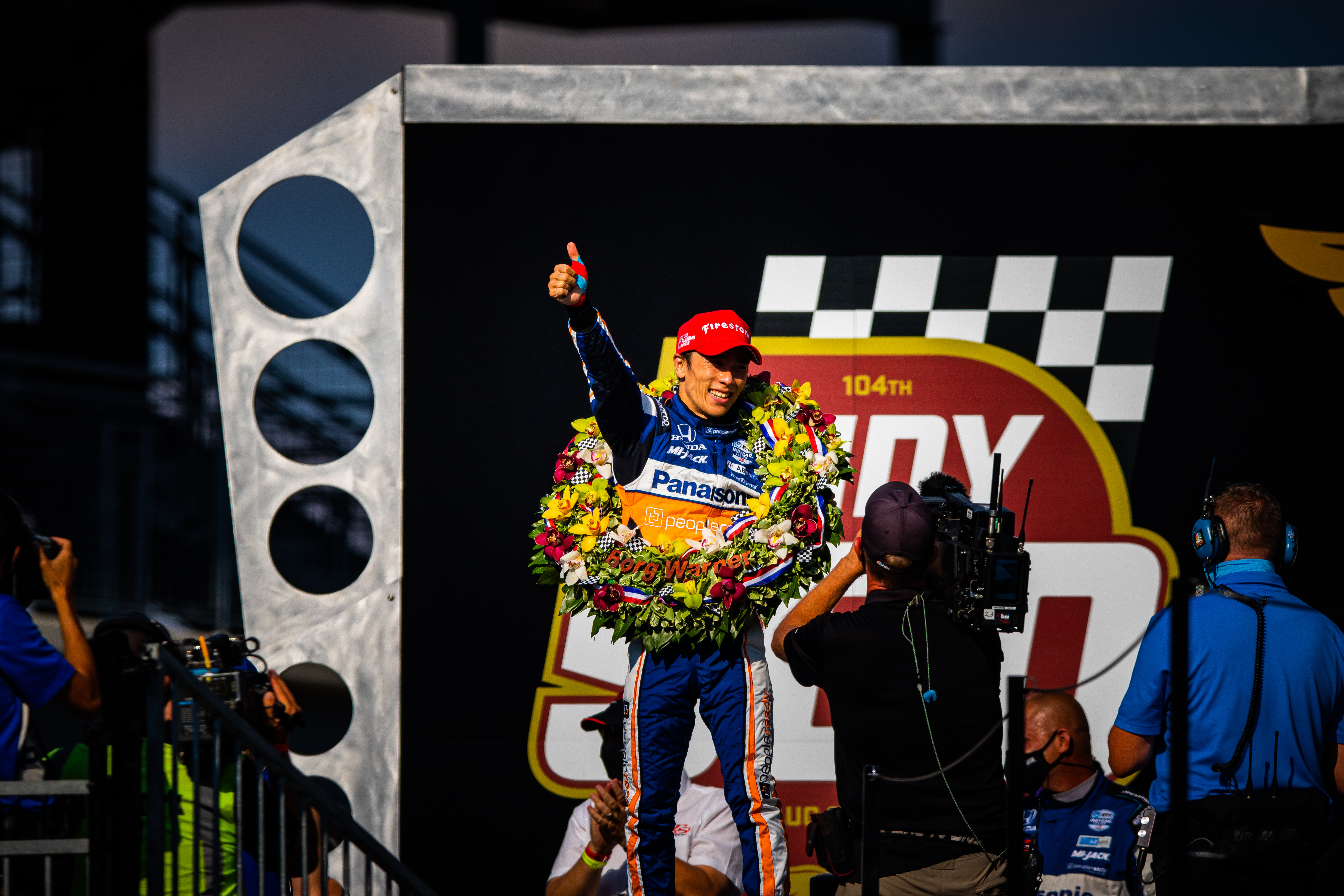 We saw IndyCar turn up the boost in qualifying to allow the cars to negate the added weight of the aeroscreen. Now the fresh impetus has to be on cleaning up the airflow from its cars on ovals. A new chassis is set for introduction in 2022 (although that could be delayed due to the coronavirus) but if the racing at the Indy 500 is going to live up to the traditions and the annals of the past, more must be done to make sure the action is as good as it is on road and street courses.
However, that's a debate for a different day.
If you're a Dixon fan you're heartbroken and if you're a Sato fan you're jubilant. Neither really made an error in the situations they were in, but circumstance favoured Sato – who joins an elite club of two-time winners. Dixon will be reconciled by extending his championship lead in a quest to take a sixth title, and there's always next year for another crack at the 500.