0.0129s over 10 miles. That was the difference that allowed David to beat Goliath in 2019.
That was the last time the Juncos Racing team took on the Indianapolis 500, until this year when it returns with rookie driver Callum Ilott.
Back in 2019 it was in different circumstances. Now the team is well- funded and has had a strong start to the season, but three years ago it was coming off the back of a tough part programme with two cars in 2018, and entered the 2019 Indy 500 fielding Kyle Kaiser and facing an enormous financial loss.
There was nothing that would point to it, say, knocking McLaren and Fernando Alonso out of qualifying and bumping them out of the Indy 500 itself.
"The big situation there was going into the whole race event, we had a sponsor lined up, and they backed out at the last minute," Kaiser tells The Race, recalling 2019 in an exclusive interview.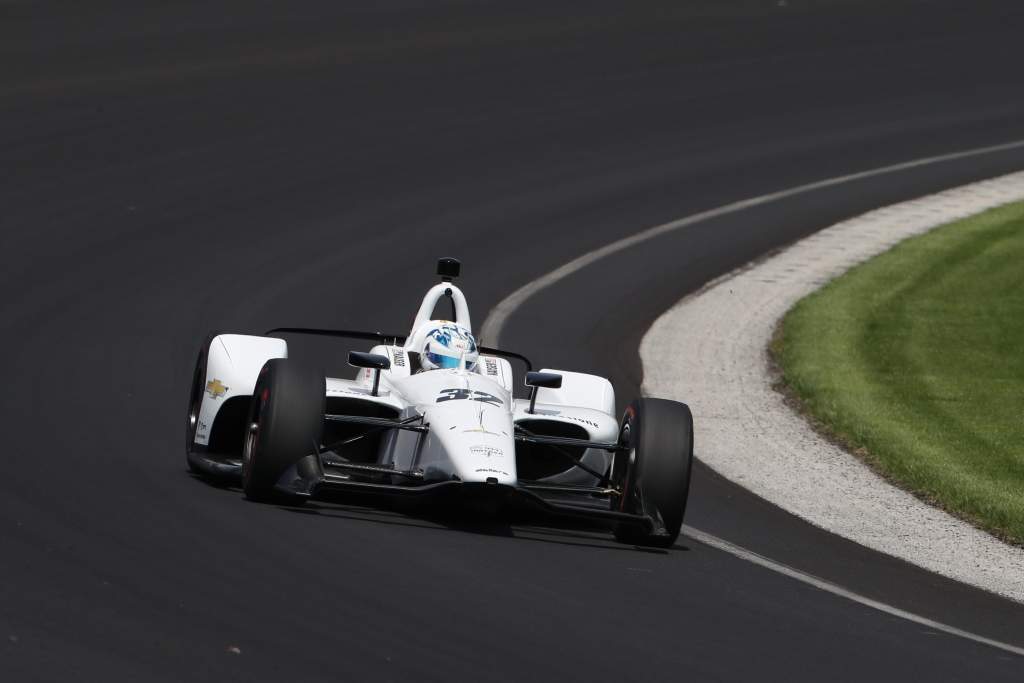 "So we had a completely blank white car.
"We were kind of just reaching out to anybody we could to just get as many people to help support our efforts."
We pause his story, to add that, during practice, he was one of the drivers caught out at Turn 1. Watching it back now it doesn't look like Kaiser did anything wrong, but it certainly ended with a huge accident. The team had next to no spare parts, either.
"It was already really tight before the crash happened," he picks up the story.
"So that was really the main reason, not sure if we'd be able to even have the money to put a car together, have the time to put a car together and the resources.
"I didn't know if we could even pull it off.
"Fortunately, we got the green light from some of our sponsors that they wanted to see us make an effort, try to qualify.
"I guess that was the other aspect is, there's no guarantee when you do all this, there's no guarantee you even make the race. So is it worth the risk?
"At the end of the day, we all got together and said, 'Yeah, it's worth going for it, we are here to try to make the race, that was our plan all along. So let's make it an honest effort. Hopefully, we can do it'."
That's the kind of fighting spirit team owner Ricardo Juncos brings to the table, having come to America with a few hundred dollars in his pocket and stayed on his friend's sofa, before building a karting team and then a single-seater outfit that took Kaiser to the Indy Lights title in 2017.
With the decision made to still try to qualify, the team worked at honing its box-of-bits car into something worthy of entering the race.
Because he'd been slowest on the previous day of qualifying – when Juncos had overheating issues – Kaiser was the last car to run in a bid to make the race on Bump Day.
"The car was really not handling that great because it was something they just threw together," Kaiser adds, confirming that he woke up that morning expecting to give a press conference confirming he'd missed the race.
"So we didn't really get the balance quite right. So it was right on the edge the whole run, but it was just enough.
"I feel like of all the laps I've ever run, those are the ones I'll never forget.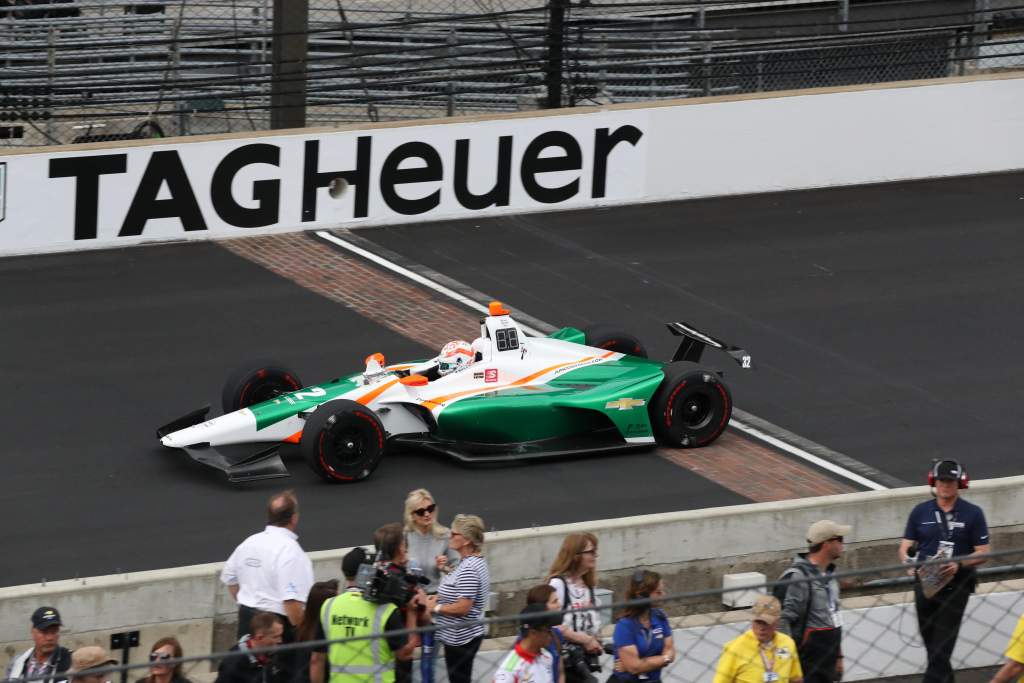 "I can definitely remember them. But one thing I remember very vividly is that it really did come down to the shifting, we were going between fifth and sixth gear almost the whole run and it felt like down the back straight we're always having to grab sixth and then pretty much in between the short shoot, I was always having a downshift.
"So just nailing those shifts were so crucial. And if we had messed one of those up, I think that would have been the difference that would have really made it tough.
"On the third and fourth lap, the car also went pretty loose. So staying on top of the tools and making sure that we're making the right changes ahead of the car was super important, but just keeping it cool.
"There was never a question whether I was going to go flat for all four laps. It was all or nothing at that point. There was never a doubt of [not] lifting."
Pandemonium erupted in the pitlane and a tearful Kaiser came over the radio once he knew he'd made the race. The whole crew hugged in pitlane as Alonso, flanked by a sheriff, took off his headphones and walked away from the pit box.
"It was a huge transformation of emotions from not even being sure if I did it to, an hour after, not even understanding who we bumped, I don't think that really registered with me right away, I was just happy we were in the race, but I didn't realise the whole situation of who was on the bubble," says Kaiser recalling the aftermath.
"So that just became a whole story in and of itself. But at the end of the day, I think it was just so impressive what the team was able to do to put that together.
"And obviously, the media obligations and everything after that felt easy, like I was just so happy to be there and be a part of the event that I think I kept telling everybody, I've never been so happy to be dead last in my whole life.
"I feel like that still rings true. But that just kind of shows the importance and the value of the Indy 500 and just the ability to participate in the event is worth as much as anything, because in a lot of years, you'd have a chance to just completely miss it, and that's wrenching and I never wanted to experience that."
Kaiser started the race in 33rd and was moving forward when he got up in the marbles and crashed trying to pass Sage Karam.
It was a sad way to end his second 500, but the fact we are discussing this event even now for what happened in qualifying still says a lot about the performance of the driver and team that weekend.
It was interesting to get Kaiser's view on the legacy of the event, because on one hand he knocked out a double F1 champion who had come fairly close to winning on his Indy 500 debut in 2017, but on the other, Kaiser is a racing driver who probably wants to be remembered for actually winning races and championships himself.
"Honestly, I think if I were to go back and do it again, I wouldn't want to be coming in with a team that wouldn't have a chance to win the race, I guess would be a good way to put it," Kaiser responds.
"I don't think I'd want to come out there just to be a participant. I think there's a great legacy there and a great story and if I'm going to go out there, I want to go for the win.
"So my mentality is, I don't want to go out there just to qualify again, because we already had a really amazing sports moment.
"Anytime you're going to go out there for a one-off race, you don't want to just be chugging around at the back of the field. So that's always going to be something we keep in mind with trying to get aligned with a team that is capable of winning."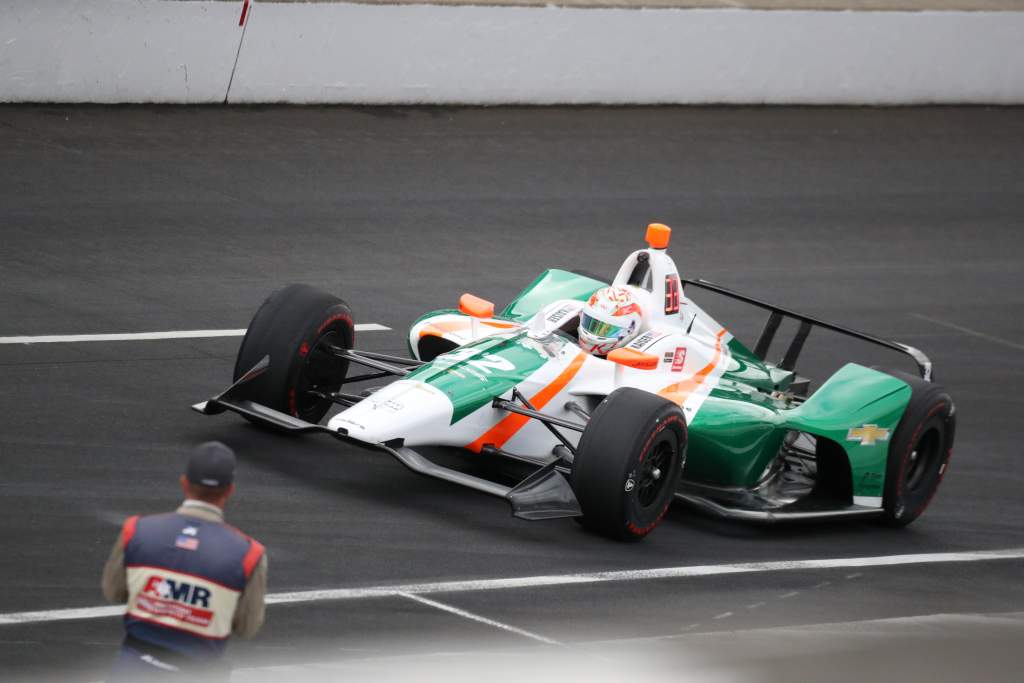 It turned out that the 2019 500 was Kaiser's last IndyCar appearance, at least for now, as he had come close to a series return in 2020 before the pandemic effected his funding.
Instead he went back to college and is now working in downtown Indy, at a venture capitalist firm. He still has some "irons in the fire" to get back to racing in IndyCar, and honestly he has a lot more to offer than qualifying last for the Indy 500 once.
But if that is Kaiser's motorsport legacy, it's up there with one of the coolest and most surprising upsets in the Brickyard's long history.
How's Juncos set in 2022?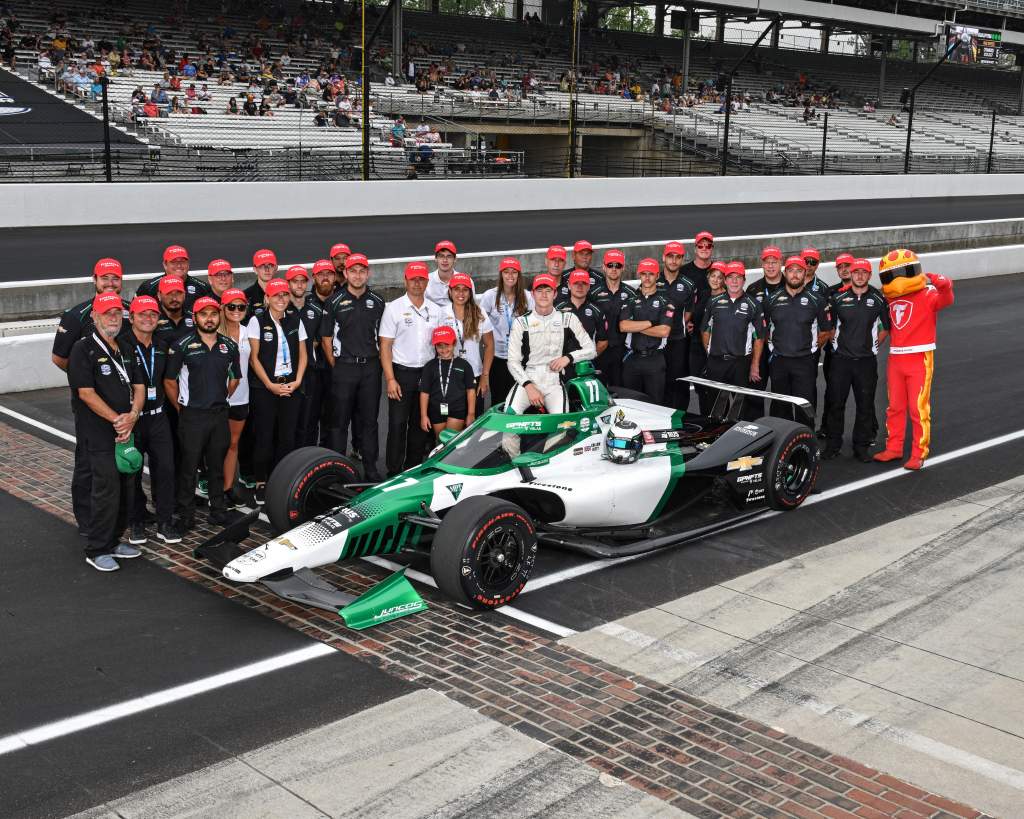 As for Juncos –  now Juncos Hollinger Racing – the team has been in fine form since hitting IndyCar's road courses at the start of the season. Ilott scored the team's best IndyCar finish at the Indianapolis road course earlier this month, although his rookie experience at the speedway has been a bit up and down.
That's mostly because we've seen some of the most variable conditions in recent memory there, and learning to adjust, adapt and predict what the conditions are going to do to your car is a task best supported by experience.
Still, Ilott was one of the few drivers to improve with a second qualifying run and will start the race 19th, Juncos' second-best Indy 500 starting position after Kaiser's 17th in 2018.
A top 20 in the race would be a strong result as Ilott continues to learn and the team gets more knowledge under its belt having missed the 2020 season and only done three races of 2021, all the time other teams were perfecting new set-ups to suit the aeroscreen device.
The car has looked strong in race trim, but it's a guessing game as to who will be able to move forward on Sunday. The first goal is to complete all 200 laps just for experience.