Romain Grosjean says it's "bloody good" to "have some fun back behind the wheel" after taking second on the grid for the Nashville IndyCar race, his best qualifying since joining Andretti Autosport.
Grosjean's team switch has not gone as planned so far, as he lies 14th in the points standings after 13 races in 2022.
However, the strong Nashville start has at least helped the smile return to Grosjean's face.
Introducing Grosjean in the post-qualifying press conference, the host Dave Furst said: "Wrapping up qualifying, we'll start with Romain Grosjean, his best starting position of the season."
Grosjean, whose previous 2022 best had been fifth on the St Petersburg grid, replied: "I just realised what you say. It's not pretty!
"It feels good [to start on the front row].
"We've made a lot of work. We've had a fair bit of issues recently on different levels. But during practice we made a few changes to the car. It came to life. And I liked it.
"From there we worked, made a set-up change.
"Thanks to my boys because they've been working really hard recently. It just feels bloody good to have some fun back behind the wheel, being able to do what I like."
It's not difficult to see why Grosjean needed that fun to return.
In his maiden IndyCar season with Dale Coyne Racing he scored 272 points over 13 races, 13 more points than he has achieved since moving to the bigger and better resourced Andretti team.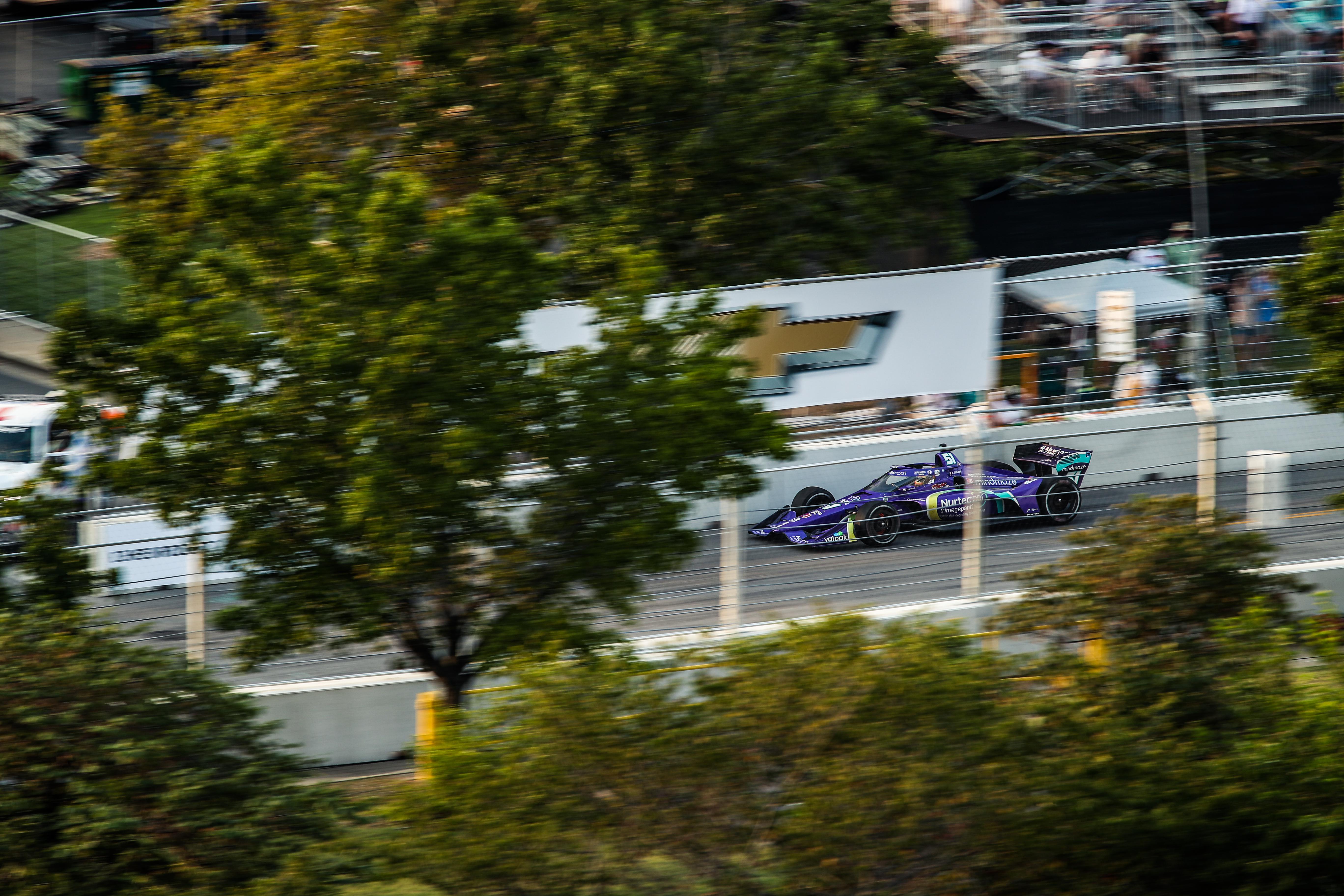 He had a strong start to the season with a mechanical failure at Texas sandwiched by a fifth and a second, and has added four further top-10s.
But elsewhere it's been a mess: caught on slick tyres in the wet and barged off by another driver on the Indianapolis road course, a crash in the double-points Indianapolis 500, a lack of pace and being on the wrong strategy in Detroit and being crashed into three times by his team-mate Alexander Rossi at Mid-Ohio.
He also had a pitlane speeding penalty ruin his Toronto weekend and a string of mechanical issues over the second Indianapolis road course race.
As you can see by this rundown, it's been less about an underlying theme leading to his poor championship position and more a scattergun array of mistakes, bad fortune and stuff out of his control, which is basically what Andretti has become known for across its leading cars in recent years.
Grosjean has also had to deal with a difficult team-mate dynamic, which imploded when he threatened over the car radio to punch Rossi after the Mid-Ohio race where Rossi had repeatedly bashed into him, creating an embarrassing affair for the team as Rossi also hit Devlin DeFrancesco and Grosjean punted Colton Herta too.
Since that Mid-Ohio weekend where Grosjean finished 21st, he's had two 16ths sandwiching a strong run to two top 10s at Iowa. Perhaps that run sums up his season.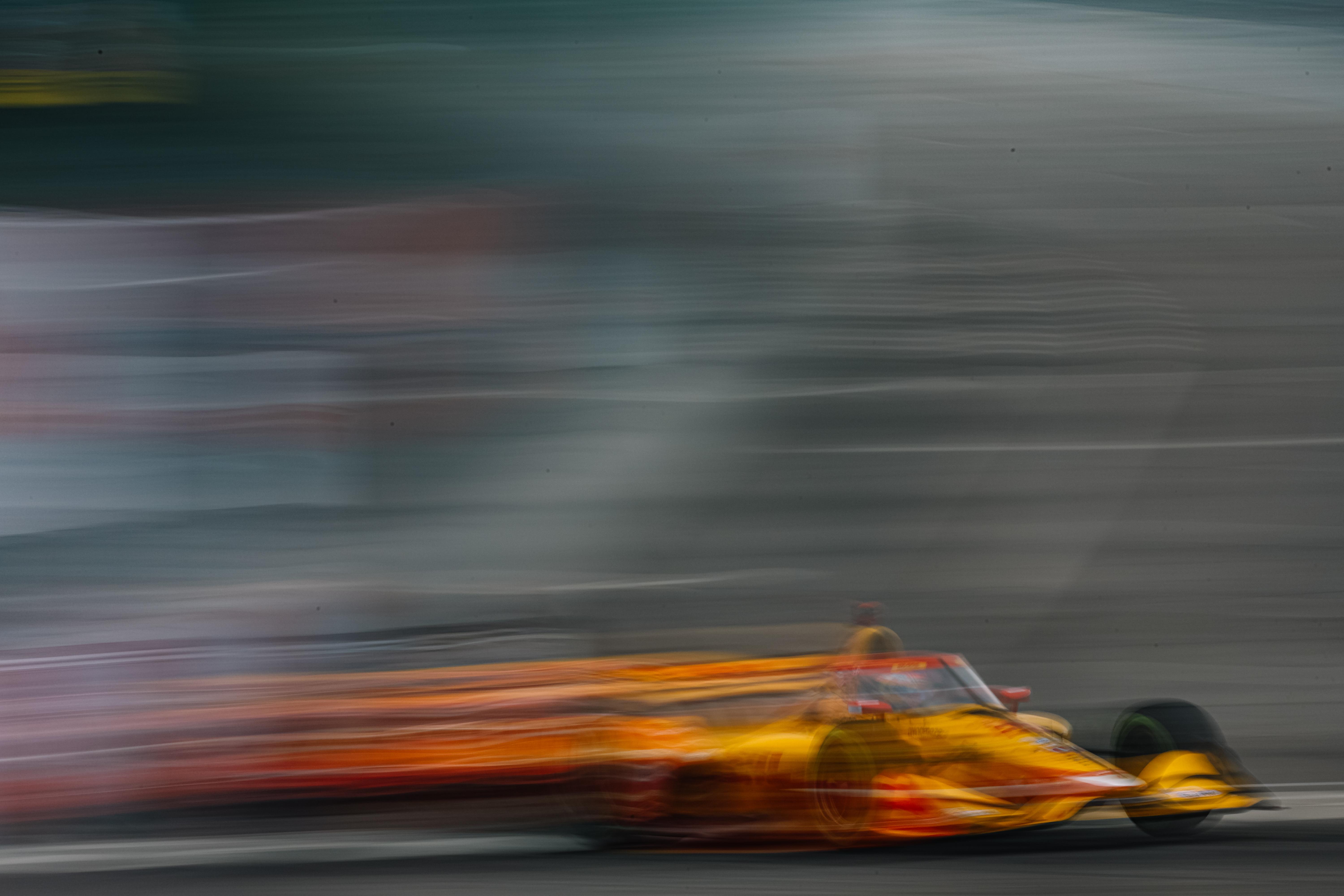 Nashville is a place where his Andretti team has been strong before, although last year's pole winner Herta crashed on Saturday, which in turn brought about a red flag that also ruined Rossi's qualifying.
Thankfully, it's not a race where you need worry about qualifying after Marcus Ericsson won from 18th last year.
Asked if he can win from second, Grosjean said: "I think anyone can win this thing [even] if you're a lap down and you have a stop-and-go.
"We're definitely in a good position. Penske has been really strong this season, whole season, but this weekend, we'll see.
"But we've definitely picked up the pace during qualifying. We've had some good practice sessions. We obviously going to make few changes for tomorrow, including putting the AC in the car [a joke about how hot the cockpit is in Nashville], go from there."
The so far elusive IndyCar win is a big deal for Grosjean. He already has an IndyCar pole position at Indianapolis for Coyne last year, but a win is the next box to check off.
Both Herta and Rossi have managed it for Andretti in 2022 now, so no doubt Grosjean will be pressuring himself to get it done.