Romain Grosjean will make his highly-anticipated IndyCar oval debut at Gateway in August, following on from a successful test at the same venue on Tuesday.
Dale Coyne Racing driver Grosjean has been a hit in the championship since leaving Formula 1 and embarking on a part-time IndyCar schedule, in which he is contesting the road and street circuits.
He scored a top 10 on his debut at Barber while the highlight of his season came with a pole position and a runner-up finish on the Indianapolis road course in May.
He is currently 16th in the points standings, 26 points ahead of his IndyCar returnee team-mate Ed Jones, who has competed in three more races including the double-points Indianapolis 500, the only event to award increased points.
After his fiery Bahrain crash, Grosjean refused to rule out ovals but altered his plans from a full-season to a part season for 2021, but his stance towards ovals has softened throughout the year and the test at Gateway was the culmination of this.
"Today was pretty good," Grosjean said following his test on Tuesday.
"It was my first time on an oval and it's very, very different from everything I've done before.
"So, obviously, there's a lot for me to learn on ovals, from the feel of the car, to how to go fast to the feeling of knowing what I need in the car.
"I want to say that everyone that thinks driving on an oval is easy, is getting it completely wrong! It's actually very tough, and special, but I had a lot of fun.
"We went through the day and gathered a lot of information. In that aspect it was super positive.
"We worked well and we learned that we could extract more performance from the car which is great.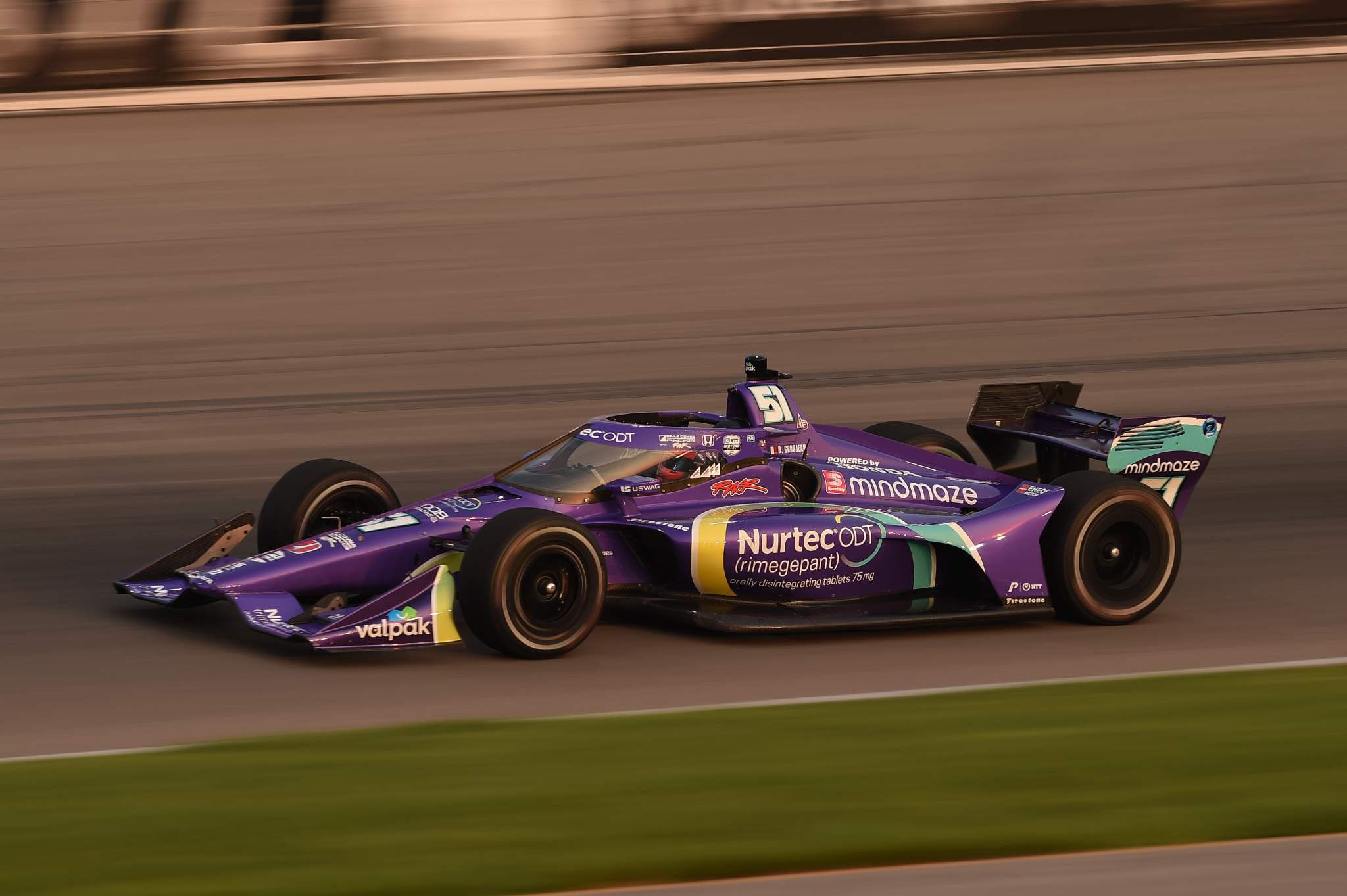 "At the end of the day, on the last long run the car felt very nice and I was happy with it.
"I think that was key for us today, getting some key data, getting me comfortable in the car and being able to attack on a long run.
"Now we can put it all together when we come back in a few weeks for my first oval race. I'm really looking forward to it."
Grosjean's first oval outing will take place on August 21, and he can be encouraged by his pace. The Dale Coyne team said in a press release that Grosjean was less than half a second slower than the best time of the day at Gateway.
He had strong opposition in Scott McLaughlin – a rookie who finished second at Texas on his oval debut earlier this year – four cars from Andretti Autosport, two cars from AJ Foyt Racing and his team-mate, Jones.
The test moved from day to night, with Grosjean completing 166 laps on the 1.25-mile oval which is egg-shaped.
His best lap was 25.3625 seconds, fractionally slower than the fastest race lap set last year by Takuma Sato with a 25.3039s.
Grosjean has been well covered in the media recently not just because of his oval debut.
Speculation has heavily linked him to a move away from Dale Coyne to Andretti Autosport for 2022.
Whether he stays or moves, doing the full schedule and in particular the Indianapolis 500 should make finding sponsorship for Grosjean in the US much easier in 2022, and he has confirmed staying in America is his goal for the near future.
Grosjean's fellow rookie and seven-time NASCAR champion Jimmie Johnson is expected to test at Homestead in August ahead of his similar move to a full-time schedule in 2022 from a road and street course effort with Chip Ganassi Racing this year.
Johnson needs to do the Homestead test in order to be eligible to test on the Indianapolis oval later this year.