The team formerly known as Envision Virgin Racing will have a new name, brand identity and livery for the 2022 season as the Virgin element of the team departs.
The Virgin name will exit Formula E after a seven-season run in differing guises within the team which has won 11 E-Prixs since it was formed in 2014.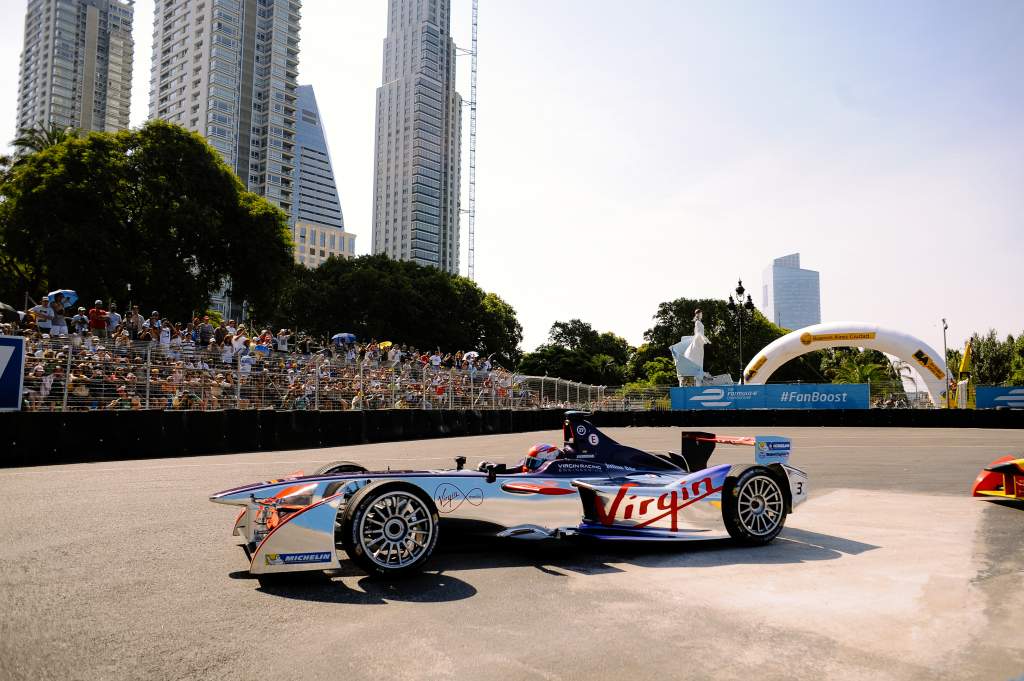 Now known as Envision Racing, the team will run in predominantly green colours next season in what is being described by the team as epitomising "Envision Group's pioneering success in sustainability and Envision Racing's Race Against Climate Change".
Virgin financed part of the team from inception in 2014 and operationally the team was initially staffed by some Lotus F1 team members.
Former music business entrepreneur Neil Taylor was also involved with the team, which began a three-season relationship with then-PSA Group brand DS from 2015 to 2018.
Today's move away from Virgin comes as Chinese renewables company, Envision Group, takes complete control of the team which it partly acquired in the spring of 2018.
OFFICIAL: We're the greenest team in Formula E ✅😉 pic.twitter.com/7mvK1VFqgj

— Envision Racing (@Envision_Racing) November 1, 2021
Soon after that deal was completed, Virgin's designated team principal Alex Tai left his position with the team and Sylvain Filippi was promoted from chief technology officer to managing director.
Envision also moved in former BMW and Porsche executive Franz Jung into the team where he acts as chairman of the board for the team.
Filippi thanked Virgin for "all their support" and wished it "every success for the future." "We are raring to go for the new season and hugely motivated about the potential of Formula E in supporting sustainable progress," he added.
Envision announced the changes and new corporate identity at the COP26 climate summit in Glasgow this morning, with globally renowned sustainability scientist Professor Johan Rockström joined by Jung and Filippi to officially reveal the new livery.
Robin Frijns and Nick Cassidy have long since been signed to continue for the final season of Gen2 racing as the team looks for a fresh manufacturer partner for the 2023 season. In the meantime, Envision Racing will continue to use the same Audi powertrain as it did in 2021 and The Race understands that Audi Formula E project leader Tristan Summerscale will head up the technical liaison with the team for the season ahead.
"Envision Group is recognised as a pioneer in net zero technologies and epitomise the progression that can be achieved through embracing a core purpose of sustainability," said Filippi.
"The new design of our Formula E car celebrates Envision Group's ownership and recognises their unrelenting ambition to accelerate the global transition to net zero.
"We are proud to be owned by one of the world's leading, most sustainably innovative companies and this will inspire the continued success of Envision Racing and energise our Race Against Climate Change."
Envision Racing will continue to be operated from headquarters at Silverstone, where it also has a driver-in-the-loop simulator.
It is also expected soon to confirm recruitment of a new engineer to replace Cassidy's race engineer Stephen Lane, who recently joined the Mercedes EQ team.