Stoffel Vandoorne is on the brink of the 2022 Formula E world title after a last-gasp problem for main championship rival Mitch Evans in a London E-Prix won by Lucas di Grassi.
But Vandoorne's lead could be even larger had his Mercedes team-mate Nyck de Vries heeded a team orders call.
While di Grassi overcame poleman and Saturday winner Jake Dennis to take his first win with Venturi, title combatants Evans and Vandoorne made assertive progress from their midfield grid slots of 14th and 13th respectively.
Evans was established in fourth, one place ahead of Vandoorne, as the race went into the extra time period prompted by an early safety car, meaning the championship gap between them was set to come down slightly to 22 points.
But Evans' Jaguar then abruptly appeared to lose power and coast down an escape road, handing Vandoorne's Mercedes fourth place and a 36-point cushion with 58 available in the deciding Seoul double-header in a fortnight.
As Vandoorne moved into fourth, team-mate de Vries was 6s up the road chasing Dennis for second. Team radio heard by The Race suggested Mercedes asked de Vries to slow and give Vandoorne the place so he could gain an additional three points, but the order was not heeded.
"Why? Give me one reason. He's got the points," said de Vries on the radio on the last lap. "I'm prepared to drive for Stoffel but with three rounds to go and 25 points lead I see no reason to give up a podium."
Up ahead of the championship drama, di Grassi shadowed Avalanche Andretti driver Dennis all race and used his attack modes sooner – effectively undercutting his rival.
Andretti's last hope was allowing Dennis to use more energy ahead of his final attack mode in the hope of getting enough of a gap to take it and stay ahead, but Dennis couldn't get away from di Grassi so duly lost the lead when he dived off-line and was unable to retake the place with the extra power.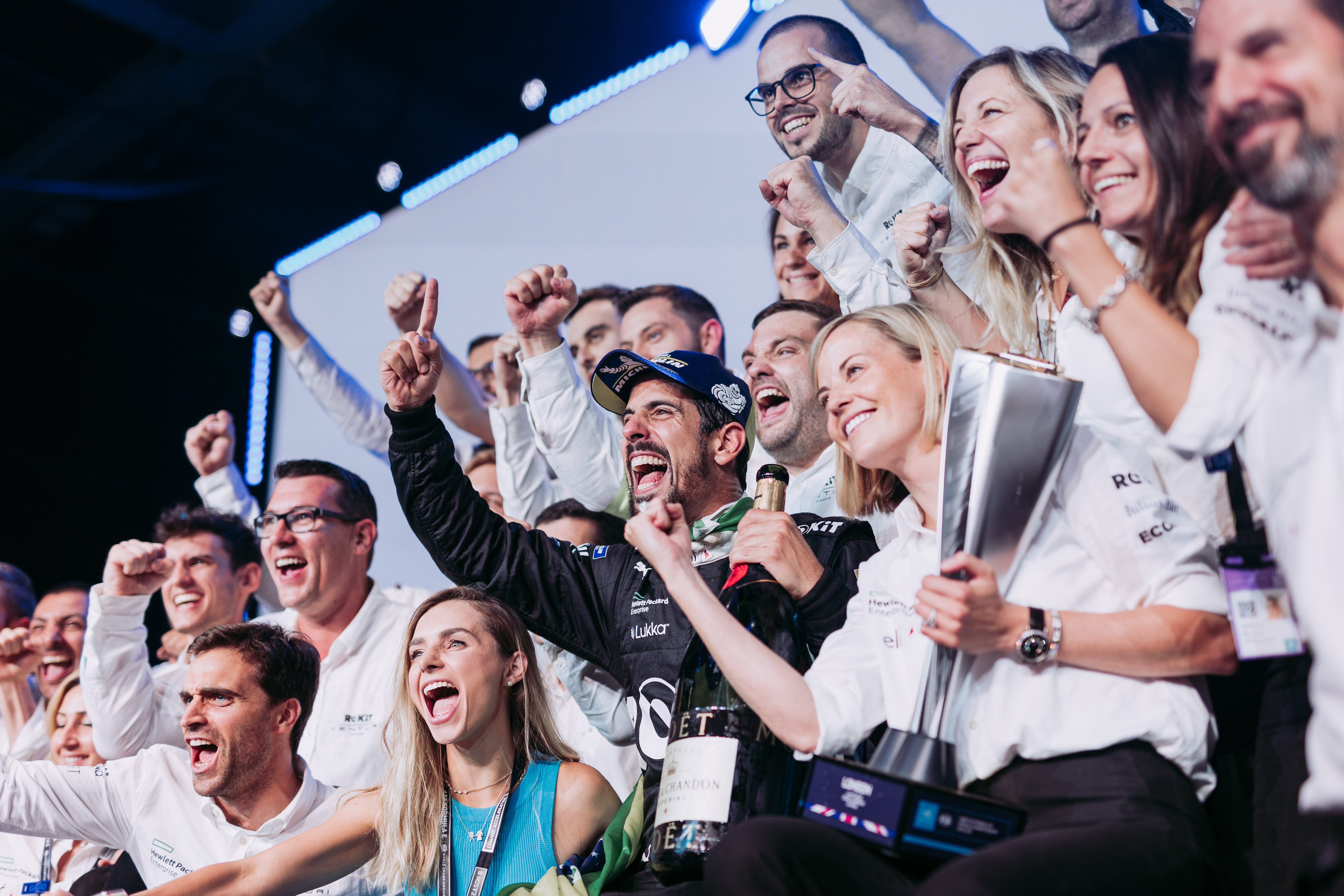 Di Grassi, who won by 3.2s, joined the Venturi Mercedes team this year after long-time employer Audi's FE exit but is expected to leave for Mahindra for 2023.
Edoardo Mortara and Jean-Eric Vergne remain in mathematical title contention but only as very long shots. Di Grassi's team-mate Mortara had a wild run to 13th that included a penalty for contact with Maximilian Guenther and a spin while battling with Sam Bird for minor points.
Vergne parked early with damage sustained when Oliver Rowland was launched off Oliver Askew and into the DS Techeetah.
A hugely dramatic race start for @oliverrowland1

🇬🇧 2022 @SABIC #LondonEPrix pic.twitter.com/P13pQenjFr

— ABB FIA Formula E World Championship (@FIAFormulaE) July 31, 2022
Antonio Felix da Costa completed the top five behind the Mercedes, with Sebastien Buemi taking an encouraging sixth for Nissan by fending off Robin Frijns and Sam Bird.
After his Saturday heartbreak, Sergio Sette Camara finally gave Dragon Penske its first 2022 points by beating Pascal Wehrlein to ninth.
But Sette Camara's team-mate Antonio Giovinazzi suffered more disappointment after his shock third on the grid.
He raced hard to hang on to his podium at first but then incurred a drivethrough penalty for exceeding the series' power-use limit and later retired.
Race Results
| Pos | Name | Team | Car | Laps | Laps Led | Total Time | Fastest Lap | Pitstops | Pts |
| --- | --- | --- | --- | --- | --- | --- | --- | --- | --- |
| 1 | Lucas Di Grassi | ROKiT Venturi Racing | Mercedes-EQ Silver Arrow 02 | 38 | 14 | 49m28.805s | 1m14.438s | 0 | 25 |
| 2 | Jake Dennis | Avalanche Andretti | BMW i FE.21 | 38 | 24 | +3.191s | 1m14.446s | 0 | 22 |
| 3 | Nyck de Vries | Mercedes-Benz EQ | Mercedes-EQ Silver Arrow 02 | 38 | 0 | +4.508s | 1m14.525s | 0 | 15 |
| 4 | Stoffel Vandoorne | Mercedes-Benz EQ | Mercedes-EQ Silver Arrow 02 | 38 | 0 | +10.358s | 1m14.579s | 0 | 12 |
| 5 | António Félix da Costa | DS Techeetah | DS E-Tense FE21 | 38 | 0 | +13.946s | 1m14.774s | 0 | 10 |
| 6 | Sébastien Buemi | Nissan e.Dams | Nissan IM03 | 38 | 0 | +20.399s | 1m15.218s | 0 | 8 |
| 7 | Robin Frijns | Envision Racing | Audi e-tron FE07 | 38 | 0 | +20.85s | 1m14.894s | 0 | 6 |
| 8 | Sam Bird | Jaguar TCS Racing | Jaguar I-Type 5 | 38 | 0 | +21.748s | 1m15.012s | 0 | 4 |
| 9 | Sérgio Sette Câmara | Dragon / Penske Autosport | Penske EV-5 | 38 | 0 | +28.913s | 1m15.069s | 0 | 2 |
| 10 | Pascal Wehrlein | TAG Heuer Porsche | Porsche 99X Electric | 38 | 0 | +29.685s | 1m14.84s | 0 | 1 |
| 11 | Alexander Sims | Mahindra Racing | Mahindra M8Electro | 38 | 0 | +30.611s | 1m15.261s | 0 | 0 |
| 12 | André Lotterer | TAG Heuer Porsche | Porsche 99X Electric | 38 | 0 | +31.644s | 1m15.234s | 0 | 0 |
| 13 | Edoardo Mortara | ROKiT Venturi Racing | Mercedes-EQ Silver Arrow 02 | 38 | 0 | +35.147s | 1m14.603s | 0 | 0 |
| 14 | Oliver Turvey | NIO 333 Racing | NIO 333 001 | 38 | 0 | +37.285s | 1m15.365s | 0 | 0 |
| 15 | Maximilian Günther | Nissan e.Dams | Nissan IM03 | 38 | 0 | +1m19.833s | 1m15.024s | 0 | 0 |
| | Mitch Evans | Jaguar TCS Racing | Jaguar I-Type 5 | 35 | 0 | DNF | 1m14.577s | 0 | 0 |
| | Nick Cassidy | Envision Racing | Audi e-tron FE07 | 30 | 0 | DNF | 1m14.349s | 0 | 0 |
| | Oliver Askew | Avalanche Andretti | BMW i FE.21 | 21 | 0 | DNF | 1m14.958s | 0 | 0 |
| | Antonio Giovinazzi | Dragon / Penske Autosport | Penske EV-5 | 19 | 0 | DNF | 1m15.618s | 0 | 0 |
| | Jean-Eric Vergne | DS Techeetah | DS E-Tense FE21 | 3 | 0 | DNF | 1m15.944s | 0 | 0 |
| | Daniel Ticktum | NIO 333 Racing | NIO 333 001 | 1 | 0 | DNF | 0s | 0 | 0 |
| | Oliver Rowland | Mahindra Racing | Mahindra M8Electro | 1 | 0 | DNF | 0s | 0 | 0 |