The so-far dominant Porsche-powered Formula E quartet all sat out most of opening practice in Hyderabad after a massive crash for championship leader Pascal Wehrlein.
Wehrlein, a double winner in Diriyah last time out, snapped into a high-speed spin approaching the final corner of the Indian street circuit in the early minutes of practice one.
Though his car made heavy contact with the barriers, Wehrlein was able to get out unaided and walk away.
The session resumed after only a seven-minute stoppage.
But the other works Porsche of Antonio Felix da Costa and both Andretti Porsche drivers Jake Dennis and Andre Lotterer all remained in the pits for the rest of the session.
Practice had already been delayed by 50 minutes while "local authorities resolved an operational issue on the roads around the track", according to the FIA.
Unsubstantiated reports suggested a non-racing vehicle being left on or near the track that could not be moved.
With the track surface clearly dirty and slippery, the session featured a plethora of rally-style slides, including one by McLaren's Jake Hughes at the Turn 3 hairpin that resembled an attempt at a handbrake turn.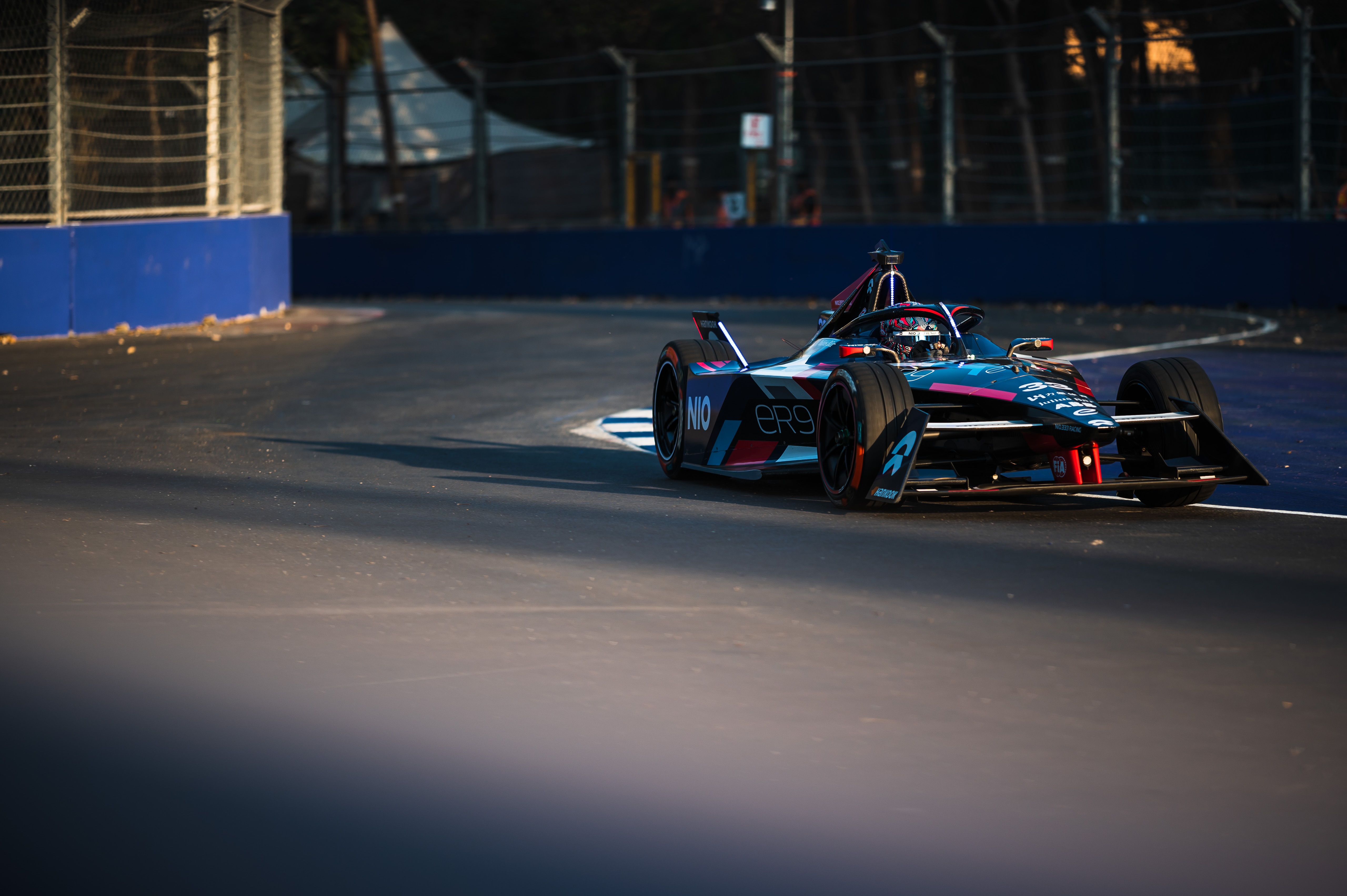 There was also a collision between Edoardo Mortara and Dan Ticktum at the same spot in which Mortara's Maserati ran into the back of Ticktum's NIO 333, mangling the Maserati's nose section.
Although at first glance Ticktum appeared to be the victim in that one, he said on the radio that he'd need to "apologise" to Mortara as he "just didn't see him", suggesting he might have slowed in front of the Maserati.
There was a further complication right at the end of the session as cars lined up for practice starts.
Kelvin van der Linde, standing in for the injured Robin Frijns at Abt Cupra, could not get away from the front of the grid, trapping all those who had lined up behind him and causing traffic confusion as they tried to get across to the other side of the grid.
Van der Linde had been in trouble in the earlier shakedown session too, going straight on into the barriers due to a problem the team is still investigating.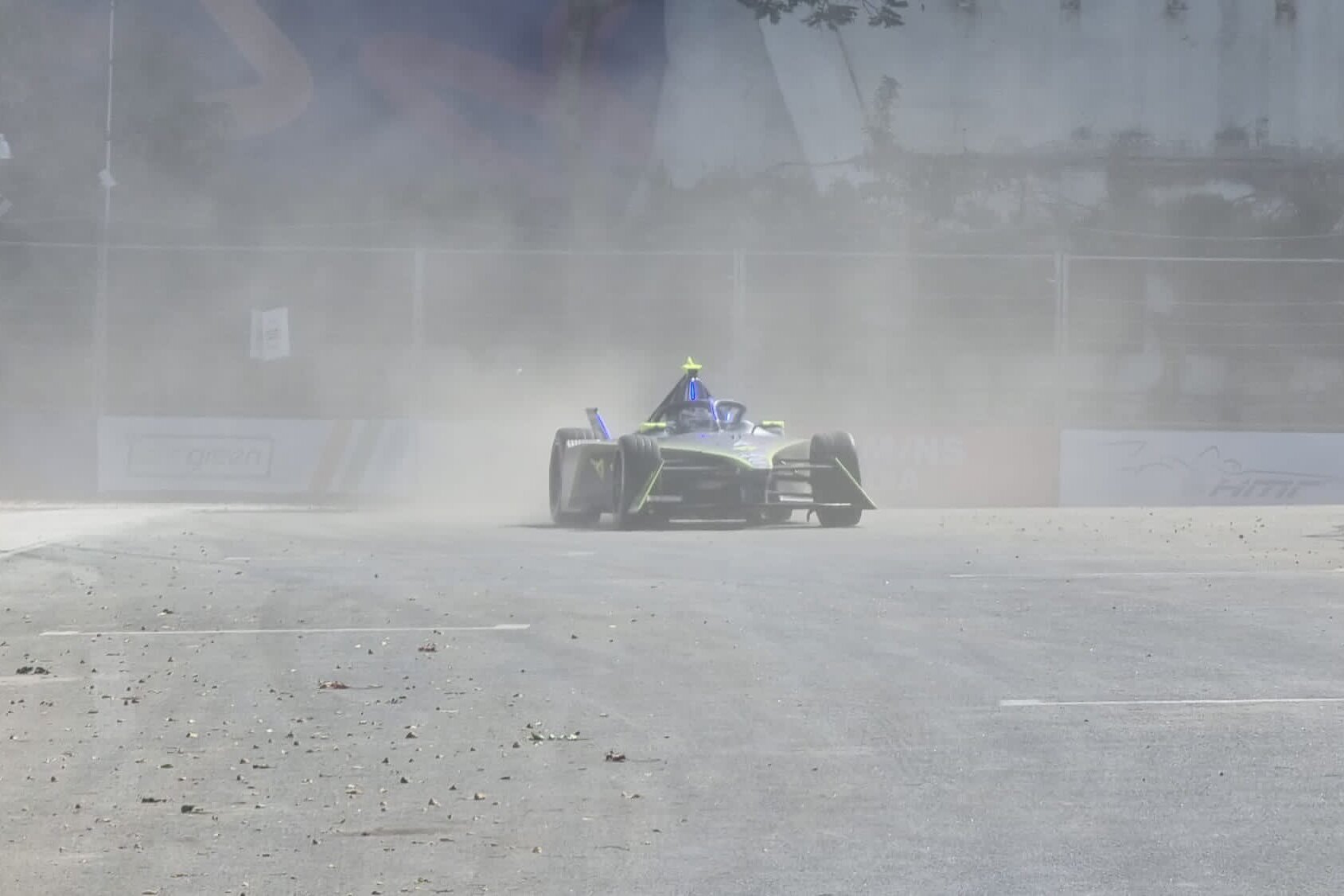 He rejoined after quick repairs then went off and parked again at the same place, although Abt put that one down to rising battery temperatures – which also appears to have been the cause of him stalling at the end of practice.
Sebastien Buemi's Envision Jaguar was fastest by the end of practice one, just ahead of reigning champion Stoffel Vandoorne for DS Penske and the NIO 333 of Sergio Sette Camara.
Jaguar's Sam Bird did the fastest lap running at 300kW power and was fourth overall.
Practice 1 Results
| Pos | Name | Team | Car | Gap Next | Gap Leader | Best Time |
| --- | --- | --- | --- | --- | --- | --- |
| 1 | Sébastien Buemi | Envision Racing | Jaguar I-TYPE 6 | | | 1m15.088s |
| 2 | Stoffel Vandoorne | DS Penske | DS E-Tense FE23 | +0.181s | +0.181s | 1m15.269s |
| 3 | Sérgio Sette Câmara | NIO 333 Racing | NIO 333 ER9 | +0.183s | +0.364s | 1m15.452s |
| 4 | Sam Bird | Jaguar TCS Racing | Jaguar I-TYPE 6 | +0.16s | +0.524s | 1m15.612s |
| 5 | Lucas Di Grassi | Mahindra Racing | Mahindra M9Electro | +0.035s | +0.559s | 1m15.647s |
| 6 | Mitch Evans | Jaguar TCS Racing | Jaguar I-TYPE 6 | +0.072s | +0.631s | 1m15.719s |
| 7 | Edoardo Mortara | Maserati MSG Racing | Maserati Tipo Folgore | +0.015s | +0.646s | 1m15.734s |
| 8 | Jean-Eric Vergne | DS Penske | DS E-Tense FE23 | +0.076s | +0.722s | 1m15.81s |
| 9 | Maximilian Günther | Maserati MSG Racing | Maserati Tipo Folgore | +0.095s | +0.817s | 1m15.905s |
| 10 | Nick Cassidy | Envision Racing | Jaguar I-TYPE 6 | +0.131s | +0.948s | 1m16.036s |
| 11 | Daniel Ticktum | NIO 333 Racing | NIO 333 ER9 | +0.008s | +0.956s | 1m16.044s |
| 12 | Norman Nato | Nissan | Nissan e-4ORCE 04 | +0.098s | +1.054s | 1m16.142s |
| 13 | Jake Hughes | NEOM McLaren | Nissan e-4ORCE 04 | +0.38s | +1.434s | 1m16.522s |
| 14 | Nico Müller | ABT CUPRA | Mahindra M9Electro | +0.103s | +1.537s | 1m16.625s |
| 15 | Sacha Fenestraz | Nissan | Nissan e-4ORCE 04 | +0.031s | +1.568s | 1m16.656s |
| 16 | René Rast | NEOM McLaren | Nissan e-4ORCE 04 | +0.041s | +1.609s | 1m16.697s |
| 17 | Kelvin van der Linde | ABT CUPRA | Mahindra M9Electro | +0.051s | +1.66s | 1m16.748s |
| 18 | Oliver Rowland | Mahindra Racing | Mahindra M9Electro | +0.728s | +2.388s | 1m17.476s |