Porsche's Pascal Wehrlein claimed his second-ever Formula E race win from ninth on the grid after overcoming Sam Bird late on to win the first race of the Diriyah double-header.
Wehrlein repeated his Mexico City charge by cutting his way up the field from ninth on the grid to third behind polesitter Sebastien Buemi in the opening half of the race.
He then passed Buemi on lap 24 of 39 into the Turn 18 right-hander and soon caught Bird, who hasn't won since he was victorious in New York in July 2021 and suffered a nightmare 2022 season in which he failed to finish on the podium while his Jaguar team-mate Mitch Evans fought for the drivers' title.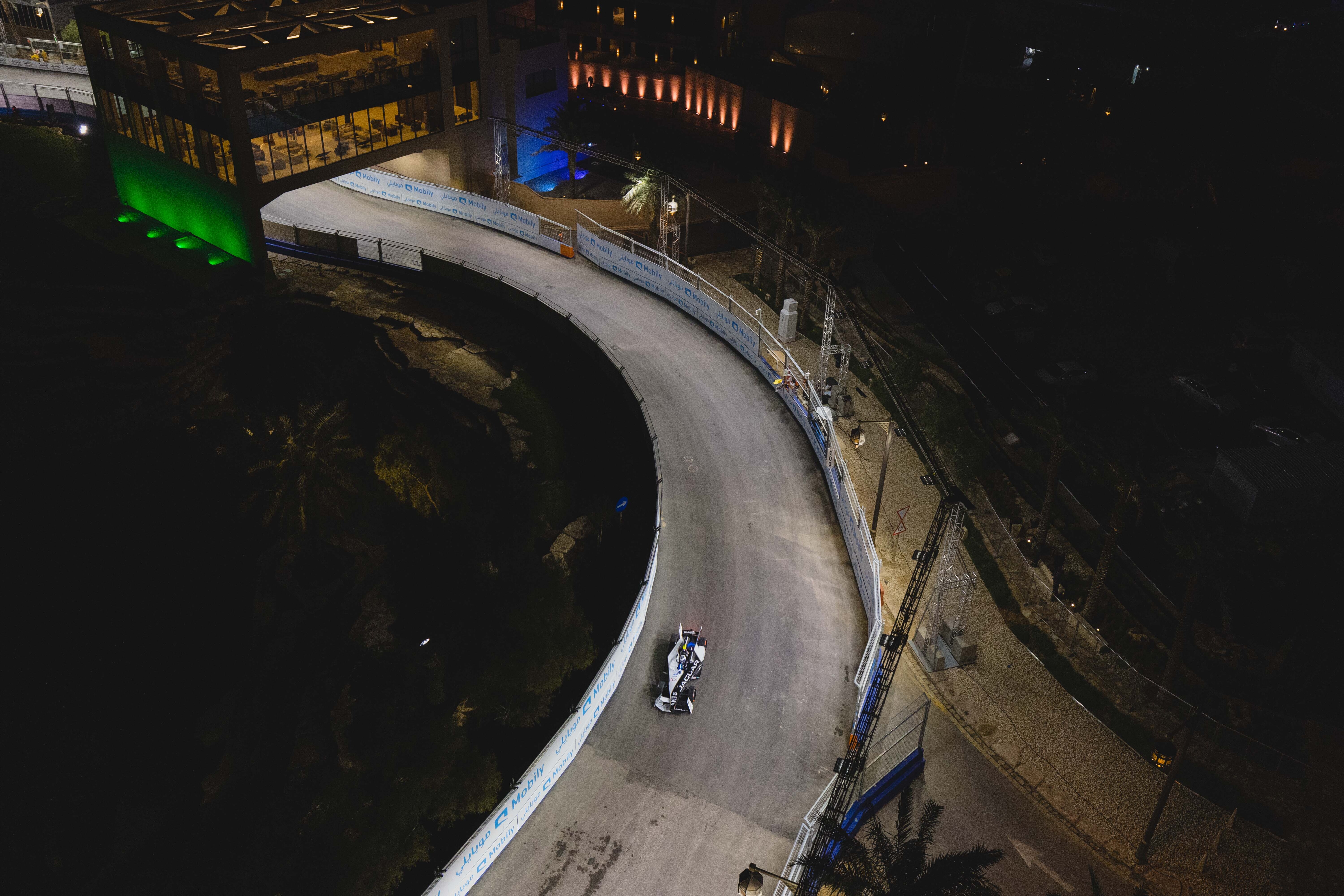 Bird appeared to be on a mission right from the start of the race to change that as he pulled alongside front-row starter Jake Hughes on the run to the opening turn.
Bird was forced to concede but three laps later he made a comfortable move into that same corner on McLaren's Hughes to move into second and quickly caught Buemi, who was starting from pole for the first time since July 2019.
On lap seven Bird made his move and dispatched Buemi in the Envision-run Jaguar on the inside of Turn 18 to take the race lead, only to come under great pressure from the charging Wehrlein.
Wehrlein launched his first attack on Bird on lap 25 at Turn 18 but overshot and had to tuck back in behind Bird.
His second real attempt came a few laps later and proved far more successful as he eased into the lead and left Bird looking rearwards at Mexico City E-Prix winner Jake Dennis, who had his own charge from 11th on the grid.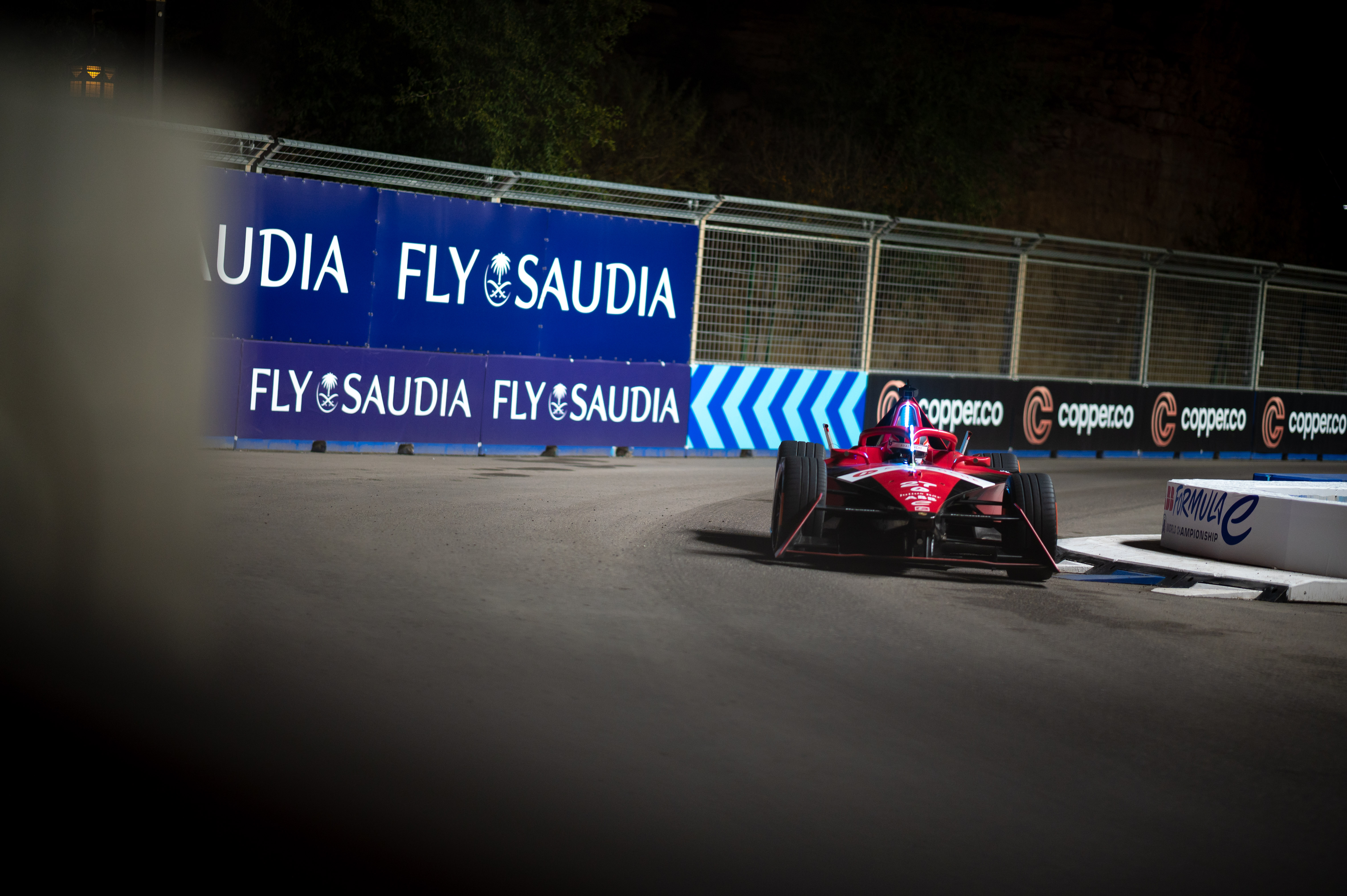 Dennis was able to further demote Bird and then went after race leader Wehrlein, coming within a couple of car lengths of Wehrlein in the last handful of laps but failing to find a way through.
It marks Wehrlein and Porsche's second win in Formula E and puts him one point shy of Dennis at the the top of the drivers' championship by virtue of Dennis's fastest lap point in Mexico.
Wehrlein and Dennis pulled three seconds clear of Bird, who hung onto third place to claim his first podium for a year and a half.
Bird's fast-starting team-mate Evans triggered an opening lap scuffle by locking up and running Rast wide at the opening turn – this created a concertina effect that led to Antonio Felix da Costa running his Porsche up the back of Oliver Rowland's Mahindra.
Both da Costa and Rowland had to pit for repairs and had their chances of points vaporised, while Evans was handed a five-second time penalty – dropping him two positions in the classification from eighth to 10th.
Rast recovered from that clash to finish in fifth place ahead of the second Envision of Nick Cassidy and DS Penske's Jean-Eric Vergne, who went from 12th to seventh.
The top 10 was rounded out by Hughes, who went backwards from second on the grid, Dennis's team-mate Andre Lotterer and Evans.
Nissan rookie Sacha Fenestraz hit the barriers while activating his attack mode and finished a distant 17th behind Robin Frijns' stand-in Kelvin van der Linde, who was 16th on his Formula E debut.
Race Results
| Pos | Name | Team | Car | Laps | Laps Led | Total Time | Fastest Lap | Pitstops | Pts |
| --- | --- | --- | --- | --- | --- | --- | --- | --- | --- |
| 1 | Pascal Wehrlein | TAG Heuer Porsche | Porsche 99X Electric | 39 | 10 | 47m45.567s | 1m10.378s | 0 | 25 |
| 2 | Jake Dennis | Avalanche Andretti | Porsche 99X Electric | 39 | 0 | +0.531s | 1m10.16s | 0 | 18 |
| 3 | Sam Bird | Jaguar TCS Racing | Jaguar I-TYPE 6 | 39 | 23 | +3.526s | 1m10.844s | 0 | 15 |
| 4 | Sébastien Buemi | Envision Racing | Jaguar I-TYPE 6 | 39 | 6 | +6.048s | 1m10.911s | 0 | 15 |
| 5 | René Rast | NEOM McLaren | Nissan e-4ORCE 04 | 39 | 0 | +7.471s | 1m10.117s | 0 | 11 |
| 6 | Nick Cassidy | Envision Racing | Jaguar I-TYPE 6 | 39 | 0 | +7.614s | 1m10.229s | 0 | 8 |
| 7 | Jean-Eric Vergne | DS Penske | DS E-Tense FE23 | 39 | 0 | +12.394s | 1m10.524s | 0 | 6 |
| 8 | Jake Hughes | NEOM McLaren | Nissan e-4ORCE 04 | 39 | 0 | +15.187s | 1m10.776s | 0 | 4 |
| 9 | André Lotterer | Avalanche Andretti | Porsche 99X Electric | 39 | 0 | +15.563s | 1m10.514s | 0 | 2 |
| 10 | Mitch Evans | Jaguar TCS Racing | Jaguar I-TYPE 6 | 39 | 0 | +17.914s | 1m10.708s | 0 | 1 |
| 11 | Stoffel Vandoorne | DS Penske | DS E-Tense FE23 | 39 | 0 | +26.307s | 1m10.759s | 0 | 0 |
| 12 | Norman Nato | Nissan | Nissan e-4ORCE 04 | 39 | 0 | +27.07s | 1m10.418s | 0 | 0 |
| 13 | Lucas Di Grassi | Mahindra Racing | Mahindra M9Electro | 39 | 0 | +28.799s | 1m11.099s | 0 | 0 |
| 14 | Daniel Ticktum | NIO 333 Racing | NIO 333 ER9 | 39 | 0 | +37.318s | 1m11.387s | 0 | 0 |
| 15 | Sérgio Sette Câmara | NIO 333 Racing | NIO 333 ER9 | 39 | 0 | +45.034s | 1m11.203s | 0 | 0 |
| 16 | Kelvin van der Linde | ABT CUPRA | Mahindra M9Electro | 39 | 0 | +1m0.135s | 1m11.344s | 0 | 0 |
| 17 | Sacha Fenestraz | Nissan | Nissan e-4ORCE 04 | 39 | 0 | +1m09.547s | 1m11.014s | 0 | 0 |
| 18 | António Félix da Costa | TAG Heuer Porsche | Porsche 99X Electric | 38 | 0 | +1 lap | 1m10.922s | 0 | 0 |
| 19 | Oliver Rowland | Mahindra Racing | Mahindra M9Electro | 38 | 0 | +1 lap | 1m11.418s | 0 | 0 |
| | Edoardo Mortara | Maserati MSG Racing | Maserati Tipo Folgore | 32 | 0 | DNF | 1m11.364s | 0 | 0 |
| | Nico Müller | ABT CUPRA | Mahindra M9Electro | 13 | 0 | DNF | 1m12.35s | 0 | 0 |