Sebastien Buemi is already counting on another late-season surge after a disastrous start to his 2019/20 Formula E Championship campaign with Nissan e.dams.
The 2015/16 Formula E champion has failed to register a point so far this season despite finishing two of the three races held so far within the top 10 on the road.
Buemi's misfortune started with a terminal electrical issue in the opening round at Diriyah, followed by a post-race penalty in the second Saudi race.
This was handed out for rejoining the track dangerously after being spun around by Antonio Felix da Costa's DS Techeetah.
Then in Santiago he received a drivethrough penalty converted to a 30s time addition after the race, which was applied because his car was judged to have not respecting the homologated throttle pedal maps outlined by the FIA.
"The carbon thing that you pull basically broke in half. It was a nightmare" :: Sebastien Buemi
"We proved last year that we can come back," Buemi told The Race.
"But it's kind of hard to take it, you cross the line seventh, you had so many issues, and then they give you a 30s penalty."
In his 2018/19 Formula E campaign Buemi accrued just 12-points from the first five races and was a lowly 13th in the standings.
But six straight points scores in the final half of the season, including a win in the first New York race and three other podium finishes, allowed him to finish as runner-up to champion Jean-Eric Vergne.
In Santiago Buemi's Nissan IM02 is believed to have exceeded the power out of the RESS because of an issue that he described to The Race in detail.
"My regen paddle basically broke on the steering wheel," Buemi said.
"It's never happened [before]. The carbon thing that you pull basically broke in half.
"It got stuck, so I lost a lot of positions, and I managed to remove it, and then I had to use the second regen paddle. It was a nightmare.
"Then finally we finished P7, but because this paddle broke, it created a power exceeding something. On top of the three positions I lost, I got a 30s penalty."
This was salt in Buemi's wound after he had struggled in the opening phase of the race even before his composite splitting paddle malady.
He and his engineering team were forced to adapt their pre-race strategy when it became clear that they had set their race to an extra lap of the 45-minute and one lap event.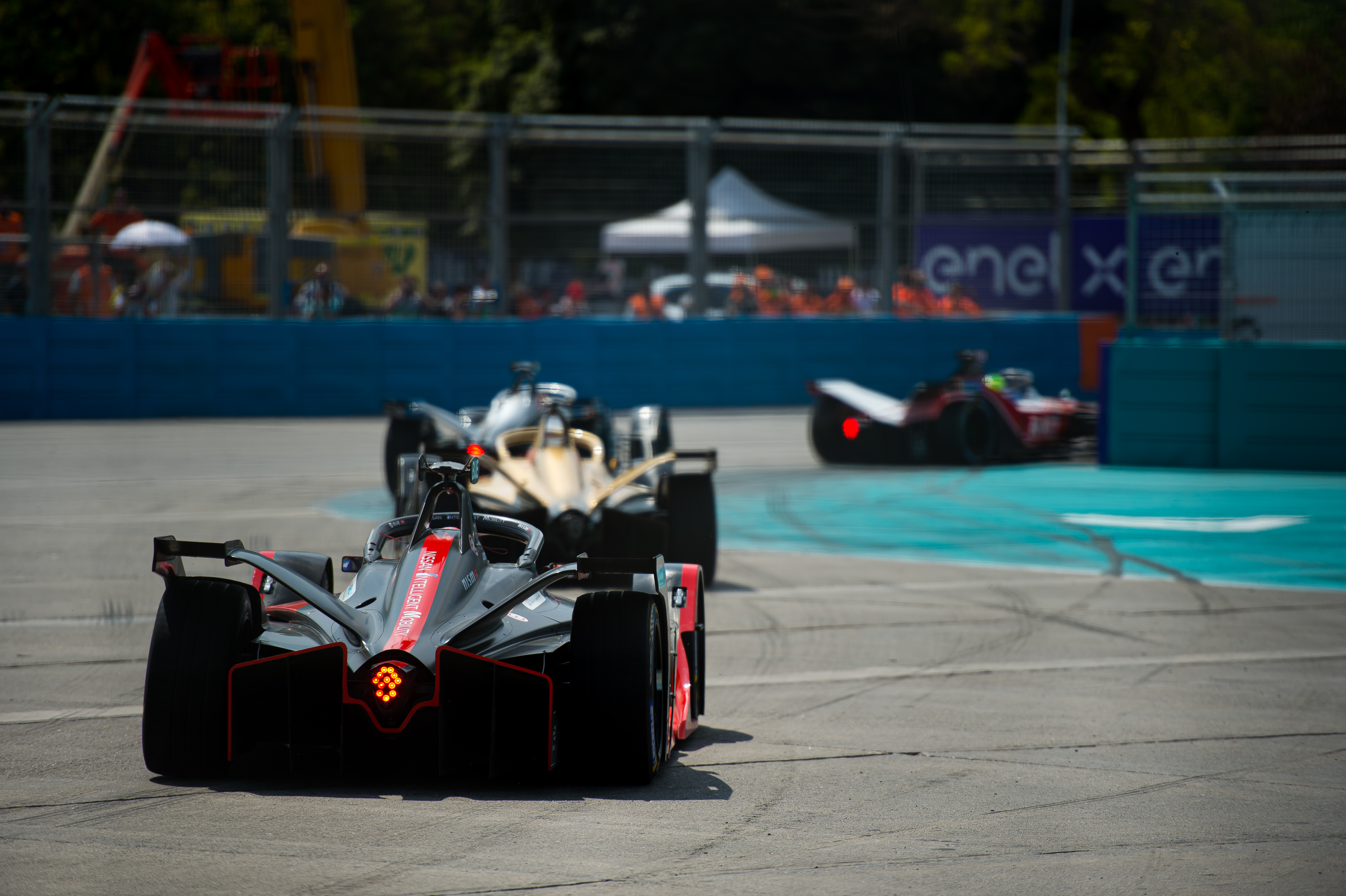 "The thing is we were doing an extra lap, and when you go an extra lap, it's difficult," said Buemi.
"You have to be much quicker if you want to keep up the pace.
"You look at your pace, you say if we continue to do whatever lap time, we're going to have to do 41 laps.
"If we go slower, we're going to have to do only 40, and what clearly happened is that the others thought 'OK we're going to go slower so we're able to do 40', which obviously we took more margin.
"You needed to have a real pace advantage if you want to do an extra lap. If you don't have that pace advantage, it becomes difficult."
At Mexico City a year ago, Buemi and team-mate Oliver Rowland retired from the race after a miscalculation by their team meant they run out of usable energy a lap before the chequered flag.
With zero points after three races of a 13-race season, any notion of a title chance would already be gone in most other championships.
But in Formula E this is not the case, mostly due to the fact that Buemi is again in the usually all-important final qualifying group next time out at the Autodromo Hermanos Rodriguez.