The first-ever Gen2 Formula E race was close to being cancelled after a rare band of rain flooded the purpose-built street track in the Ad Diriyah region of Riyadh in December 2018.
The revealing description of how bad the situation was comes as the third edition of the race gets ready to be run at the end this month – when it will open the series' first season as the ABB FIA Formula E World Championship.
After 45 races over Formula E's four-year history there had not been a single wet race, so the chances of one happening in the middle of Saudi Arabia were a long shot to say the least.
But rain it did, and on race day morning it didn't stop for several hours causing both practice session to be cancelled.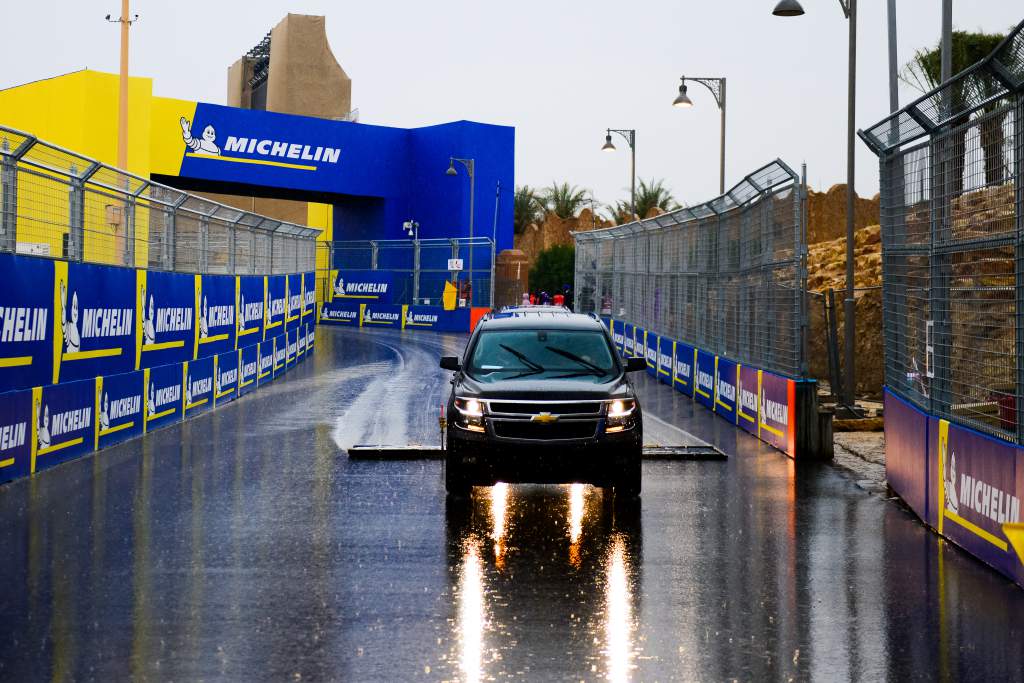 "The track was completely flooded in a couple of places," race director Scot Elkins tells The Race.
"If it wasn't for the fact that the local people were able to dig a hole and create a pump, we wouldn't have had the race, no way."
Elkins and his team worked with local workers in pinpointing where the drainage issues were. The biggest problem was at the approach to Turns 10 and 11, where a large amount of standing water was completely flooding the circuit.
"The local maintenance people literally made it up on the fly and were able to find some equipment and stem the flow of water," recalls Elkins.
"It was vital as there was one spot where the water just wouldn't stop flowing and they were able to effectively create a well to where the water would go. Then they would pump it to keep it off the track and that was the one thing that kept us going."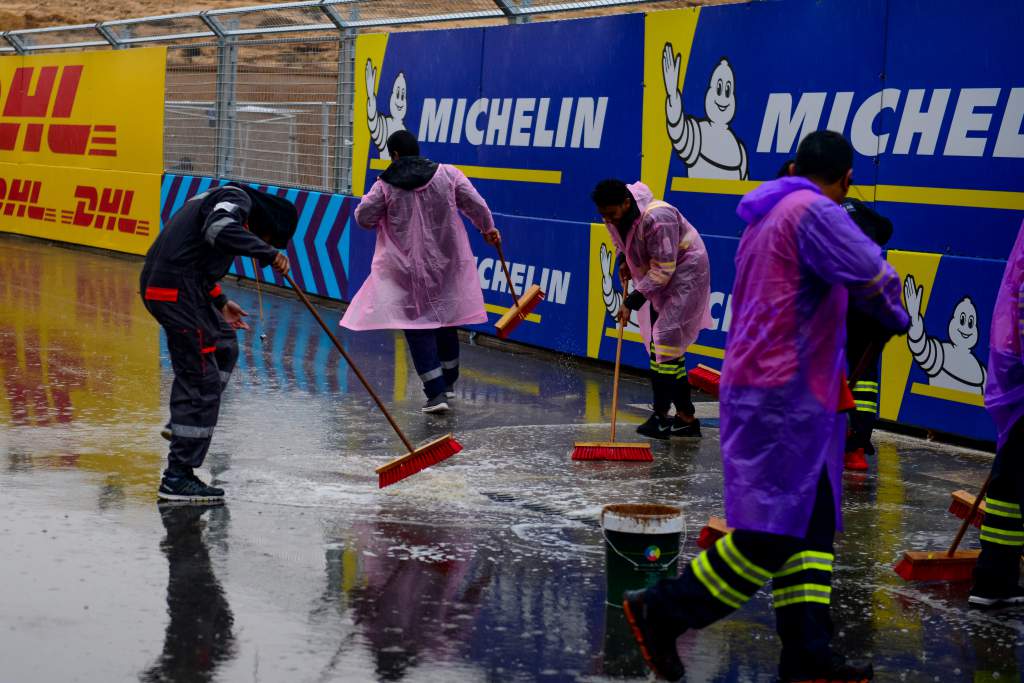 Elkins took Sam Bird around the track to get a driver's eye view and on returning to the pits both were surrounded by fellow drivers who queued at the open door of the course car to offer their opinions.
"We were running around and trying to figure out how to get practice sessions in," says Elkins. "We were trying to get on track, but we were just chasing the water all the time. It was like a nightmare, so much high pressure on all of us to find solutions."
The pressure was intense. Guests included the Crown Prince Mohammed bin Salman Al Saud and a vast entourage that had just arrived at the track with him, while rather randomly former Manchester United and England captain Wayne Rooney jetted in to witness the action too.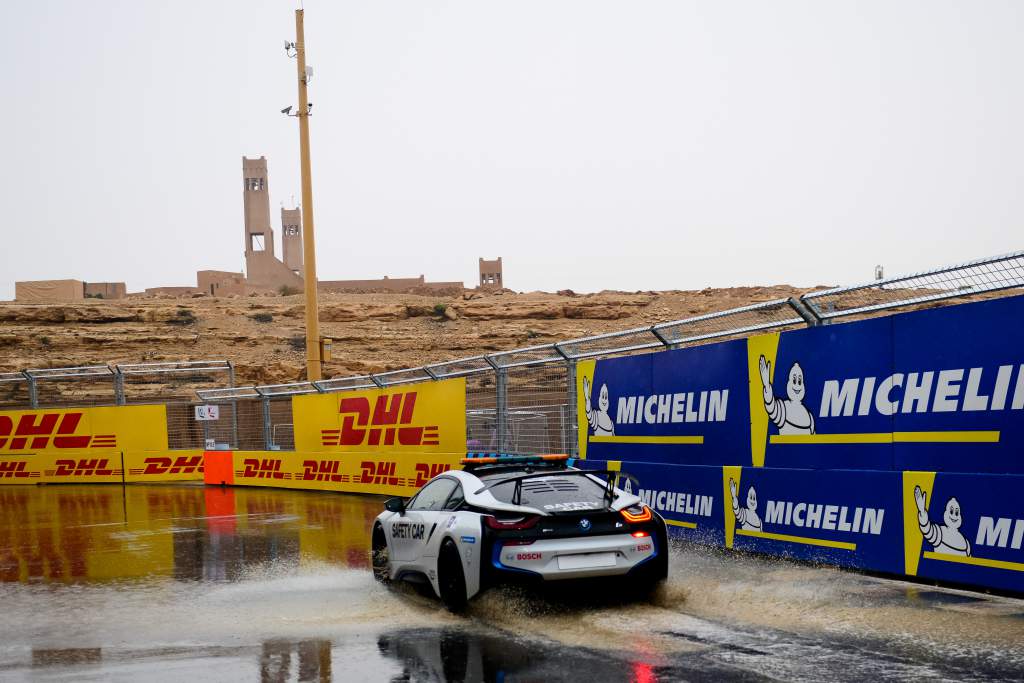 When the rain relented and the simple but effective drainage solution was found it was a relief but a juggling of timetables and the introduction of a new support series in the shape of the Jaguar I-Pace eTROPHY added massively to the pressures.
Fortunately both races went ahead without issue and Formula E's brave new Gen2 world started with what Elkins described as "a pure mixture of relief and pride in pulling it all off".
How a race engineer became a race director
Elkins has experience in several areas of racing over a 25-year career, but it is the correlation between his former life as a NASCAR race engineer which he draws on for high-pressure scenarios.
The Californian worked closely with Kasey Kahne, Dale Jarrett and Ricky Rudd in his role as an engineer with the Robert Yates Racing team between 1999 and 2004.
That role preceded his stint as Champ Car technical director of operations from 2004 to 2008 and similar responsibilities at IMSA between 2008 and 2014.
These experiences helped when he started working as an IndyCar race director for The Road to Indy in 2015 and then as FE race director in 2017. He then served as Formula 1's deputy race director under the mentorship of the late Charlie Whiting.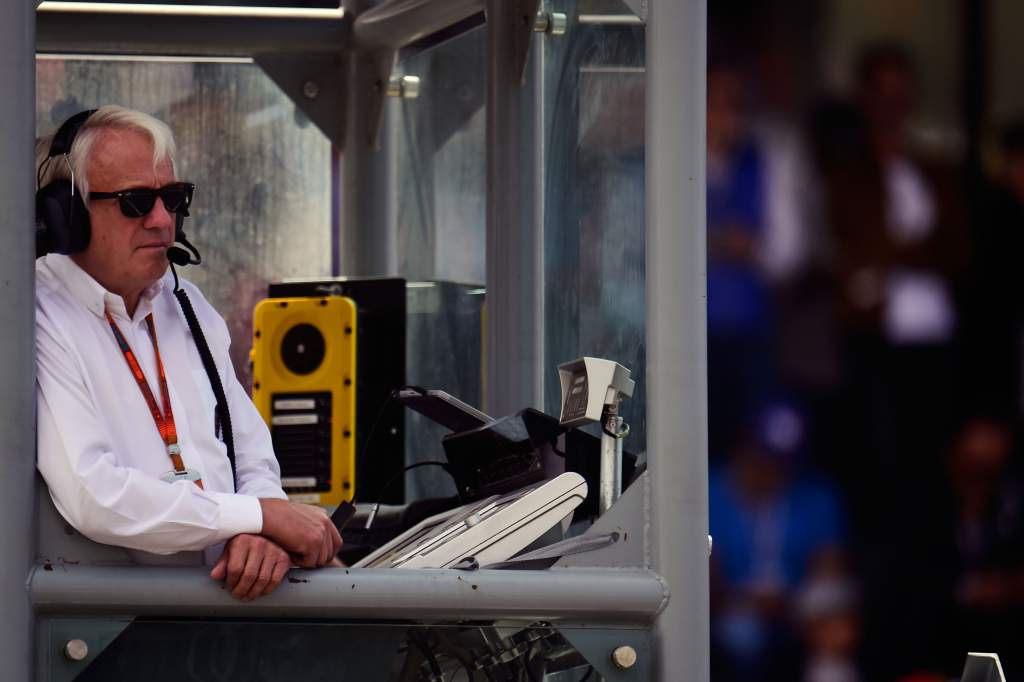 "For me it goes back to when I was a race engineer, talking to the driver on the radio," Elkins said on the topic of pressure.
"And it's the same thing about the room in race control, which is if you're the guy that's considered the leader, everybody's looking to you to decide how they respond.
"If you freak out, everybody's going to freak out, just as if you're freaking out on the radio to your driver he's going to know that it's worse than what he thought.
"Drivers have to be in the right headspace to perform well and if you get them out of that headspace there's going to be issues around them performing well. So you just have to manage that."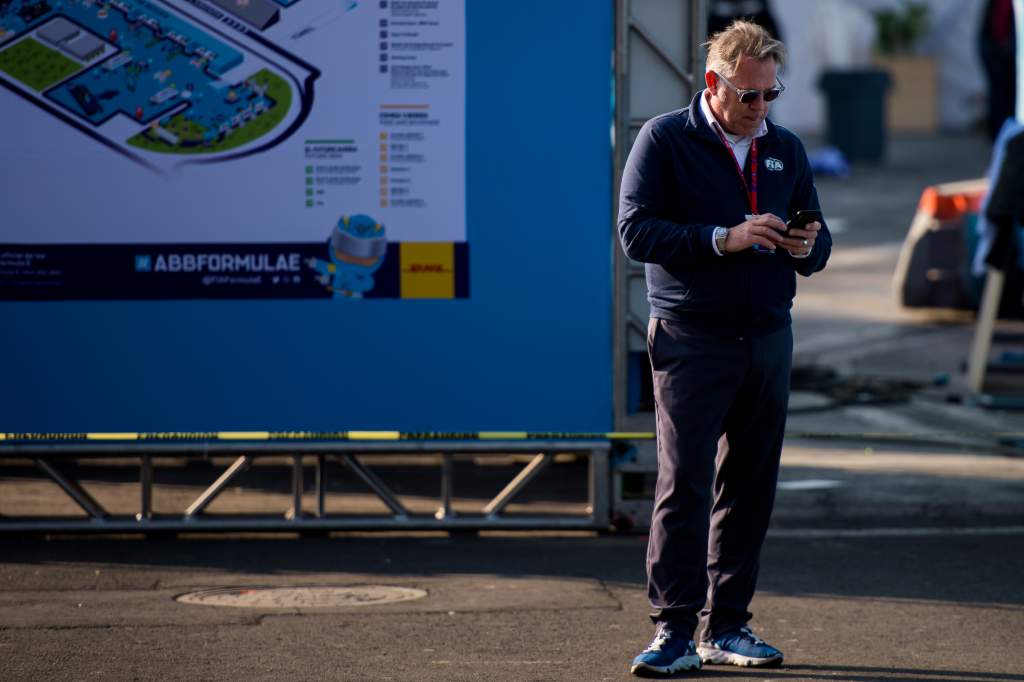 The cool manner stems from how he set a tone while working with drivers and teams in NASCAR, with even Mrs Elkins was impressed with his tranquillity.
"I don't get excited, don't get extreme," he says.
"I used to do that on the radio to Kasey or Dale, that's just trying to set a tone for everybody that's listening to you and everybody that's around you that we don't need to freak out.
"My wife always used to make fun of me because when I was at NASCAR and sitting on a pit box, and I still do it here in race control today, we go from a full course yellow to a green flag, I literally just say quite matter of factly 'green flag, green flag', with no excitement in my voice."
'Dude, you're my hero'
Elkins is respected by the Formula E drivers. Even within the pressure cooker of a single-day event flare-ups that last more than a few moments on any certain topic are rare.
His driver briefings are noted for the measured and calm tone, very much from the Whiting mould.
"I've always had the philosophy of not being combative," he says.
"I think it helps for the drivers to respect you, but you also have to show that respect back to the drivers I think, I learned that from Charlie and [former Champ Car chief steward] Tony Cotman."
"Truthfully, it [the drivers' briefing] is a kind of informal meeting really, the way I do it, where anybody can talk about anything and then if somebody brings up a good idea, we discuss it in that open forum. And I think, for me, that's always worked really well."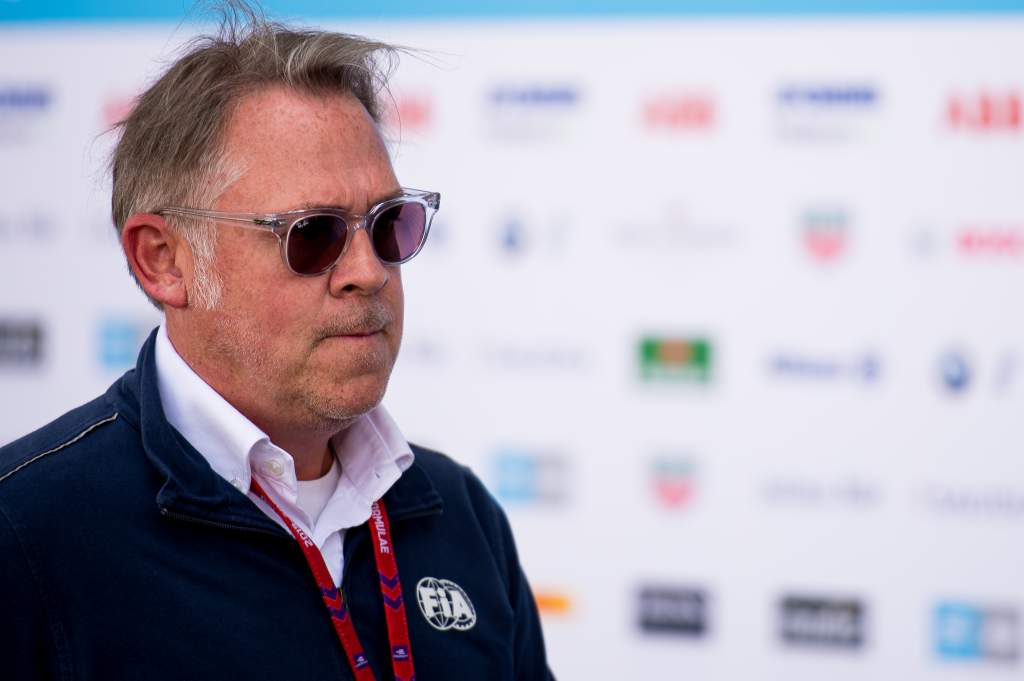 Elkins is certainly helped by Formula E drivers having a good level of experience in motorsport. He also believes that they also understand that their opinions only go so far.
"Everybody knows that it's not a democracy, we only make a decision if I agree that it's a valid decision," he says.
"There have been times when I've said: 'Hey guys, I'm sorry, but this is how it's going to be, and we won't talk about it anymore.'
"Because we either couldn't make a change, or something couldn't happen, for example we are unable to move a wall because there's a building behind it or something like that, it's just not possible."
Elkins always wants it to be a two-way street, always wants a conversation and the ability to have that conversation is important to him.
"What that does for me is it builds up a rapport where now I've got guys coming to me and saying 'I want to talk to you about something, but I don't want to make a big deal out of it in the drivers' briefing, so can we talk about it one-on-one?' "
A strong example of this philosophy was at the 2020 Santiago E-Prix, when Alexander Sims stopped his car early in the race and heeded Elkins' advice in the briefing to look for specific slots in the walls to park damaged or technically crocked cars.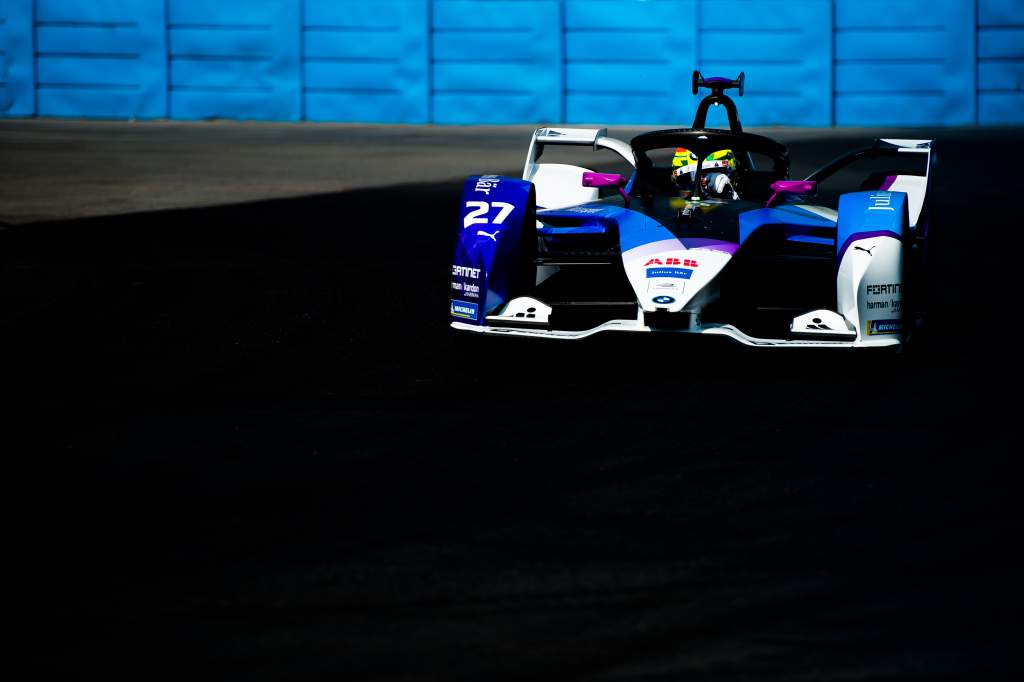 Sims did this to perfection and assisted the marshals in getting his BMW off the race track in the quickest manner possible, thus averting a full course yellow of any description.
"I went to Alex right after the race and I'm like, 'dude, you're my hero, you made that a great race for me because if you had parked anywhere else that would have been a safety car and we would have been in it for a long time'.
"He showed that the briefings work and the relationships do, too. It's all about the relationships."