Details of the inaugural Vancouver E-Prix next summer have emerged today after an official launch for Formula E's second visit to Canada.
The race, which is set to run as part of a large EV technology, business and cultural festival called the E-Fest, will use a sizeable section of the former IndyCar track that last hosted a race in 2004.
The 1.37-mile, 15 turn track in the False Creek area of the city, will host the first-ever Vancouver E-Prix on Saturday July 2 the day after Canada Day the national celebration of confederation.
The start and finish area will be located on the Pacific Boulevard area, near the Rogers Arena the home of the Vancouver Canucks NHL team.
The former IndyCar layout had its start line in a similar position and used a long back straight down Quebec Street which will also be a feature of the Formula E race.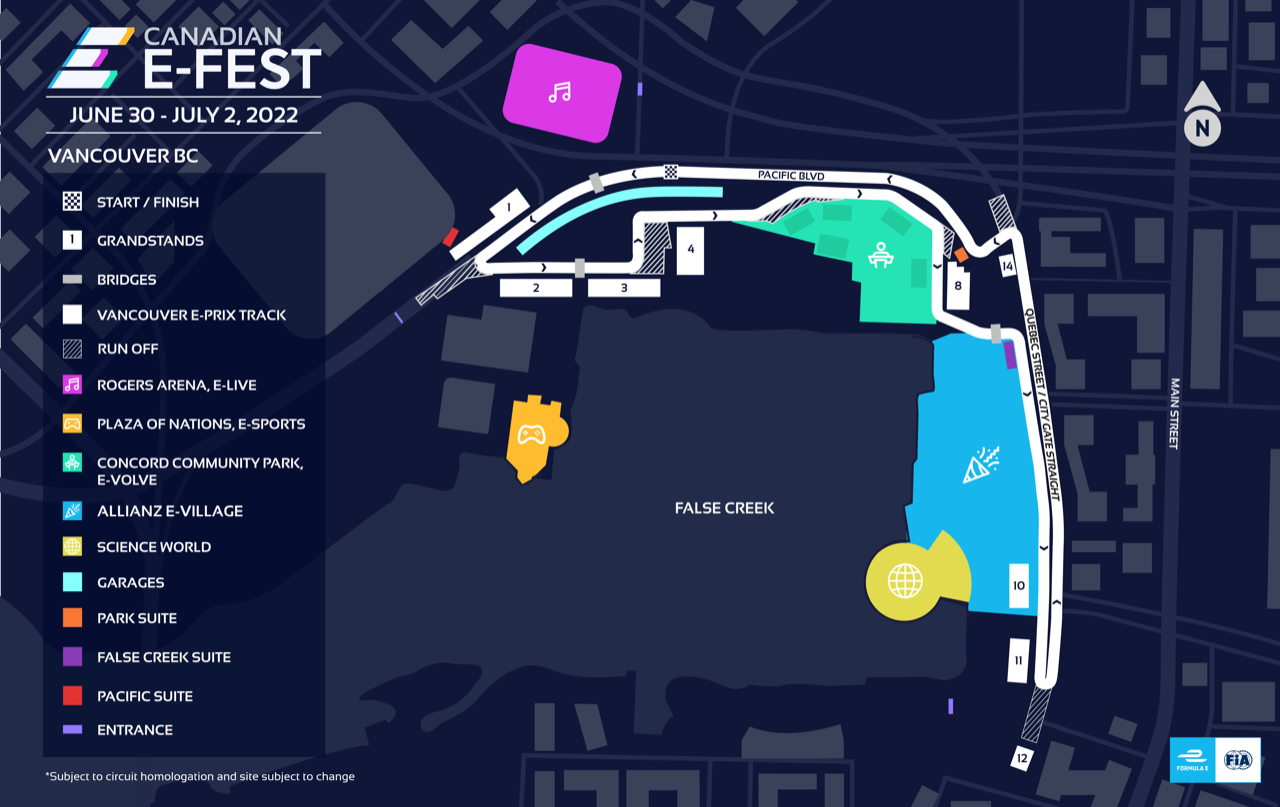 As revealed by The Race earlier this year 2021 Andretti IndyCar driver James Hinchcliffe has been announced as E-Fest Ambassador and a special celebrity support race will take place using EV single-seater street cars produced by Vancouver based Electra Meccanica.
The event is being put together and promoted by the OSS Group which is headed up by former Lotus F1 CEO, Matthew Carter and ex-Montreal, Bern E-Prix operations and site designer, Phillip Smirnow and experienced promotions and media communications specialist Anne Roy who is the executive vice president.
The OSS Group estimates that the event can create "$80 million in economic value" and generate "approximately 3,000 jobs".
Funds for the event have come from entirely private sources and it is not reliant on funds from the city itself.
A motion was raised through the city council for a permit approval earlier this year and that was subsequently granted for the False Creek area to host the event in the summer of 2021. The world motorsport council included the event for July 2 on the initial 2022 Formula E calendar which was released in July.
Formula E first visited Canada in 2017 when Lucas di Grassi was crowned champion and his main title rival Sebastien Buemi had his famous pitlane tirade. But that Montreal E-Prix lasted a single year before losing its place on the calendar.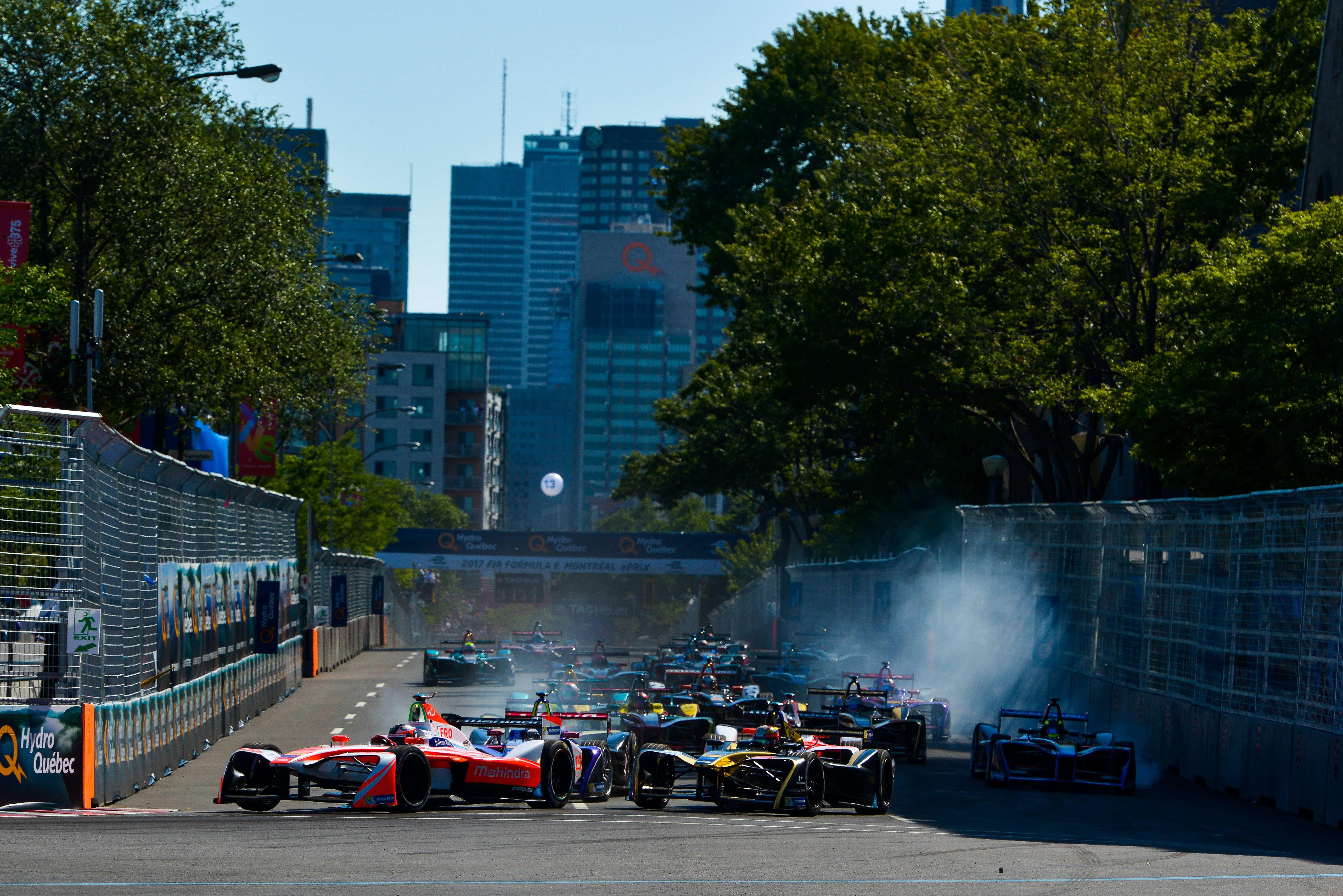 Guest stars already announced for the celebrity race include Olympic silver medallist Charmaine Crooks, actor/director Jason Priestley and Olympic freestyle skiing champion Alexandre Bilodeau.
Sustainability company C2 International will organise and host the business conference element of the weekend on June 30. Legal clerk, environmental activist and consumer advocate, Erin Brockovich, who was depicted in an Oscar-winning film by actor Julia Roberts in 2000 will be the first keynote speaker.
An esports tournament will be located in the Plaza of Nations area and city residents will be encouraged to run, walk or cycle to the track.
"The Canadian E-Fest will be an exciting, dynamic, innovative sports and entertainment event that drives the promotion of electric mobility and the fight against climate change in Canada and around the world," said Alberto Longo, co-founder and chief championship officer of Formula E.
"Working with our local partners, we are excited to bring the ABB FIA Formula E World Championship to the streets of Vancouver in 2022."
The OSS Group and Formula E have been planning a race in Vancouver since early 2019 and pre-pandemic had targeted a July 2021 date.
After gaining local council approval for the event earlier this year, Vancouver councillor, Sarah Kirby-Yung, says that the E-Fest is seen as a stimulus event for the Canadian city.
"The real driving force for me in pushing for Vancouver to be the Canadian host city for the ABB FIA Formula E World Championship in 2022 was economic recovery," said Kirby-Yung.
"Stimulus events like this are significant for our city and hard-hit tourism sector, plus they bring hope and fun for residents.
"With climate change, we also need to advance the dialogue around and adoption of electric mobility and Formula E can inspire people to make those choices."
The event has also gained support from the title partner of the FIA ABB Formula E world championship.
"For more than a century, ABB Canada has been innovating and investing to provide leading electrification and automation technologies to Canadian industry," said Eric Deschenes, Country Managing Director and Head of Electrification Business, ABB Canada.
"Our partnership with the ABB FIA Formula E World Championship is an opportunity to test and develop technologies that will accelerate the transition to a low-carbon economy and drive progress in sustainability.
"The hosting of ABB Formula E in Vancouver, Canada's greenest city, is a testament to the advancements being made to enable a healthier and more prosperous world for future generations."