Antonio Felix da Costa took his first Formula E victory since joining Porsche with an extraordinary drive from 11th on the Cape Town grid that included two astounding high-speed overtaking moves.
The second of those sealed a victory da Costa appeared to have thrown away by not properly triggering attack mode when he tried to take his second helping of it.
He lost the lead to former DS Techeetah team-mate Jean-Eric Vergne as a result – having come back onto the racing line just ahead of the now DS Penske driver only to then be told he hadn't hit all the attack mode timing loops and would have to try again, losing the lead when he did so.
Da Costa attacked Vergne relentlessly and made it ahead with an unbelievable move round the outside of the super-fast kink leading into Turn 8, squeezing through a narrowing gap with minor contact to reclaim first place.
HANG IT IN THE LOUVRE 🤌

A move worthy of winning any race. Take a bow @AFelixdacosta 👏#CapeTownEPrix pic.twitter.com/G2hrANaCTk

— ABB FIA Formula E World Championship (@FIAFormulaE) February 25, 2023
"I f***ing did not see you in the mirrors, man!" said a laughing Vergne to da Costa straight after the race. "That was a good one!"
Vergne's second position is a big title race boost as championship frontrunners Pascal Wehrlein and Jake Dennis had disastrous days.
Wehrlein ploughed into the back of Sebastien Buemi on lap one and was out with suspension damage on his Porsche.
DRAMA ON THE OPENING LAP!!! 🤯

Our Championship leader @PWehrlein crashes into the back of @Sebastien_Buemi at Turn 7 and the yellow flag is out!#CapeTownEPrix

— ABB FIA Formula E World Championship (@FIAFormulaE) February 25, 2023
Dennis started only 14th for Andretti after a three-place penalty for impeding Stoffel Vandoorne in qualifying, then got a drivethrough penalty for a tyre pressure infringement and finished only 13th.
That means Wehrlein and Dennis remain 18 points apart at the top of the standings, and their non-score means Vergne closes to within 30 of the top spot.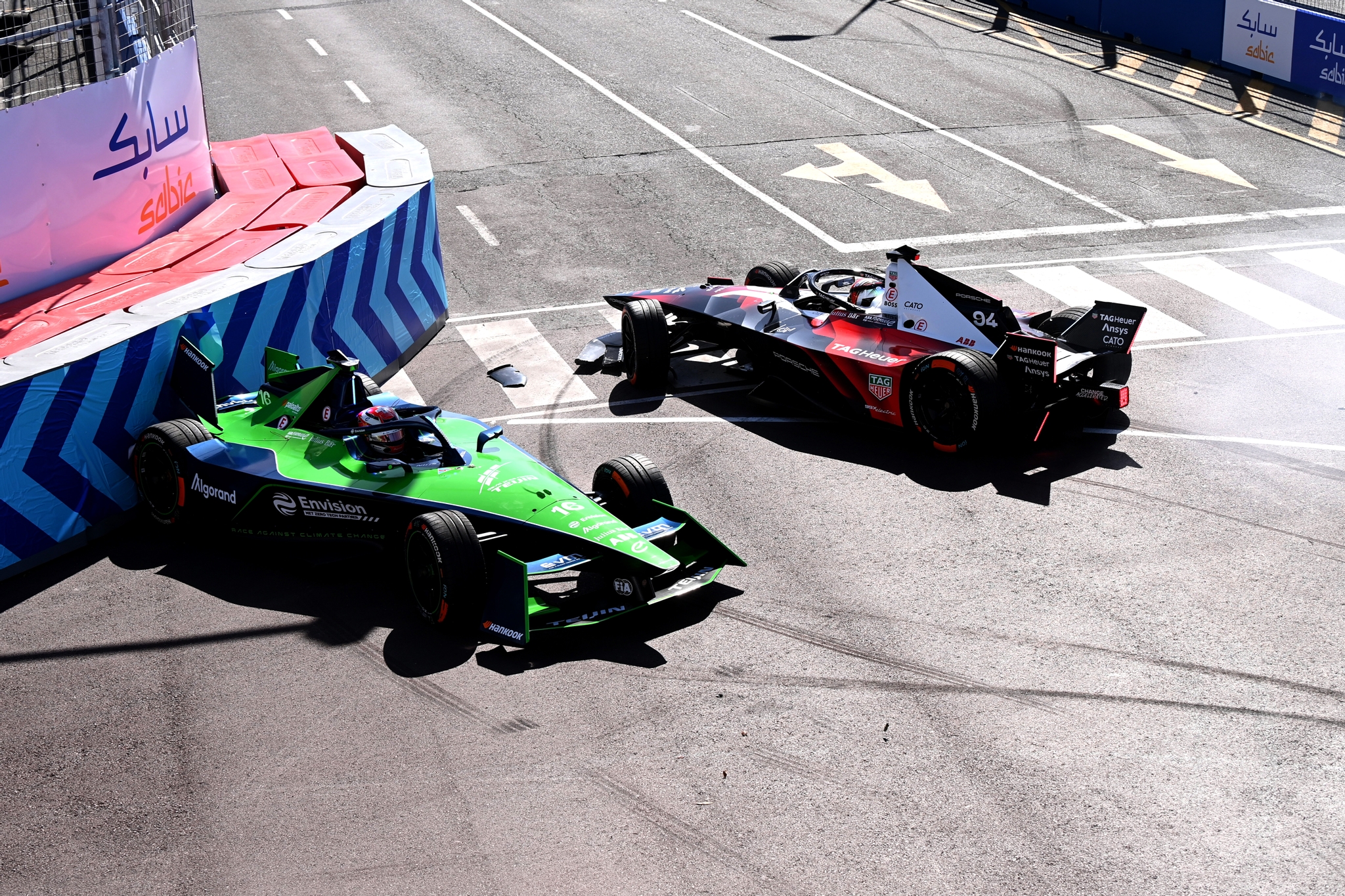 Da Costa's pass on Vergne was his second go at that move, having earlier taken the lead from Nick Cassidy with the same manoeuvre as he completed his charge forward from 11th.
Envision driver Cassidy, polesitter Sacha Fenestraz's Nissan and Maximilian Guenther's Maserati had been the main protagonists up to that point.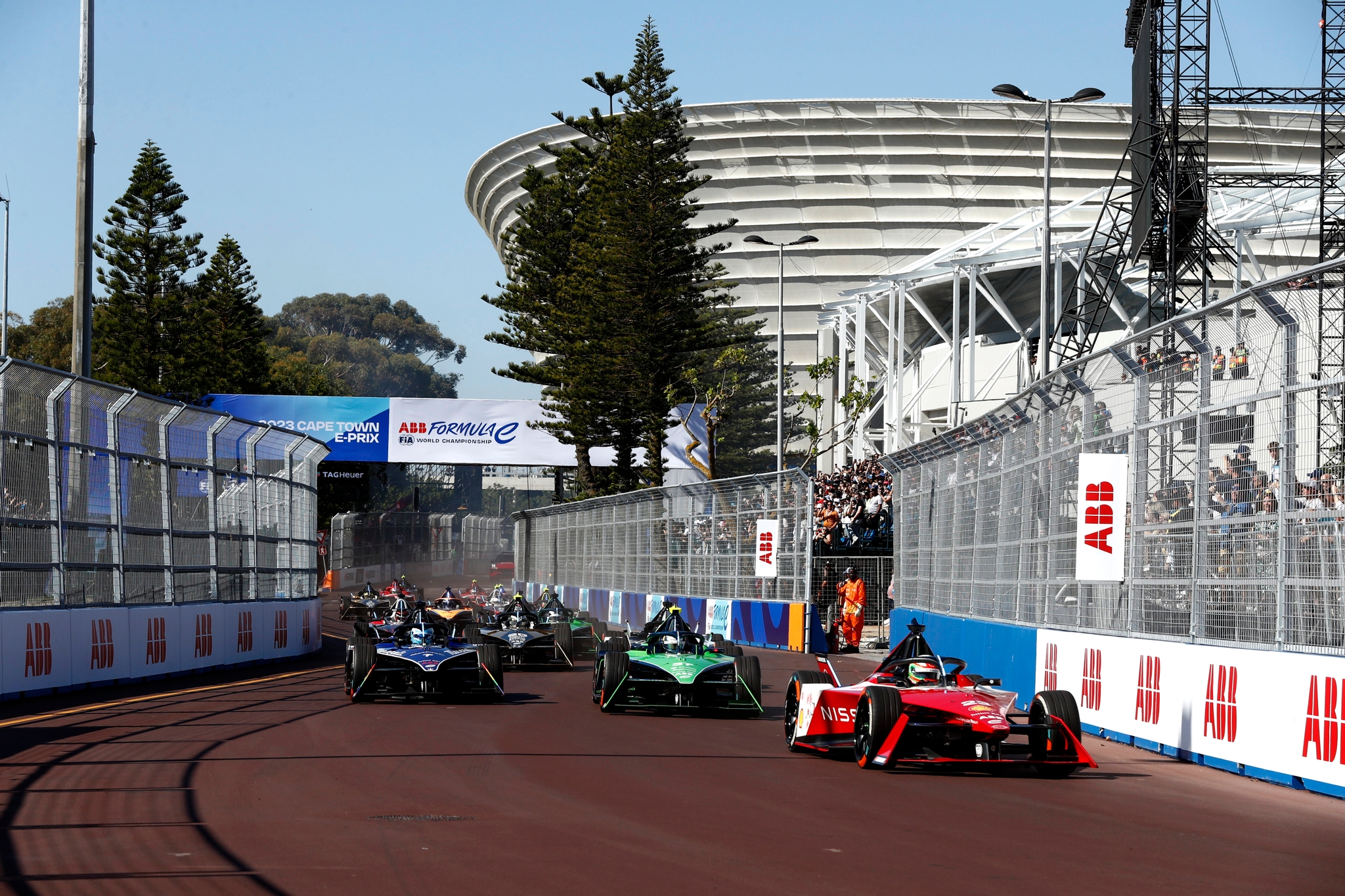 Guenther left Fenestraz perplexed and enraged by taking the lead from him just as the safety car came out for Wehrlein's crash.
Cassidy then jumped both of them by running five laps longer before taking attack mode for the first time.
Though Cassidy couldn't hold off da Costa or Vergne, he took third while both Guenther and Fenestraz crashed out – the latter on the final lap.
Buemi recovered from last after the Wehrlein hit to take fifth behind Rene Rast's McLaren. Rast's team-mate Jake Hughes – a star of the early rounds – admitted he didn't have the same confidence on the Cape Town track as he qualified only 13th then finished 10th.
Dan Ticktum ran with the leaders again and took sixth for NIO 333, followed by another muted result for reigning champion Vandoorne in seventh.
Jaguar had another awful day. Mitch Evans's early fourth place became an 11th at the finish thanks to a penalty for exceeding the power limit and Sam Bird failed to start after his massive qualifying accident in which he collected Edoardo Mortara's already-crashed Maserati.
Maserati managed to get Mortara's car repaired in time for him to start from the pitlane but he parked on track on the first lap.
Mahindra withdrew its factory cars and customer Abt Cupra's entries during qualifying due to safety concerns believed to relate to flexing suspension.
Race Results
| Pos | Name | Team | Car | Laps | Laps Led | Total Time | Fastest Lap | Pitstops | Pts |
| --- | --- | --- | --- | --- | --- | --- | --- | --- | --- |
| 1 | António Félix da Costa | TAG Heuer Porsche | Porsche 99X Electric | 32 | 0 | 42m25.403s | 1m09.81s | 0 | 25 |
| 2 | Jean-Eric Vergne | DS Penske | DS E-Tense FE23 | 32 | 0 | +0.281s | 1m09.74s | 0 | 19 |
| 3 | Nick Cassidy | Envision Racing | Jaguar I-TYPE 6 | 32 | 0 | +1.808s | 1m10.249s | 0 | 15 |
| 4 | René Rast | NEOM McLaren | Nissan e-4ORCE 04 | 32 | 0 | +2.208s | 1m09.946s | 0 | 12 |
| 5 | Sébastien Buemi | Envision Racing | Jaguar I-TYPE 6 | 32 | 0 | +2.656s | 1m10.152s | 0 | 10 |
| 6 | Daniel Ticktum | NIO 333 Racing | NIO 333 ER9 | 32 | 0 | +3.209s | 1m10.079s | 0 | 8 |
| 7 | Stoffel Vandoorne | DS Penske | DS E-Tense FE23 | 32 | 0 | +4.21s | 1m10.027s | 0 | 6 |
| 8 | Norman Nato | Nissan | Nissan e-4ORCE 04 | 32 | 0 | +8.582s | 1m10.49s | 0 | 4 |
| 9 | André Lotterer | Avalanche Andretti | Porsche 99X Electric | 32 | 0 | +8.755s | 1m10.322s | 0 | 2 |
| 10 | Jake Hughes | NEOM McLaren | Nissan e-4ORCE 04 | 32 | 0 | +10.475s | 1m10.248s | 0 | 1 |
| 11 | Mitch Evans | Jaguar TCS Racing | Jaguar I-TYPE 6 | 32 | 0 | +14.183s | 1m09.951s | 0 | 0 |
| 12 | Sérgio Sette Câmara | NIO 333 Racing | NIO 333 ER9 | 32 | 0 | +14.914s | 1m10.788s | 0 | 0 |
| 13 | Jake Dennis | Avalanche Andretti | Porsche 99X Electric | 32 | 0 | +38.846s | 1m10.06s | 0 | 0 |
| 14 | Sacha Fenestraz | Nissan | Nissan e-4ORCE 04 | 32 | 0 | +47.613s | 1m10.139s | 0 | 3 |
| | Maximilian Günther | Maserati MSG Racing | Maserati Tipo Folgore | 20 | 0 | DNF | 1m10.247s | 0 | 0 |
| | Edoardo Mortara | Maserati MSG Racing | Maserati Tipo Folgore | 1 | 0 | DNF | 0s | 0 | 0 |
| | Pascal Wehrlein | TAG Heuer Porsche | Porsche 99X Electric | 0 | 0 | DNF | 0s | 0 | 0 |