Aston Martin Formula 1 reserve driver Felipe Drugovich set the quickest time of the day in a Maserati MSG entry at the first Formula E rookie test to be held since March 2020.
Conditions at Berlin Tempelhof were different from the sunny morning running to a predominantly windier afternoon session, with a brief shower hitting the track prior to the later three-hour session.
However, once it dried laptimes improved through the final hour, with Ferrari F1 tester Robert Shwartzman initially setting the benchmark before Red Bull junior Zane Maloney claimed a 1m05.619s lap on the full 350kW power mode.
Alpine protege Victor Martins then stopped the clocks in a brief first place, before Drugovich's 1m05.509s best eclipsed all those previous markers.
"I enjoyed it and I think it surpassed expectations, especially coming from Formula 2, and F1 cars," Drugovich told The Race.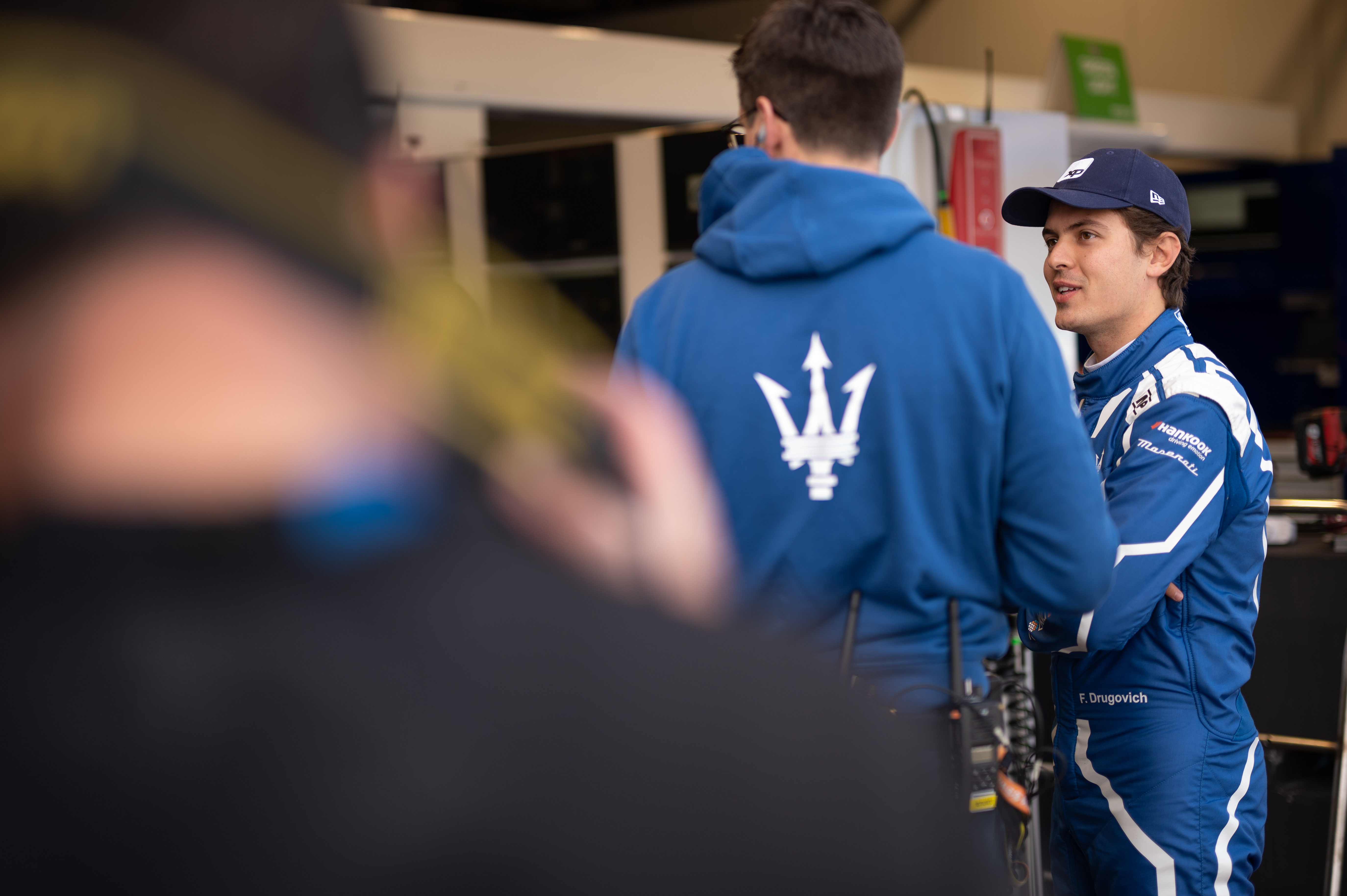 "It was maybe a bit weird to start with and I didn't know if the cars were going to be enjoyable to drive.
"But it's actually very fun to drive so I enjoyed that, also everyone knows that the category is very competitive, the teams are very professional, so that also surpassed my expectations. Everything is impressive and I'm enjoying it."
Sheldon van der Linde had headed the slightly slower morning session, peaking on a 1m05.814s, 0.073s clear of Nissan's official sim driver Luca Ghiotto.
Van der Linde's afternoon session ended when he went off at Turn 6 and damaged the front of the Jaguar I-Type normally driven by Sam Bird. He returned to the track for the last five minutes of the afternoon session.
Jehan Daruvala took the sixth-fastest time of the day, like Van der Linde setting his best in the morning running.
Shwartzman in one of the two DS Penske cars placed seventh ahead of Luke Browning (McLaren), David Beckmann (Porsche) and F1 podium finisher Daniil Kvyat in one of the two NIO 333 cars.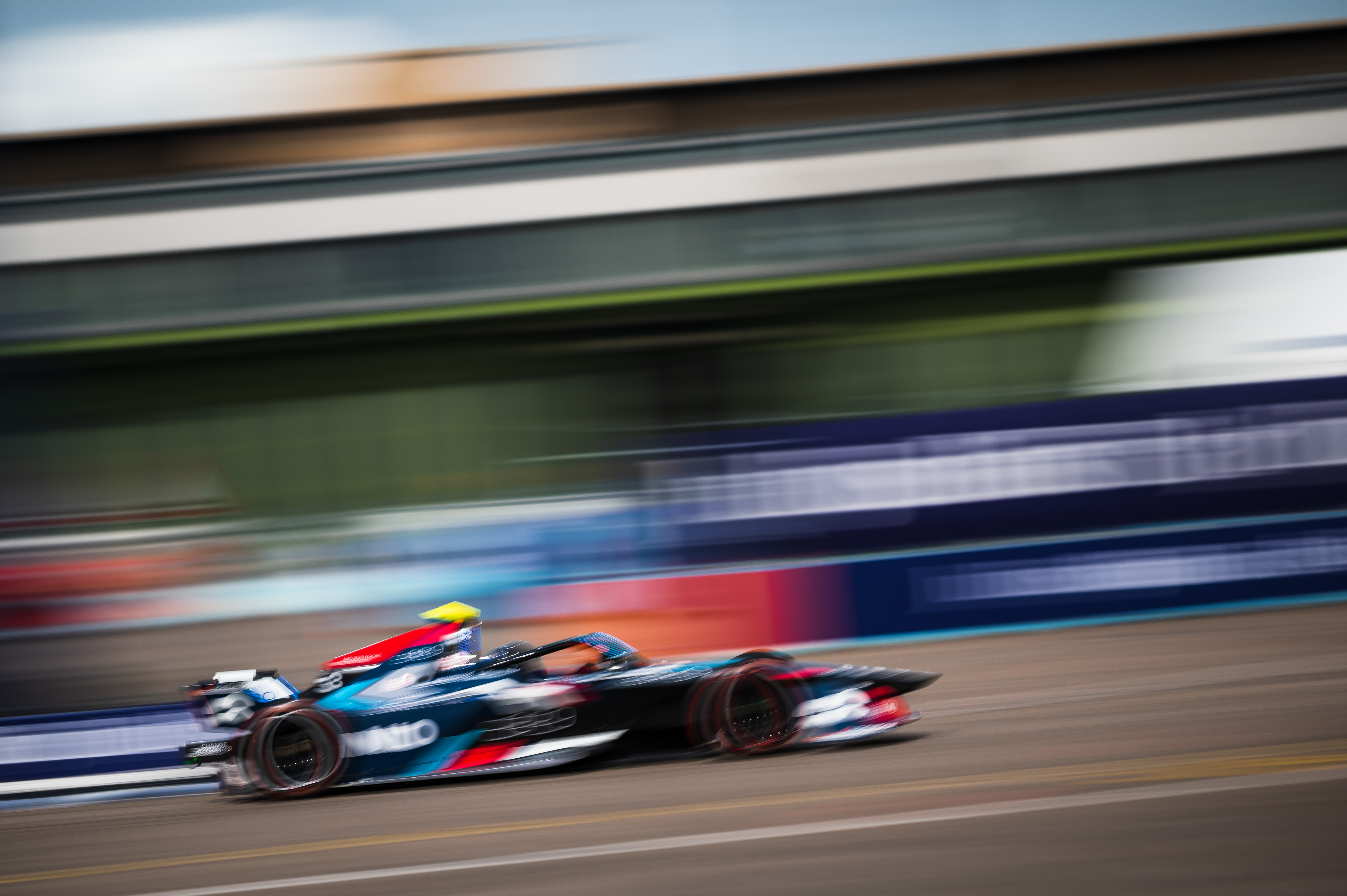 Envision had its test slightly compromised due to an inspection of Sebastien Buemi's chassis after damage inflicted in Sunday's Berlin E-Prix when he was hit by Jake Dennis' Andretti Porsche.
That meant Johnny Edgar had to sit out the morning session as Jack Aitken took the reins, with the ex-Williams F1 driver setting a 1m06.878s lap which placed him 17th in the three hours of morning running. Edgar was then 20th in the afternoon.
Of Aitken's fellow ex-F1 drivers, Will Stevens was 14th in a row, with Roberto Merhi 18th.
Combined times
| | | | | | |
| --- | --- | --- | --- | --- | --- |
| Pos. | Driver | Team | Time | Gap | Laps |
| 1 | Felipe Drugovich | Maserati | 1:05.509 | | 99 |
| 2 | Victor Martins | Nissan | 1:05.610 | 0.101 | 101 |
| 3 | Zane Maloney | Andretti | 1:05.619 | 0.110 | 96 |
| 4 | Luca Ghiotto | Nissan | 1:05.780 | 0.271 | 97 |
| 5 | Sheldon van der Linde | Jaguar | 1:05.814 | 0.305 | 90 |
| 6 | Jehan Daruvala | Mahindra | 1:05.922 | 0.413 | 112 |
| 7 | Robert Shwartzman | DS Penske | 1:05.923 | 0.414 | 112 |
| 8 | Luke Browning | McLaren | 1:05.944 | 0.435 | 98 |
| 9 | David Beckmann | Porsche | 1:05.996 | 0.487 | 56 |
| 10 | Daniil Kvyat | NIO 333 | 1:06.012 | 0.503 | 95 |
| 11 | Yifei Ye | Porsche | 1:06.053 | 0.544 | 58 |
| 12 | Tim Tramnitz | Abt Cupra | 1:06.090 | 0.581 | 93 |
| 13 | Mikel Azcona | NIO 333 | 1:06.155 | 0.646 | 98 |
| 14 | Will Stevens | DS Penske | 1:06.175 | 0.666 | 105 |
| 15 | Linus Lundqvist | Andretti | 1:06.245 | 0.736 | 98 |
| 16 | Hugh Barter | Maserati | 1:06.310 | 0.801 | 98 |
| 17 | Adrien Tambay | Abt Cupra | 1:06.352 | 0.843 | 98 |
| 18 | Roberto Merhi | Mahindra | 1:06.386 | 0.877 | 55 |
| 19 | Charlie Eastwood | McLaren | 1:06.454 | 0.945 | 98 |
| 20 | Jordan King | Mahindra | 1:06.525 | 1.016 | 61 |
| 21 | Jack Aitken | Envision | 1:06.878 | 1.369 | 51 |
| 22 | Simon Evans | Jaguar | 1:07.147 | 1.638 | 103 |
| 23 | Jonny Edgar | Envision | 1:07.172 | 1.663 | 11 |