After its unveiling last month, we've finally been able to get a glimpse at gameplay of F1 Manager 2022, the first of four officially licensed F1 management games to be developed by Frontier.
A 30-minute long presentation attended by The Race included a first look at the different aspects of an F1 team you'll be able to oversee as well as the start of the Australian Grand Prix in the first season of a career mode.
Since it's been over 20 years since EA Sports released the last officially licensed, fully fledged F1 manager game, there's understandably a lot of intrigue as to what F1 Manager 2022 will be like to play.
One of the few details that has been stressed by Frontier is a broadcast-quality presentation during the races. That is achieved by lines of commentary as well as analysis before and after a race from David Croft and Karun Chandhok. The camera angles used when viewing the races are also based on real-life TV camera placements both for trackside and onboard viewpoints.
If there's a noteworthy event happening to a driver you're not currently watching, since you can view any driver at any point instead of just your own, the game will even offer you the chance to view a replay of that driver spinning, crashing, or whatever it happens to be.
𝘋𝘳𝘪𝘷𝘦 𝘌𝘷𝘦𝘳𝘺 𝘋𝘦𝘤𝘪𝘴𝘪𝘰𝘯.

𝗙𝟭® 𝗠𝗮𝗻𝗮𝗴𝗲𝗿 𝟮𝟬𝟮𝟮.

Coming this summer.

More 👉 https://t.co/p2AGvdCXgd pic.twitter.com/Zd45hJFfTK

— F1® Manager 2022 (@F1Manager) March 7, 2022
Team radio chatter has also been integrated by using archive audio from previous F1 races. So you'll hear race engineers tell drivers about on-track events such as DRS becoming active and they'll audibly relay your commands to them – such as to conserve their tyres or use more ERS to make an overtake.
With drivers and engineers both able to move teams, it is theoretically possible you could hear Pete Bonnington talking over the radio to Max Verstappen while both compete for Alfa Romeo – as just one of many potential examples. The inclusion of team radios makes races in the early stages of a career mode more true to a real-life TV broadcast while, conversely, exemplifying just how far from reality the F1 world will inevitably become once personnel start moving teams.
Alongside two race drivers, a reserve driver and two race engineers, players will also have to hire a technical chief, a head of aerodynamics, and manage an engineering team, a scouting team and pit crew.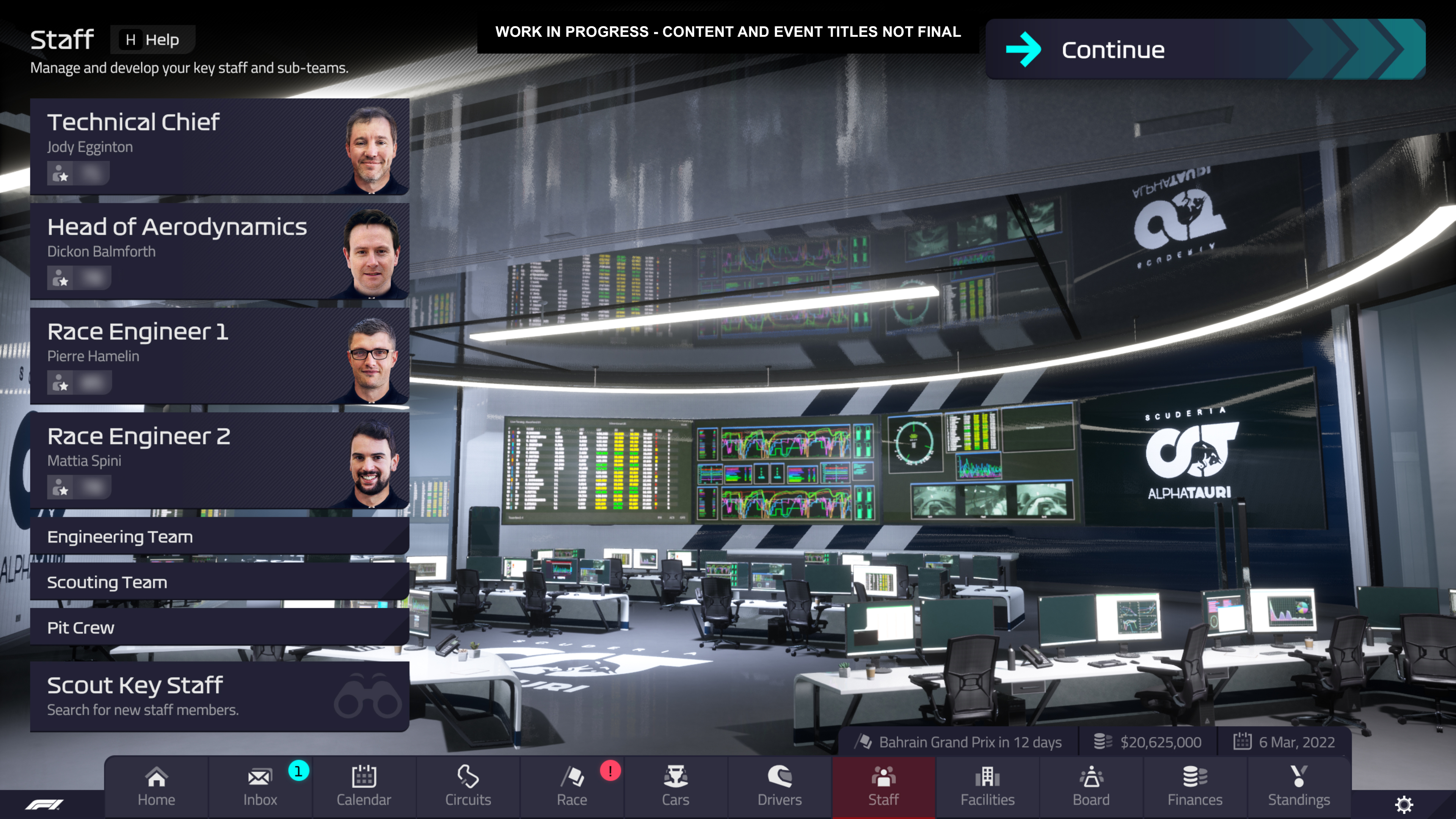 As seasons progress the drivers and other staff members will change ratings and eventually retire. This will allow the Formula 2 and Formula 3 personnel, as both feeder series are also in the game, to move up and into Formula 1.
Unlike in EA and Codemasters' F1 2021, there's no limit to the number of seasons in a career. So after a while you will only have current F2 and F3 drivers racing in F1, with the roster bolstered by fictional drivers who replace those who retire. That system of having regens make up the numbers is a system that's long been employed in the Football Manager series along with other sports games.
One word that was used throughout the presentation was authenticity. That's a stark contrast to the older, licensed F1 manager games which could be better described, whether it was by design or not, with the term absurd.
From the TV broadcast emulating style during the races to the level of detail when it comes to the engineering side of the sport, there has been a concerted effort by Frontier and Formula 1 to make F1 Manager 2022 a faithful experience.
"One of our pillars is authenticity," game director Andy Fletcher told The Race. "Our partners at Formula 1 have been so excited about this game as we have and they've been so great to work with. A special shoutout to the motorsport team who have given us loads of amazing feedback on some of the more technical elements.
"From both their side and our side the goal has been to really authentically replicate the 2022 season as closely as possible. Beyond that I think both of us have agreed that it's the players game to some degree so the decisions the player makes really should take over.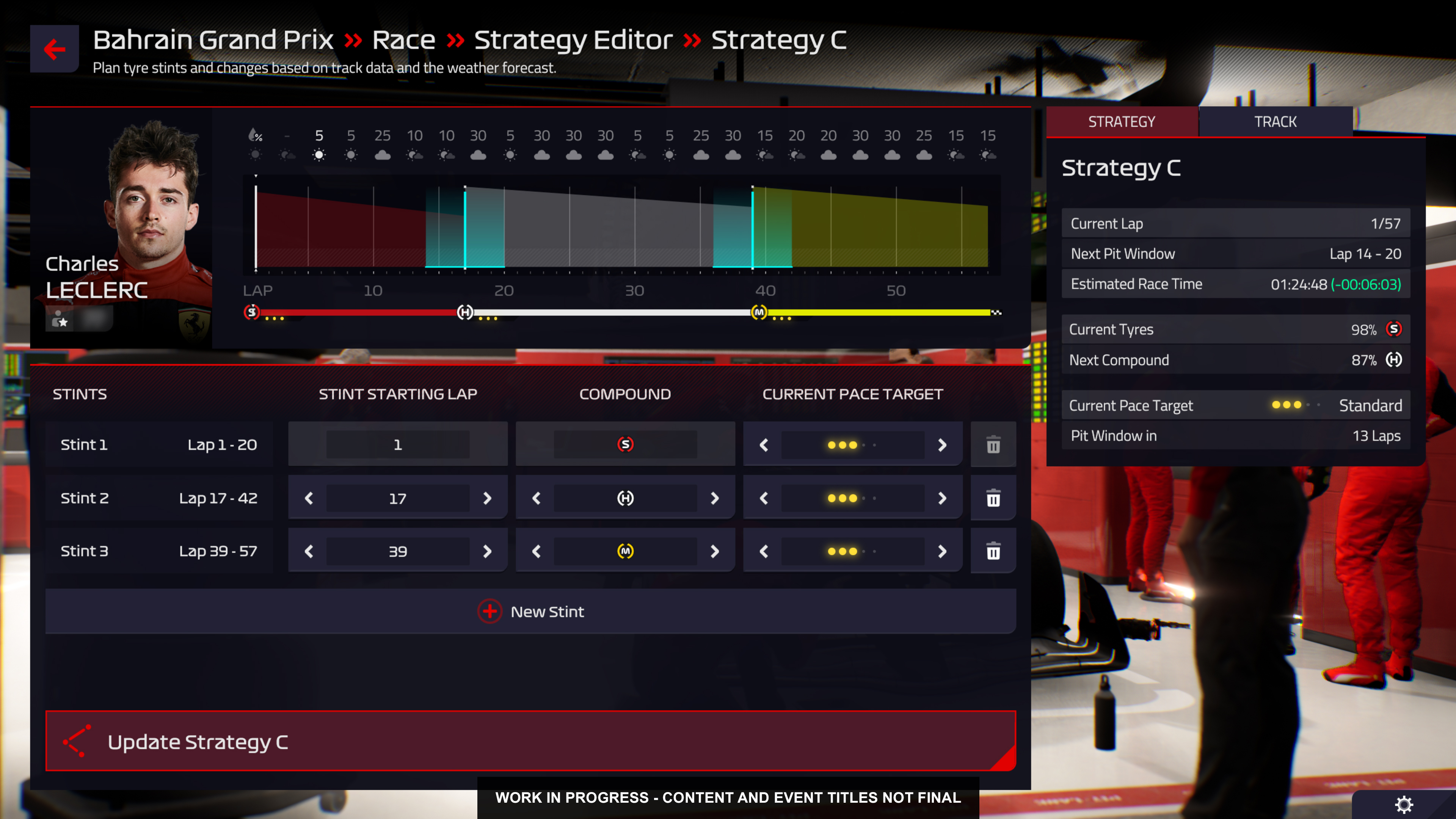 "I think you might be surprised by how much things can deviate from real-life but, at the same time, retain that authentic flavour because we have that license."
Executive producer Adam Woods added: "It's been a great relationship with F1, we work very closely with them and it's fantastic having that access to the data and all the things they give us.
"But we want to make sure it's an authentic, F1-feeling game with a little twist of how the player can take their team right out into the future and see what happens."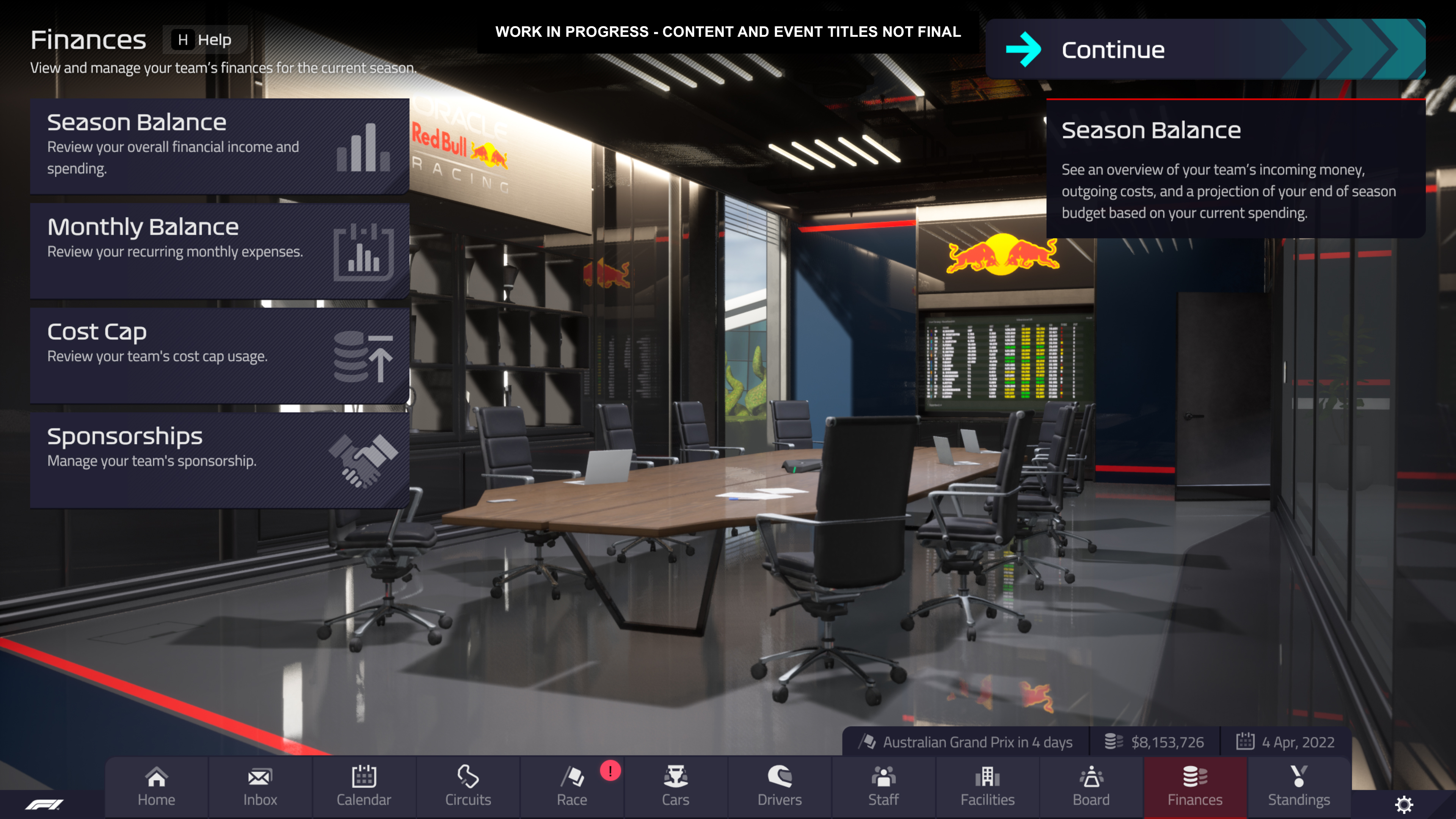 Part of the challenge of running an F1 team in the modern era is sticking within the cost cap as well as the limit each team has in terms of windtunnel runs and CFD items.
Those restrictions are replicated in the game and form a part of the surprisingly deep system when it comes to designing new parts for your car. The areas of your car you can improve include the chassis, front and rear wings, sidepods, underfloor and suspension.
When it comes to designing a new part you can choose to use up some of your valuable windtunnel and CFD allowance to make a bigger improvement to that part. There's also the potential to rush development to get the upgrade sooner, albeit at a significantly inflated cost.
Moreover, you can also influence the nature of the upgrade by either going for a balanced and all around improvement, or going all-in for a performance-focused boost at the expense of worsening the engine cooling. So there is an element of risk and reward when improving the car and that puts F1 Manager 2022 far ahead of many previous F1 manager titles in that regard.
On top of that there's the need to dedicate time and resources into the following year's car, so the whole engineering side of the game boils down to one massive balancing act.
What complicates the design side of the game even further is that there are regulation changes that the teams all vote on. Most of them relate to technical aspects of the car, although we now know the range of rules that can be changed is broader than that.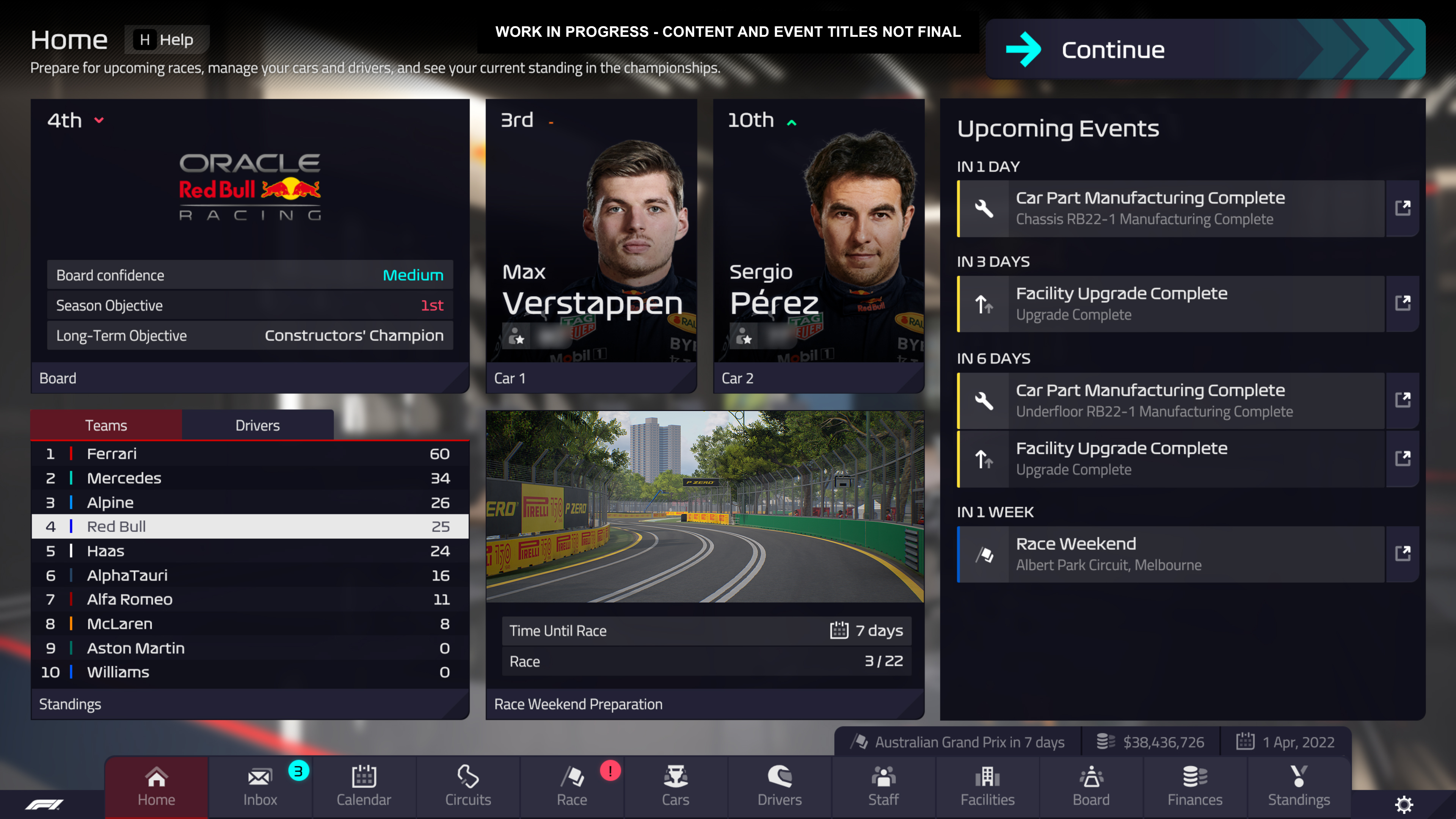 "The core element of regulation changes are those technical ones that have a big impact on future development for your cars," Fletcher revealed.
"But there are sporting and financial regulation changes as well. So teams can vote on adjustments to how prize money is distributed, how points are distributed and whether you get an extra point for the fastest lap, double points at the final race and things like that.
"So there is a range. I would say technical is the key one because that helps the FIA to keep the competition in balance over those many seasons."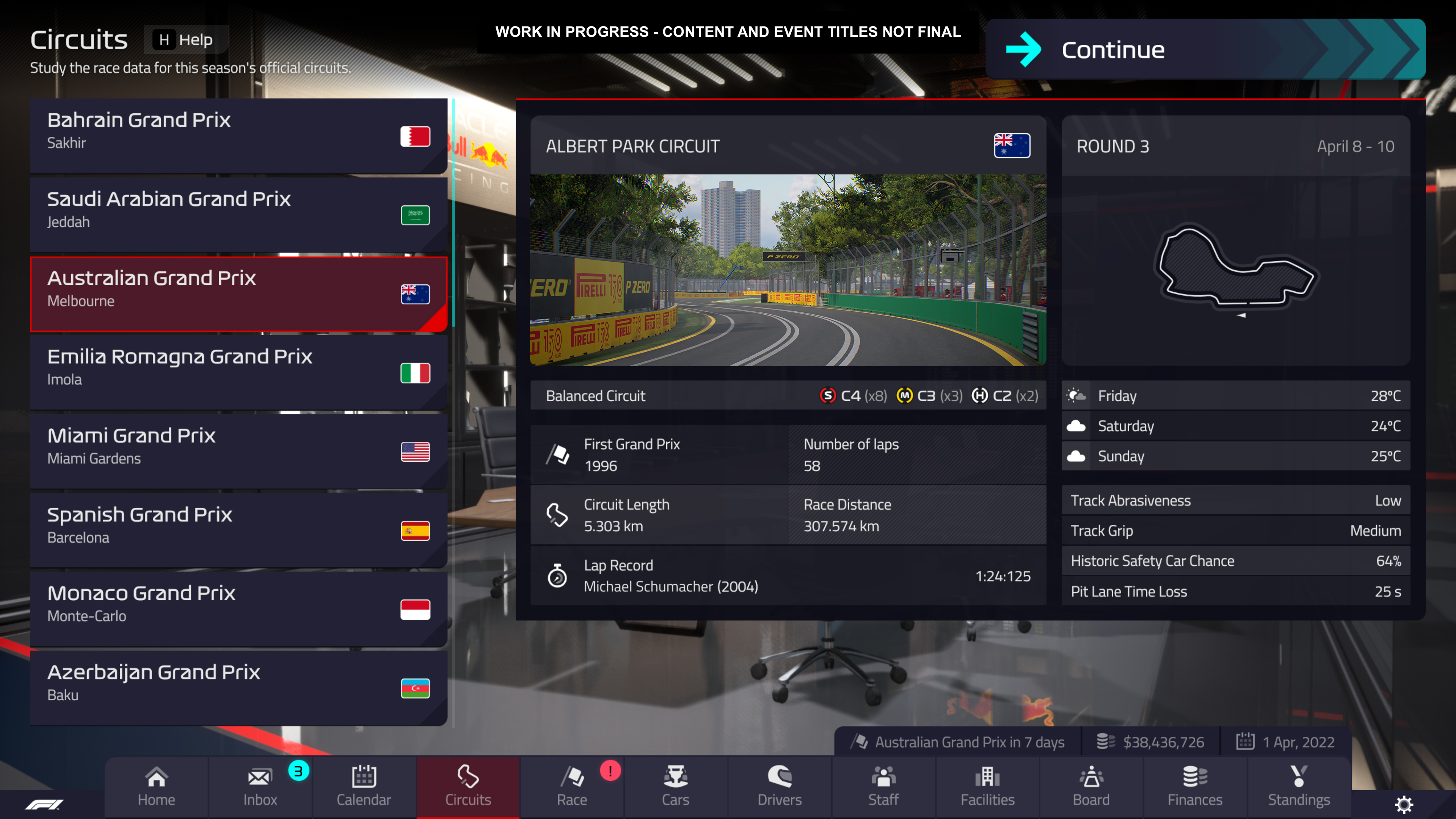 Whilst we don't yet have the full range of possible rule changes yet, it will almost certainly be less broad than the variety of ones seen in Motorsport Manager. Of course, the lack of licensing in that game gave the developers the freedom to implement things as whacky as reverse starting grids and sprinklers.
Crucially, Motorsport Manager is the game that F1 Manager 2022 will inevitably be compared to and the game it has to be better than. Despite its lack of licensing, it was well received and paved the way for a Formula 1 licensed management game to be developed.
Just from our initial look at F1 Manager 2022 there are many similarities with Motorsport Manager in terms of menu design and some of the off-track features. To a certain extent that is inevitable though and, whilst the team at Frontier has looked back on Motorsport Manager and the previously made, F1-licensed manager games, it insists F1 Manager 2022 will be distinct from earlier racing management titles.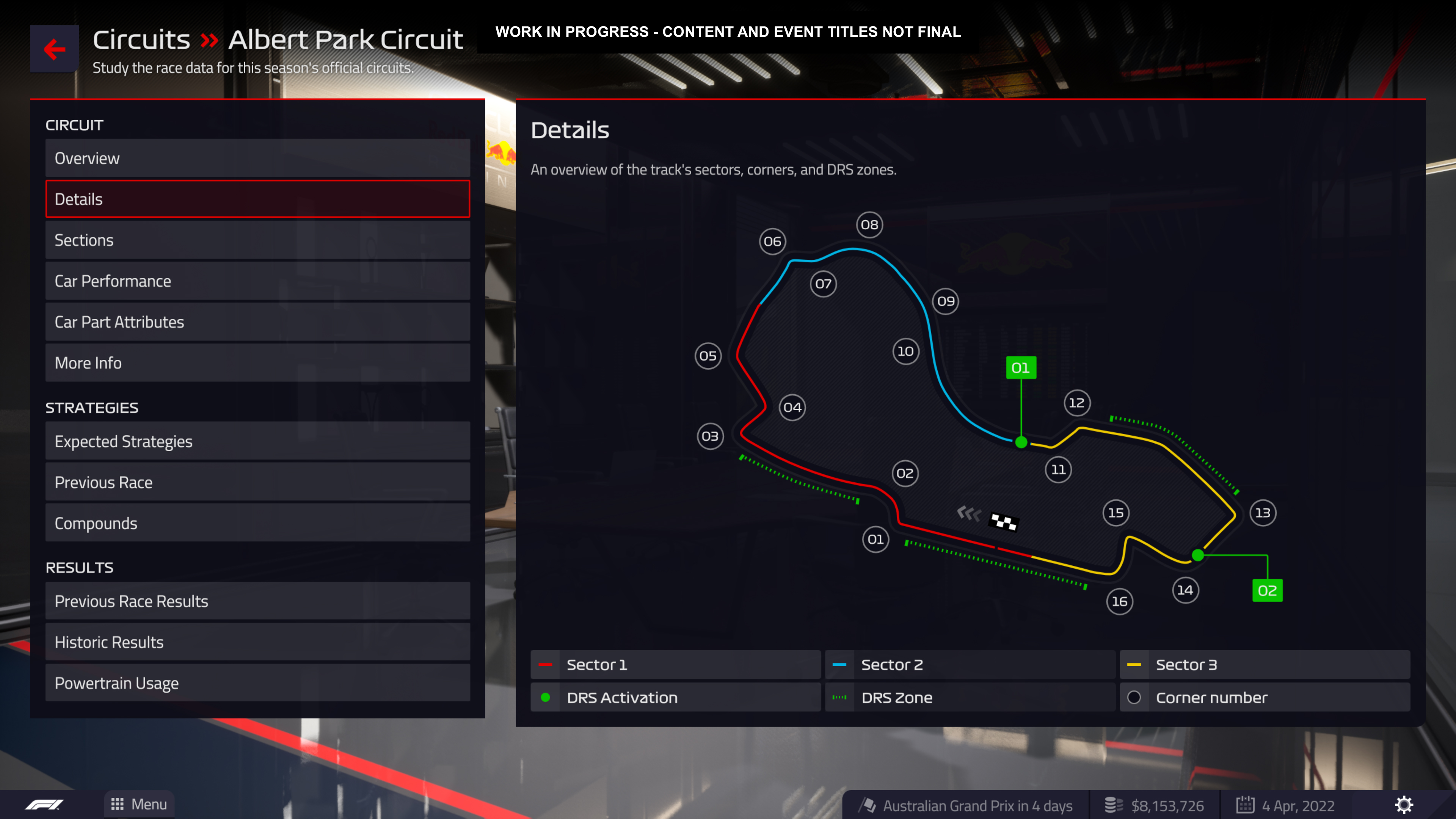 "The dev team have got a huge amount of F1 fans so we're very familiar with those games." said Fletcher.
"It's always important to recognise what's come before but we do also think that this is quite a distinct offering.
"We didn't sit down with blueprints from other games and build off of those. We looked at each area of team management and being a team principal and tried to replicate that in our own way."
Woods added: "There's common themes in the management genre, there's certain core aspects that you deal with.
"But I think it's really exciting to be able to bring the F1 authenticity back to the forefront of a management game and really put people into that principal seat and see how they get on."