Max Verstappen overcame his shock qualifying defeat to Lewis Hamilton to comfortably win the 2023 Hungarian Grand Prix, claiming his seventh Formula 1 victory in succession as Lando Norris again finished second for McLaren and Sergio Perez charged from ninth to a podium finish.
Any expectations of an epic battle for victory between 2021's championship protagonists Hamilton and Verstappen were undone immediately as Hamilton squandered his first pole position since that epic and controversial season.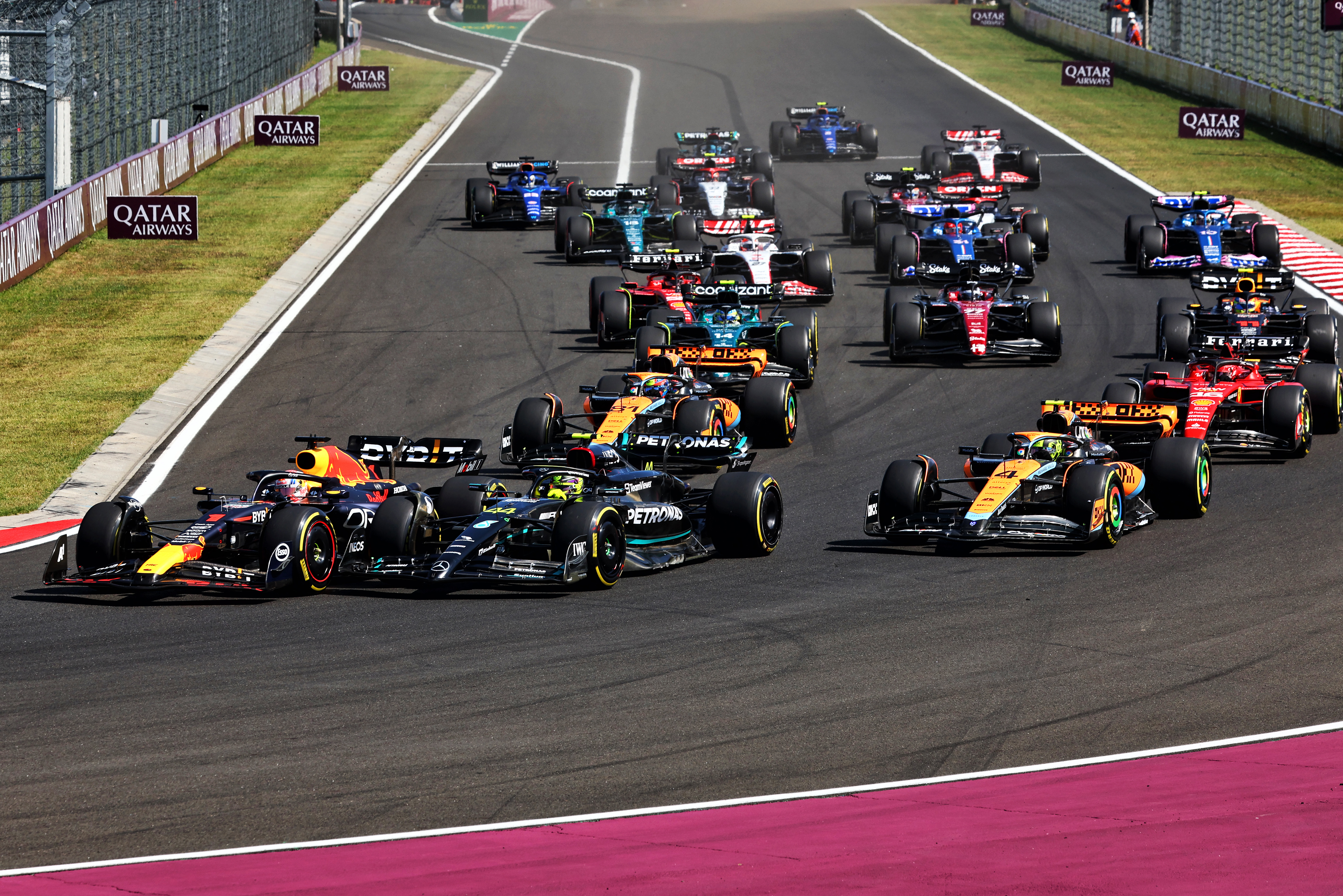 Verstappen got a slightly better getaway from second on the grid and squeezed his Red Bull inside the Mercedes approaching Turn 1. Once ahead, Verstappen assumed familiar control of an F1 race from the front, winning (with fastest lap) by almost 34 seconds.
As Hamilton tried to tough it out on the outside at the start, Oscar Pastri took his McLaren on a tighter line through the right-hander to leap from fourth to second.
Lando Norris then carried the sister McLaren around Hamilton's outside at Turn 2, gaining the crucial inside line for Turn 3 and demoting the Mercedes from pole to fourth inside three corners.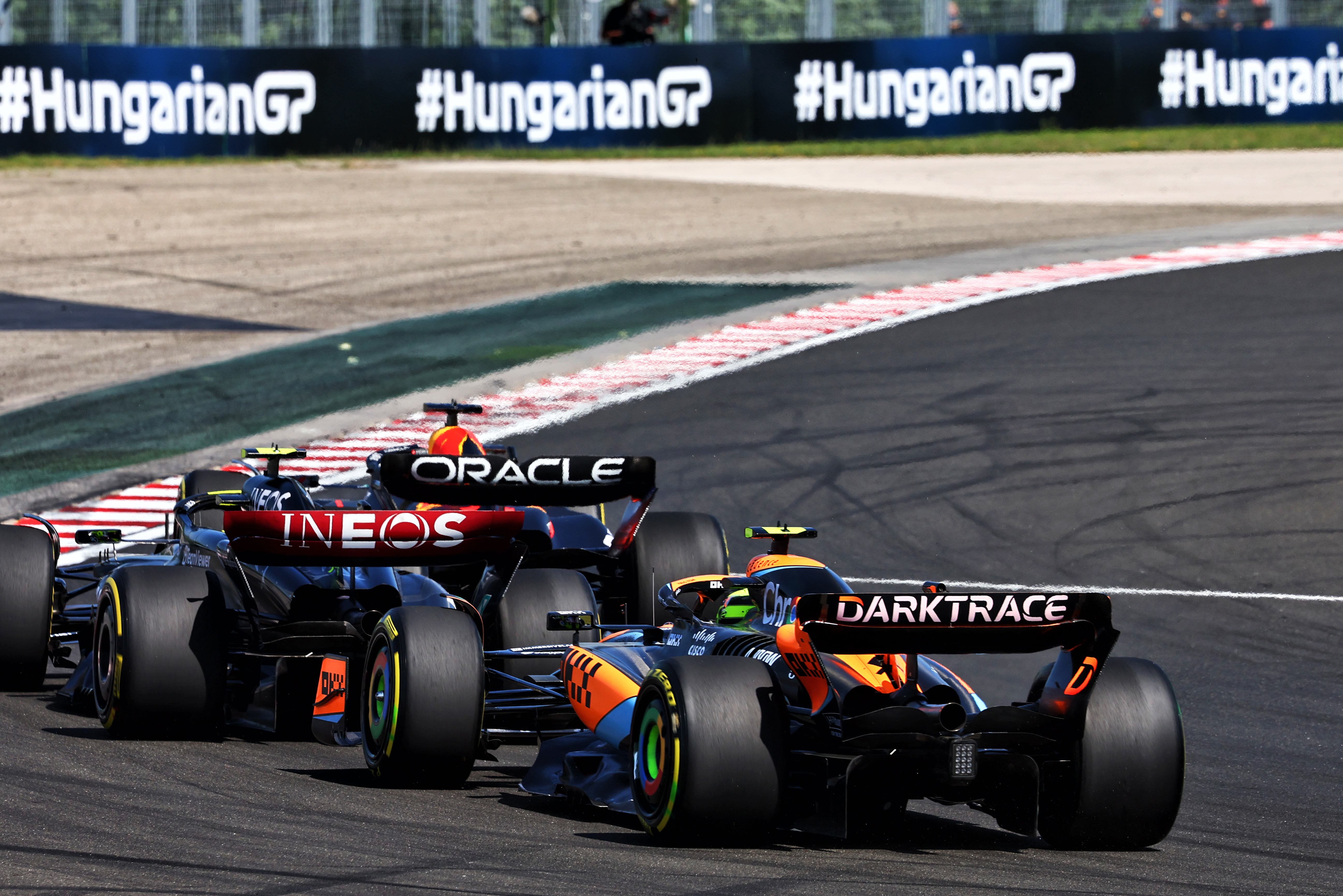 Hamilton apologised to Mercedes before settling into a chase of the McLarens for the second race in a row.
The team tried to offer encouragement by telling Hamilton everyone was in for a long, hot race – but that didn't seem to help Mercedes much until the final stint, despite its well-known strength in rear tyre management on hot and abrasive circuits.
Hamilton wasn't able to jump the McLarens at the first round of pitstops and lost more time following out-of-sync team-mate George Russell in the second stint.
Hamilton suspected his engine had been detuned and the team admitted it was taking precautions to manage the car in near-30C ambient heat.
By the time Russell moved aside to allow Hamilton back into fourth place, Hamilton trailed Piastri by 11 seconds.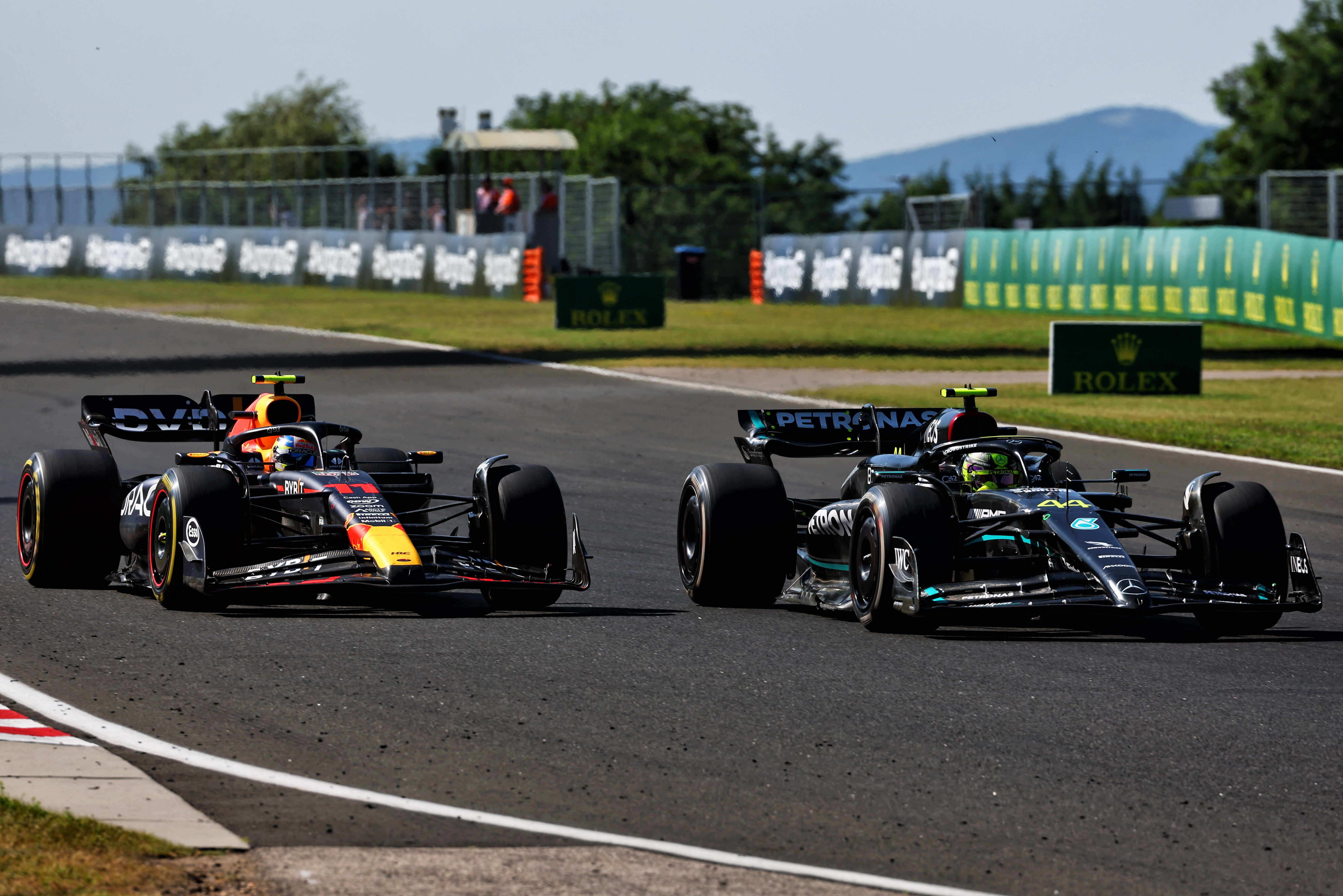 He gradually closed in on Piastri's McLaren as the second stint wore on, but while being caught rapidly by Sergio Perez's charging Red Bull.
Perez started down in ninth but immediately overtook the two Alfa Romeos before using an offset strategy to climb his way efficiently into the top three.
Perez ran a long first stint on the hard tyre, before fitting medium Pirellis and then carving his way back up the order from seventh place – putting aggressive passes on Carlos Sainz's Ferrari and Russell's Mercedes.
A rapid 1.9-second second stop from Red Bull got Perez onto Piastri's tail heading into the final stint, and Perez then drove around the McLaren's outside into Turn 1 on lap 47/70 to complete an impressive recovery drive.
Perez and Piastri battled hard between Turns 2 and 3 👀

Race stewards had a look at the incident but they'll be no further action #HungarianGP #F1 pic.twitter.com/yfSx5TWZls

— Formula 1 (@F1) July 23, 2023
It appeared McLaren effectively sacrificed Piastri to protect the team's overall track position versus Hamilton and Perez at different points in this race, though it should be noted Norris also delivered a supreme out-lap following his first pitstop to help get himself up into second place as Piastri emerged from the pits at the end of his own first stint. Piastri was also less comfortable during that long second stint on hard tyres than Norris was.
The final part of this race was defensive for McLaren – Norris successfully holding off Perez and Piastri defending from Hamilton's Mercedes, re-energised on medium tyres and lower fuel as the race neared its end.
Norris had 8.5s in hand over Perez heading into the final 20 laps and although Perez got that gap down to under 4s, he seemed to run out of rubber and thus spent the final laps watching his mirrors for Hamilton's Mercedes.
Having made a later final pitstop than his immediate rivals, Hamilton dived past Piastri uncontested into Turn 1 with 14 laps to run, before setting off after Norris and Perez. Hamilton closed the gap to Perez to just 1.5s, but had to settle for fourth.
Piastri brought the second McLaren home fifth, still a decent result even though he looked like a podium contender in the early stages, ahead of the charging second Mercedes of Russell.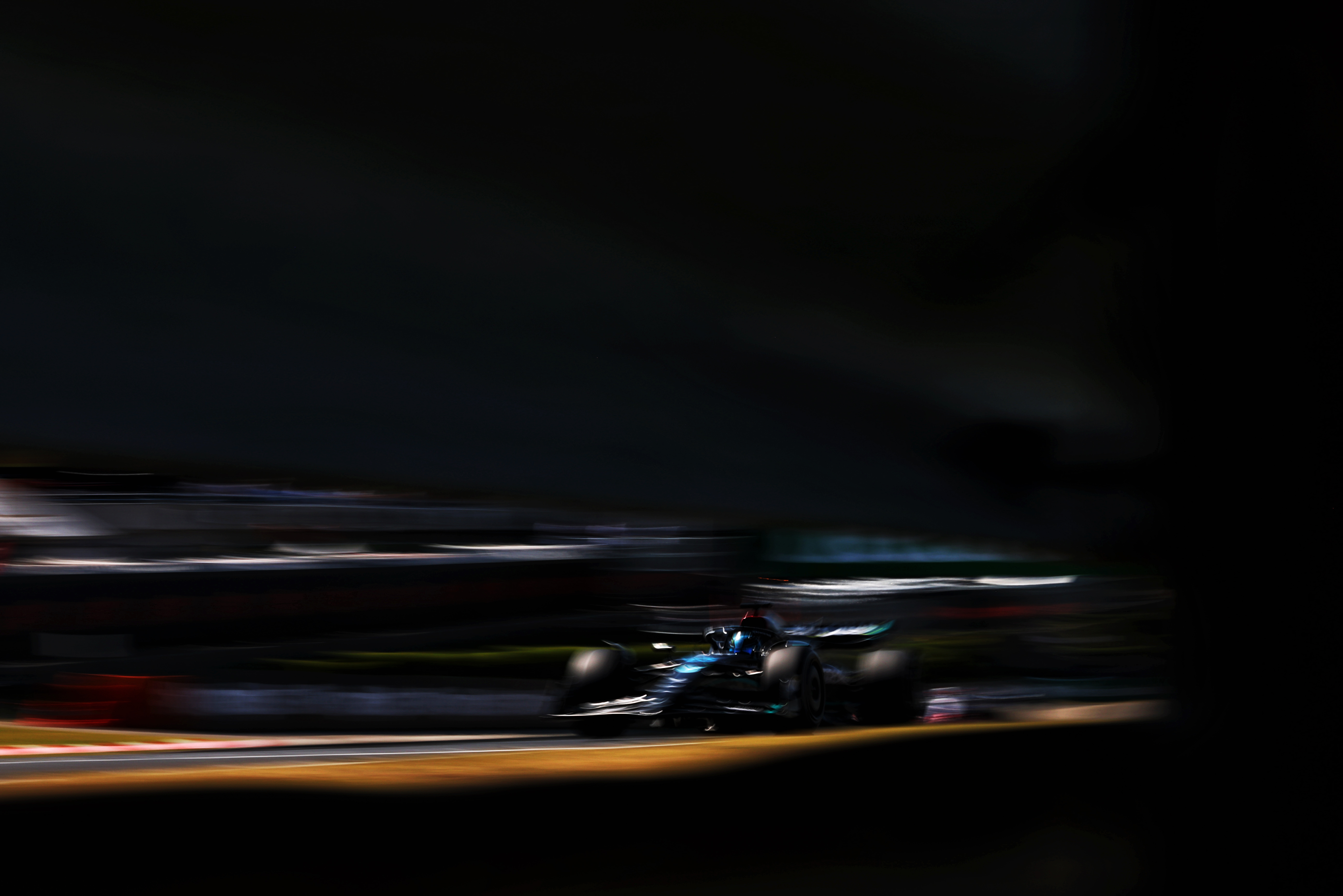 Russell used the same hard/medium tyre strategy as Perez to recover sixth place and eight points after a nightmare Q1 exit in qualifying on Saturday.
Having climbed into the top eight heading into the final stint, Russell then overcame both Ferraris – passing Carlos Sainz into Turn 1 and then closing to within five seconds of Charles Leclerc, who was penalised by that margin for speeding in the pits at his second stop.
LAP 66/70

Russell, who started P18, has swooped past Sainz and is now P7! 👏#HungarianGP #F1 pic.twitter.com/5Uibi6Pi28

— Formula 1 (@F1) July 23, 2023
Leclerc's race was mostly undone by a slow first pitstop, which cost him nearly 10s as Ferrari mechanics were forced to switched to the backup left-rear wheel gun.
That dropped Leclerc behind Sainz, who used soft tyres to leap from 11th on the grid to sixth on the first lap, before Ferrari switched them back at the second round of stops, only for Leclerc to pick up that penalty for speeding.
Leclerc at least managed to stay just about more than five seconds clear of Sainz to the flag, but seventh and eighth nevertheless represented another disappointing result for Ferrari.
Fernando Alonso and Lance Stroll rounded out the top 10 on another quiet weekend for the Aston Martin team, which appears to be slipping back a bit in the fight to be best of the rest behind Red Bull, while neither Alfa Romeo scored points after qualifying impressively and unexpectedly inside the top seven.
Valtteri Bottas reversed from seventh on the grid to 12th, behind Alex Albon's Williams, while Zhou Guanyu turned fifth on the grid into a 16th-place finish.
Both Alpines are out of the race after colliding at Turn 1 at the start ❌❌#HungarianGP #F1 pic.twitter.com/ElswGzl4qg

— Formula 1 (@F1) July 23, 2023
Alpine suffered its second successive double DNF after both drivers were wiped out in a first-corner collision triggered by Zhou making an awful start from his career-best fifth on the grid.
The Alfa Romeo driver rammed Daniel Ricciardo under braking for Turn 1, pushing the AlphaTauri into Esteban Ocon, whose Alpine slewed left into the sister car of Pierre Gasly as he was attempting to pass all of them on the outside line.
Both Alpines retired to the pits with damage before Ocon headed to the circuit medical centre complaining of a sore back, having reported that his seat split in two.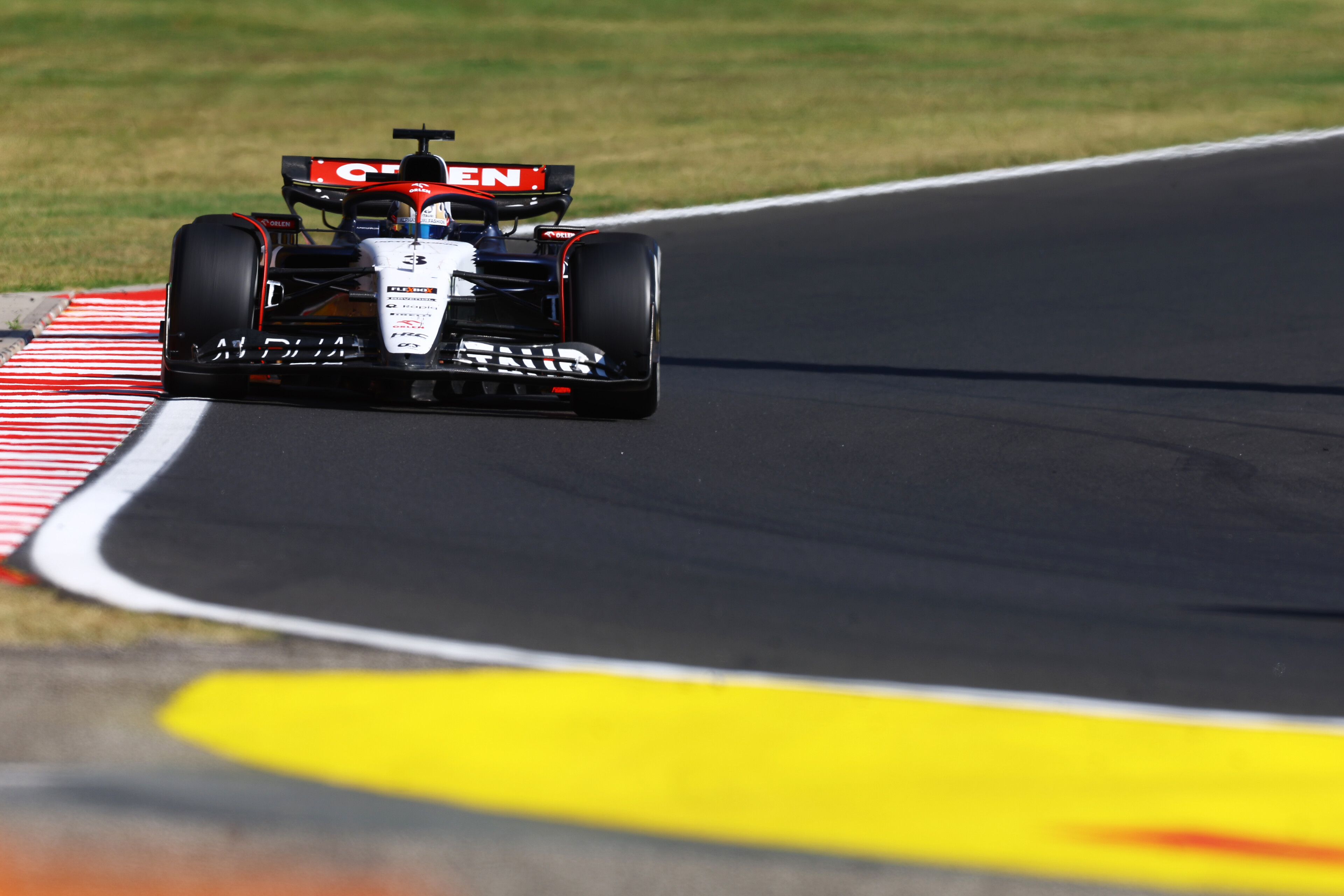 Ricciardo emerged from that incident seemingly unscathed before driving on to a 13th-place finish, a respectable result in his comeback race after replacing Nyck de Vries at AlphaTauri.
Race Results
| Pos | Name | Car | Laps | Laps Led | Total Time | Fastest Lap | Pitstops | Pts |
| --- | --- | --- | --- | --- | --- | --- | --- | --- |
| 1 | Max Verstappen | Red Bull | 70 | 70 | 1h38m08.634s | 1m20.504s | 2 | 26 |
| 2 | Lando Norris | McLaren-Mercedes | 70 | 0 | +25.097s | 1m22.178s | 2 | 18 |
| 3 | Sergio Pérez | Red Bull | 70 | 0 | +37.603s | 1m22.295s | 2 | 15 |
| 4 | Lewis Hamilton | Mercedes | 70 | 0 | +39.134s | 1m21.601s | 2 | 12 |
| 5 | Oscar Piastri | McLaren-Mercedes | 70 | 0 | +1m02.572s | 1m22.736s | 2 | 10 |
| 6 | George Russell | Mercedes | 70 | 0 | +1m05.825s | 1m22.158s | 2 | 8 |
| 7 | Charles Leclerc | Ferrari | 70 | 0 | +1m10.317s | 1m22.469s | 2 | 6 |
| 8 | Carlos Sainz | Ferrari | 70 | 0 | +1m11.073s | 1m22.584s | 2 | 4 |
| 9 | Fernando Alonso | Aston Martin-Mercedes | 70 | 0 | +1m15.709s | 1m22.745s | 2 | 2 |
| 10 | Lance Stroll | Aston Martin-Mercedes | 69 | 0 | +1 lap | 1m23.425s | 2 | 1 |
| 11 | Alex Albon | Williams-Mercedes | 69 | 0 | +1 lap | 1m24.51s | 2 | 0 |
| 12 | Valtteri Bottas | Alfa Romeo-Ferrari | 69 | 0 | +1 lap | 1m23.651s | 2 | 0 |
| 13 | Daniel Ricciardo | AlphaTauri-Honda RBPT | 69 | 0 | +1 lap | 1m23.934s | 2 | 0 |
| 14 | Nico Hülkenberg | Haas-Ferrari | 69 | 0 | +1 lap | 1m23.573s | 2 | 0 |
| 15 | Yuki Tsunoda | AlphaTauri-Honda RBPT | 69 | 0 | +1 lap | 1m23.269s | 2 | 0 |
| 16 | Guanyu Zhou | Alfa Romeo-Ferrari | 69 | 0 | +1 lap | 1m23.743s | 2 | 0 |
| 17 | Kevin Magnussen | Haas-Ferrari | 69 | 0 | +1 lap | 1m23.864s | 2 | 0 |
| | Logan Sargeant | Williams-Mercedes | 67 | 0 | DNF | 1m23.496s | 3 | 0 |
| | Esteban Ocon | Alpine-Renault | 1 | 0 | DNF | 0s | 1 | 0 |
| | Pierre Gasly | Alpine-Renault | 1 | 0 | DNF | 0s | 1 | 0 |
Driver Standings
| Pos | Driver | Team | Points | R1 | R2 | R3 | R4 | R5 | R6 | R7 | R8 | R9 | R10 | R11 | R12 | R13 | R14 | R15 | R16 | R17 | R18 | R19 | R20 | R21 | R22 | R23 |
| --- | --- | --- | --- | --- | --- | --- | --- | --- | --- | --- | --- | --- | --- | --- | --- | --- | --- | --- | --- | --- | --- | --- | --- | --- | --- | --- |
| 1 | Max Verstappen | Oracle Red Bull Racing | 364 | 25 | 19 | 25 | 24 | 26 | 0 | 25 | 26 | 25 | 34 | 26 | 26 | 33 | 25 | 25 | 0 | 0 | 0 | 0 | 0 | 0 | 0 | 0 |
| 2 | Sergio Pérez | Oracle Red Bull Racing | 219 | 18 | 25 | 11 | 33 | 18 | 0 | 0 | 12 | 9 | 22 | 8 | 15 | 18 | 12 | 18 | 0 | 0 | 0 | 0 | 0 | 0 | 0 | 0 |
| 3 | Fernando Alonso | Aston Martin Aramco Cognizant Formula One Team | 170 | 15 | 15 | 15 | 15 | 15 | 0 | 18 | 6 | 18 | 14 | 6 | 2 | 10 | 19 | 2 | 0 | 0 | 0 | 0 | 0 | 0 | 0 | 0 |
| 4 | Lewis Hamilton | Mercedes-AMG Petronas Formula One Team | 164 | 10 | 10 | 18 | 10 | 8 | 0 | 13 | 18 | 15 | 4 | 15 | 12 | 15 | 8 | 8 | 0 | 0 | 0 | 0 | 0 | 0 | 0 | 0 |
| 5 | Carlos Sainz | Scuderia Ferrari | 117 | 12 | 8 | 0 | 14 | 10 | 0 | 4 | 10 | 10 | 14 | 1 | 4 | 5 | 10 | 15 | 0 | 0 | 0 | 0 | 0 | 0 | 0 | 0 |
| 6 | Charles Leclerc | Scuderia Ferrari | 111 | 0 | 6 | 0 | 22 | 6 | 0 | 8 | 0 | 12 | 18 | 2 | 6 | 19 | 0 | 12 | 0 | 0 | 0 | 0 | 0 | 0 | 0 | 0 |
| 7 | George Russell | Mercedes-AMG Petronas Formula One Team | 109 | 6 | 12 | 0 | 10 | 12 | 0 | 10 | 15 | 0 | 7 | 10 | 8 | 9 | 0 | 10 | 0 | 0 | 0 | 0 | 0 | 0 | 0 | 0 |
| 8 | Lando Norris | McLaren Formula 1 Team | 79 | 0 | 0 | 8 | 2 | 0 | 0 | 2 | 0 | 0 | 12 | 18 | 18 | 9 | 6 | 4 | 0 | 0 | 0 | 0 | 0 | 0 | 0 | 0 |
| 9 | Lance Stroll | Aston Martin Aramco Cognizant Formula One Team | 47 | 8 | 0 | 12 | 7 | 0 | 0 | 0 | 8 | 2 | 7 | 0 | 1 | 2 | 0 | 0 | 0 | 0 | 0 | 0 | 0 | 0 | 0 | 0 |
| 10 | Pierre Gasly | BWT Alpine F1 Team | 37 | 2 | 2 | 0 | 0 | 4 | 0 | 6 | 1 | 0 | 1 | 0 | 0 | 6 | 15 | 0 | 0 | 0 | 0 | 0 | 0 | 0 | 0 | 0 |
| 11 | Oscar Piastri | McLaren Formula 1 Team | 36 | 0 | 0 | 4 | 0 | 0 | 0 | 1 | 0 | 0 | 0 | 12 | 10 | 7 | 2 | 0 | 0 | 0 | 0 | 0 | 0 | 0 | 0 | 0 |
| 12 | Esteban Ocon | BWT Alpine F1 Team | 36 | 0 | 4 | 0 | 0 | 2 | 0 | 15 | 4 | 4 | 2 | 0 | 0 | 4 | 1 | 0 | 0 | 0 | 0 | 0 | 0 | 0 | 0 | 0 |
| 13 | Alex Albon | Williams Racing | 21 | 1 | 0 | 0 | 0 | 0 | 0 | 0 | 0 | 6 | 0 | 4 | 0 | 0 | 4 | 6 | 0 | 0 | 0 | 0 | 0 | 0 | 0 | 0 |
| 14 | Nico Hülkenberg | MoneyGram Haas F1 Team | 9 | 0 | 0 | 6 | 0 | 0 | 0 | 0 | 0 | 0 | 3 | 0 | 0 | 0 | 0 | 0 | 0 | 0 | 0 | 0 | 0 | 0 | 0 | 0 |
| 15 | Valtteri Bottas | Alfa Romeo F1 Team Orlen | 6 | 4 | 0 | 0 | 0 | 0 | 0 | 0 | 0 | 1 | 0 | 0 | 0 | 0 | 0 | 1 | 0 | 0 | 0 | 0 | 0 | 0 | 0 | 0 |
| 16 | Guanyu Zhou | Alfa Romeo F1 Team Orlen | 4 | 0 | 0 | 2 | 0 | 0 | 0 | 0 | 2 | 0 | 0 | 0 | 0 | 0 | 0 | 0 | 0 | 0 | 0 | 0 | 0 | 0 | 0 | 0 |
| 17 | Yuki Tsunoda | Scuderia AlphaTauri | 3 | 0 | 0 | 1 | 1 | 0 | 0 | 0 | 0 | 0 | 0 | 0 | 0 | 1 | 0 | 0 | 0 | 0 | 0 | 0 | 0 | 0 | 0 | 0 |
| 18 | Kevin Magnussen | MoneyGram Haas F1 Team | 2 | 0 | 1 | 0 | 0 | 1 | 0 | 0 | 0 | 0 | 0 | 0 | 0 | 0 | 0 | 0 | 0 | 0 | 0 | 0 | 0 | 0 | 0 | 0 |
| 19 | Logan Sargeant | Williams Racing | 0 | 0 | 0 | 0 | 0 | 0 | 0 | 0 | 0 | 0 | 0 | 0 | 0 | 0 | 0 | 0 | 0 | 0 | 0 | 0 | 0 | 0 | 0 | 0 |
| 20 | Nyck de Vries | Scuderia AlphaTauri | 0 | 0 | 0 | 0 | 0 | 0 | 0 | 0 | 0 | 0 | 0 | 0 | 0 | 0 | 0 | 0 | 0 | 0 | 0 | 0 | 0 | 0 | 0 | 0 |
| 21 | Daniel Ricciardo | Scuderia AlphaTauri | 0 | 0 | 0 | 0 | 0 | 0 | 0 | 0 | 0 | 0 | 0 | 0 | 0 | 0 | 0 | 0 | 0 | 0 | 0 | 0 | 0 | 0 | 0 | 0 |
| 22 | Liam Lawson | Scuderia AlphaTauri | 0 | 0 | 0 | 0 | 0 | 0 | 0 | 0 | 0 | 0 | 0 | 0 | 0 | 0 | 0 | 0 | 0 | 0 | 0 | 0 | 0 | 0 | 0 | 0 |
Team Standings
| Pos | Team | Points | R1 | R2 | R3 | R4 | R5 | R6 | R7 | R8 | R9 | R10 | R11 | R12 | R13 | R14 | R15 | R16 | R17 | R18 | R19 | R20 | R21 | R22 | R23 |
| --- | --- | --- | --- | --- | --- | --- | --- | --- | --- | --- | --- | --- | --- | --- | --- | --- | --- | --- | --- | --- | --- | --- | --- | --- | --- |
| 1 | Red Bull | 583 | 43 | 44 | 36 | 57 | 44 | 0 | 25 | 38 | 34 | 56 | 34 | 41 | 51 | 37 | 43 | 0 | 0 | 0 | 0 | 0 | 0 | 0 | 0 |
| 2 | Mercedes | 273 | 16 | 22 | 18 | 20 | 20 | 0 | 23 | 33 | 15 | 11 | 25 | 20 | 24 | 8 | 18 | 0 | 0 | 0 | 0 | 0 | 0 | 0 | 0 |
| 3 | Ferrari | 228 | 12 | 14 | 0 | 36 | 16 | 0 | 12 | 10 | 22 | 32 | 3 | 10 | 24 | 10 | 27 | 0 | 0 | 0 | 0 | 0 | 0 | 0 | 0 |
| 4 | Aston Martin | 217 | 23 | 15 | 27 | 22 | 15 | 0 | 18 | 14 | 20 | 21 | 6 | 3 | 12 | 19 | 2 | 0 | 0 | 0 | 0 | 0 | 0 | 0 | 0 |
| 5 | McLaren | 115 | 0 | 0 | 12 | 2 | 0 | 0 | 3 | 0 | 0 | 12 | 30 | 28 | 16 | 8 | 4 | 0 | 0 | 0 | 0 | 0 | 0 | 0 | 0 |
| 6 | Alpine | 73 | 2 | 6 | 0 | 0 | 6 | 0 | 21 | 5 | 4 | 3 | 0 | 0 | 10 | 16 | 0 | 0 | 0 | 0 | 0 | 0 | 0 | 0 | 0 |
| 7 | Williams | 21 | 1 | 0 | 0 | 0 | 0 | 0 | 0 | 0 | 6 | 0 | 4 | 0 | 0 | 4 | 6 | 0 | 0 | 0 | 0 | 0 | 0 | 0 | 0 |
| 8 | Haas | 11 | 0 | 1 | 6 | 0 | 1 | 0 | 0 | 0 | 0 | 3 | 0 | 0 | 0 | 0 | 0 | 0 | 0 | 0 | 0 | 0 | 0 | 0 | 0 |
| 9 | Alfa Romeo | 10 | 4 | 0 | 2 | 0 | 0 | 0 | 0 | 2 | 1 | 0 | 0 | 0 | 0 | 0 | 1 | 0 | 0 | 0 | 0 | 0 | 0 | 0 | 0 |
| 10 | AlphaTauri | 3 | 0 | 0 | 1 | 1 | 0 | 0 | 0 | 0 | 0 | 0 | 0 | 0 | 1 | 0 | 0 | 0 | 0 | 0 | 0 | 0 | 0 | 0 | 0 |