Max Verstappen would prefer Formula 1 to have a "hard limit" to police track limits and avoid the confusion of having different corners regulated in different ways.
F1's rules on track limits denote the white line as the edge of the track and require a driver to keep at least one wheel in contact with that line at all times.
But as each track differs slightly in terms of design and run-off composition – with a range of surfaces like extended kerbs, artificial grass, real grass and gravel – at every event there are specific instructions relating to the track limits rules.
For example, in Portugal last weekend three corners were being monitored specifically, whereby if a driver went wide at one of those corners they would have their lap time deleted.
At this weekend's Spanish Grand Prix, there is a specific instruction for drivers to navigate two bollards outside the first chicane if they go wide of speed bumps that are in the run-off area.
Red Bull driver Verstappen has committed a trio of costly track limits offences this season.
He had to cede the lead in the season opener in Bahrain after passing Lewis Hamilton off-track late on, he lost a lap quick enough for pole position in Portugal for going too wide at one corner, and then lost the fastest lap (and accompanying bonus point) for a similar offence at the end of the grand prix.
"Some tracks are just a bit more difficult to police really with track limits," said Verstappen on Thursday at Barcelona. "And I think we do need to find a solution.
"Of course, I understand some tracks we race together with MotoGP and of course they want a bit different kerbs to what we like, but I think we still need to find a bit of a middle way which works for both.
"With our cornering speeds we can really abuse the whole track because of the grip we have with the cars, which just makes it really difficult sometimes to really judge proper track limits.
"We should try and put a bit more gravel back in places, of course that's sometimes not what tracks want because when you have track days and people go off, the gravel comes onto the track they need to clean it, it all costs money to put it back in place.
"But I think it's just sometimes a bit confusing from the outside where some places you run onto a kerb some places are policed with the white line.
"We can make it a lot better by making sure that there's a hard limit when you go off a kerb or whatever."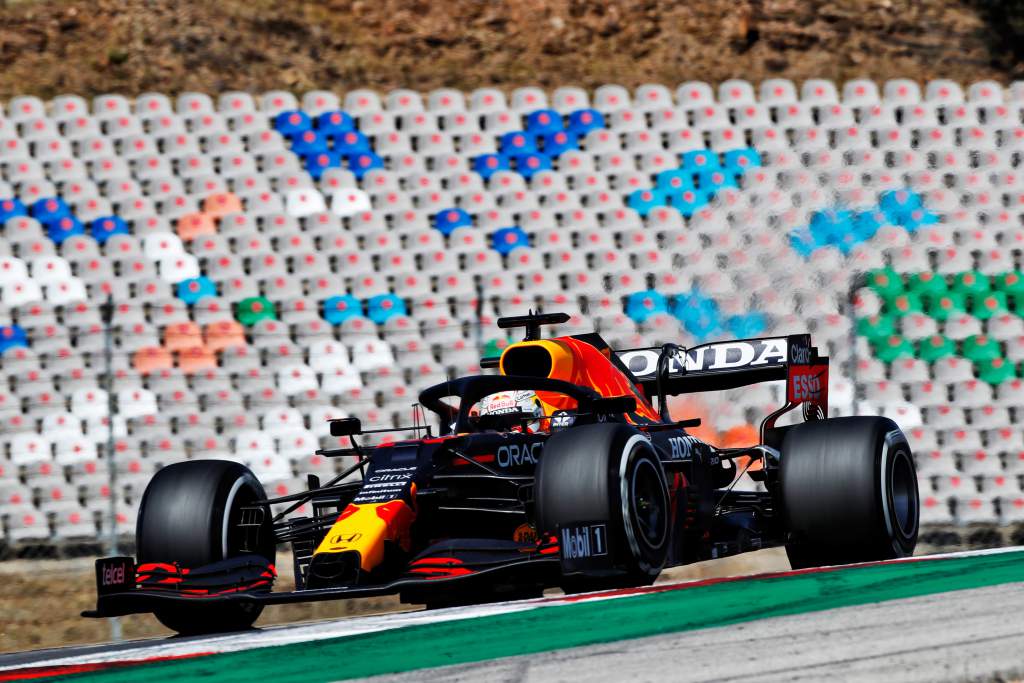 In addition to his penalties, Verstappen's Red Bull team only belatedly noticed Mercedes aggressively using run-off areas not actively policed by the FIA in both Bahrain and Portugal.
It has put the spotlight on both driver and team conduct around the regulations, with Verstappen's minor misjudgements on track compounded by Red Bull's interpretation of the rules.
But Verstappen says it is not a big issue and his own small errors reflect how hard he is pushing when Red Bull has a deficit to Mercedes.
"I don't think there is anything to be done to be on top of it," Verstappen claimed.
"In Bahrain there were some misunderstandings between teams about what was allowed or what wasn't.
"But you can also see it differently, I'm just trying to get everything out of the car when we are not on the same level as Mercedes.
"I can also easily just not be in that topic of using track limits or whatever but then I'm quite comfortably behind the Mercedes which I don't like.
"I always try to get the best possible results out of it. I went twice outside of the track limits where it cost me basically a pole and a fastest lap but it's also because I don't settle for second or third."