Formula 1 championship leader Max Verstappen took victory in his home race at Zandvoort, having had to pass an irate Lewis Hamilton late on.
Verstappen controlled most of the Dutch Grand Prix, but needed to reclaim the lead after a late safety car restart as Mercedes made a strategy play that left its seven-time F1 champion fuming.
The win, Verstappen's 10th of the season, leaves him 109 points clear in the standings with seven races left to run in 2022.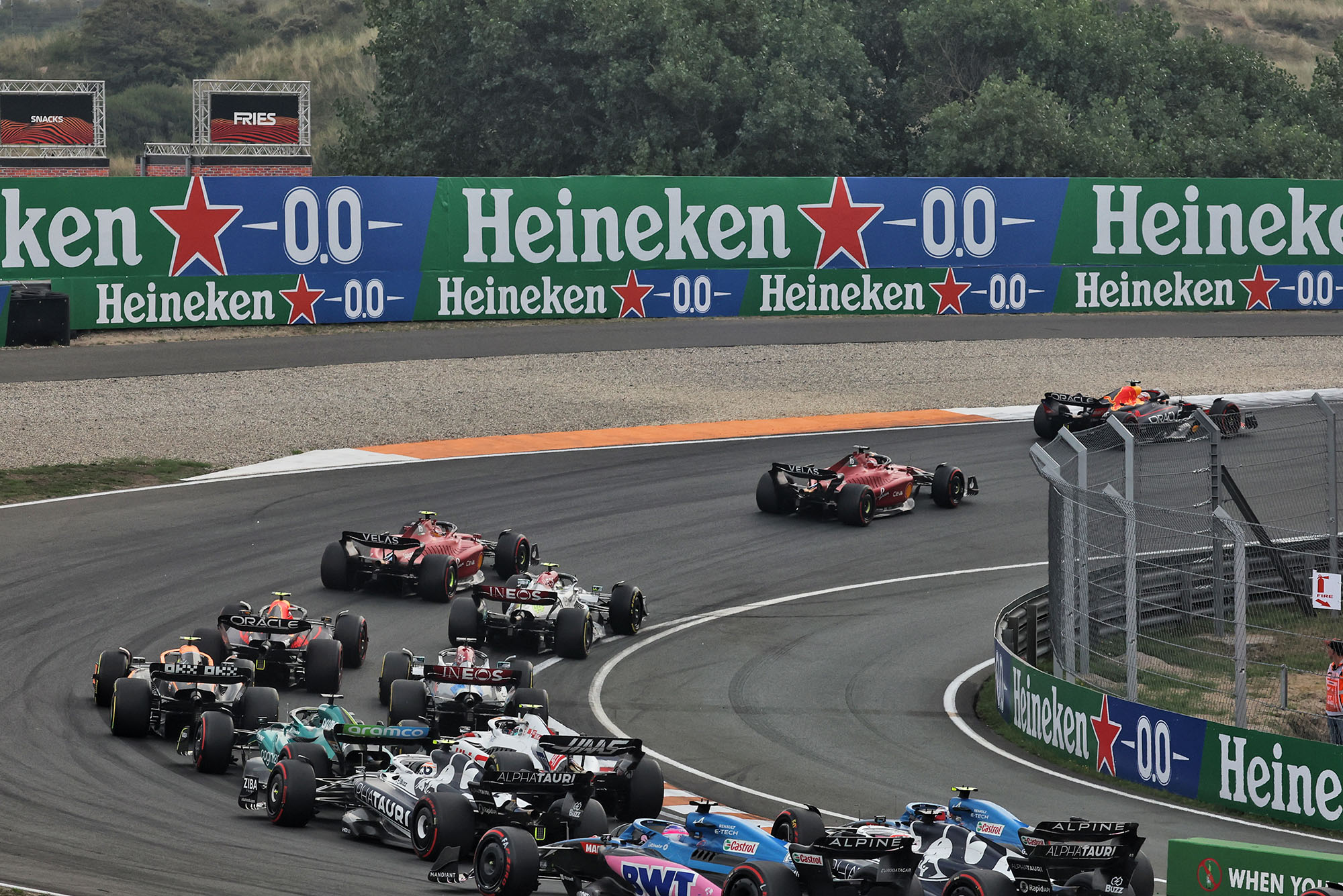 At the Dutch GP start, though it looked a marginally better getaway from fellow front-row starter Charles Leclerc off the line, Verstappen covered him off immediately on the run to Turn 1 – while, right behind, Hamilton attacked down the inside of Leclerc's Ferrari team-mate Carlos Sainz, his left wheel making light contact with Sainz's right bargeboard, with no visible damage incurred by either car.
With Verstappen and Leclerc breaking away, and Leclerc initially keeping in touch with the championship leader, Sainz struggled to match their pace – instead having to take care of keeping Hamilton, who had started on mediums compared to the leading trio's softs, at bay.
And while Sainz did succeed at keeping Hamilton at bay, it was made completely immaterial when he came into the pits for his first pitstop and had no new left rear tyre waiting for him, the pitstop dragging out to 12 seconds while it was being fetched.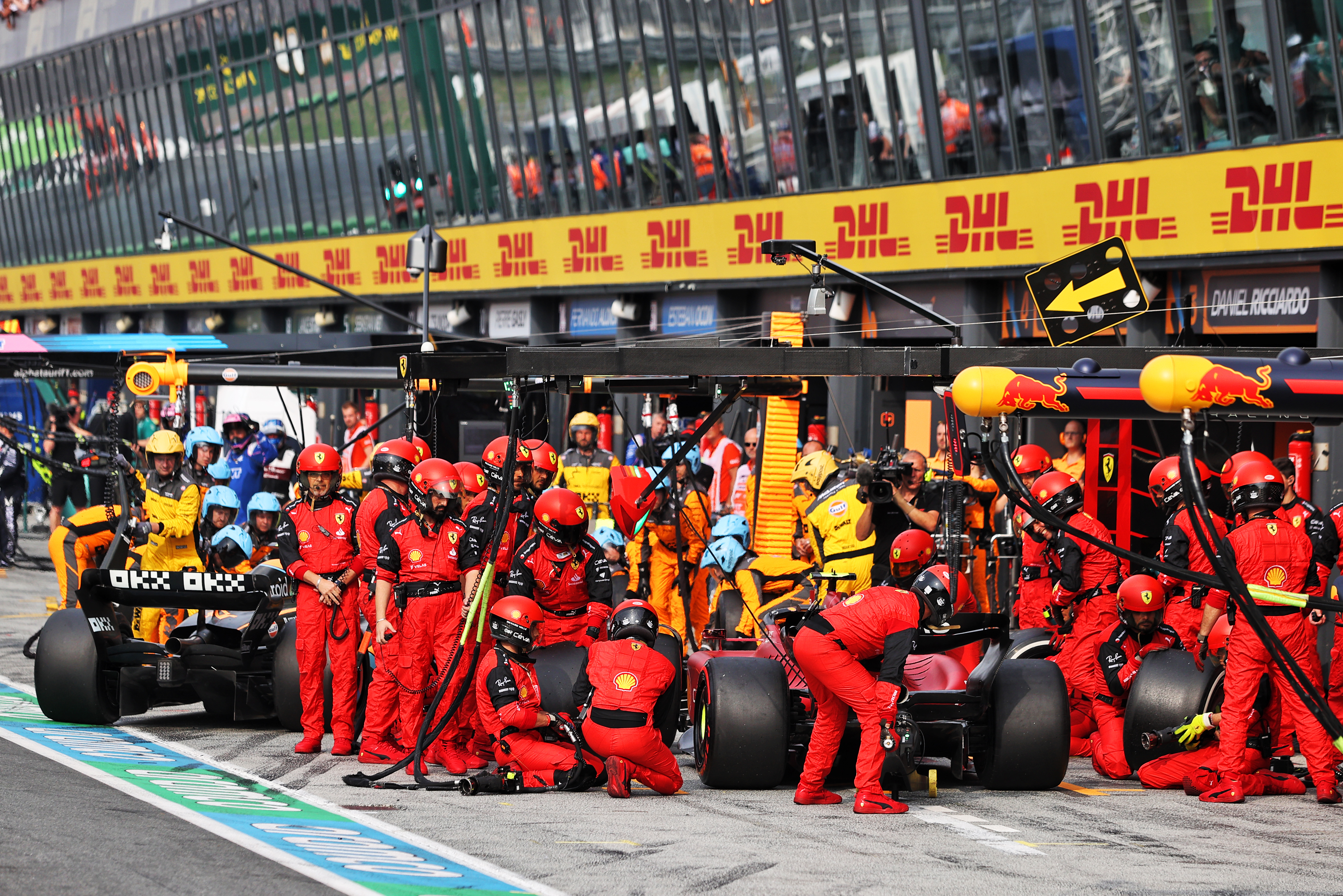 As that went on, with a dismayed Sainz muttering "oh my God" on the radio, Red Bull's Sergio Perez completed his pitstop behind him and ran over a Ferrari wheelgun – left on the ground as it was supposed to be fitting the not-ready left rear – in the process, seemingly with no lasting damage. The incident was placed under investigation, to be conducted post-race.
In the meantime, Verstappen's lead over Leclerc had suddenly ballooned, meaning the Ferrari man was in no position to undercut – and once Leclerc made his first stop, Verstappen did likewise a lap later and stayed comfortably ahead.
What the stop did, however, is relegate Verstappen to third behind the Mercedes duo, extending their first stints around three seconds apart – with George Russell having got boxed in behind Perez at the start and dropped behind McLaren's Lando Norris, who he then swiftly repassed.
Egged on by engineer Gianpiero Lambiase, Verstappen finally caught and passed Russell round the outside of Turn 1, around 10 laps after he'd stopped – with Hamilton then swiftly getting out of his way by swapping to hards on the following lap.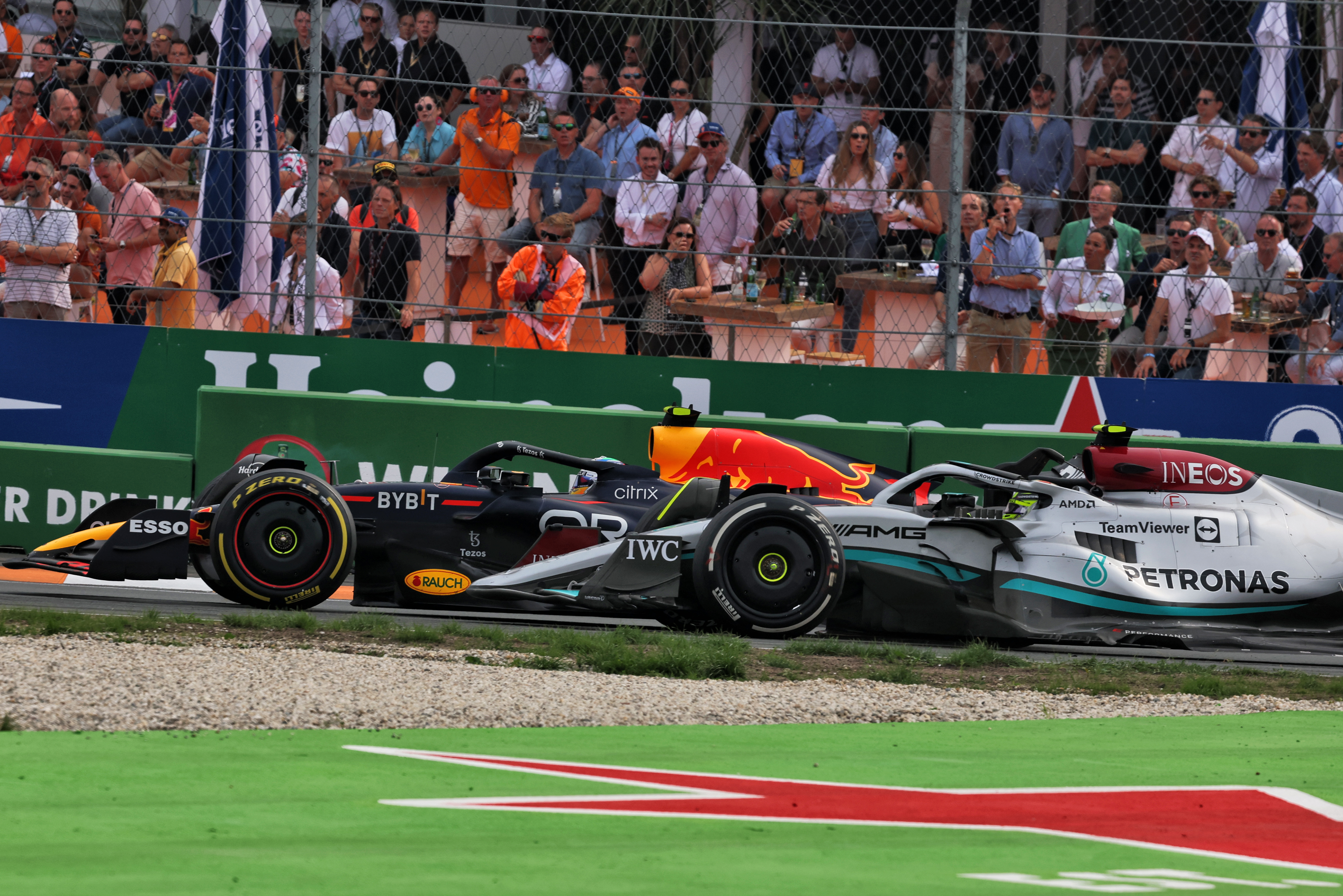 A few laps later, Verstappen's victory bid was boosted by his team-mate Perez's uncompromising defence against a fresher-tyred Hamilton – the Mexican running Hamilton well wide at Turn 1 and then closing the door into the chicane.
Hamilton then got the move done the following lap, but the lapped Aston Martin of Sebastian Vettel exiting the pits right ahead cost him more precious time over the next few corners, while also nearly giving Perez a chance to repass.
The next big flashpoint of the race occurred on lap 45 of 72, triggering a bewildering sequence of events that eventually allowed Verstappen, Hamilton and Russell to gain through pitstops.
AlphaTauri's Yuki Tsunoda, battling on the outskirts of points during the race, reported to his team that one of his tyres hadn't been properly attached during a pistop and came to a halt – only to be told by his team to get going again as it insisted there was no issue.
Instead of getting back up to racing speed, Tsunoda's AT03 crawled back to the pits, and only returned after a long delay having his seatbelts attended to – before he again pulled up, this time retiring for good and bringing out a virtual safety car that allowed Verstappen to preserve a lead of double-digit seconds after pitting, while the Mercedes pair stopped, too.
"This VSC stuffed us," Hamilton told his team – albeit the most compromised party at that point was Leclerc, who had pitted out of second place just a couple of laps before the VSC and was therefore leapfrogged by the W13s.
Just a few laps later it was rendered a moot point as another driver had to park up. Valtteri Bottas, having run 13th for Alfa Romeo, stopped on the inside right near the entry of Turn 1 and triggered a full-on safety car.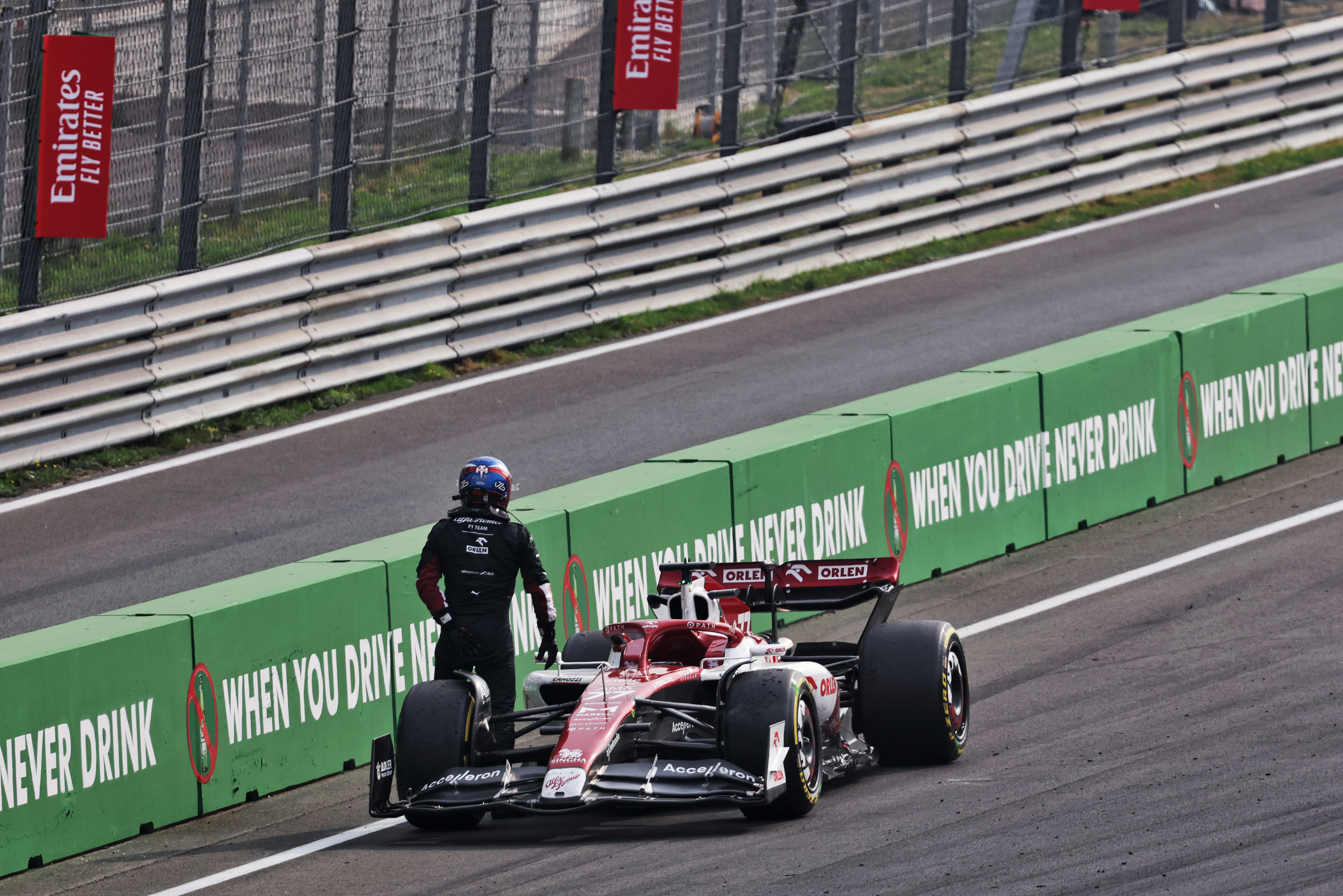 Verstappen made use of it to swap for fresh softs, but this relegated him behind the two medium-shod Mercedes cars – albeit Russell then requested a stop lap later, still under safety car, with his team acquiescing.
This placed Verstappen right behind Hamilton, and when the race restarted with 12 laps to go, Verstappen immediately used the slipstream to move past the Mercedes man around the outside of Turn 1.
As the Dutchman escaped up the road, Russell DRS'd by Hamilton two laps later, his team-mate having grown increasingly incensed on the radio by the sequence of events – as evidenced by a pair of expletive-filled radio messages.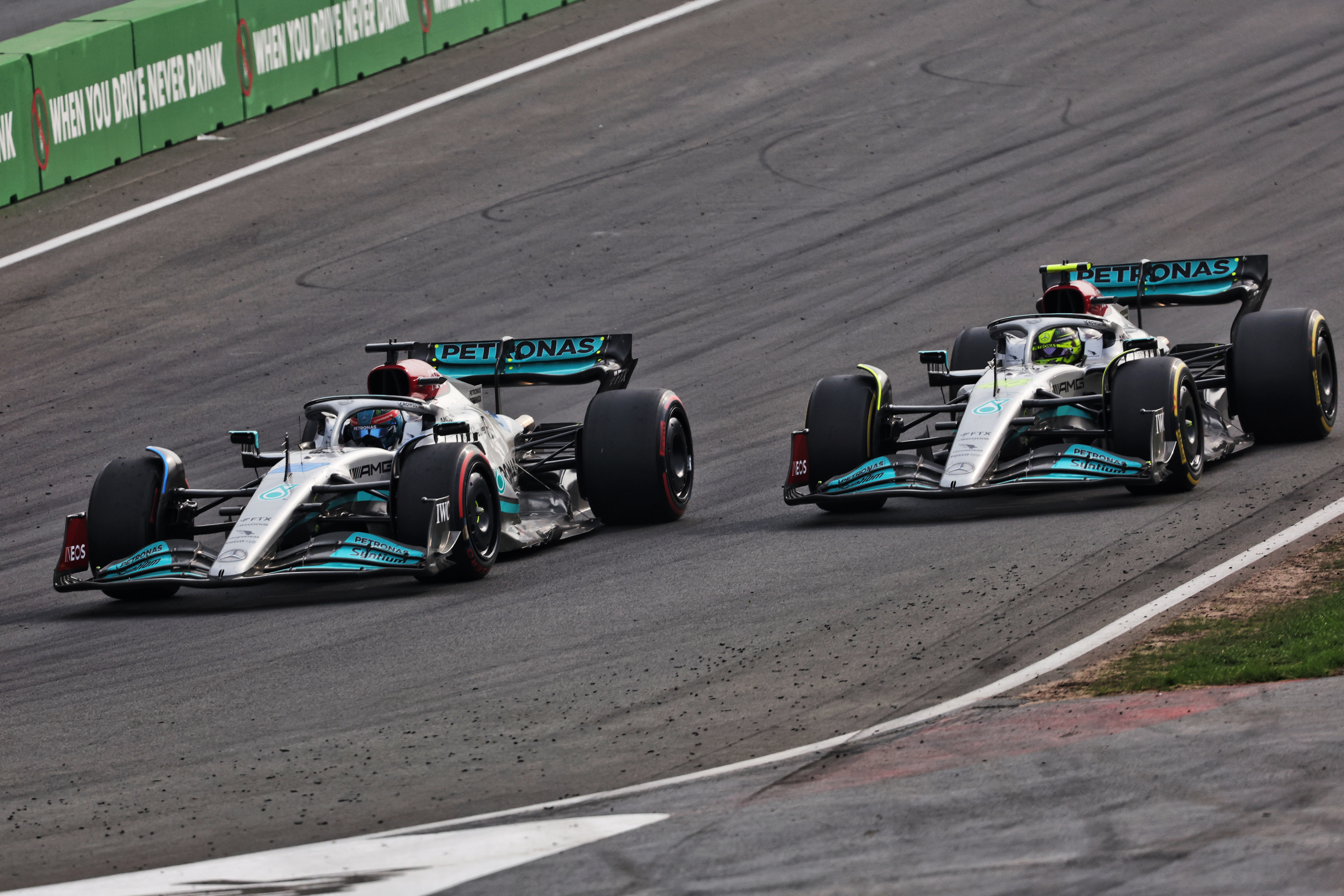 Hamilton's podium was gone three laps later, Leclerc likewise passing him on the straight, but fourth was as bad as it would get.
Behind him, Sainz was too busy fighting off Perez – which he did, aggressively, into Turn 1. He would see little benefit from that however, as fifth on the road turned into eighth at the chequered flag courtesy of an unsafe release during a safety car pitstop, despite Sainz's ardent protestations that it wasn't unsafe.
Perez was classified fifth ahead of Alpine's Fernando Alonso and McLaren's Lando Norris, the former getting ahead of the latter during the late-race interruptions and managing to stay ahead.
Sainz did hang on to eighth by two tenths over Alpine's Esteban Ocon, while Aston Martin's Lance Stroll completed the points in 10th place.
A slow pitstop meant Haas driver Mick Schumacher, who had started in the top 10 and stayed there early on, ended up shuffled down to 13th despite a feisty race that included a highlight-reel pass on Vettel – initiated round the outside of the Hans Ernst chicane and completed round the outside of the Kumho corner.
Race Results
| Pos | Name | Car | Laps | Laps Led | Total Time | Fastest Lap | Pitstops | Pts |
| --- | --- | --- | --- | --- | --- | --- | --- | --- |
| 1 | Max Verstappen | Red Bull | 72 | 58 | 1h36m42.773s | 1m13.652s | 4 | 26 |
| 2 | George Russell | Mercedes | 72 | 0 | +4.071s | 1m13.671s | 3 | 18 |
| 3 | Charles Leclerc | Ferrari | 72 | 0 | +10.929s | 1m14.413s | 4 | 15 |
| 4 | Lewis Hamilton | Mercedes | 72 | 14 | +13.016s | 1m13.854s | 3 | 12 |
| 5 | Sergio Pérez | Red Bull | 72 | 0 | +18.168s | 1m14.404s | 4 | 10 |
| 6 | Fernando Alonso | Alpine-Renault | 72 | 0 | +18.754s | 1m14.144s | 3 | 8 |
| 7 | Lando Norris | McLaren-Mercedes | 72 | 0 | +19.306s | 1m14.706s | 3 | 6 |
| 8 | Carlos Sainz | Ferrari | 72 | 0 | +20.916s | 1m14.643s | 3 | 4 |
| 9 | Esteban Ocon | Alpine-Renault | 72 | 0 | +21.117s | 1m15.084s | 3 | 2 |
| 10 | Lance Stroll | Aston Martin-Mercedes | 72 | 0 | +22.459s | 1m15.043s | 4 | 1 |
| 11 | Pierre Gasly | AlphaTauri-Red Bull | 72 | 0 | +27.009s | 1m15.165s | 4 | 0 |
| 12 | Alex Albon | Williams-Mercedes | 72 | 0 | +30.39s | 1m15.534s | 4 | 0 |
| 13 | Mick Schumacher | Haas-Ferrari | 72 | 0 | +32.995s | 1m15.233s | 4 | 0 |
| 14 | Sebastian Vettel | Aston Martin-Mercedes | 72 | 0 | +36.007s | 1m14.862s | 4 | 0 |
| 15 | Kevin Magnussen | Haas-Ferrari | 72 | 0 | +36.869s | 1m15.369s | 4 | 0 |
| 16 | Guanyu Zhou | Alfa Romeo-Ferrari | 72 | 0 | +37.32s | 1m15.94s | 4 | 0 |
| 17 | Daniel Ricciardo | McLaren-Mercedes | 72 | 0 | +37.764s | 1m15.577s | 5 | 0 |
| 18 | Nicholas Latifi | Williams-Mercedes | 71 | 0 | +1 lap | 1m16.066s | 4 | 0 |
| 19 | Valtteri Bottas | Alfa Romeo-Ferrari | 71 | 0 | +1 lap | 1m16.844s | 2 | 0 |
| | Yuki Tsunoda | AlphaTauri-Red Bull | 43 | 0 | DNF | 1m17.138s | 3 | 0 |