AlphaTauri's British Grand Prix was most notable for Formula 1 team-mates Yuki Tsunoda and Pierre Gasly colliding while battling over seventh place – and debris from their accident "rupturing" the floor on Max Verstappen's Red Bull.
Tsunoda plodded on to finish 14th, the last car on the road at the finish, while Gasly was shown a black-and-orange flag – for mechanical malfunction – because of damage sustained to his car's rear wing, meaning he had to retire from the race after 26 laps when his AlphaTauri team discovered it couldn't make repairs.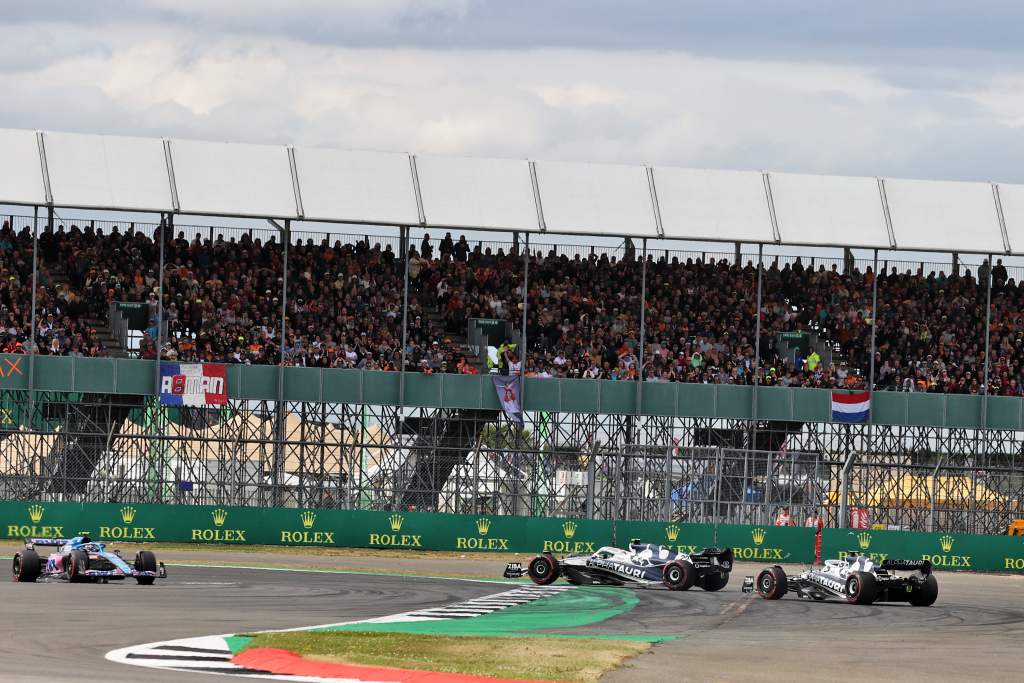 But it looks as though this only became a race-ending issue for Gasly once Aston Martin spotted a problem and reported it to race control.
Radio traffic between Gasly and his race engineer Pierre Hamelin in the laps following his car being struck and turned around by a spinning Tsunoda reveals no hint of any performance drop-off owing to rear wing damage.
Hamelin: "OK, Pierre, head down, sorry for that."
Gasly: "[inaudible]"
Hamelin: "Yeah, checking… Load looks OK, load looks OK – keep us posted on tyres."
Gasly: "Something's [inaudible] on the rear?"
Hamelin: "At the moment we don't see anything, at the moment we don't see anything."
Hamelin then begins giving Gasly the usual instructions about differential settings and information on gaps to the cars he's now chasing while recovering from the collision with Tsunoda.
Hamelin: "Compared to the Haas in front the only place we lose a little bit is Turn 4, faster on the rest of the GLS."
At no point does AlphaTauri report a loss of downforce or performance for Gasly to manage. The team is only preoccupied with Gasly overworking his front-left Pirelli on what is a front-limited circuit.
In fact, Gasly is still lapping consistently faster than Daniel Ricciardo's McLaren, Nicholas Latifi's Williams, and Tsunoda – and is about equal with the chasing Aston Martin of Lance Stroll, who becomes Gasly's direct competitor after Gasly makes a pitstop for hard tyres on lap 16.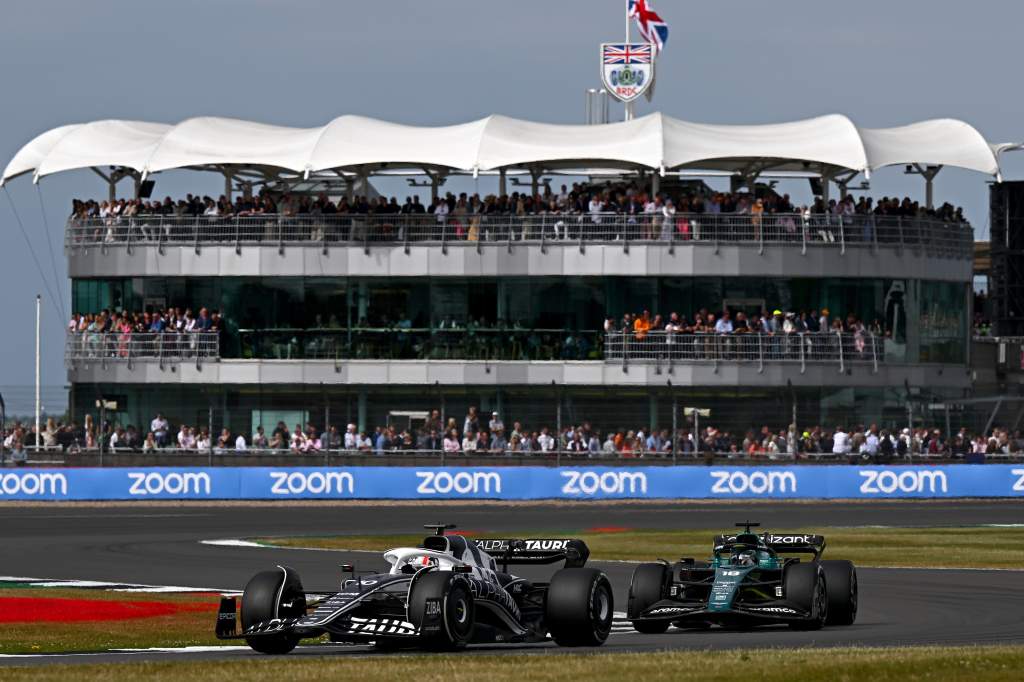 Having stopped one lap before Gasly, Stroll is now right with the AlphaTauri during the next phase of the race, but reports to Aston Martin and his race engineer Ben Michell that he's going to struggle to pass Gasly on track.
Reviewing the onboard footage from Stroll's Aston Martin, the most obvious discrepancy with Gasly's AT03 is that one of his three rear lights, on the right-hand-side of the rear wing, is no longer flashing when his AlphaTauri runs out of recovered energy.
This can be seen clearly before he turns in to Maggotts, and several times when he brakes at the end of Hangar Straight.
A failed rear light on Gasly's AlphaTauri would be a breach of Article 14.3.1 of F1's technical regulations, which states that "all cars must have three rear lights in working order throughout the competition".
Michell: "I know you're trying, Lance, this guy's our race, come on, push!"
Michell: "OK, Lance, we've reported the wing on Gasly's car, we can see it, we can see it – be careful."
Stroll subsequently has a look down Gasly's inside into Brooklands, but it's half-hearted and the pass is not really on. Even though he has DRS, Stroll is stuck behind the AlphaTauri.
Stroll then questions the Gasly situation over Aston Martin team radio.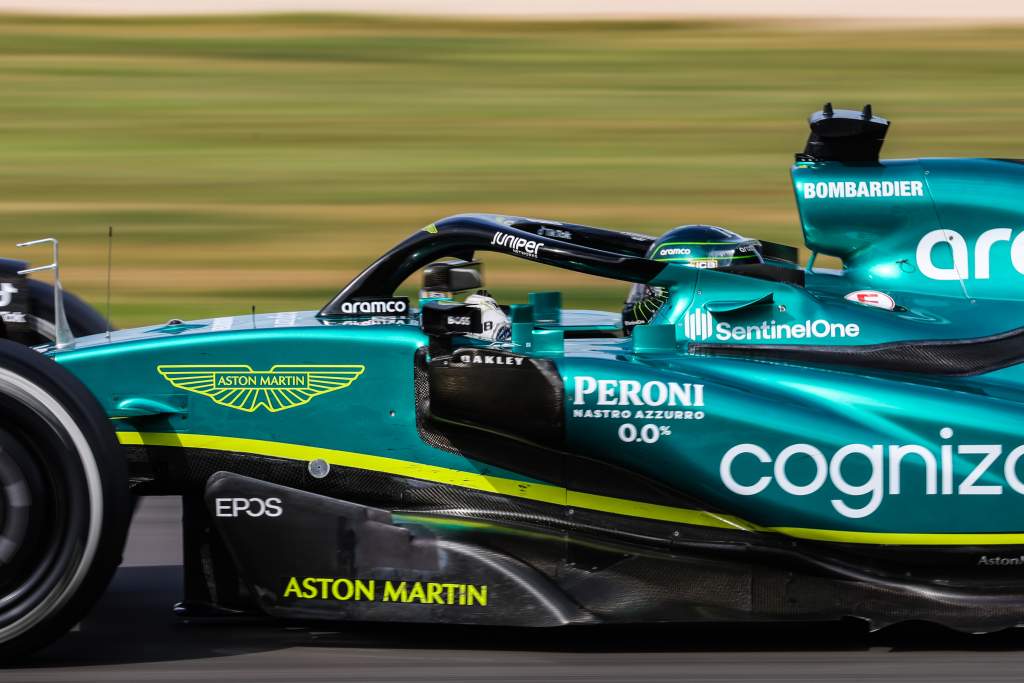 Michell: "Yeah, he's got the flag, they're going to do something about it, he's got the flag."
Michell: "They're trying to flag Gasly. Ricciardo same pace as you so once you're clear, Ricciardo's not pulling away too much."
Stroll: "I don't understand 'they are trying to flag him' – they flag him or they don't flag him, it's very simple."
Michell: "He should be in this lap Lance, he should be in this lap Lance."
Gasly pits at the end of lap 26 while Stroll is told to get his head down and push to catch Daniel Ricciardo's McLaren.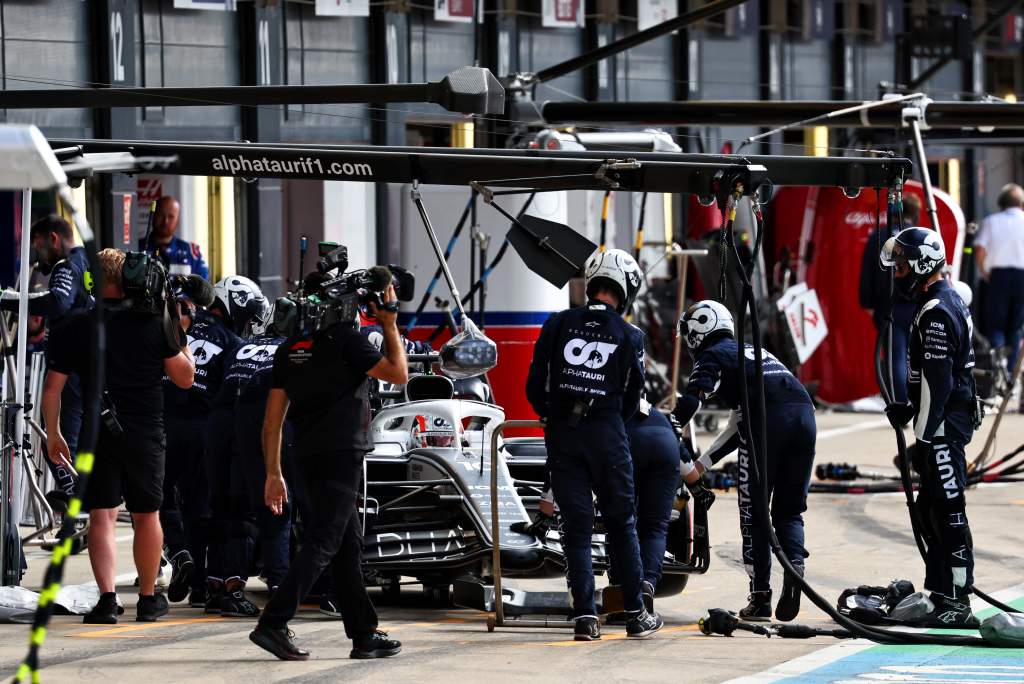 Hamelin: "OK, Pierre, listen carefully, we have damage on the rear of the car, we have to box to fix the damage to be allowed to continue, so it will be box, box this lap to repair damage. It will be a slow pitstop."
Hamelin: "Box, box for car damage and we change tyres. It will be a slow pitstop to repair car damage."
Hamelin [once Gasly is stopped in pitlane]: "We have to retire the car. OK, you can turn off. We are not allowed to continue. OK, sorry."
Gasly: "Is the rear wing broken?"
Hamelin: "Yeah, it looks like what's happened earlier broke the rear wing."
No one from AlphaTauri or Aston Martin made an issue of this situation in their post-race media debriefs and it is not clear, even after seeking clarification from the FIA, whether non-obvious structural damage led to Gasly being flagged, whether the obvious damage to the lights was responsible, or whether Aston Martin's report of whatever damage played a decisive role in race control's decision to flag Gasly.
An Aston Martin spokesperson did indicate that the issue wasn't necessarily the lights, saying: "Lance reported on the radio that he could see damage to the right-hand endplate and wing. And our engineers could see the rear wing sagging to the right on Lance's onboard camera."
A closer study of the available photography, using other available horizontal references, supports this.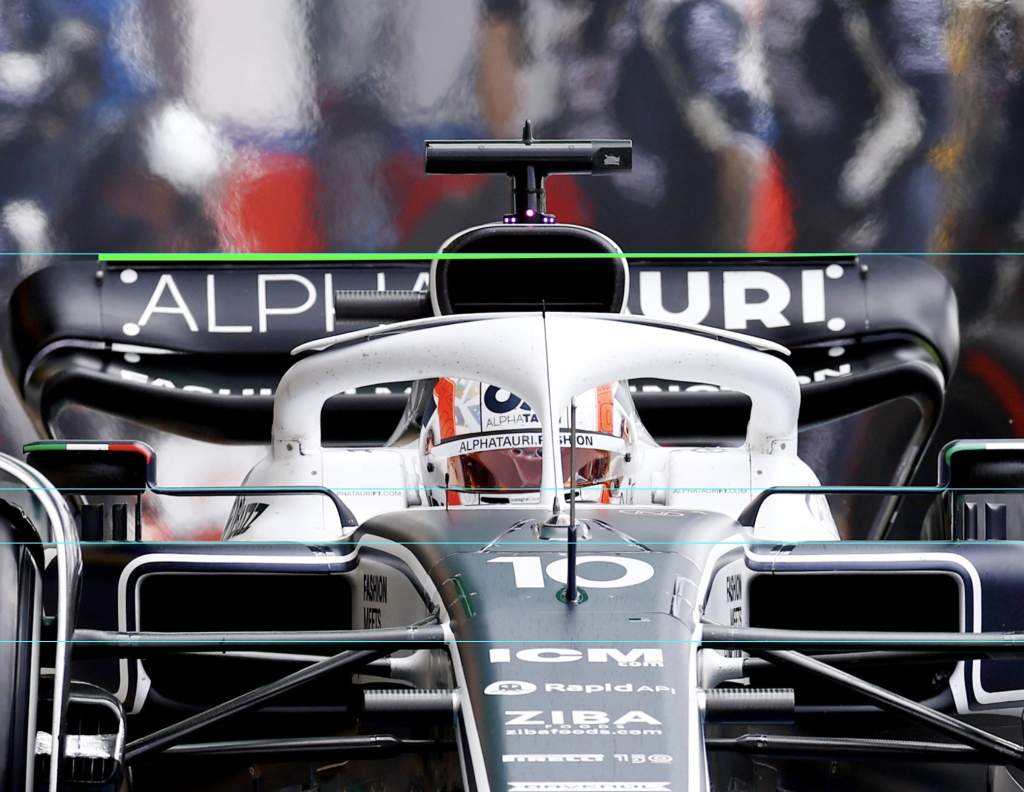 The timeline of events strongly suggests Aston Martin triggered the FIA's decision to flag Gasly's AlphaTauri. If there was an obvious safety issue before Stroll closed in, it surely wouldn't have taken 15 laps to show Gasly the black-and-orange 'meatball' signal.
In any case, it would seem Aston Martin successfully lobbied to have Gasly flagged down in order to aid Stroll's cause, in similar fashion to the way Esteban Ocon and Alpine asked for Kevin Magnussen's Haas to be stopped in Canada to fix a damaged front wing.
The difference is Magnussen, though infuriated, could continue after a nose change; in this case, Gasly's race was finished – and it would seem Aston Martin's report landed the crucial blow.