"There's a lot of people that say that I'm there for box-ticking reasons and I don't think that that's why I'm here. I think I tick a lot of other boxes than just the one everyone wants to say I'm here for."
The very presence of Naomi Schiff among F1 and Sky Sports' broadcasting line-up would have enraged a small minority of bigoted fans before she even had a chance to speak.
We'd always planned to run this interview with her to coincide with the week of her next Sky F1 appearance and, by unpleasant coincidence, it also coincided with an example of precisely this problem – which Schiff tackled head on, backed by Lewis Hamilton, on Twitter.
For the vast majority of F1 fans from the start of the 2022 season, she's proved to be a breath of fresh air amid a comfortable, but stagnating Sky Sports F1 line-up that hasn't changed all that much since its F1 coverage began in 2012.
She brings diversity and ticks boxes not in terms of ethnicity or gender, but in terms of approach, authenticity and insight.
Sometime W Series driver Schiff has previously presented gameshows in Germany so wasn't totally new to broadcasting, but she was still thrown in at the deep end when she was tasked with making her live broadcast debut by fronting coverage of W Series' 2021 season opener at the Red Bull Ring.
Having failed to qualify for a second season of W Series, Schiff became the championship's 'diversity and inclusion ambassador' during its cancelled 2020 season and found herself wanting more.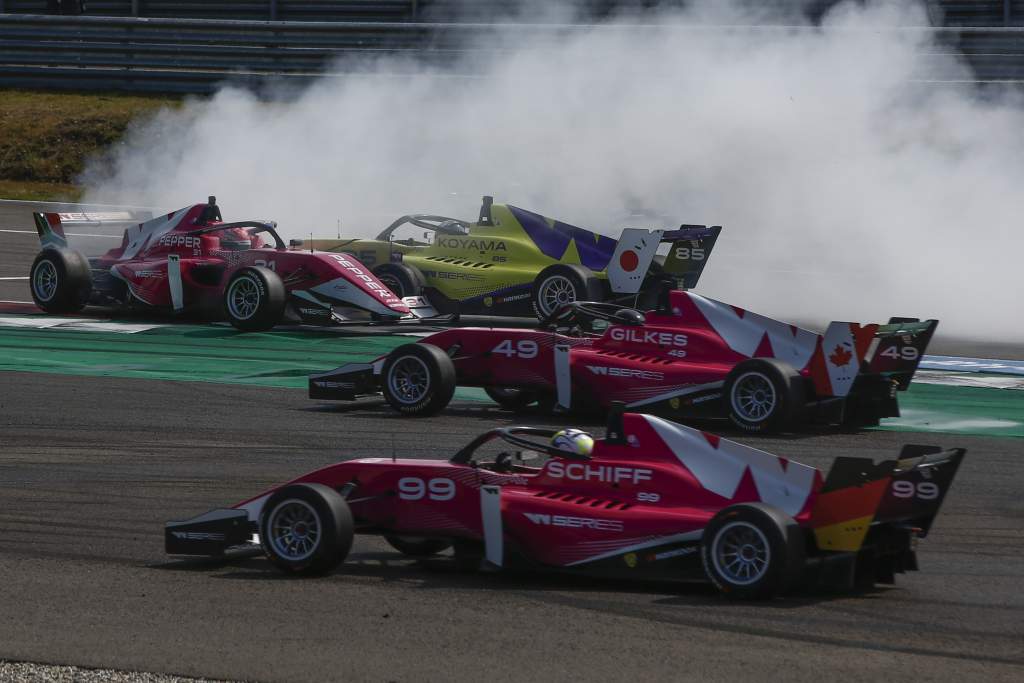 "Due to the COVID lockdown for many reasons I just wasn't able to do any of the things that we had planned," Schiff explained when asked by The Race about her career after racing in W Series.
"I felt I just lacked responsibility and I needed something more challenging, so then W Series offered me the role of presenting.
"It [the 2021 W Series season opener] was my first live TV show. You have earpieces in and there's like 100 people talking to you on yours – someone's counting, someone telling you what to say, where to look. It's a level of multi-tasking I never knew people could do.
"Our lead presenter wasn't able to come, then we thought it's OK, we've got Ted [Kravitz] coming, we've got Billy [Monger] coming and David Coulthard. We'll make it work and it will be fine.
There's always keyboard warriors who'll say what they have to say. When it comes to the people I work with, everyone's great :: Naomi Schiff
"Then on the way to the track, Billy was positive for COVID, and they [Kravitz and Coulthard] were both close contacts.
"So we went from having a whole presentation team to just me, and I was like, 'Oh s***, how is this going to work?'.
"I was thrown in the deep end, but I think a lot of times that happened in my career. Just like my first gig at Sky was sitting down for an interview with Lewis [Hamilton]."
Schiff was a natural and has excelled when presenting, interviewing and providing analysis, both during W Series' coverage last year and as part of F1 and Sky Sports' 2022 team, most recently in Baku.
"People aren't always going to enjoy change," she said. "Change is most often met with resistance, we know that, but it's actually been really good.
"I've really enjoyed coming into this sport, there's been a lot of support which has surprised me.
"It's one of those things, you're going to face that criticism and it doesn't change the way I feel about it.
"Everyone within the paddock has been very welcoming. So there's always a lot of keyboard warriors that will say what they have to say.
"But when it comes down to the actual paddock and the actual people that I work with, everyone has been great."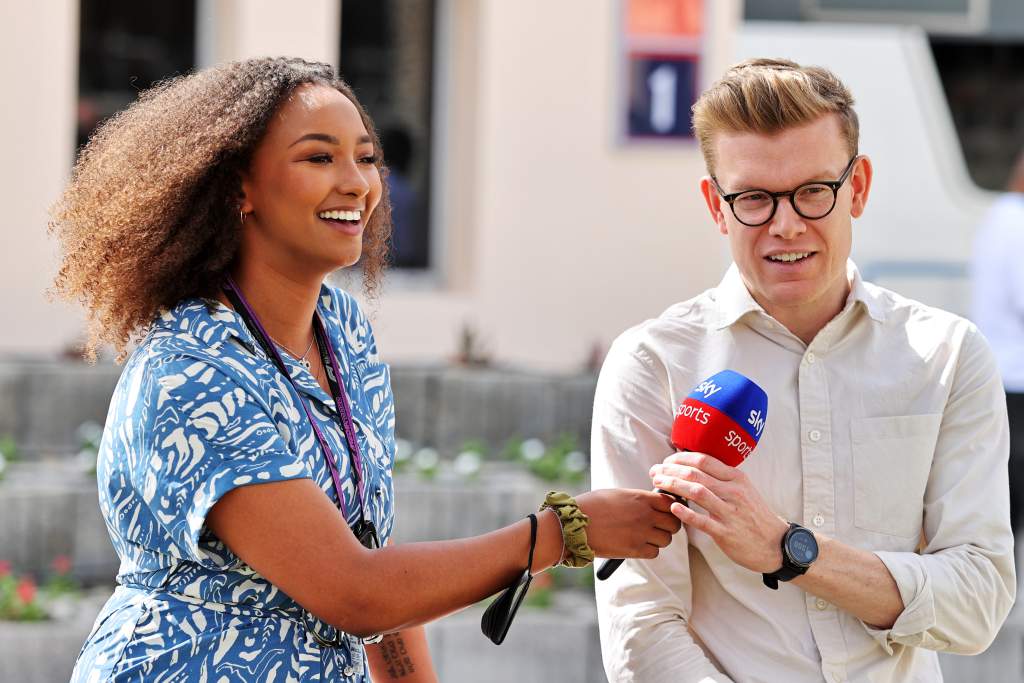 Schiff's new broadcasting fame hasn't led to her call time on her career behind the wheel.
"I definitely am not in the position where I'm saying that I stopped," she said when The Race asked about her racing future. "That would be too hard for me to say at this point."
Schiff predominantly raced GTs in the mid-2010s following a few sporadic single-seater appearances, but W Series gave Schiff her first full-time single-seater campaign in 2019.
But the 27-year-old believes her lack of experience or track time with the Regional F3 cars compared to some of her rivals left her fighting at the back of the grid, and led to her tally of two points from six races.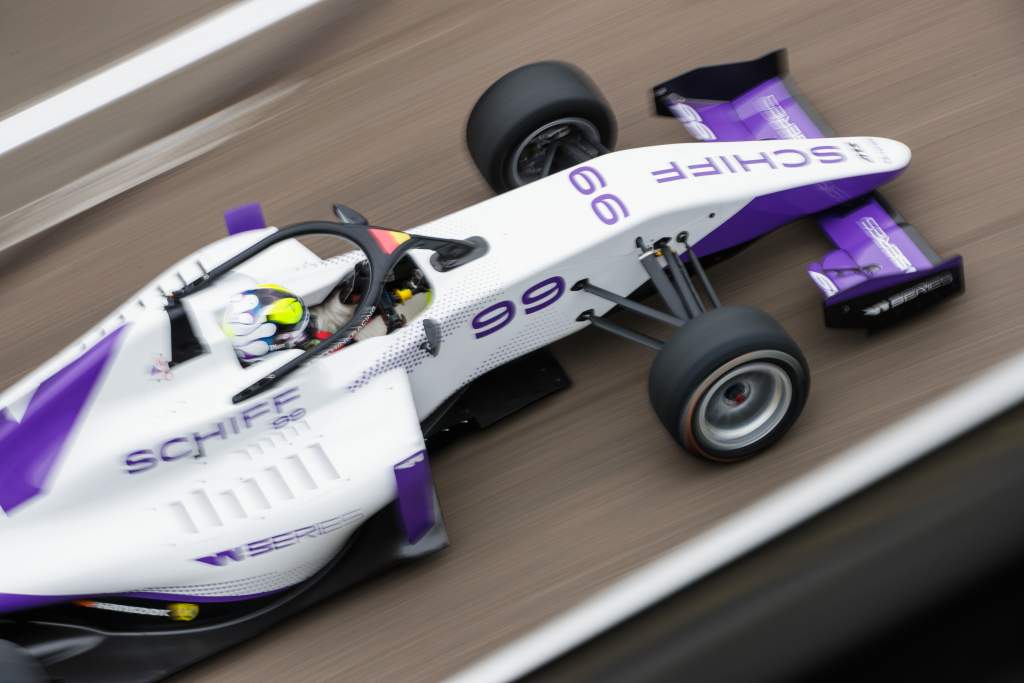 "It all comes down to seat time. As a driver, you can be talented and you can also be not talented and you can still do well in motorsport if you have enough seat time," Schiff said.
"If you're in the car all the time, it's about 10,000 hours, right? It all comes down to the 10,000 hours. If you're in the car all the time, even if you're not the most talented driver, you'll just become a better [one].
"If you're talented, that's great, but it doesn't win races.
"On a typical [W Series] race weekend, there's a 30-minute practice session, a 30-minute qualifying and a 30-minute race. And for a lot of the girls in the grid, that's all the driving they do.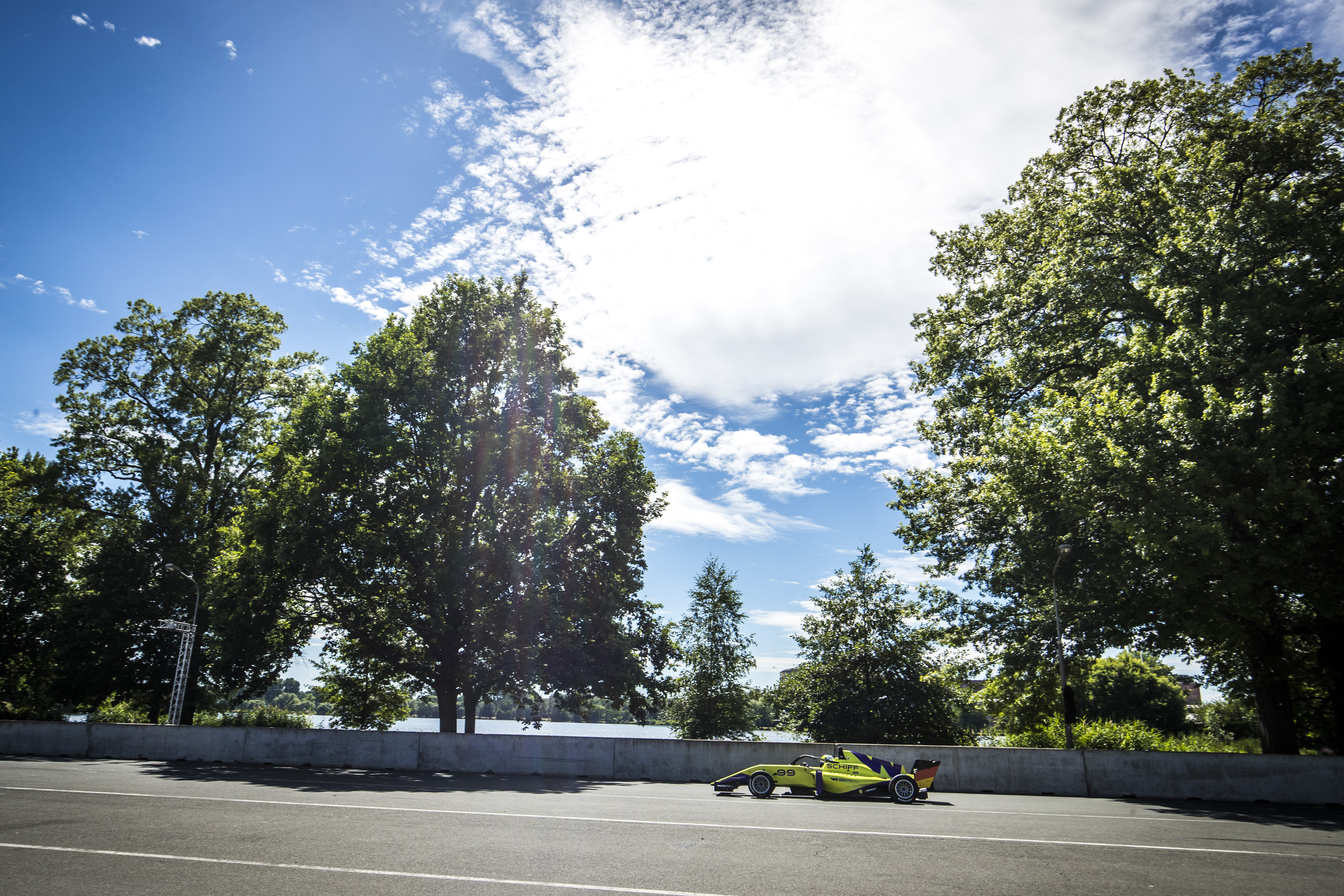 "I think there's a lot of drivers on the ground who aren't able to show their true potential because they just don't have access to budgets to go testing.
"I'm a good example of that and I'll say that flat out and I'll back myself.
"In year one of W Series, there was six races on the calendar and that's all the racing I did that year.
"That's the only time I was in the car. So how do you compete?"
We're not in a position to comment on Schiff's own racing merits as she rightly points out six races in 2019 wasn't much of a sample size nor enough for those without Regional F3 experience to overcome their deficit – or prove experience wasn't the problem.
But what we can say is that Schiff's failure to qualify for a second W Series season has inadvertently provided a welcome breath of fresh air among F1's broadcasting line-up and could even make the case for her being W Series' most impactful driver so far.
Naomi Schiff is a presenter for Sky Sports F1 and W Series. Watch every single race of both competitions live exclusively on Sky Sports