Where to start with making sense of a Bahrain day in which Valtteri Bottas set the fastest time, with Lewis Hamilton in the same car over 3s slower and almost last, only ahead of the Aston Martin of Sebastian Vettel which completed only one flying lap?
That and many other apparent anomalies played out amid the desert with 2021 Formula 1 winter testing now two-thirds done.
The main headline: Mercedes is quick after all, surprise-surprise.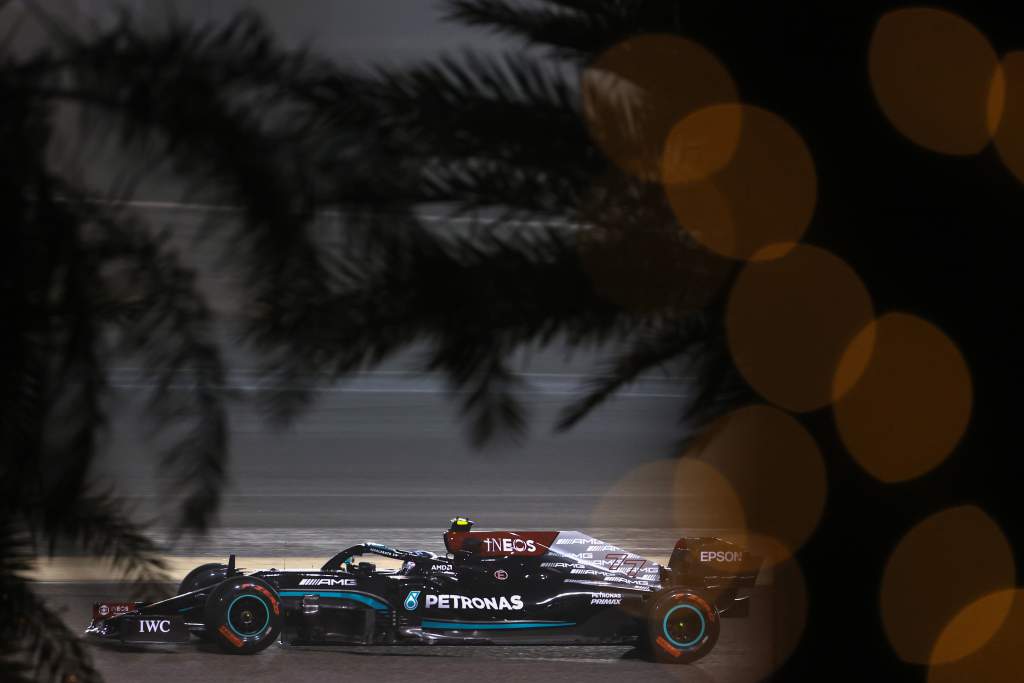 What we don't have is a direct comparison with the star car of yesterday, the Red Bull, because it used today to maximise Sergio Perez's running in the car and didn't elect to do a qualifying simulation.
The McLaren, Alpine, Aston Martin, AlphaTauri and Alfa Romeo appear ostensibly closely-matched – but in reality there is probably a significant spread between them for reasons which we'll explain. Ferrari looks to be struggling somewhat.
If you read 'Gary Anderson's guide to deciphering fuel loads' you will know that each team tends to run with its own minimum fuel weight for testing and we're going to use his estimates (which are based on the historic difference between testing and the opening races for each team).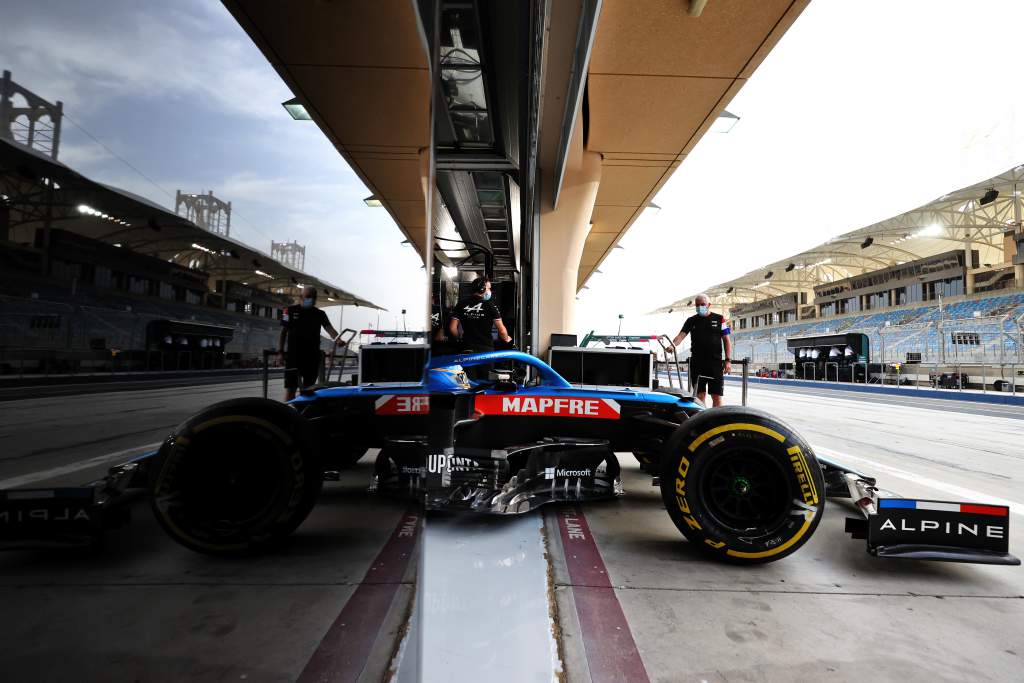 We're going to apply that as a filter to the fastest times each team set, then filter it further for those teams which did a qualifying simulation and those which didn't, when during the day the times were set, which tyres were used etc.
After working through all that, our educated estimate of the competitive order is as follows:
1. Mercedes
2. Red Bull
3. McLaren
4. Aston Martin
5 AlphaTauri
6. Ferrari
7. Alpine
8. Alfa Romeo
9. Williams
10. Haas.
The rest of this piece will explain why.
The overall headline times list looks like this:
| | | | | |
| --- | --- | --- | --- | --- |
| | Morning | Afternoon | Time | Tyre |
| 1 | | Bottas | 1m30.289s | C5 |
| 2 | | Gasly | 1m30.413s | C5 |
| 3 | | Stroll | 1m30.460s | C5 |
| 4 | | Norris | 1m30.586s | C4 |
| 5 | | Giovinazzi | 1m30.760s | C5 |
| 6 | | Leclerc | 1m30.886s | C5 |
| 7 | | Latifi | 1m31.672s | C5 |
| 8 | | Perez | 1m31.682s | C2 |
| 9 | Ricciardo | | 1m32.215s | C3 |
| 10 | Alonso | | 1m32.339s | C2 |
| 11 | Tsunoda | | 1m32.684s | C4 |
| 12 | | Schumacher | 1m32.883s | C4* |
| 13 | Sainz | | 1m33.072s | C3 |
| 14 | Mazepin | | 1m33.101s | C4 |
| 15 | Hamilton | | 1m33.399s | C2 |
| 16 | Vettel | | 1m38.849s | C3 |
* Multi-lap run
But you can forget the order of that list! The differences made by the variables of track condition, fuel weight and tyre compounds totally overwhelm those of difference in the actual performance of the cars.
Some significant background factors: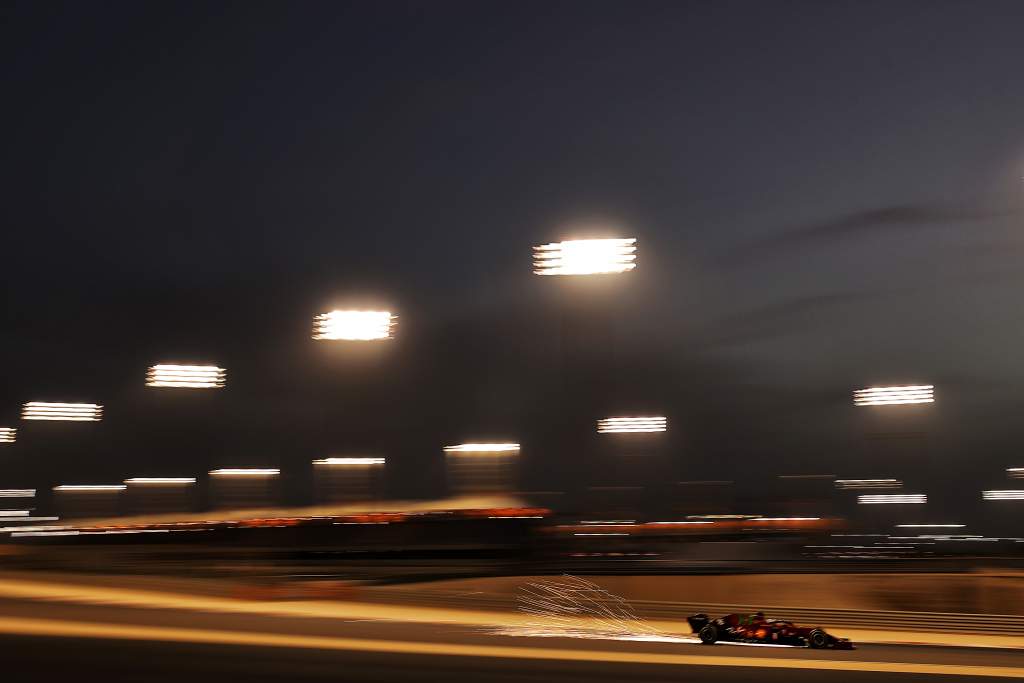 As usual, the fast times come late in the day after the sun has gone down when the track is at its coolest and cleanest. That much is reflected in the split above.
Running was dominated by a gusty wind which changed direction frequently and unpredictably – and that's something which tends to affect the cars with the best aerodynamics and more highly-loaded surfaces, which tends to reduce the gap between the best cars and the rest.
Then there tends to be a variability in the competitive order according to track temperatures, something we've seen throughout the Pirelli era.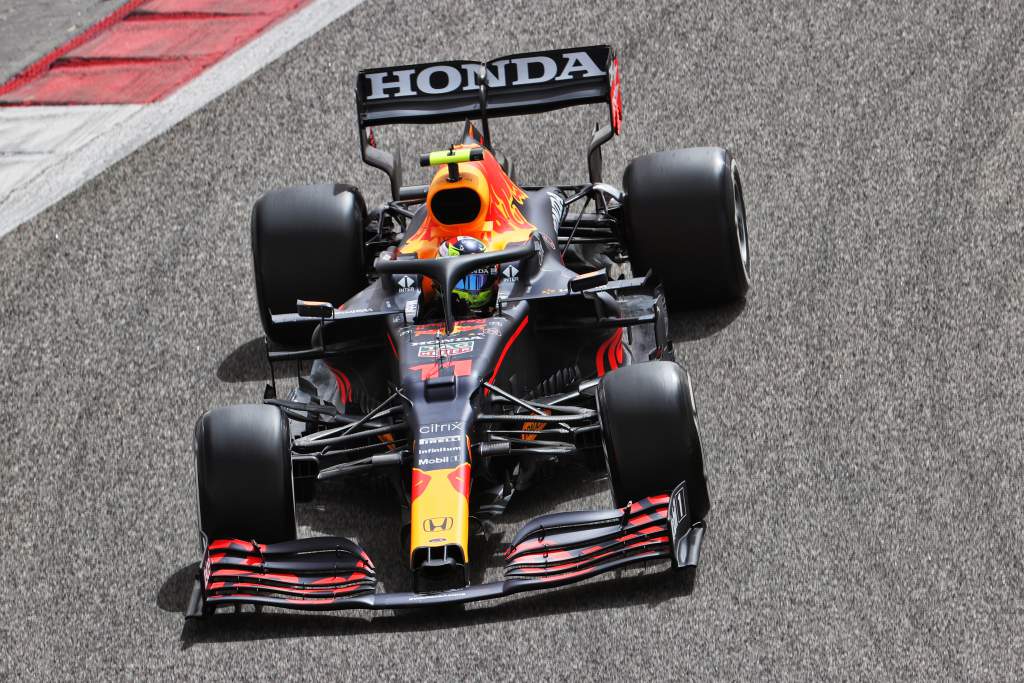 Historically the Mercedes advantage over Red Bull is reduced or even eliminated when track temperature becomes seriously high. So although the morning running would be slower than the last 90 twilight minutes for everyone, Red Bull relative to Mercedes would be expected to be better in the slower morning session.
Historically, whenever the tyre compound is verging on being too soft, Mercedes finds less of a gain from it than most other cars, even tough that very often still leaves it the fastest – just by a reduced margin compared to when the compounds are easily robust enough.
So in essence, that last hour and a half would be expected to suit Mercedes better anyway. If we're trying to extrapolate Bahrain testing to the less specific global season, we'd expect that late part of the session to be more representative.
But as Sakhir is unusual in being a rear-limited track and the Mercedes tends to be a rear-limited car, it's rarely seen to its best here. So what we are seeing here likely underplays Mercedes.
Weight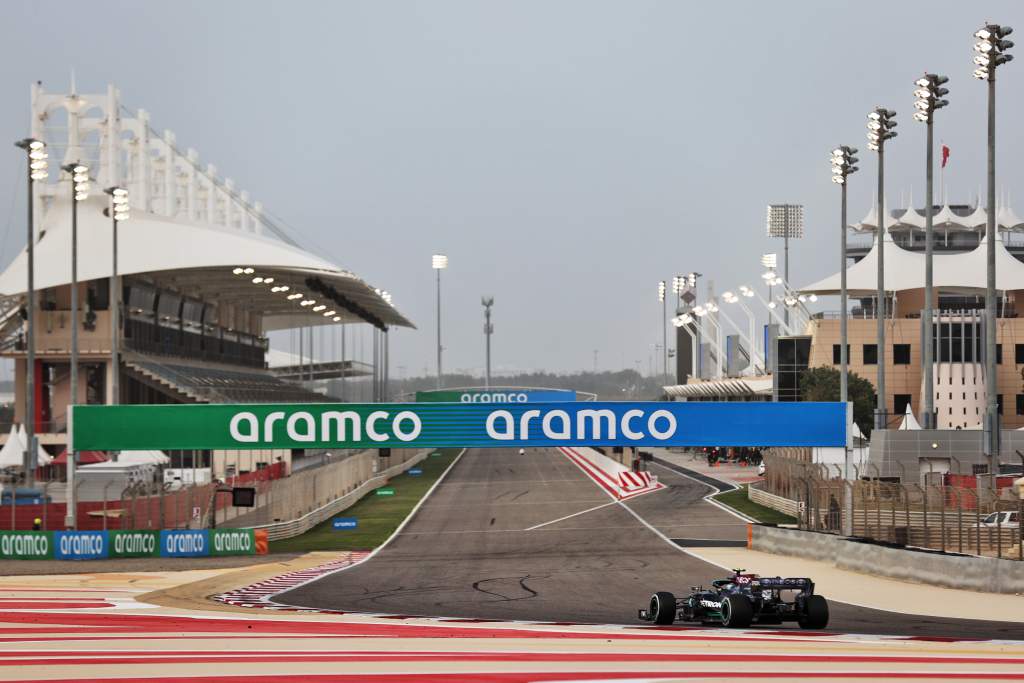 Having taken on board all the above, we can now move to Gary's calculated fuel weights. In testing Mercedes invariably will send its cars out with at least 60kg of fuel on board. This is almost certainly the heaviest baseline weight of any team.
Gary's numbers suggest the following weight reduction for each team relative to Mercedes:
McLaren & Aston Martin –7kg
Red Bull -17kg
Ferrari & AlphaTauri -24kg
The rest -50kg
The lap time penalty for each 10kg around Sakhir is around 0.33s per lap. So if we apply that weighting to the headline numbers we get approximately this:
Mercedes 1m28.3s
Aston Martin 1m28.7s
McLaren 1m28.8s
AlphaTauri 1m29.1s
Ferrari 1m29.5s
Red Bull 1m30.1s
Alfa Romeo 1m30.4s
Williams 1m31.3s
Alpine 1m32.0s
Haas 1m32.6s
That's a better list – but it's still nowhere near right.
Quali sims & tyre compounds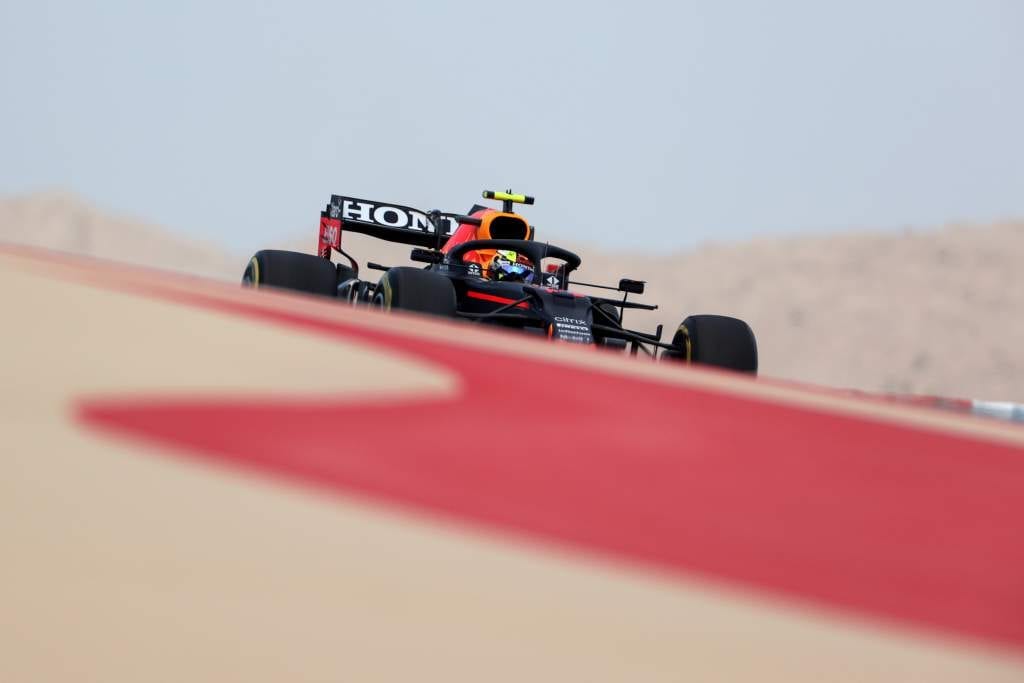 Red Bull and Alpine did not do any sort of qualifying simulation on Saturday. They concentrated on multiple-lap runs and rarely tried the soft C4 tyre between them, let alone the even softer C5.
Sergio Perez and Fernando Alonso each set their best times on the hard C2 tyre for Red Bull and Alpine respectively and were not at any point trying for fast single laps.
Pirelli reckons the C2 is around 1.5s slower than the C5. So we need to at the very least subtract that from the Red Bull and Alpine times. We need also to correct for the full variation of compounds. Relative to the fastest C5, the C4 is estimated as 0.15s slower. The C3 0.5s slower (than the C5). The C2 1.5s.
Which would then give the following:
Mercedes 1m28.3s
Red Bull 1m28.5s
McLaren 1m28.65s
Aston Martin 1m28.7s
AlphaTauri 1m29.1s
Ferrari 1m29.5s
Alfa Romeo 1m30.4s
Alpine 1m30.5s
Williams 1m31.3s
Haas 1m32.45s
The outlier there would appear to be Alpine. The A521 was doing quite respectable-looking long runs, suggesting that the weight estimates based on last year's difference between testing and the first races may no longer be accurate. In a long run, the car will need to be fuelled appropriately.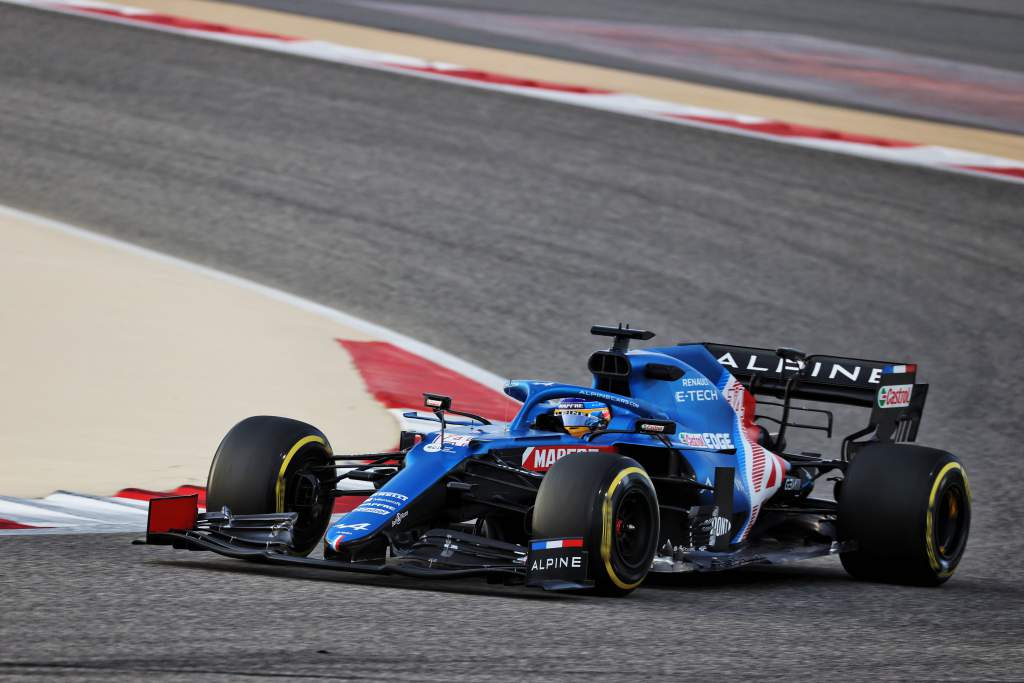 Alonso's 11-lap run on the mediums averaged out at 1m37.8s. At much the same time Charles Leclerc was doing his 12-lap run in the Ferrari at an average of 1m37.7s. The evident degradation rates of the tyres was very similar.
So, for the sake of argument, let's allocate Alpine a more Ferrari-like baseline fuel weight. That would give us the following list:
Mercedes 1m28.3s
Red Bull 1m28.5s
McLaren 1m28.65s
Aston Martin 1m28.7s
AlphaTauri 1m29.1s
Ferrari 1m29.5s
Alpine 1m29.5s
Alfa Romeo 1m30.4s
Williams 1m31.3s
Haas 1m32.45s
All the usual disclaimers and ifs and buts. But that list has kind of a familiar look to it, doesn't it?