Lewis Hamilton says Mercedes' tough start to Formula 1 pre-season testing has made it "not particularly useful" compared to previous years, but insists the team is "nowhere near" being worried.
Mercedes suffered a gearbox problem on the first morning in Bahrain and completed just six laps across Friday's opening four hours as a result.
Hamilton took over from Valtteri Bottas for the afternoon and managed an extra 42 laps, then drove again on Saturday morning and lost some time with a spin that beached him in the gravel and caused a red flag.
He completed 58 laps, taking his personal tally across his two half-days to 100 so far, while Bottas's afternoon running took Mercedes past a century of laps on Saturday alone.
But after Hamilton's time in the car was finished, Mercedes was still bottom of the lap count pile.
When asked how useful the day and a half had been for exploring the car's limits and understanding what works and what doesn't, Hamilton admitted that "compared to the past it's not been particularly useful".
Mercedes' opening day test mileage since 2014
| | | | | | | | |
| --- | --- | --- | --- | --- | --- | --- | --- |
| 2014 | 2015 | 2016 | 2017 | 2018 | 2019 | 2020 | 2021 |
| 49.2 | 429.2 | 451.2 | 439.7 | 240.1 | 433.9 | 500.4 | 161.4 |
"I've done 60 laps, something like that [on Saturday]," said Hamilton. "So, it's not a lot compared to other test days we would normally have.
"But we're trying to be as efficient as we can be. We have less mileage than some of the others like the Red Bulls so far.
"But we're just trying to stick to our programme and manage the amount of laps we have also and try to be as efficient as we can."
So… how did Mercedes' interrupted running today compare to past years?

This handy graphic from @f1visualized might help to illustrate it 👀 pic.twitter.com/hGiHJIJfam

— The Race (@wearetherace) March 12, 2021
Chief rival Red Bull had a completely different first day of testing, topping the times with Max Verstappen, completing more laps than any team and claiming it had ticked off all its objectives.
"It's day two of testing," Hamilton said when asked how close Mercedes was to being worried.
"We're just focused on doing our job. So, nowhere near [worried] at the moment, we're just focusing on trying to understand the car.
"There's no point getting worried just yet. I think everyone's focusing on their programmes and that's what we're doing."
Hamilton was second-slowest of the 15 drivers to take part in the second day of test, faster only than Sebastian Vettel who did not set a representative lap time with a gearbox problem in his Aston Martin.
Bottas was fourth-fastest in the afternoon, six tenths slower than Lando Norris's McLaren, and it is evident Mercedes is not doing full performance runs at this stage.
However, the W12 has looked unstable on-track, and Hamilton's spin appeared to confirm that Mercedes has struggled to obtain a better balance with the new aerodynamic rules that have stripped away some downforce at the rear of the car – although he said the wind was a major factor in his spin.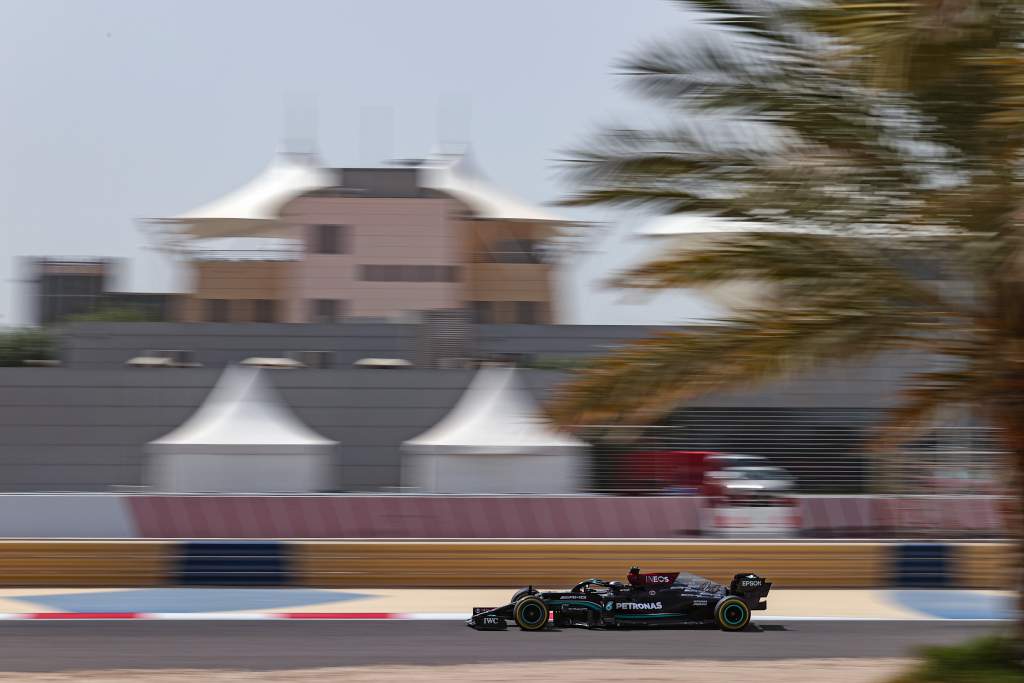 The wind has been strong at times during testing and has also turned 180 degrees compared to Friday.
"The track is a lot different today in places, some places you can push where you couldn't push yesterday," said Hamilton.
"And it's very gusty, as I found out into Turn 13.
"So, the rear doesn't feel too great with this new regulation change. But we're trying to find the sweet spot."